The first and coolest event channeled in empowering women through tech would be happening live at the University of Nigeria, Nsukka and yes, it promises to be great.
The event which is tagged "Our Time to Lead" would be focusing on  inspiring and educating women on how they can leverage Technology and drive innovation to the community they find their selves.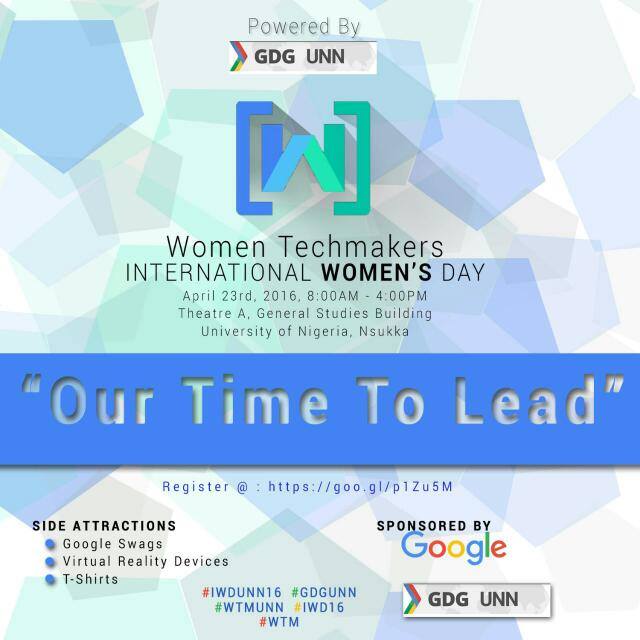 About The Women TechMakers
Women Techmakers is Google's brand and global program for women in technology. Women Techmakers provides visibility, community, and resources for women in technology to drive innovation and participation in the field. Women Techmakers events are designed to promote an environment of inclusion for women in technology, as well as celebrate women leading the industry. We want to advance, grow, and celebrate women developers, designers, and technology entrepreneurs. Women Techmakers was founded by Googlers in 2012, including Megan Smith, former VP at Google[x] and current Chief Technology Officer of the United States. The program started as a once-a-year event for women in technology to connect and inspire one another, happening the night before Google I/O. In 2013 Women Techmakers became a global brand and program and in 2014, it hosted 125 events across 52 countries for International Women's Day, increased the participation of women at Google I/O from 8% in 2013 to 20% in 2014, and much more. Women Techmakers events are not intended to be women only, but instead are events that emphasize the inclusion of women.
Actually this isn't just a women thing as everyone is invited for this program and yea, i would be there live ( ;) ) and i hope you would too.
The Event promises to be covering topics ranging from:
There would be cool stuffs happening live at the event but just so you catch a glimpse of what they have got in stock for you
Google Swags ( Looking cool and representing Google Mehn.. )
Virtual Realities (Just in case you have been reading about this, i think the time is here to explore and get a feel)
T-Shirt
Venue
The Event would be happening at the General Studies building, Theatre A University of Nigeria Nsukka.
Date
April 23rd, 2016
Time
The Event would be going on from 8:00am – 4:00pm ( Where we just discuss tech :) )
You can Register By Clicking Here
The Women TechMakers 2016 is proudly sponsored by Google | The No. 1 Search Engine
PS: There would be free Swags for the First 10. So What Are you waiting for? Register now by clicking Here.
Hope to See You There!