For a small business to blossom, apparently, it needs the right business tools. There are various business software apps that can help small businesses run their accounting tasks efficiently. Proper accounting is an essential bedrock for any business to be successful. These accounting software apps are packed with unique features, and they run on various systems.
More so, with the various modules available on these apps, it is easier to manage your business payroll systems. Plus, they are highly customizable, so you can adjust the features to meet your business needs. However, it is important to note that these are professional applications; thus, they are not free to use – you can only get a limited free-trial period.
The 10 Best Accounting Softwares for Small Businesses
Hereunder are the top best accounting software for small businesses. These apps are not listed in any particular order; hence, irrespective of the hierarchy, all of these small business accounting software solutions are great to use.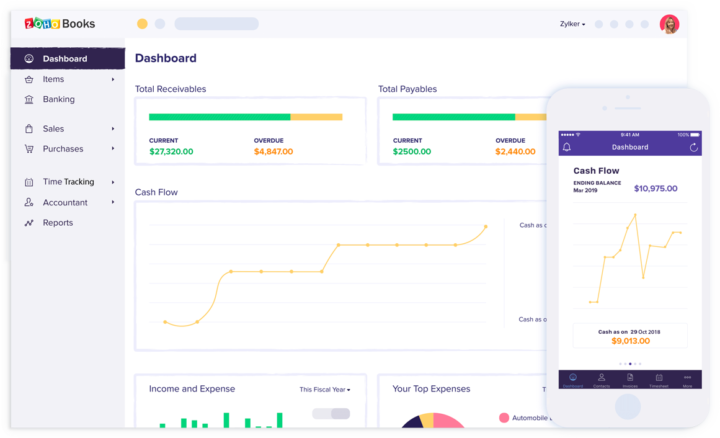 Zoho Books is feature-rich, online accounting software that supports automatic updates and automated workflows. The app provides all the features to manage your finances, business workflows and improve collaboration between team members. More so, with Zoho Books, you can send estimates or convert them to invoices to get paid online.
Among the reasons to choose Zoho Books is its automated workflow features, which take everything off your shoulder so your team can have more time for other important tasks. However, this accounting app does not support payroll management features. It has a super-intuitive interface and runs on all devices.
QuickBooks is a popular accounting software app that runs on various systems and devices; there is also an online (web-based) version. This software is majorly designed for SMEs, and it comes with a ton of features, including cloud backups, business payments tools, and payroll functions.
More so, QuickBooks is scalable, feature-rich, and intuitive to use. It would definitely help to improve your teams' efficiency and productivity. The company offers various pricing packages, and interestingly, all the plans (including the basic one) allow you to send unlimited invoices.
A lot of people view FreshBooks as an alternative to QuickBooks. Well, FreshBooks is pretty much different from QuickBooks, and it comes with a lot of good accounting features that'd benefit small businesses. FreshBooks lets you manage your business records, team activities, and clients.
FreshBooks also helps with invoicing, payments, reporting, time-tracking, project management, as well as includes other good features too. It is an ideal app for small businesses and freelancers.
The all-in-one-accounting software offered by Xero is one of the best you can get out there as a small business owner. Apparently, the software is feature-rich and super-intuitive to use. More so, the pricing is considerable, and it runs on all your devices. Xero's accounting software offers "smart online accounting" tools – it's simply impressive.
With this accounting software, you can automate invoicing and reporting tasks, making all your works 100% compliant. One of the unique features of Xero is the bank feeds option that lets you integrate your bank accounts with your Xero app.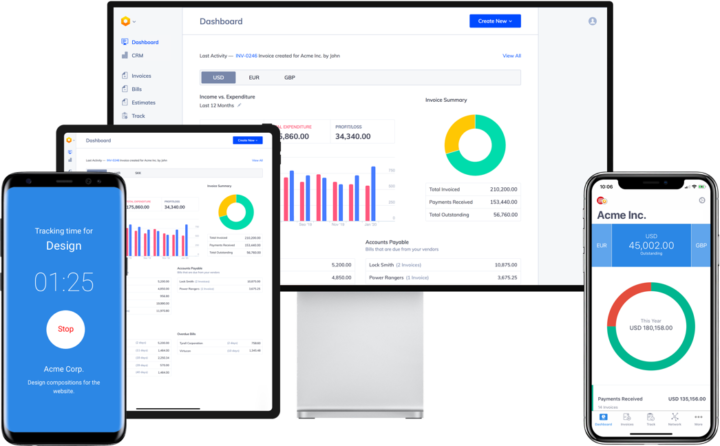 While Hiveage is basically an invoicing app, it also makes a good accounting software for small businesses, thanks to its wealth of useful features. Hiveage lets you create business invoices and receive payments from clients from around the world. The app features a clear-cut interface and is currently being used by tens of thousands of SMEs.
Hiveage also supports time-tracking, estimating, and reporting tools. It is a comprehensive business accounting solution offered at an affordable price. The software also has mobile apps for iOS and Android devices.
The Sage Business Cloud Accounting software is one of the best to use. Being a cloud-based solution, you can access your dashboard from any device. This software is meant for small and medium-sized businesses and freelancers (self-employed).
Features of Sage Business Accounting include accounts receivable, invoicing, payments, track expenses, reporting, bank connections, snap and post receipts, billing, and much more. This software runs on Windows PCs, MacBooks, and mobile devices. The interface is simply intuitive.
Kashoo offers a bunch of cloud-based accounting tools for small businesses. It allows you to automate bookkeeping tasks; plus, it utilizes machine learning algorithms, as well as reconciles expenses for bank and card transactions. This software provides one-click real-time reports.
Furthermore, with the Kashoo accounting software, you will achieve more productivity and efficiency in your daily business tasks.

The SlickPie software is designed for modern small businesses. It comes with features that allow you to create invoices and get paid faster by your clients. This software also supports live bank feeds and lets you generate instant financial reports. Thanks to the automated data entry feature, now you can relieve your team of certain manual tasks.
SlickPie can run on any device or system, making it easy for you to access your business information anywhere, even while on the go. This app integrates with several other services, including Stripe and PayPal.
Here's another cloud-based accounting software meant for small businesses. FreeAgent is recognized by many top companies as a reliable solution for a business's accounting needs. There are many extensive features and tools available on this software; they are there to help you achieve more productivity.
 More so, the interface of FreeAgent is easy to navigate to get to the various modules. With this software, you will be able to snap an expense, fire invoices, monitor your cash flow, and stay on top of your tax.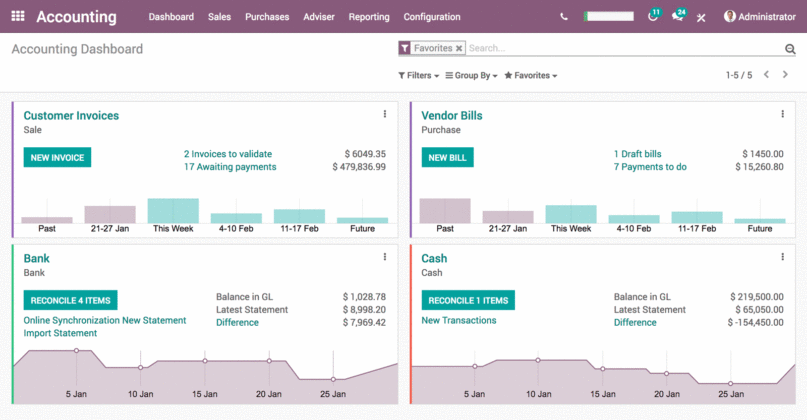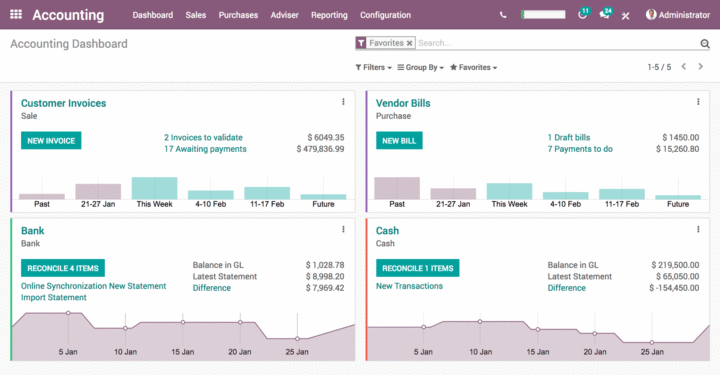 Last but not least on this list is the Odoo Accounting software, a remarkable, reliable business accounting solution. Odoo Accounting is a scalable, feature-rich software that grows with your business. It supports automation tools and offers a bunch of features that can help any business to grow.
More so, Odoo Accounting synchronizes your business and bank statements, lets you create invoices, import files, manage recurring bills, and achieve more productivity. Of course, this software also helps you manage receivables and set reminders. It is for use in various industries.
Summary:
In summary, these accounting software apps and solutions are some of the best, recommendable options for small businesses. Notwithstanding, there are several options out there, so you must test out the features of the apps during the free trial window before going with the one that works best for your accounting needs.