We're in a whole new time, where businesses thrive by integrating cutting-edge technologies to automate and simplify several day-to-day operations. You've probably heard of CRM software solutions that help to improve customer relationships and management, but what about CMMS – Computerized Maintenance Management Systems?
In the business space of today, task scheduling, order tracking and management, centralized tools, and other similar tools are all essential for a company or agency that wants to grow. CMMS solutions come in handy, to provide a convenient environment for businesses to maintain databases of the organization's maintenance operations.
What Really Is A CMMS?
CMMS, which stands for Computerized Maintenance Management System, is a business software solution for all business niches. The solution is meant for businesses across industries, including government, manufacturing, gym & fitness, schools, fleets, construction, and hospitality.
With CMMS solutions, a company's maintenance team can organize and manage the company's maintenance-related activities in a centralized environment. This can include tracking Spare Parts, Assets, Work Orders, Vendors, Preventive Maintenance, and all other similar tasks.
The 11 Best CMMS Software Solutions for Businesses
Come along with me as I show you the best CMMS software solutions for small and large businesses. These CMMS solutions are the top best options to choose from. They are feature-rich and quite intuitive to use across devices.

So, the Smartsheet CMMS tops our list today. It is a powerful CMMS solution for businesses across various industries. Yes, this software runs through the cloud, and it is accessible across devices. Smartsheet CMMS features a clear-cut interface that allows the user to quickly navigate and access the various available tool.
The automation features included in this CMMS helps to increase productivity and simplify workflows. Smartsheet CMS supports real-time data & reporting, maintenance history, work order & asset management, alerts & reminders, and budget tracking. It also supports collaboration and integration with other business tools.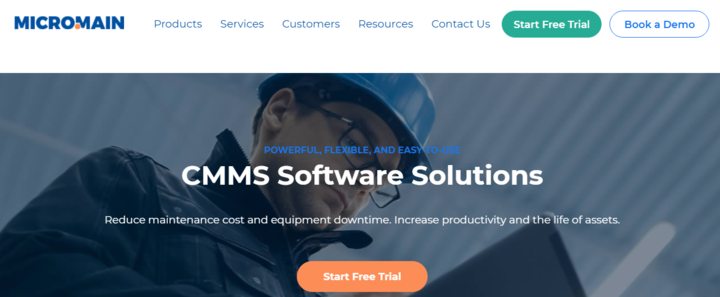 Micromain CMMS is a feature-rich suite for companies and organizations of all sizes. Of course, it is cloud-based and flaunts an intuitive interface anyone could easily understand. Some interesting features of this CMMS include work order management, preventive & predictive maintenance, asset management, parts & inventory management, and workforce tracking & management.
Furthermore, this software solution supports QR codes and barcodes, real-time reporting, and it's industry 4.0 ready. Yes, the Micromain CMMS is a comprehensive toolset for modern businesses. Micromain has been providing reliable business solutions since 1991, and this CMMS from the company is worthy.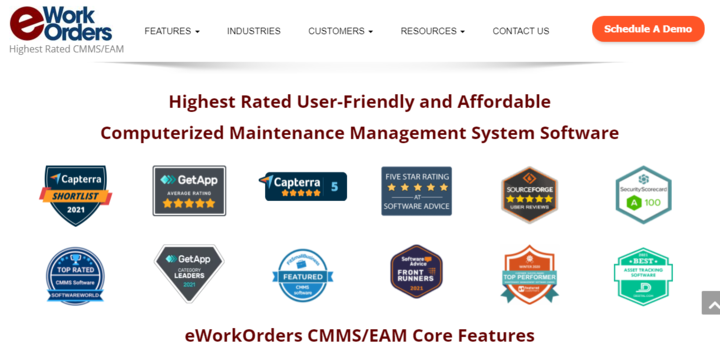 eWorkOrders is a notable business software developer. The company specializes in developing CMMS and EAM applications for enterprises and small businesses across industries. The eWorkOrders CMMS software comes with advanced features in a clear-cut, intuitive interface environment.
Interestingly, the eWorkOrders CMMS is affordable and helps organizations to effectively manage & report daily operations easily. It supports the following features: work orders management, scheduling & service requests, GIS tracking, predictive maintenance, and many more.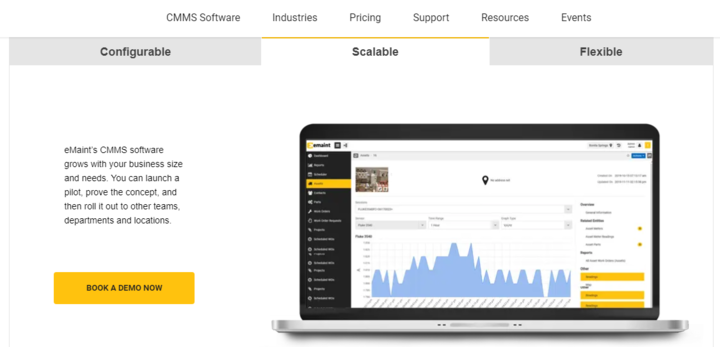 eMaint CMMS is scalable – grows with your company or organization. It serves as a typical CMMS solution and also integrates several other tools that help to increase productivity. The main features of this software include work management, preventive maintenance, reporting, and scheduling.
As a cloud-based solution, eMaint CMMS runs on every device, and yes, it has an intuitive interface. eMaint also provides EAM tools for effective project management. Inventory management and asset management are part of the top features of this business software.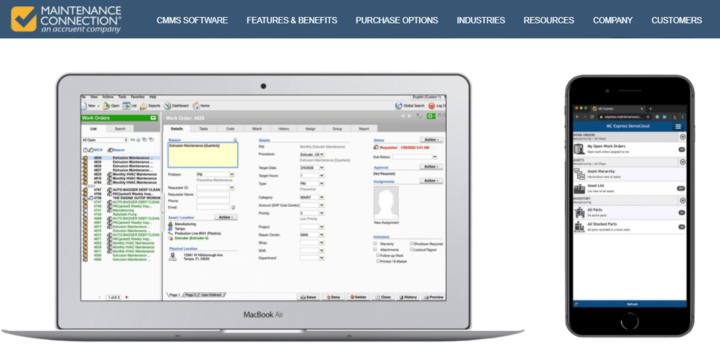 As the name connotes, Maintenance Connection provides a single environment to handle various tasks. Maintainance Connection is one of the best CMMS platforms with lots of features to simplify business workflows and increase productivity. This CMMS software integrates basic features such as calibration management, billing & invoicing, and inventory management.
It also goes on to support key & lock management, service history tracking, preventive maintenance, and technician management. Generally, Maintenance Connection CMMS is easy-to-use, web-based, and guarantees steady uptime.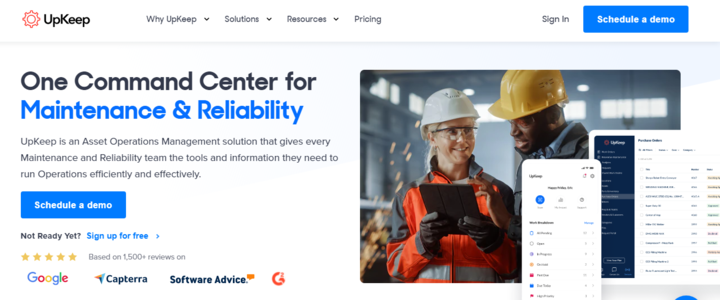 If you're a CMMS solution with modern features, UpKeep CMMS is one of the top choices to choose from. This CMMS software is intuitive, packed with a ton of features, and supports 3rd-party integrations. Basically, UpKeep is an Asset Operations Management business app.
It provides you with the right set of tools for maintenance and reliability teams to effectively carry out their operations efficiently. UpKeep CMMS goes on to provide you with a centralized environment to manage several tasks, including passive and active activities. Yes, it supports real-time reporting and predictive analytics.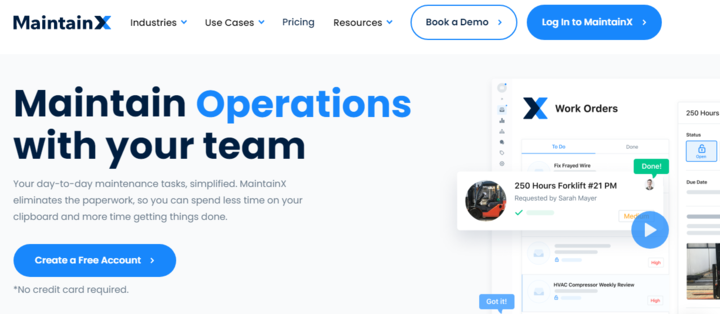 With the MaintainX CMMS solution, you can effectively manage your business' day-to-day maintenance tasks. It entirely eliminates the need for paperwork, which saves more time, and of course, increases productivity. More so, MaintainX provides you with tools to track preventive maintenance, reactive maintenance, and control daily operations.
The interface is user-friendly, you can easily create, assign, and monitor Work Orders for everyone, including yourself. MaintainX CMMS supports "Work Requests" by clients; you can easily use these work requests to create work orders and assign them to different team members.

Fiix is an all-in-one, cloud-based CMMS software for companies and agencies of any size. It provides a suite of handy tools that helps to plan, track, and optimize maintenance operations. Also, Fiix supports integrations with other powerful tools, and it goes to ti integrate AI-based tools.
Interestingly, Fiix comes with all the tools you'd expect on a CMMS solution. Notwithstanding, it stands out for its super-clean interface and AI tools. With Fiix, you can manage thousands of assets, work orders, and operations.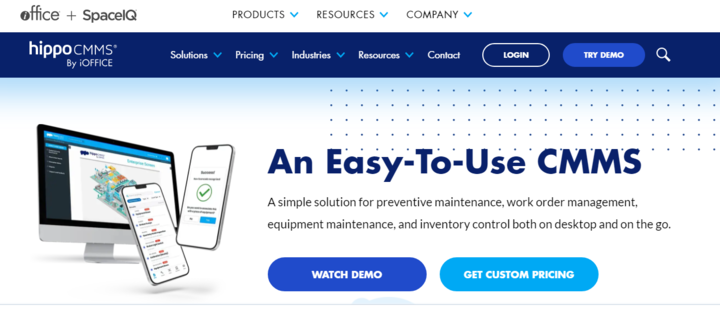 Work orders, predictive maintenance, vendor management, and equipment management tools are some of the things to access on the Hippo CMMS software. It is a full suite Computerized Maintenance Management System that helps you get more job done.
The interface is such that anyone can easily understand and navigate without hassles. This software eliminates guesswork and lets you plan technically. Hippo CMMS would generally contribute to increasing work efficiency and productivity within an organization.
The FMX CMMS software is highly customizable; the flexibility makes it a perfect CMMS solution for many companies and organizations. This software solution allows you to streamline processes and act with turn actionable insights to increase productivity.
FMX CMMS comes with robust reporting features, lets you track maintenance, labor, and inventory costs from a single dashboard. Of course, it supports work orders management and integrates preventive maintenance tools. Simply, this CMMS provides holistic, real-time features for all-around facility management.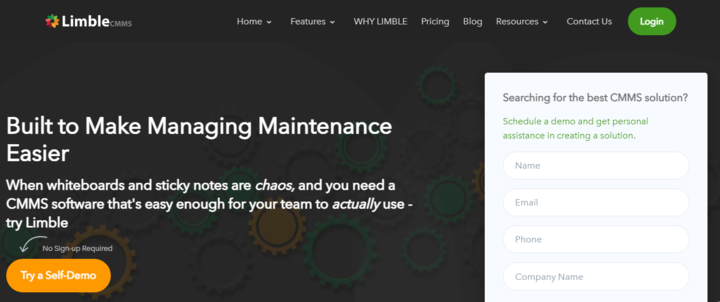 Limble CMMS is worthy of mention on this list. It is a modern CMMS software with cutting-edge features that help businesses thrive in this modern time. The Limble CMMS software solution is affordable, easy-to-use, and feature-rich.
This software supports collaboration, and because it is cloud-based, it can run on any device, including mobile phones. Limble CMMS work orders, enterprise asset management, PMs, and a lot more handy tools.
What More?
Generally, these CMMS software solutions are feature-rich, easy-to-use, and suitable for companies of any size. More so, they support integrations with other powerful business software solutions for more effectiveness and work efficiency.