The best free downloaders for Windows and macOS computer simply refers to programs that allow you to download files over the internet. Interestingly, these downloaders also serve as "Download Managers," which means that they'd help you to arrange your downloads while ensuring seamless downloading processes.
Here are some of the best "Free Downloaders" you can use on Windows PCs or MacBooks. Each of these downloaders supports special features for speeding up software, programs, and driver downloads.
The Best Free Downloaders for Windows 10 and macOS
While most of these downloaders have both Windows and macOS versions, some are meant for just one of the OSes; either Windows or macOS. They can be deployed for downloading large files, specialized drivers, videos, and movies, and other heavy downloads.
1. Internet Download Manager (Get IDM for Windows, MacOS)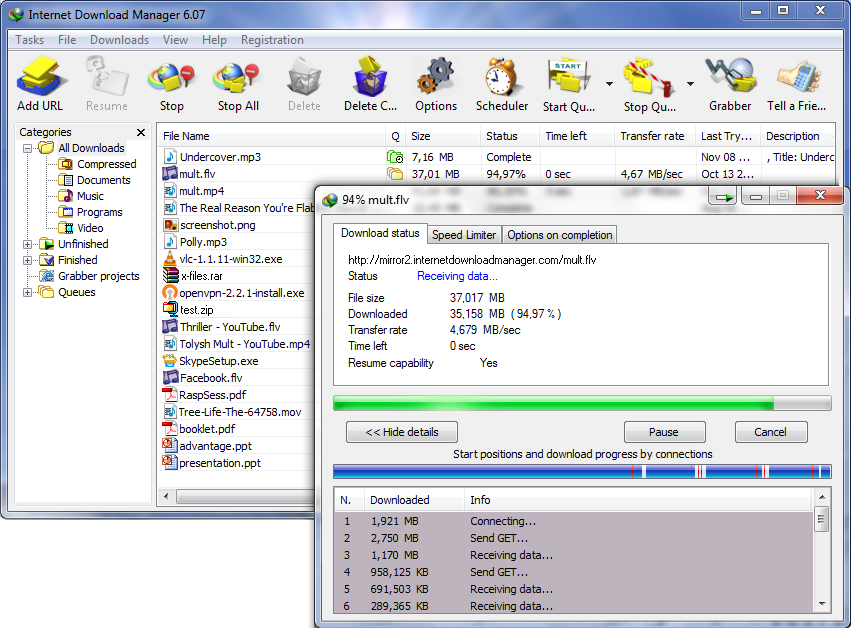 Apparently, you were expecting to see IDM on this s list, right? Well, it is arguably a great download manager that includes native support for virtually all web browsers you know. Internet Download Manager (IDM) features a clear-cut interface and works on both Windows and macOS computers.
It guarantees faster download speed (up to 5x more than others), as well as support a bunch of advanced options such as support for proxy servers, HTTP and FTP, etc. More so, this downloader integrates with Microsoft IE, MSN Explorer, Netscape, Opera, AOL, Firefox, and all other browsers you know. However, IDM is not totally free; it only has a free trial version, which is quite limited but yet allows you to download multiple files.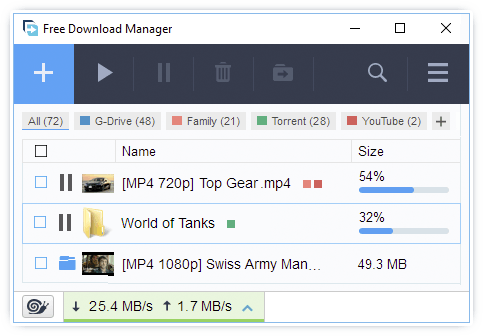 As the name connotes, this is a free downloader that works across OSes, which include Windows, macOS, Linux, and Android. It is quite versatile and full-featured; more interestingly, you won't be prompted to upgrade to a paid version before you can explore all the features of this program.
Free Download Manager (FDM) supports BitTorrent protocol, file conversion, lets you preview audio & video files before downloading them, download acceleration, and much more features. Interestingly, this downloader would seamlessly resume broken or interrupted downloads; plus, it comes with a built-in file manager, too.
3. Ninja Download Manager (Windows and macOS)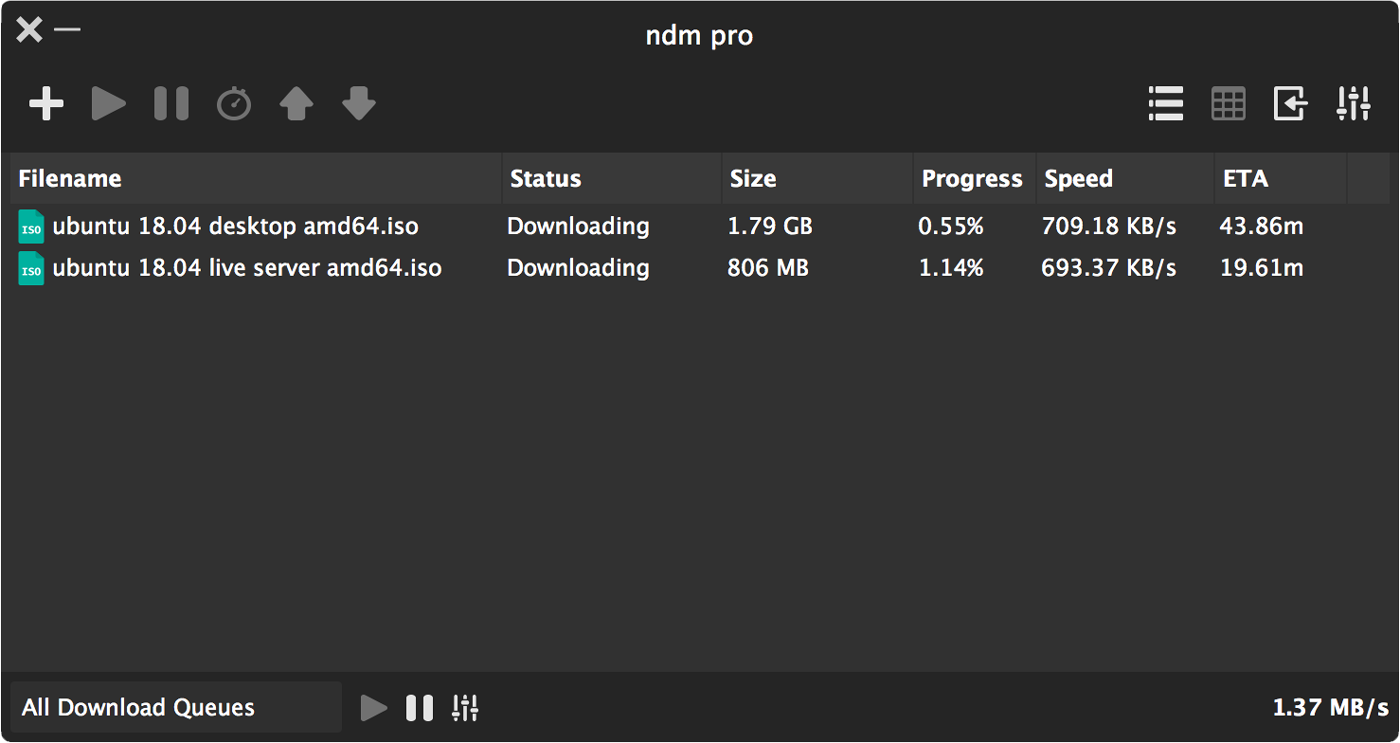 The Ninja Download Manager (NDM) is a great tool that speeds up downloads on MacBooks and Windows PCs. It features a distinctive interface that is packed with a bunch of tools to improve download speed (up to 10x) and experience. Also, it lets you add items to your "Download List" and download them at a later time.
NDM is free but has a paid version that includes more advanced tools. The interface supports "drag n drop" functionality, and you can seamlessly import download lists into one screen, thanks to the multi add screen feature. There are tons of features supported by this tool.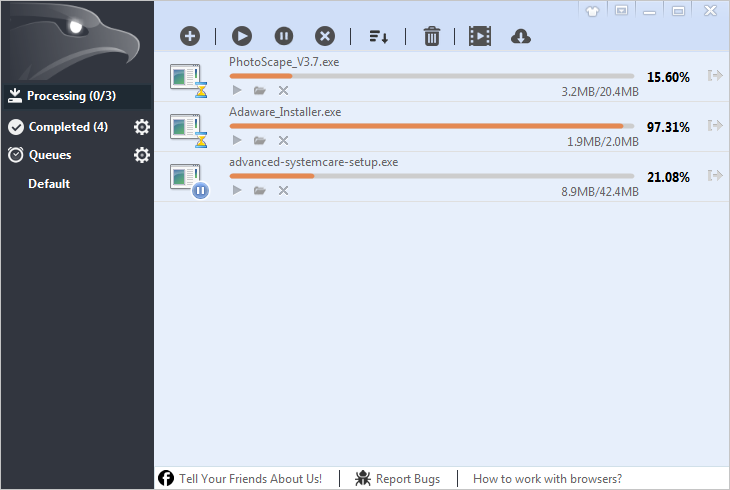 EagleGet is a fast-speed internet download manager that uses multi-threaded technology to boost download. It splits large files into several parts for faster download (up to 6x speed). Also, this downloader supports scheduling, as well as feature a built-in manager that helps you sort the downloaded files.
More so, EagleGet automatically refreshes expired download URLs and resume downloading. It is the first free downloader to support this feature. Furthermore, this downloader seamlessly integrates with all popular browsers, as well as provide you with flexible configurations, and silent mode.
5. JDownloader (Windows and macOS)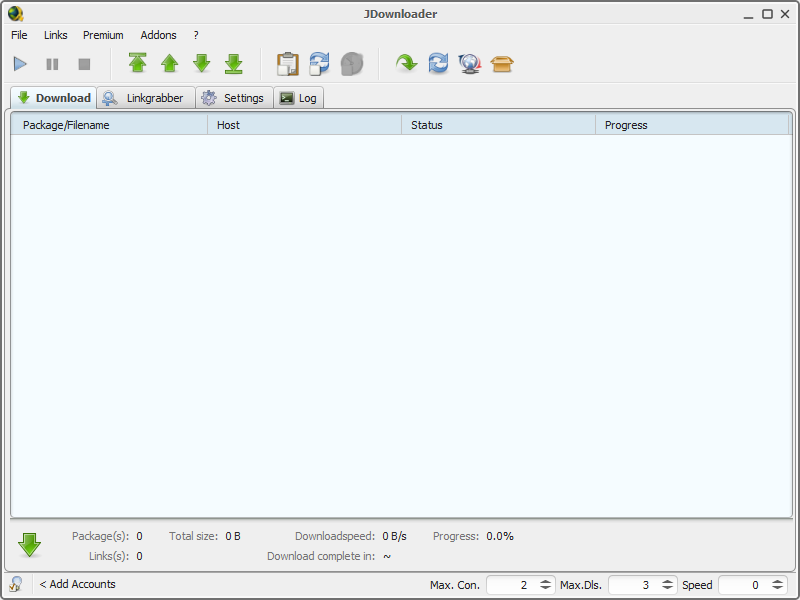 Here's another popular free downloader that works on Windows and macOS computers. JDownloader is an open-source download manager developed and updated by a huge community of professional developers. It really makes downloading much easier and faster – providing the user with features such as start, stop, or pause downloads, auto-extract archives, set bandwidth limitations, etc.
There are multiple features of JDownloader; plus, it comes with an intuitive interface that anyone can easily understand and use. With support for 300+ decryption plugins, OCR,  automatic RAR extraction, and more, JDownloader is the tool for "power users."
6. Download Accelerator Plus 10 (Windows)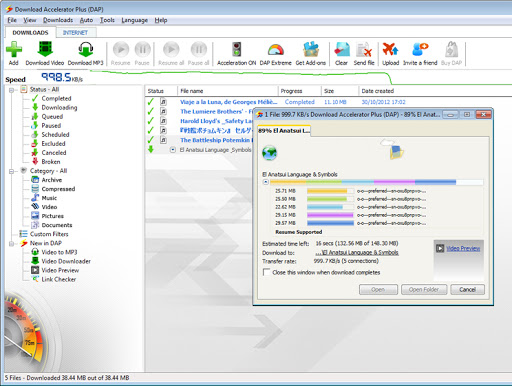 When looking for a downloader that guarantees blazing speed downloads irrespective of the file size, Download Accelerator Plus 10 (DAP10) is a good choice. This downloader provides you with a lot of essential tools for downloading files from various websites and links. It also features a powerful interface that grants you access to some extensive video tools.
DAP10 supports previews, pause/play, link checker, video conversion, mirror sites speed boost, and much more interesting features. However, if you want to enjoy every feature of this downloader, you'd need to upgrade to the premium version.
7. Xtreme Download Manager (XDM) (Windows and macOS)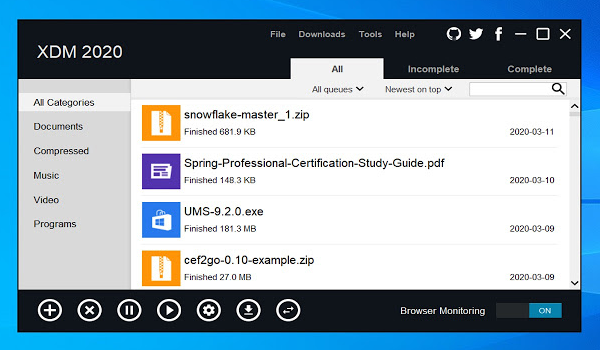 We're talking about the "Best free Downloaders for Windows 10," right? Regardless of its position on this list, Xtreme Download Manager (XDM) is a powerful downloader to use on Windows PC and MacBooks; it also supports Linux OS. With this free, open-source downloader, you can also save streaming videos.
XDM can download videos from YouTube, Vimeo, Facebook, DailyMotion, etc. It supports scheduling and a bunch of other features you'd expect of a downloader manager. More interestingly, it is entirely free, comes with a built-in video downloader, and integrates with all web browsers you know.
8. uGet Download Manager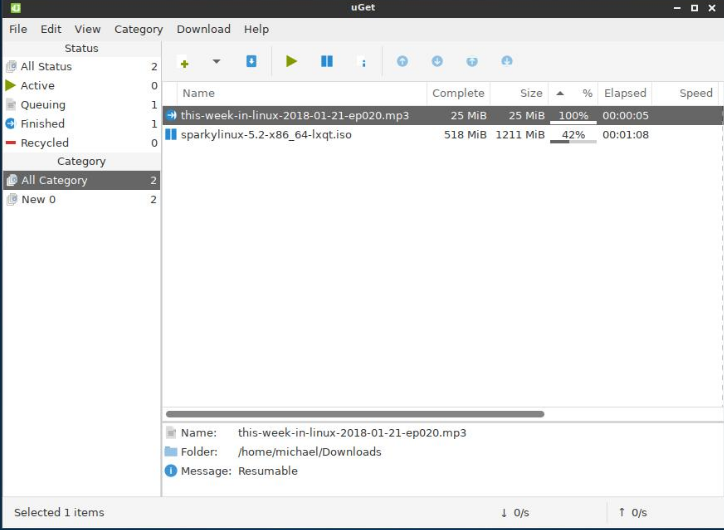 Here's a free, open-source downloader that works across OSes. uGet flaunts a stylish interface that's packed with few menus and a bunch of handy tools to speed up internet downloads. Also, the interface automatically changes its appearance to match your OS color scheme and icons; plus, it is compatible with Light, Dark, and Hybrid themes.
This downloader supports clipboard monitoring, batch downloads, mirroring, and much more features. You can download everything and anything with the uGet download manager.
9. iGetter (Windows and macOS)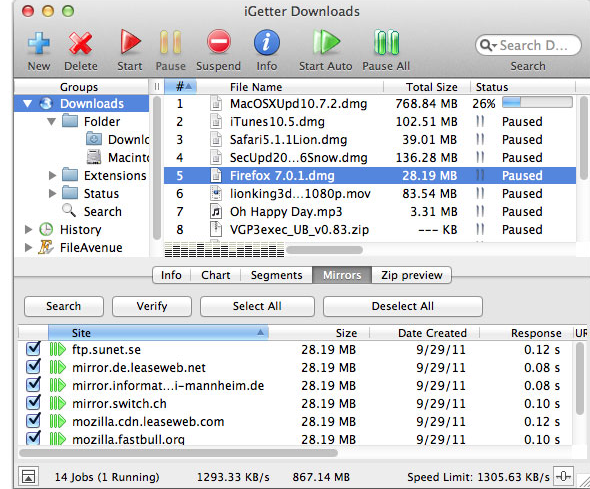 iGetter would resume downloading from where it stopped due to shutdown or other possible interruptions. It is a reliable download manager for Windows computers and MacBooks, providing you with a variety of tools for free. This downloader accelerates download speeds up to 5x regardless of your ISP.
Queue filtering, scheduling downloads, auto redial, shut down on completion, and much more features are what you'd get from iGetter. The interface looks great and easy to navigate.
10. GetGo Download Manager 6 (Windows)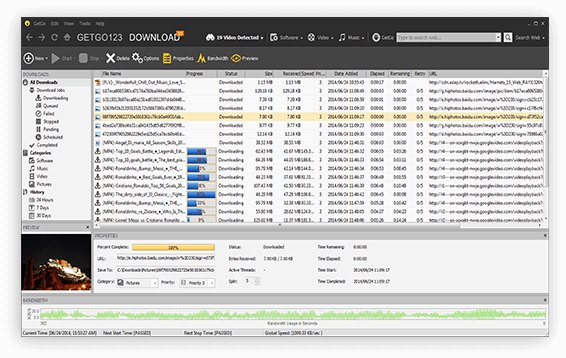 This free Internet Download Manager comes along with a web video downloader; thus, it also detects and downloads web videos swiftly. It works similarly to the defunct iOrbit downloader that works flawlessly on Windows machines. The GetGo Download Manager, just like the others on this list, is simply intuitive and packed with everything you'd need from a fast download manager.
It is entirely free for Windows OS and supports a multi-threaded download engine. Also, it integrates with Firefox and Chromium browsers. With this downloader, you can run multiple downloads at a go and they'd yet run at a great speed.
Summary
These are the top best free downloaders for Windows and macOS computers. They are packed with various features and tools; hence, either of these downloaders would work perfectly well for your needs and all types of digital downloads.