We have all come across a spot when the images we use for a digital medium appear too small in size or low quality for our needs. And simply stretching it using software like Microsoft Paint just doesn't do the trick. In fact, it makes the picture blurry and pixelated.
Luckily, artificial intelligence comes to the rescue (once again) with image enlargers that allow users to resize pictures without compromising on the quality. Available in both free and paid models, the AI image upscalers let you 'upsize' photos more effectively than conventional tools.
Why Do Images Become Blurry? And How Does AI Help?

As we all know, digital images are made up of pixels. These pixels appear as tiny dots of paint on a canvas. The more dots – or pixels on a picture, the more detail it will have.
However, when you enlarge a picture, the pixels get stretched too much and cannot accommodate the larger dimensions. Therefore, the sharp borders in the image become distorted, making it blur.
The AI image upscalers minimize the blur by compensating for each lost pixel and matching it to its nearest pixel. As a result, the picture appears in a high-resolution mode that is better prepared for showcasing.
10 Best Image Upscaler Tools for UX/UI Designers

Are you a creative creator or one that does professional UI/UX Designs? Well, you'd need a functional image upscaler tool to properly work with blurry or highly pixelated images in your designs. Here are some of the top-rated image upscalers available on the web today.
1. Upscaler – Stockphotos.com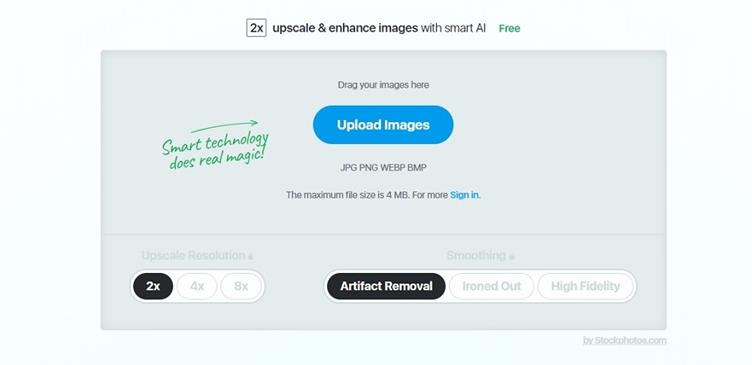 The AI Image Upscaler by Stock Photos is one of the best image upscalers in the market.
It's completely free for the first 3 images you enlarge with no download required. You can simply start upscaling from your web browser within seconds. If you want to upscale more pictures, you can choose from the paid packages that will boost the upscale limit to 20 and 100 photos, respectively.
The paid tool supports a maximum output size of 8000 pixels and file formats of JPG, PNG, WebP, and BMP.
Another cool feature of the AI Image Upscaler is that it gives social media-ready images for all the leading platforms. Select your favorite social media outlet and have the AI tool crop out according to its recommended guidelines.
Key Features

Easy to use
Drag and drop interface
Provides good pixels and image clarity
Compatibility: iOS, Android, Online
2. Topaz Gigapixel


Topaz Gigapixel, developed by Topaz Labs, is an AI image enlarger that lets you resize pictures by 600%.
The Topaz Gigapixel AI surpasses its competitors when it comes to perfection. Having trained the software through millions of tests, the Gigapixel gives extra image resolution to make your prints pop.
While the tool gives excellent results when fed with a high-quality image, it also gives equally great outcomes when you upload a low-quality picture. Thanks to its extensive machine learning algorithms, Topaz Gigapixel automatically increases the resolution to an optimal number. It will also remove any artifacts and noise blurs present.
The tool gives a maximum output of 32,000 x 32,000 pixels. It supports all major formats, including JPG, PNG, RAW, and TIFF. Topaz offers a 30-day free trial to interested users, after which you can purchase the complete software for $99.99
Key Features

Includes batch processing
Detects face blur automatically
Requires download
Compatibility: Mac, Windows
3. Let's Enhance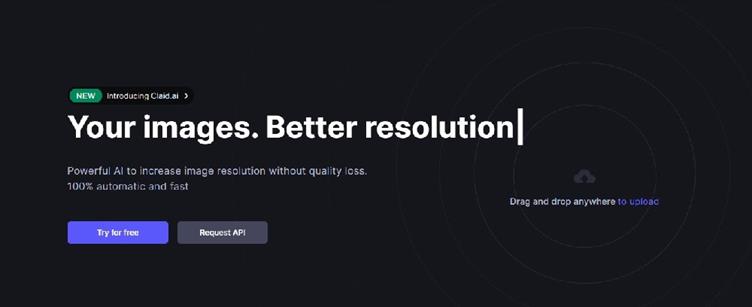 Let's Enhance is another web-based software that enables internet users to transform their low-quality pictures into high-resolution ones. With this tool in hand, you will be able to upsize images up to 16x without losing quality.
The image upscaling system uses a neural network to modify the images. It starts off by identifying the type of images, such as portraits or landscapes. It then uses a separate network to upscale the pictures and fixes the abnormalities present.
The limit on Let's Enhance is 5 pictures with upscale sizes up to 64 megapixels for free users. However, if you have many photos to resize, you can choose from the many paid plans they offer. With the premium plans, you can increase your picture limit and upscale up to 256 megapixels.
Let's Enhance supports JPG and PNG files. Their system works best with unprocessed or unscaled images.
Key Features

Fast conversion
Noise reduction in JPG files
Batch processing
Compatibility: Online
4. Vance AI Image Enhancer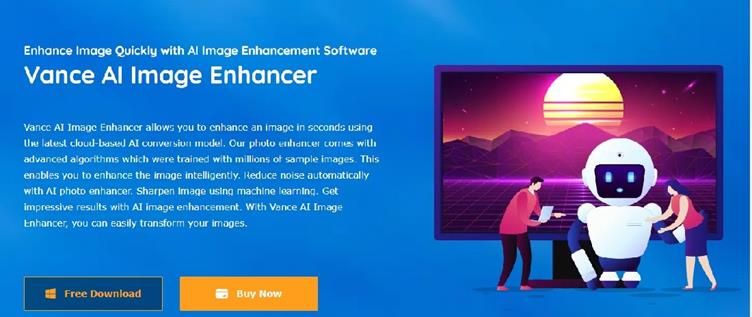 Vance AI Image Enhancer allows you to enhance photo quality and details with a single click.
It uses advanced AI technology that corrects the imperfections on the pictures to give a flawless finish. With the Vance AI solutions, you can create perfect quality pictures for websites, blogs, banners, eCommerce, and even print presentations.
You can utilize Vance to upscale 3 images up to 2x for free. However, if you want to continue using the tool, you will have to migrate to paid versions that start at $9.90 per month. Premium plans enlarge up to 6x, 8x, and even 40x with an upload limit of a maximum of 34 megapixels.
Vance supports JPG and PNG file formats. Besides the image enhancer, the brand offers multiple 'photography' related solutions, such as background remover and cartoonizer, to give your pictures the wow effect.
Key Features

Reduces blurriness
Improves color and details
Automatically compresses file
Requires download
Compatibility: Windows, Mac, Linux, Android, iOS
5. Deep Image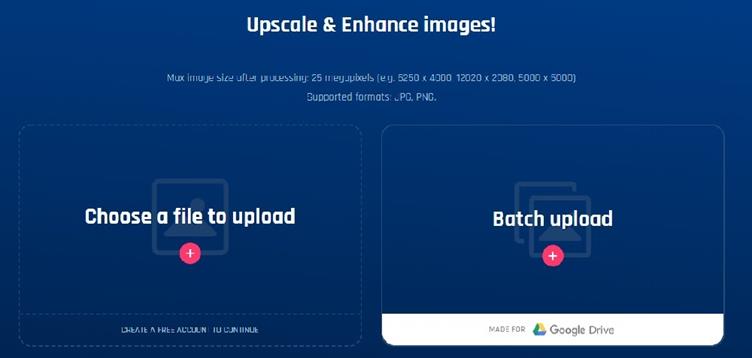 The Deep Image upscaler uses a combination of machine learning and artificial intelligence to make low-quality images better. The tool will upscale pictures up to 4x and 5000 x 5000 megapixels.
One of the best features of this image enhancer is that it comes with its own mobile app. Yes, if you are looking for an upscaler that lets you upscale on the go – then Deep Image is your best choice.
Moreover, the software is compatible with Google Drive and allows you to upload batches directly on your Google account. It supports both JPG and PNG.
Deep Image upscaler comes with a free trial for five images. Premium plans are available starting at $9 per month and on-demand pictures for $0.09 per image.
Key Features
Removes artifacts
Comes with a unique API key
Fast image processing (1-30 seconds)
Compatibility: Windows, Mac, Android, iOS
6. Waifu2x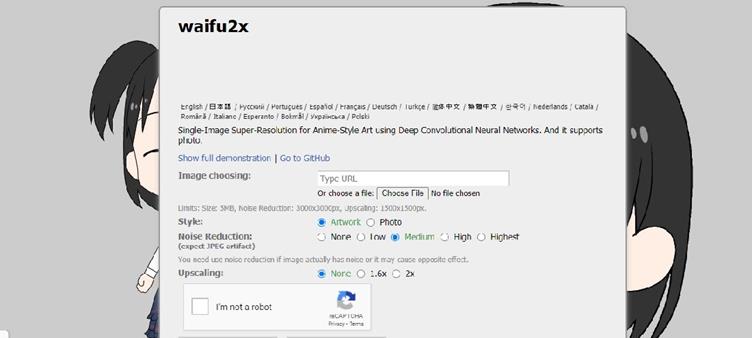 Waifu2x is an anime image upscaler that resizes images up to 2x their original size. Powered by AI Deep Convolutional Neural Networks, the tool gives you a high-quality and smoother finish. It also offers image processing without sacrificing the quality of pictures.
However, the interface of its website is not very impressive. And may not entice you enough. But the outcome for this tool is beyond exceptional and a go-to solution for anime-style art pictures.
Waifu2x is a web-based tool and completely free to use. You can either upload image files to upscale or enter the URL of your target picture. It supports JPG and PNG. The upscale limit for Waifu2x is 5MB or 1500 x 1500 pixels.
Key Features
Great upscaler for artwork
Removes artifacts
Completely free
Compatibility: Online
7. Bigjpg


Bigjpg is another image upscaler that is ideal for anime-style images and illustrations. It also supports regular photographs. You can use it online via web browsers or download it on your device. It also comes with a mobile app that is compatible with both Android and iOS.
Bigjpg uses Deep Convolutional Neural Networks to process images. With the help of this technology, it is able to maintain the colors, edges, and details of the picture while enlarging. As a result, your photos come out with life-like clarity.
Besides this, the tool supports API.
Bigjpg is free for a limited number of upscales. In the free version, you can enjoy image processing of 3000 x 3000 pixels and 10MB. Paid services are available that give you access to better speed, bulk uploads, and a 16x enlarge limit. It supports JPG and PNG file formats.
Key Features
Optimal stability
Supports offline enlarging
Saves images for 15 days
Compatibility: Windows, Mac, Android, iOS
8. PixBim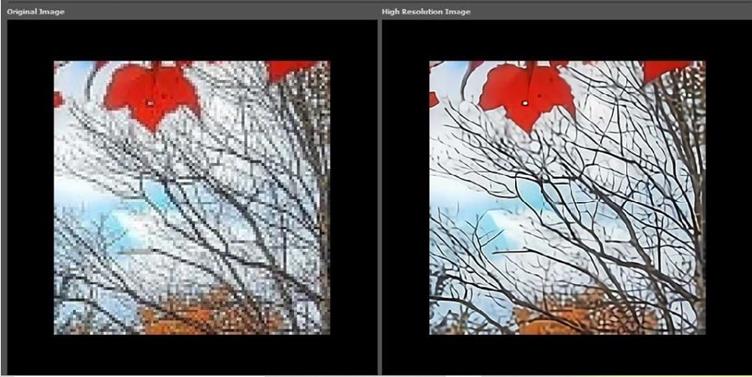 PixBim uses advanced AI technology to enlarge pictures, both in size and resolution. It accurately enhances the details of the image without any compromise to the quality.
PixBim Enlarge AI uses deep neural networks to predict the values of pixels on an image. It has been trained on millions of pictures for accurate prediction. As a result, your pictures come out better than before without any visible artifacts.
With this tool, you can increase the image size up to 4x. It supports PNG and JPG. PixBim is available to purchase for $49.99. This gives you access to unlimited image upscales for a limitless time frame. They also provide a free 30-day trial with a full refund if you are not satisfied.
Key Features
Free upgrades upon subscription
Easy to use interface
Enhances details automatically
Compatibility: Windows
8. Icons8: Smart Upscaler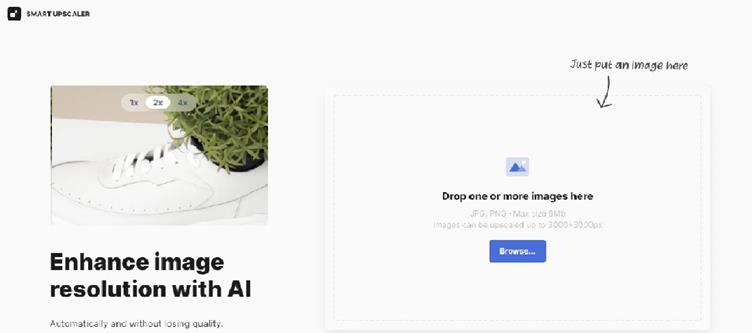 Smart Upscaler by Icons8 lets you enlarge low-resolution images into high-resolution ones. The upscale limit is 4x the original size and 5MB (3000 x 3000 pixels).
The algorithms of Icons8 Smart Upscaler are trained on more than 5 million images. It is constantly updating its algorithms to provide its users with better quality outcomes as well. It also automatically detects the flaws and sharpens them within a matter of seconds.
The Icons8 gives you access to 3 free upscales. For more images, you will have to buy from their subscription plans that start at $0.20 per image or $9 per month. API subscription is also available for bulk processing.
Icons8 supports JPG and PNG.
Key Features
Removes JPEG compression artifacts
Fully automated processing
Gives super-resolution
Compatibility: Online
10. Crea8tive AI: Photo Refiner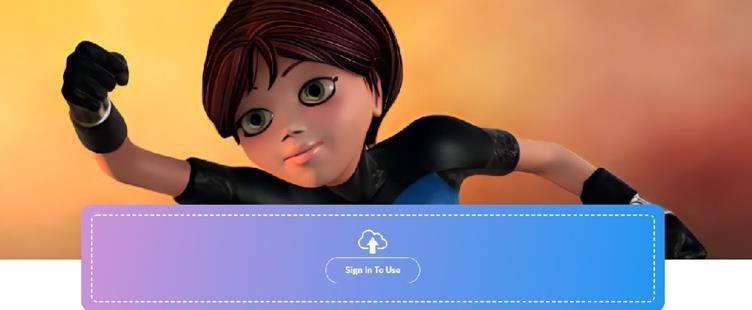 The Photo Refiner markets itself as an image upscaler that lets you resize 16 times the original size. It is also extremely fast and processes pictures at an ultra-high-speed. Moreover, it enables you to upscale images of 10000 pixels.
And that too without degrading the quality!
The upscaler has implemented a deep learning AI model in its operation. With the most advanced technology in hand, it is able to increase the resolution of images 4 times vertically and horizontally. Conversely, traditional models are only able to justify a 1:1 ratio.
Photo Refiner has various subscription plans that you can avail according to your requirements. It supports JPG and PNG.
Key Features
Removes artifacts
Sharpens edges
API integration available
Compatibility: Online
Notable Mention: DepositPhotos AI Image Upscaler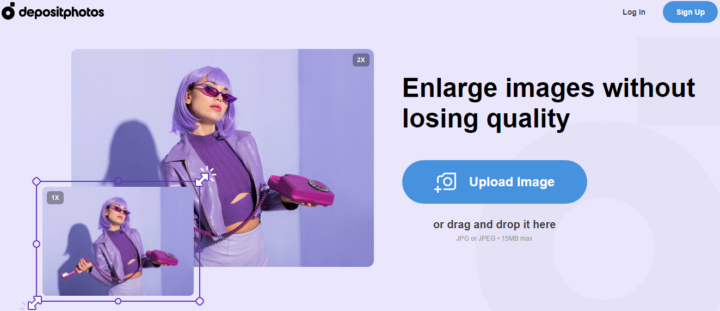 Users that work with visual content will appreciate Depositphotos' brand-new Image Upscaler tool. It's an AI-powered tool that allows you to enlarge photos, vectors, and illustrations, while also improving their quality. It is completely free and will help users save time and money.
With Image Upscaler, your image will double in size in a matter of seconds. No special skills are required to enlarge images without losing quality. Simply upload an image that needs to be improved, and AI will take care of the rest.
Let Upscaler do the hard work, so you can focus on more creative tasks. You can double the size of an image and enhance its quality too. Use this free online tool to resize JPG (or JPEG) files, and then download them in the same format.
Everyone can use the AI upscaling tool. It can be used for both professional and personal purposes. With this photo enhancer, you can get crisp and clear visuals for your business in a single click. Use the online image resizer to generate large-scale, high-quality printed materials for your company.
Final Words

These were just some of the top image upscalers you can use to enhance the resolution of your pictures. No matter which tool you use, what really matters, in the end – is quality. And we are sure you will not run into any trouble in that department with any of the above. Good luck!