An asset management solution becomes important when you have several digital assets to track. Apparently, there are various asset management solutions out there, with good features and support for 3rd-party integrations. The Daminion app is one of those good asset management software apps with several useful features and built-in tools.
Daminion supports various media formats and it is pretty intuitive to use. It has the cloud version and the on-premises version, so you can choose the one that's best for you. Managing digital assets with Daminion is cool and seamless. Here's my comprehensive Daminion review, along with its price, features, and "how to use" guide.
Daminion Digital Asset Management App Overview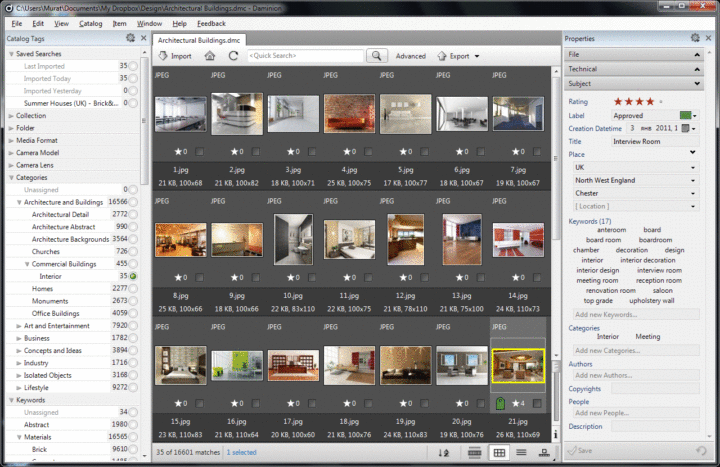 We are living in times where virtually everything can be done remotely and easily. Managing tens of assets might not be so tough, but when the assets grow into hundreds or even thousands, it becomes a big problem. Digital Asset Management apps (DAM) provide a one-place-for-all platform for you to manage and organize all your digital assets. This can lead to a visible increase in productivity and revenue. The Daminion DAM solution is distinctive and easy to use.
With the Daminion software, you can arrange your assets with tags so you can easily access the file at any time. This app is "universally" handy, suitable for all businesses that are into asset management. You can schedule backups to keep important files from getting lost.
Features  of Daminion DAM
There are quite so many impressive features available on this app, and they are important for the purpose of the software.
1. Import any File
The Daminion software supports 100+ file formats, including image formats (JPG, TIFF, PNG, etc.), document formats (Doc, PDF, etc.), camera RAW formats, 3D formats, vector graphics, and lots more.
You can import files by dragging them to the interface. More so, Daminion supports "Automatic File Naming," and "Auto Importing from Folders."
2. 100GB Cloud Storage
Interestingly, this app offers 100GB of storage in all plans. This storage space grows with your library.
3. Excellent File Management Tools
With Daminion, you can create hierarchical tags to properly assign and organize your files. It also supports GEO tagging, tag synonyms, custom tags, file/folder management, lock filter criteria in the filter bar, and many other handy file management tools.
Furthermore, thanks to the structured search terms, users can easily find assets even when they don't remember the folder paths.
4. Advanced Tagging
Daminion uses AI algorithms to tag your files. It uses Google Vision or Clarify services to recognize and tag common objects in images. More so, Daminion can automatically recognize the metadata in your digital asset files such as keywords in stock photos, and EXIF data in some images.
5. Search Function
The search feature on Daminion is very advanced and used deep filtration tools to phish out what you're looking for. You can use AND/OR/NOT in your searches; for example, you could search for "furniture designs with Chairs OR Tables but NOT glass."
You can also save search results, preview the assets in the search result, and access a lot of advanced file search tools.
6. Workflow and Collaboration
Daminion allows multiple designers to collaborate and work on projects. It supports a "Versioning" feature that helps to avoid document collisions, and changes can be reverted when necessary.
This software also supports workflow automation, access to external clients and employers, and you can set up login-free, read-only access for guests.
7. Integrations
The Daminion software can seamlessly integrate with a lot of external solutions out there, which include Adobe Photoshop or Illustrator, CMSes, ERPs, or eCommerce systems using the Daminion API.
8. Previews Everything
Interestingly, the Daminion software can preview 100+ formats. It also supports the side-by-side comparison of different assets, and you can preview videos in the web client. Furthermore, you can view an asset's history to see how changes were made on the asset.
Daminion Pricing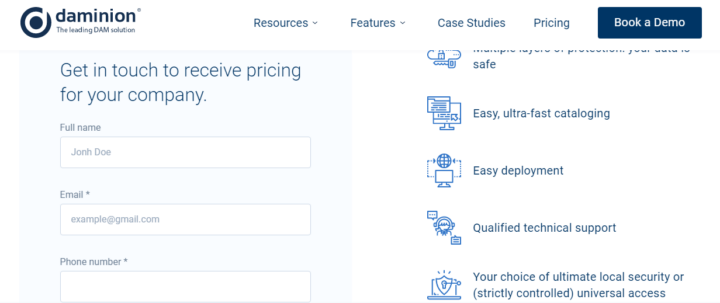 Well, Daminion doesn't have plans you can purchase for commercial purposes. Instead, you'd have to fill a form, indicating your business needs, and the Dominion team would reveal the pricing for your company.
However, for home usage (non-commercial license), Daminion offers three packages: Standard, Pro, and Home Server. The Standard package goes for $45.95, the Pro package goes for $99.95, and the Home Server goes for $99 – $149
How To Use Daminion Digital Asset Management Software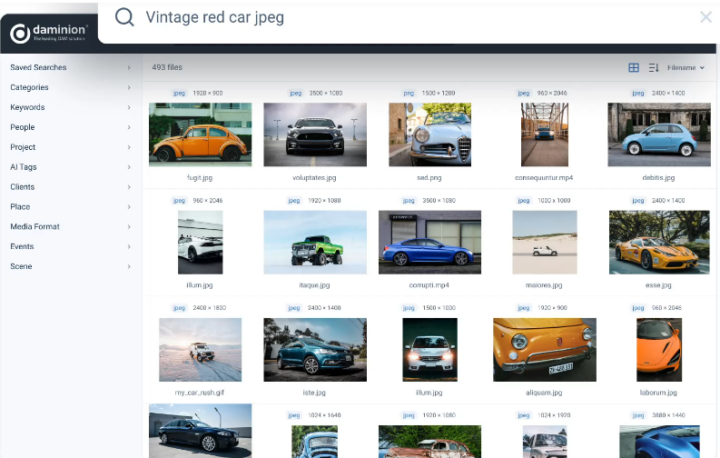 Dominion is a tool for different people; how you'd use the app depends on your business need. However, you'd need to install the Daminion Server on a computer system (if you're deploying the on-premises version). The computer would then serve as the local network.
Step One:
After the installation, launch the Daminion Server Administration Panel. You should see 2 green "running" lamps; this shows that the server is active.
Step Two:
Copy down the computer's IP address or name as you'd need to connect with Daminion Clients.
Step Three:
Now, install the Daminion Client app on a client computer, and connect to the server using the IP address you copied. Here are the steps to setup Daminion Client on your computer(s):
Launch the Daminion Client app after installation
Go to File >>> Open Shared Catalog >>> Add Daminion Server
Now, enter the IP address from the server computer
Click OK
Step Four:
If your setup is rightly done, you'd see an empty workspace. To add your digital assets, click on "Add Files" or you can import from your Daminion Server. The two ways to import your files include adding files without copying to Daminion Server and copying files to a shared catalog.
What More?
Daminion is an intuitive digital asset management app. It is equipped with a lot of good features, and you can easily set it up on a server. This software app helps you to effectively organize your fleet and assets. It is a tool for everyone, and there are versions for commercial and non-commercial users.