Gone are the days' things were done manually, now, everything has a software solution, including managing payrolls. There are quite a lot of business apps out there that allow SMEs to calculate their employees' wages, taxes, and other payroll activities. However, this article lists and reviews the top best options with more useful features and integrations support.
What is a Payroll Software For Small Businesses?
Put simply, Payroll software is a solution that allows small business owners to effectively calculate their employees' wages, track taxes, manage multiple pay runs, and perform several other payroll-related activities from a single, modulated interface.
Most mid and large businesses, including multi-national companies, depends on highly-functional payroll software to manage their employee's database from a single location.
The 10 Best Payroll Software (Programs) For Small Businesses
Come along with me as I walk you through the top best payroll software for large and small businesses. Note: These programs aren't completely free to use; however, they offer free trials for new users. At the end of the free trial, you'd have to pay to continue accessing the features they offer:

OnPay is one of the most-affordable payroll solutions for businesses. It is targeted at small and medium enterprises, and the features are quite numerous. With OnPay, you only pay $4 per employee, after paying the $36 base fee. Interestingly, this payroll software supports unlimited payroll runs, comes with essential HR tools, and allows 3rd-party integration with other accounting business solutions.
Well, you really can't customize OnPay's interface. However, it includes tools for generating year-end W-2s and 1099s without paying an additional fee like Paychex and ADP Run do. More so, this software solution supports automatic tax payments and Form 943 compliance for agricultural businesses.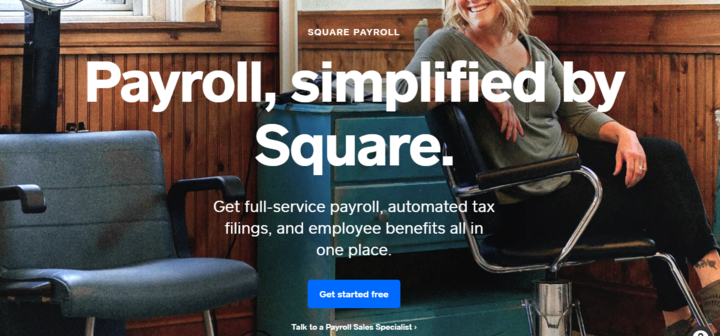 Square Payroll is a decent, feature-rich business solution for SMEs. It offers all the necessary payroll features and tools, as well as allows integration with 3rd-party business solutions. The program is accessible from any device, including mobile smartphones and tablets.
This payroll software supports automatic quarterly and annual tax filings, W2s/1099s forms, timecards, tips, commissions integration, and a lot more tools. The pricing plan is quite cool, and you can customize several aspects of the interface. The monthly base fee is $35 and $5 per employee.

Gusto is one of the best and most-reliable payroll software applications used by many businesses and enterprises. It provides you with a suite of useful tools, HR features, and unlimited payroll runs. The software also features a super-intuitive interface that anyone could easily understand, and it supports customizations and integrations.
With this Gusto payroll solution, you get features like automatic local, state, and federal tax filings, automatic year-end filings, manage W-2s and 1099s, multiple employee benefits options, and employee self-service portals. However, Gusto is quite expensive; its per-user fee is $6 per month while the base subscription cost is $39/month.

QuickBooks is a complete business accounting software with so many features and support for several integrations with other business software solutions. The QuickBooks online payroll software supports automatic payroll runs, next-day direct deposit, 1099 contractor management, and employee health care options.
More so, this payroll software comes with several HR tools to help your HR team improve and manage the most demanding activities. Well, the QuickBooks payroll software is quite pricey, but the features are pretty too many compared with other alternatives you'd get out there.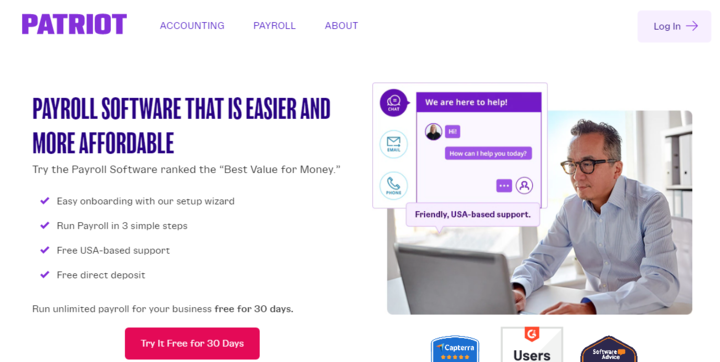 Patriot Payroll is a payroll software that is very affordable and comes with decent features. The base price is just $10 per month (or $30/month if you want the full-service option), and $4/month for each employee. More interestingly, the interface is friendly, easy to navigate, and loads pretty fast across devices.
However, the basic plan does not include HR tools in your payroll solution. If you need to add HR tools to your software, that would cost you an additional $6/month, which is still very much affordable. There are several other add-ons you can add to your package to get a full suite for your business needs.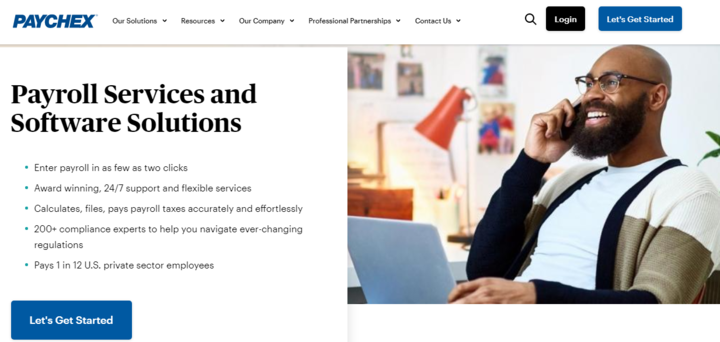 Paychex Payroll makes payroll functions easier for small businesses and entrepreneurs. It allows you to enter payrolls in just two clicks. This software solution supports payroll calculations and helps you pay payroll taxes accurately. Furthermore, their customer support is always active and they respond pretty fast.
The Paychex software integrates HR features and the base monthly cost is $39 while you pay an additional $5 per user. One thing you may not like about Paychex is the fact you'd get to pay an extra charge for It also W-2/1099 filings and payroll tax administration.
As the name implies, this is a free software that allows small businesses to create and manage payrolls. However, everything about setting up this software is manually done, and as you may guess, it comes with limited features. But, the main thing is that Payroll4Free provides businesses with the most essential tools and features to handle payroll tasks.
This software does not support payroll taxes or direct deposit by default; if you need those features, that's when you have to pay a little fee; else, this program remains free for you. Payroll4Free is recommended for new businesses with fewer than 25 employees.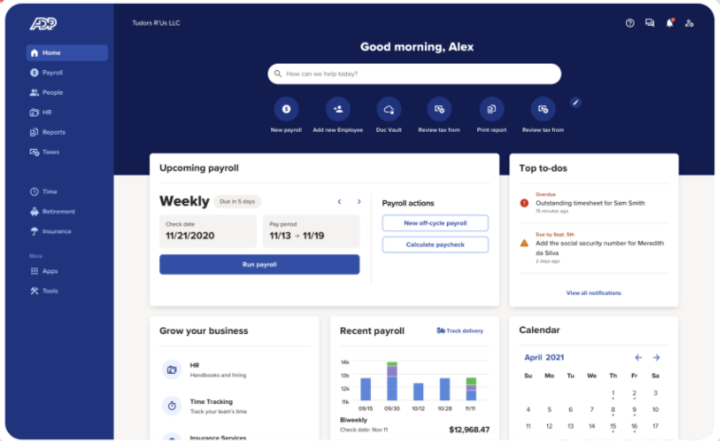 ADP is one of the most popular business payroll solutions providers. The company is recognized globally as one of the best accounting software developers. This payroll program from ADP comes with a ton of handy features and supports several HR tech features to simplify demanding business tasks.
This is a modernized payroll system with advanced features. Apparently, it supports automatic form fillings, tax filing and payment, and multiple employee payment options. More so, the support team of ADP comprises certified and experienced payroll professionals, who are available 24/7.
Rippling is basically an HR software solution with a Payroll add-on. However, the payroll add-on is quite full-featured and includes all the features you'd expect from standard payroll software. The features of Rippling Payroll include automatic form fillings, automatic compliance, and the ability to pay all your employees at a go, regardless of their locations. More so, Rippling synchronizes your data with over 400 business apps, including accounting solutions like Quickbooks, NetSuite, TSheets, and Deputy.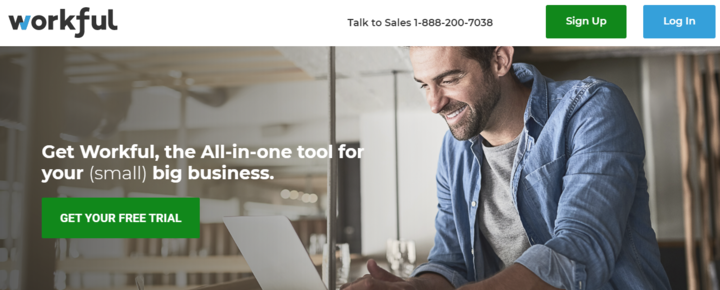 Workful Payroll empowers your team with all the tools needed to go fully automated in paying employees wages and taxes. While Workful is quite a newbie into the space its reliable customer support is one of the reasons many businesses to switching to the platform.
It supports features like geolocation time-clock tracking and allows employees to submit expenses for reimbursement, from their devices. This business payroll program is one of the most affordable and intuitive options out there.
Summary
These are practically the best business payroll solutions for entrepreneurs and SMEs. They are feature-rich and support a ton of automated functions. More so, you can always reach out to their support teams for guidance and clarification on how to set up the programs.