Many of us love listening to informative podcasts at different times. Interestingly, there are quite many apps that allow one to stream as many podcasts as possible. These podcast apps are typically available for free and integrate several unique features that make them distinctive from one another.
The Top 8 Best Podcast Apps For Mobile Listeners
If you're looking for a decent app that allows you to stream podcasts from various notable people, here's a handy listicle for you to choose from. These podcast apps are available for both Android and iOS devices, so you can have them installed on any of your mobile devices.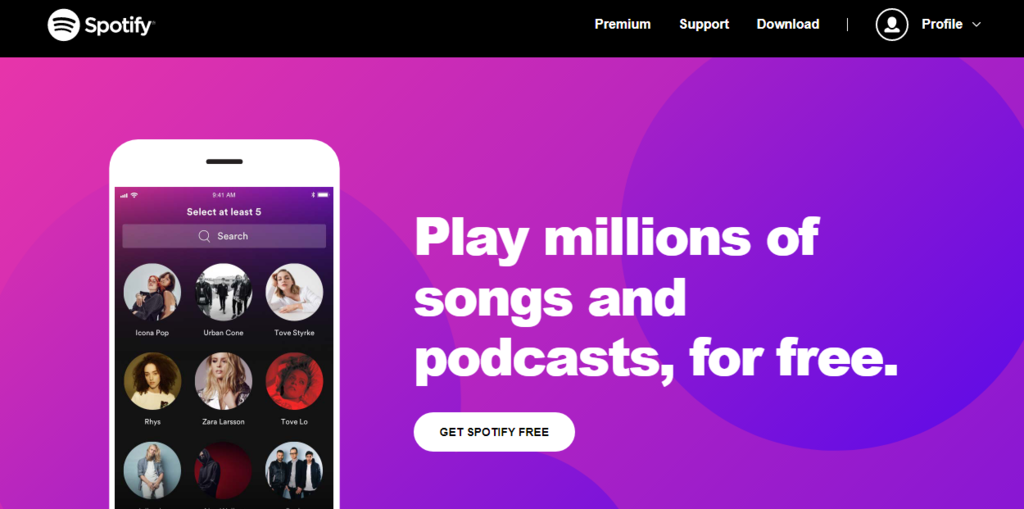 The Swedish audio streaming app, Spotify, is one of the most popular apps for streaming audiobooks, podcasts, and all kinds of music across devices. Spotify lets you stream thousands of podcasts, updated regularly.
You can add episodes to your queue, identify favorites, and follow podcast creators on this app. Spotify is free with ads; if you want to stream without ads, you will have to upgrade to the premium plan – $9.99 per month.
2. Google Podcasts (Android and iOS)

The Google Podcasts app is pretty intuitive and looks just as you'd expect a podcast app to look. On the homepage, you will find trending podcasts from popular creators. Also, you can easily navigate to any genre you love listening from.
You can add shows to your Google Podcast app by entering the show's RSS feed. This app is available for free and can be installed on any mobile device. You can also access the web version via a web browser.
3. TuneIn Radio (Android and iOS)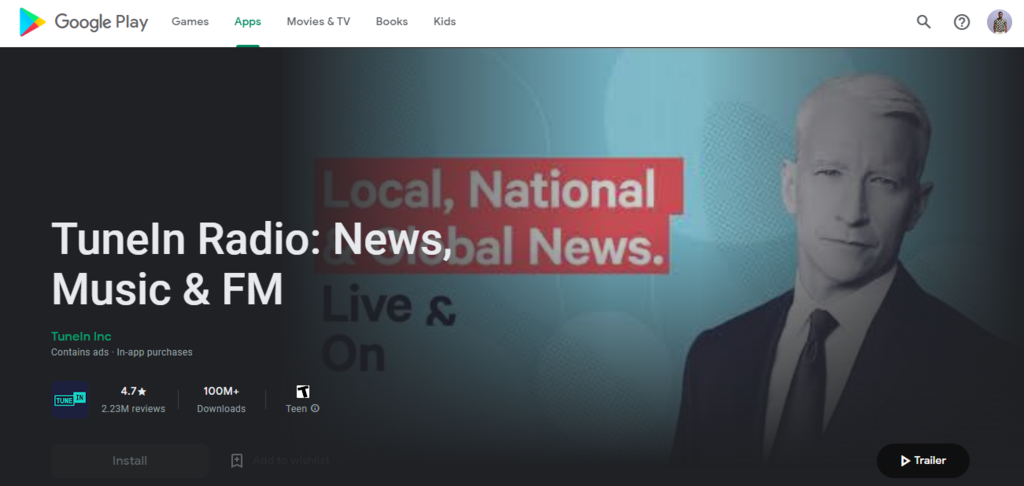 TuneIn Radio is more than just a podcast app; as the name implies, the app allows you to stream internet radio for free. It is similar to Spotify, with more features and intuitive add-ons. You can get TuneIn Radio on any of your mobile devices.
The TuneIn Radio app is available to everyone, regardless of location, and there are many podcasts to stream on the app. Also, just like every other podcast app, you can follow creators, add favorite episodes, and listen to your favorite type of podcasts.
4. Apple Podcasts (iOS)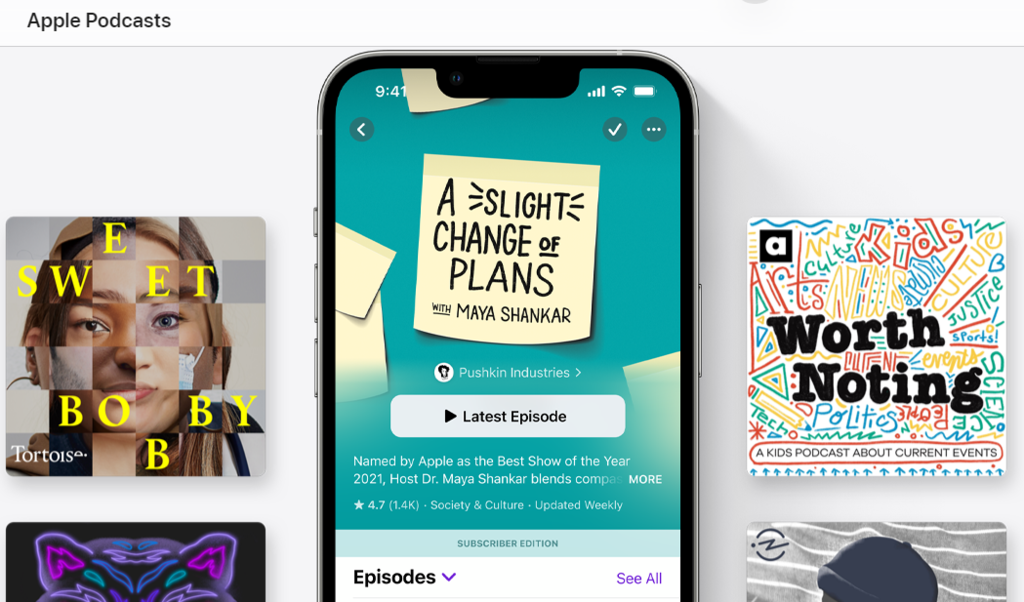 Well, the Apple Podcasts app is only available on iPhones and iPad; if you're an Android user, you'd have to port to any of the other apps listed in this article. Notwithstanding, the Apple Podcasts app is intuitive and offers millions of podcast episodes from various creators.
The Apple Podcasts app lets you follow different creators and access pretty many useful features. You can also subscribe to channels (paid) if you feel the content you're getting is worth paying for, but the Apple Podcasts app itself is available for free, and there are many free podcasts to stream.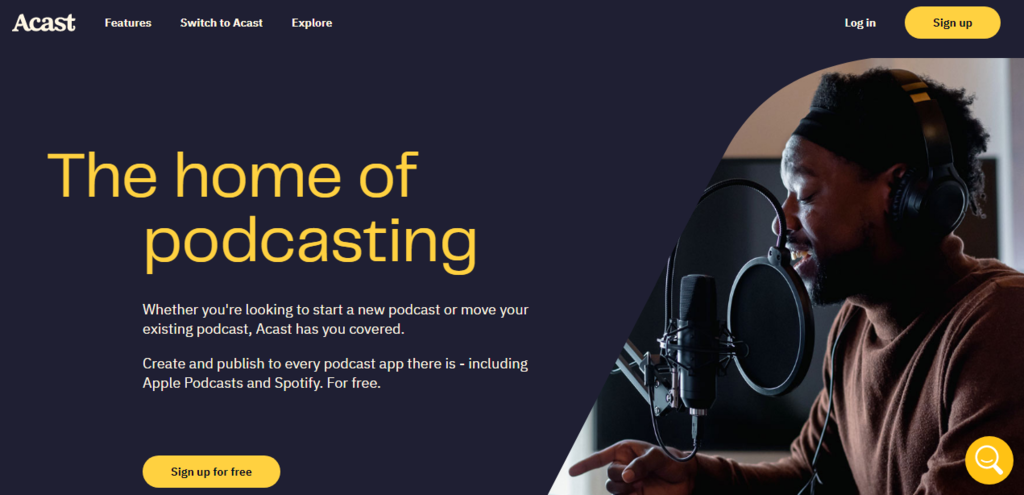 Acast is a podcast app for creators and advertisers. It has quite a lot of good features and offers hundreds of thousands of free shows. Creators can host their content with the Acast's team to earn.
On the Acast app, you can change your region and browse through thousands of podcasts available in your selected region. You can switch between these regions: Australia, Denmark, France, Germany, Ireland, Norway, Sweden, the UK, and the US.

Operated by Amazon, Audible is one of the best free podcast apps available for both Android device listeners and iOS device listeners. The service offers numerous shows, audiobooks, and podcasts from creators all over the world.
Audible is free, but it has a paid plan that grants you access to more of the platform's features and benefits. The Audible service subscription can also be added to your Amazon Prime Membership plan.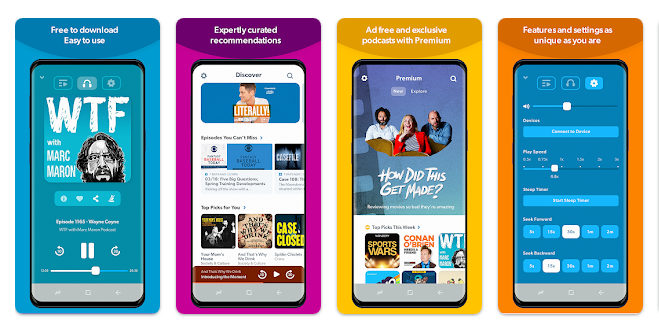 Want more than a mere podcast app? Here you go! Stitcher is a podcast streaming app and also a podcast network app. The app hosts over 50 original shows, including How Did This Get Made, Comedy Bang! Bang!, The Sporkful, The Dream, and many others.
While the Stitcher app doesn't have as many features as its competitors' apps, it does have the most important features you'd need in a podcast app. You can play Stitcher podcasts on Amazon Alexa devices, your vehicle's CarPlay or Android Auto system, or from a smart audio system.
8. Pocket Casts (Android and iOS)

You'd get to love this podcast app when you start using it. Pocket Casts is such an intuitive podcast streaming app you can use across devices and platforms, including CarPlay, Android Auto, Echo, iWatch, and many other platforms.
Its features are quite numerous, but you won't get to enjoy all of them until you're on the paid plan. Podcast playback tools are available, such as increasing or decreasing play speed, repeat, and others. If you get on the paid plan, you'd also have access to the cloud storage feature.
Summary
These are the best app for streaming podcasts on any mobile device. The apps are all free to download but have premium plans that grant you full access to all supported features. Whether you're a listener or a creator, you'd find these apps helpful.