The need or urgency to bypass Google Account can happen at any time. The process to bypass a Google account might seem difficult, but the steps might seem complicated.
Here, this article is to make things better and try to highlight what is FRP and how to disable it. This article mainly focuses on how FRP bypasses Google Account Verification.
Part 1: What is FRP?
FRP or Factory Reset Protect is a security-based feature in android devices that has Android version 5.1 and above. The main purpose of FRP is to provide built-in security, which will protect the device's information. It has such strong security; it provides high security to screen locks and encryption of data.
This FRP feature can protect your phone from leaking confidential data, which you do not want to share. So you may not think of bypassing the linked Google Account until it is extremely important. FRP is not a much-known thing among Android users, but the users who know about this are always careful.
Part 2: The Best Way to Bypass Google Account Verification
If you are finding software that would help you Bypass Google Account verification without any obstruction then, Dr.Fone-Screen Unlock (Android) is one of the best options out there. This software is the simplest solution to complete the process of bypassing Google account verification. This software is a specialist in Android lock screen removal. This software has some exciting features like:
This software is efficient in four types of Android lock screen removal like PIN, Password, Pattern, and Fingerprint.

This software is also efficient in removing the face lock as well.

You can smoothly bypass your Google FRP on Samsung devices without any pin code or Google Accounts.

This software can be used by a professional as well as a novice who does not know technology. This software can be handled by everyone.

Dr.Fone Screen Unlock (Android) works efficiently on other Android devices of Samsung, Huawei, LG, Xiaomi, etc.
All these features make this software extraordinary among all the other software available. These features are the reasons why this software is so much popular among Android users. Anyone can bypass Google Account following the steps given below:
Step 1 – First, you'd need to keep your Android device connected to the PC while putting your Phone power off.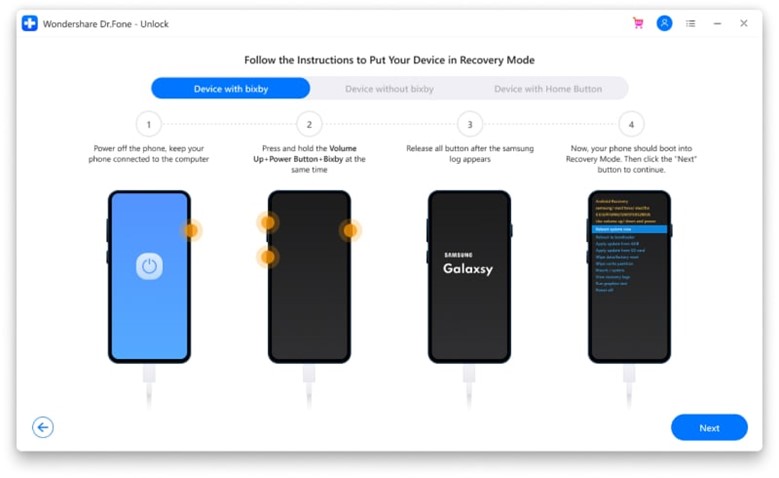 Step 2 – Now you need to first press and then hold the "Volume Up+Bixby+ Power button" simultaneously.
Step 3 – Then, you need to release the keys when the Samsung logo appears on the screen and then wait for a while.
Step 4 – Now, your device has entered the Recovery Mode. Here you need to press the "Next" button to go ahead with the process.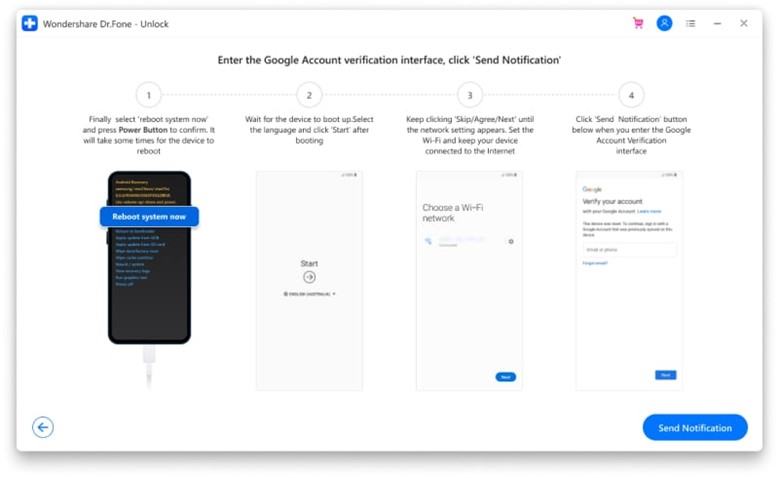 Step 5 – Now, a magnified number will appear on your screen lock with your device's Android OS version.
Step 6 – Then, you can select the option that has your device system version to complete the process of Google account bypass.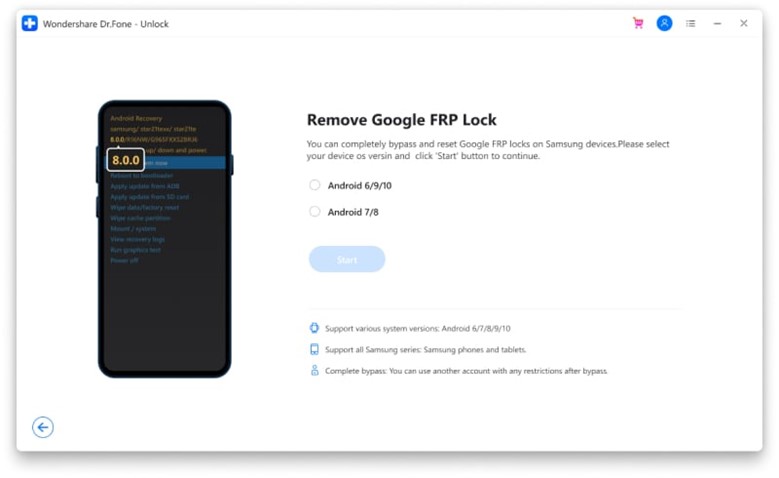 Bonus: How to Disable FRP to Bypass Google Account
It has been mentioned earlier that FRP gets automatically enabled as soon as you sign in to your Android phone using your Google Account. Nevertheless, to disable this, all you'd need to do is to remove the Google account that is signed on your Android device.
The best and the easiest option for deactivating FRP is to bypass Google Account verification. Anyone who has decided to sell their phone or buy a second-hand phone should always bypass Google Account verification before selling and check whether the Google account has been removed before buying. The steps to Disable FRP to Bypass Google Account are:
To start with the process, first, go to the Settings menu.

Now click on the "cloud" or "accounts" option.

Then select the account you want to remove.

Then go to that Google Account and click on the "Remove Account" option.

Now you need to verify whether you want to remove your account or not by clicking on the "Remove Account" option and then on the "I agree" button if you are prompted to do so.
Conclusion
I hope now you know what is FRP and the best way to bypass Google Account Verification, and how to disable FRP to Bypass Google Account. I would recommend Dr.Fone – Screen Unlock (Android) to everyone who is using an Android device. It is one of the best decisions to bypass Google account verification using this app. If you start using it once you would never regret it.
You should also keep in mind why it is important to remove your Google account before selling and buying an android device. It is the question of security; after all, everyone should be cautious about it.
Even though the steps said in the section above, might seem a bit tricky, all these steps are very easy and user-friendly. You can use this software and follow the above steps to fix your problem on how to Bypass Google Account Verification.