There are many benefits you stand to enjoy when you change your Infinix's Hot IMEI, and the good thing here is that you don't need to root your phone to change the IMEI. All information about your device is encoded into the IMEI number; so, when the IMEI is looked up, every detail of your phone is shown.
Changing the IMEI of your Infinix Hot smartphone will allow you to enjoy advanced tweaks and tricks, including setting up your device for free unlimited browsing. You can achieve this using the Engineering Mode app, which is available in Google Play Store, which means you don't need to brick (root) your Android device.
Infinix IMEI Authentication

IMEI authentication means revalidating that the IMEI number you have is actually the one for your device. There are a couple of ways to authenticate your Infinix IMEI number, in fact, it is important that you authenticate the number before proceeding with any advanced setup or tweak.
The IMEI authentication will tell if your device's IMEI number has been changed previously or not. It's quite simple to do this; simply visit the Infinix IMEI authentication website and paste the number. To find your device's IMEI number, dial *#06# or check the phone's box (check the manual).
How to Change Infinix Hot IMEI Without Rooting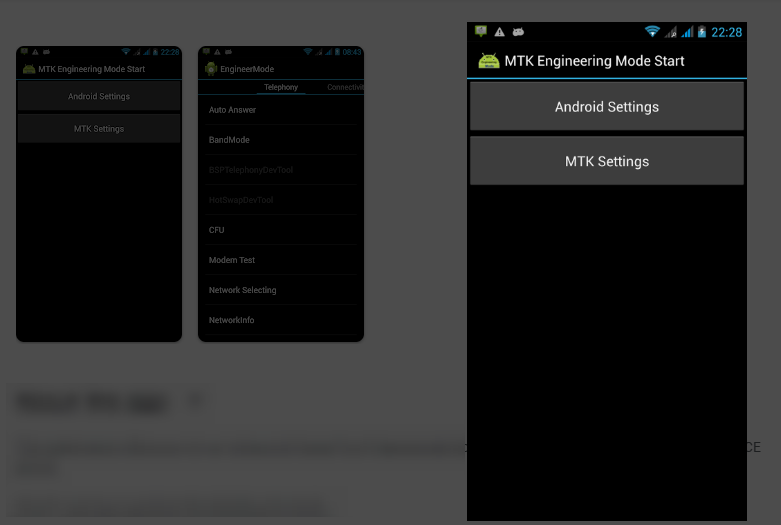 Normally, it is poised that if you want to activate some advanced features in an Android phone, you need to root the device first. But well, there are some apps that let you activate or perform advanced actions on an Android device without root access. Here's how to change Infinix Hot IMEI using the Engineering Mode app.
Prerequisites:
View your device's original IMEI numbers and write them down somewhere (make a backup) in case you need to revert the changes you're about to make.
Ensure the phone's battery is not low before starting this process.
Step One: Install the Engineering Mode App
You can either get this advanced app from Google Play Store or download the APK version from any app hosting website you trust, such as APKmirror, CNET downloads, and others. Install the app and allow all required access.
Step Two: Go To Phone Information
Launch the Engineering Mode app and tap on the "MTK Settings" row, and also tap on "CDS Information." This will show you a couple of options about "Data Services," tap on the "Radio Information" row.
Step Three: Select Your Sim Card
When you tap on "Radio Information," you'd see Phone 1 and Phone 2, which represent Sim 1 and Sim 2, respectively. You can choose any of the options depending on your preference. Since your phone uses double sim cards, each sim card has its own IMEI; so, you should choose the sim you want to change its IMEI.
Step Four: Type the IMEI Change Command
You need to be very careful entering these commands. Pay attention to the letters and numbers, and never misplace any of them:
AT +EGMR=1,7,"your imei number" for SIM 1
AT +EGMR=1,10,"your imei number" for SIM 2
Note: Observe that there's space between AT and +. Also, you should replace "your imei number" with the actual IMEI number(s) you want to change to. Let's say you want to change the IMEI to 123456789874123, then the command would be AT+EGMR=1,7,"123456789874123″ for sim 1 or AT+EGMR=1,10,"123456789874123″ for sim 2.
Step Five: Complete the Action
Complete the IMEI change process by tapping the "SEND AT COMMAND" button to submit the new IMEI you entered. After this, restart the phone for the new IMEI to replace the old one. That's all, you're done.
Why Change Infinix Hot IMEI?
Everyone has their reasons why changing their device's IMEI, but one of the most commonly relatable reasons is to enjoy free unlimited data. You can tweak your device's IMEI to get unlimited browsing data on MTN, 9Mobile, Airtel, or Glo networks. However, asides from the data aspect, some people change their Infinix Hot IMEI to have their phone's network stick on 3G, 4G, or 5G only.
What More?
Using the Engineering Mode app is the safest way to change your Infinix Hot IMEI without rooting the phone. The Engineering Mode app has a plethora of other features; however, before exploring them, ensure that you understand the implications. You can always revert your Infinix Hot's IMEI to the original one at any time by following the same steps explained in this article.