Network providers such as Mtn, Airtel, 9Mobile, Globacomm, and other mobile network providers have recently joined telemarketers, scammers, ex-lovers, and annoying friends to become "a pain in the neck" to their customers. Making sure that our sleep is disturbed or at most drain our phone battery.
I am sure that this is something you would like to stop from happening any longer, or isn't it?
I am just about unleashing the secret to stopping that ever-persistence, annoying or even unwanted calls and text messages from ever reaching your phone running on the Android operating system.
If you came to this tutorial while searching for "how to block those stupid text messages (SMS) from Mtn Nigeria" and not necessarily for the android app review, kindly grab the tips below or read on for android smartphone users.
Stopping Mtn and other Nigerian Providers from sending you stupid messages and Calls
I decided to chip in these tips alongside my review to help most of our readers who are from this part of the world. Most of the codes from these telecommunication providers is what I will be using throughout this application review.
Just take note of these shortcodes as they are usually the highest culprit when it comes to those annoying messages and calls.
Mtn Nigeria: I have been an mtn subscriber since 2006 and do know my little secret when it has to do with stopping their spam messages and advertorial calls from ever reaching my phone.
If you are currently using an mtn line and would like to stop those annoying messages usually from 35685, 33113, 35020, 33115 and the rest of them, you can simply send "stop" as a text message to "33111".
This will remove you from their campaign database  irrespective of the type of phone you used in sending the text message.
For other silly messages from their various campaign eg. 4100 caller tunes services and the like, all you need do is take note of the numbers (as long as it is not coming from a name eg. MTN) and add it to your phone's blacklist using the "call control" app for android or "mobile guard" for Symbian and other mobile phone operating systems.
Other Nigerian Networks: If you intend blocking calls and messages from networks other than MTN Nigeria, you still need follow my last guide above taking note of the numbers.
eg. Glo will usually call or text using 4040, 8888 and etc. while Airtel uses 8181
It doesn't matter the number they use as long as you won't be needing further messages from that number, all you need do is add them to your mobile phone blacklist using "mobile guard" for other phones or "call control" for android.
Also see: Full Screen 3d Games that will run smoothly with tecno android phones
Introducing Call Control -Android's Best "Call and Text Blocker"
Call blocker was never my first and will unlikely be my last app for blocking unwanted calls and text messages (sms) from telecommunication network providers, telemarketers and online scammers.
One thing with android apps is that almost every app in the play store will normally have one or two more alternatives making the store so competitive and interesting too.
The first android phone I ever used was HTC which came with a call blocking feature by default, same with my Samsung galaxy note 10.1 but most other ones like tecno android, gionee, infinix and even the one I currently use do not come with this feature by default.
At a particular point I needed a call and unwanted text messages blocker and to my uttermost amazement the  "call control app" did it just the way I wanted it done. Hence my rating it above the other apps in the market that never worked for me.
If you have difficulties getting the "call control app" to work on your phone, here are other alternatives that have worked in the past for me.
Sanity
Extreme Call Blocker (Stealth)
Call Blocker Gold
I chose to list the alternatives to save you the stress in the case of call control refusing to work well on your device or requiring you to upgrade to pro in other to unlock more numbers.
Features of call control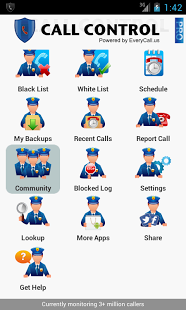 – Automatically blocks thousands of active spam callers reported by the community.
– Community Blacklist stops telemarketers, debt collectors and other spam calls before they bother you.
– Personal Blacklist lets you block any phone number or area code (3 entry limit in Lite version)
– Reverse lookup for spam callers to find out who's calling (and it's free).
– Call Log Integration – Blacklist, Whitelist and Lookup right from your Android's Call Log.
See also: stopping whatsapp from auto-connecting to internet on Nokia S40 / S60
How to install and set up the call control app on your android phone
Just like every other android app setting up the call control app is just as easy as:
==> Launch your google play from your device menu – applications list
==>Enter "call control" from the search icon
==> Install and open while still connected to the internet
==> activate the trial version to explore all the features or simply enable the free version
==> Head on to the settings menu and disable "block unknown calls" and "block private calls" if you don't want to miss your bank alerts and other important services like that.
N/b. it is advisable to leave this features turned on if you need what it provides –> Blocking all unknown / private numbers.
==> Configure other options accordingly
==> Use the blacklist feature to add those unwanted numbers including your troublesome boss and ex-lover :p
My Verdict
Call control is a great app for blocking unwanted calls and messages on any android device that do not come with this feature by default. I will gladly pay for a pro version of it but do wish the free version will start allowing as much as 100 numbers to help me block some individuals that are currently "a past history" as long as my personal life and privacy is concerned.