We have discussed about 9 free software apps to root android with/without PC in our previous article but thought it wise to present the best performing root APKs in their right category.
We started by listing the best 1-Click root android software and will continue today with the best root without PC android apps that are really flawless when it comes to rooting various brands of android smartphones and tablet devices.
If you don't know about rooting or need tips on how to root Android with these rooting apps, please do visit one of the links above or ask us questions about how to root android without pc using the comment box below.
Trust me, there isn't much technical know-how needed to use these root apps apk. It is as simple as using the "how to root without a computer" guide below.
How to Root Without a PC
To root phone without computer, you'd need complete the few steps below. They're all you really need to be able to root any Android without  a computer.
Enable unknown sources in your device by ==> Navigation to "Security settings" on newer devices or "Application settings" for older devices.
Download the Root APK from the root apps list below.
Install the app and launch it from your phone's home icon.
Select the appropriate options (Install SuperSU for Framaroot app) to completely root your device.
Install the root checker app to confirm your device is now rooted.
The Root Android Without PC Apps (APK)

Here are the best 10 root without PC apps (apk) for rooting all kinds of android phones, tablets and PDA(s). They were listed in such a way that – it answers the question of best root android apk, root tablet  apps, how to root android phone manually and/or how to root android 4.4.2, 6.0.1, & etc without a PC.
Remember to use the navigation buttons at the end of this post to get future update on best root apps, and other necessary tips on really effective root apk files or best rooting methods.
1. vRoot APK [now iRoot APK]

iRoot apk (formerly vroot apk) is usually my first choice when it comes to rooting with or without a computer. I have had tremendous success with it on different brands of phone including Tecno, Samsung, Gionee, Itel, Infinix, Sony, Mercury, Xiaomi and several others.
There isn't much options or configurations needed for this root app to work. It simply lets you root android without computer, and in just a few clicks. All you need do is :-
Get the latest version of it from here.
Send to your phone or mobile device (if downloaded with a PC).
Install the root apk (after enabling unknown sources for your device).
Launch the root app from the icon on your phone's home screen.
Hit the root button and watch the app perform its magic (Your device may restart at this step).
Launch the root checker app to confirm rooting as the final step.
2. Kingoapp APK

kingoapp works as flawless as the iRoot apk and is usually my second choice for rooting without the computer. It is as popular and works well with many brand of Android phones and devices.
One good thing about the Kingoapp is the highly improved exploits it uses to root even newer devices. Personally, I did root marshmallow android devices with it and It works best for devices with an internet access.
To root any android without the PC using the Kingoapp method, you will need run through the following steps:-
Download the latest version of Kingoapp from here or from the mirror website at http://kingoroot.org/kingo-root.
Ensure that your phone is connected to the internet.
Install the Kingoapp.
Launch from the home screen icon and click on root to get root access.
Use the root checker app (linked above) to confirm that your phone is now rooted.
3 Framaroot APK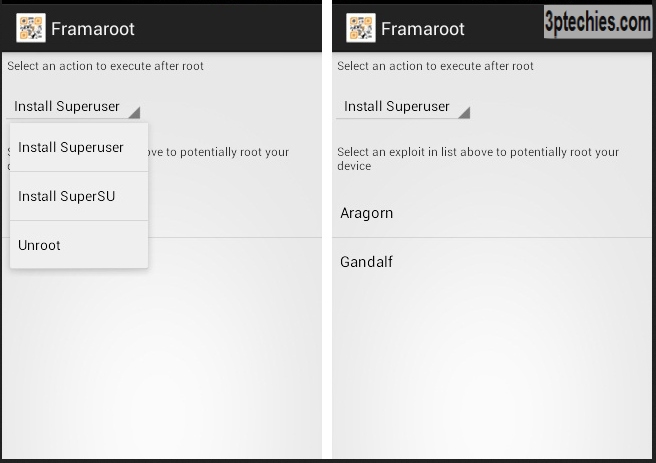 Framaroot is another useful app to root android phone and devices without a PC, it supports a wide range of devices and has proven to be able to root MTK devices.
Rooting with framaroot apk is a little bit more technical than the iRoot and kingoapp discussed above. But then, it very easy to use and gets updated more often than other competing root without PC applications.
Since the framaroot apk uses different exploits depending on the processor type, device type and device technology, we are going to have a longer tutorial for it.
To use the framaroot app to root any android phone or device directly without using a computer, you will need complete the following steps carefully.
Download the latest version of framaroot apk from here.
Send it to your phone or device (if downloaded with a PC) and make sure that the apk is in your phone's memory.
Install the framaroot app (after enabling unknown sources for your device).
Launch the app from your home screen icon and select the install superuser option present in app's screen.
Select an Exploit (List of exploit methods for device and processor types would be listed at the end of this guide to serve as a pointer in helping you select the best exploit for your phone) and complete the actions.
Wait for the Success, SU binary and superuser installed message that confirms that your phone is now rooted.
Restart the device and launch the rooter checker to re-confirm your phone is rooted completely.
a Video Tutorial on How to Root Android Without a PC [Framaroot Method]
Since the topic of rooting could be new to many of our readers, I thought it to include a detailed video tutorial for such persons. Here's a decent guide on how to root Android without a PC as created by Rohan Mane.
This Android rooting video tutorial is created with Framaroot apk in mind, but can be used for the other 10 rooting methods discussed in this page.
All you need do is – study the steps used and apply same for other rooting apps. Note that the root checker app discussed in this Video is the same with the one already linked above.
4. Universal Androot APK
Universal Androot is a versatile root without PC app that works for a wide range of android phone and devices. It is quite an option when it comes to rooting android phone and devices without a computer.
The list of android devices you can root with the universal androot apk is listed below for your perusal. Do note that more devices (other than the ones listed here) can be rooted with this awesome app.
| | | | |
| --- | --- | --- | --- |
| Google Nexus One (2.2) | Google G1 (1.6) | HTC Hero (2.1) | HTC Magic (1.5) (Select Do not install Superuser) |
| Motorola XT800 (2.1) | Sony Ericsson X10 (1.6) | Sony Ericsson X10 Mini (1.6) | Motorola Droid (2.01/2.1/2.2 with FRG01B) |
| Motorola ME511 | Sony Ericsson X10 Mini Pro (1.6) | Acer Liquid (2.1) | Acer beTouch E400 (2.1) |
| Samsung Galaxy Beam | Samsung galaxy 5 (gt-i5500) | Vibo A688 (1.6) | Lenovo Lephone (1.6) |
| LG GT540 (1.6) | Gigabyte GSmart G1305 | Xperia X10i | G1 1.6 Magic 32A (1.5) |
| Nexus One 2.2 | Milestone 2.1 | Hero (GSM/CDMA) | Xperia X10 mini |
| HTC Tattoo (1.6) | Dell Streak (2.1) | Motorola Milestone (2.1) | Motorola XT701 |
| Magic 32B (1.6) | Mytouch 3G (3.5mm) | LG Ally Droid X (2.1) | Flipout Kyocera ZIO |
To root with universal androot apk, you will need download the latest version of the app from http://goo.gl/q3c5Sr, install to your device, launch from the home icon and root accordingly.
5. Easy rooting toolkit (APK) or WeakSauce
While easy rooting toolkit works on wide range of devices, WeakSauce works only for HTC devices and its the best option for rooting HTC One M8 and similar HTC devices.
We have used both on many occasion and can authoritavely state that they are a useful root without pc app to try on android smart-phones.
You can download the easy rooting toolkit  from here and  and WeakSauce from here.
6. Towel root apk
Towel root apk is another unique root android without PC app. With an app like towel root apk, you need not border asking – how to root android phone from phone as we have tested it with a few android phones and can recommend it as a good apk to root android devices without a computer.
To use the towel root apk, you will need complete the following steps:-
Download Towelroot apk from here or the mirror website at http://towelroot.org
Transfer the towelroot apk to your smart phone or device (if downloaded with a PC).
Install the towel root app by clicking on the apk file
complete the installtion and launch app from the home icon
Use the next button to complete the root process
7. Baidu Root Apk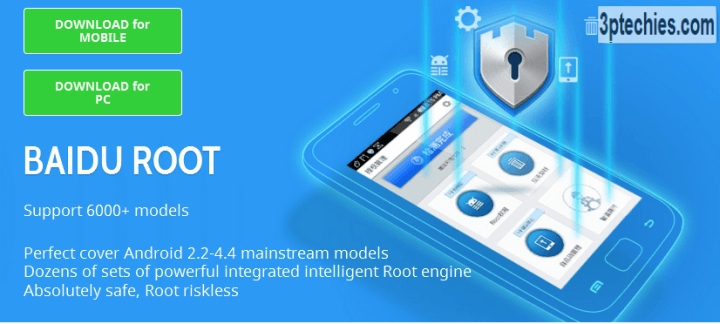 Baidu-Root apk is unique in that it can root wide range of android smart phones including some of the latest ones running on Google android kitkat Operating System and above.
You can download BaiduRoot apk from http://baiduroot.net and follow the earlier tutorial to complete the rooting of your device with the Baidu root apk.
8. KingRoot APK
KingRoot is the latest on our list of best rooting apk for android phone and devices. We have already tested this app and can assure you that it supports a wide range of Android phones and tablets.
It also works flawlessly on MTK powered devices. Devices such as Xiaomi, Lenovo, Infinix, Tecno, Gionee, Injoo, iTel and wide range of Samsung phone and devices can easily be rooted with KingRoot app.
It is free and can be downloaded from http://kingroot.net using your PC or phone's default web browser. Update!, the KingRoot APK version 4.8.0 supports the rooting of Android 5.1 Lollipop phones and tablets.
9. Ping pong root APK

We decided to include Ping pong root apk because of the many complaints from users of Samsung galaxy S6 and S6 Edge smartphones.
This rooting method is limited to users of Galaxy S6 devices. It is an Android rooting app created singularly for rooting Samsung galaxy s6 and/or s6 Edge devices respectively.
It's creation, modification and distribution is completely credited to the ever-working team at xda-developers Forums.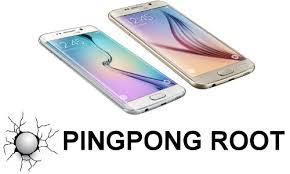 These are the steps to complete in order to root a Samsung galaxy S6 smart phone with Ping pong root app:-
Enable the side-loading of apps from unknown sources (as discussed above).
Download and install SuperSU app from PlayStore™ or from the raw apk file uploaded by 3ptechies here.
Download Ping pong root apk file from here and copy it to your smart phone's internal memory.
Install and run Ping pong root. Allow it to install the superSU/binaries.
Run superSU once to activate it, ignore the error message prompt (after app closure) and immediately return to Ping pong root app screen.
Launch it and click on download data (assuming that your phone is already connected to the internet).
Click on get root to complete the Ping pong app rooting method processes. Accept every permission message(s) prompt and reboot device once the operation is successfully completed.
10. CF-Auto-Root
CF-Auto-Root is another Samsung-centric rooting apk that lets you root Samsung devices with ease. But the better part of CF Auto root is that: it has support for HTC, Google Nexus, Sony and most high-end Qualcomm (C.P.U) powered devices.
CF Auto root is developed, maintained and distributed by  Chainfire and can be used to root Android without a PC by following after these steps:-
Download CF Auto Root apk from chainfire and install same to the phone you'd like to root.
Take note of the new icon and use it to complete the next step below.
Launch the app and tap on root my phone button to complete the Android rooting process.
Wait for some minutes and restart your phone.
Confirm if SuperUser App is added to your phone. If positive, your phone is rooted correctly, else play with some other rooting methods in this list.
Needs a Root Without PC App that isn't Free?

Using paid apps for something as simple as rooting is something I'd hardly encourage. But then, there is the option for a premium app.
This would come in handy for DIY-phobic readers that prefers a paid option. One click root apk lets one root Android phones and/or devices with ease.
The learning curves necessary for someone that's new to Android rooting can be bypassed with this service. They take you by the hand (VIP support) to fix challenges with rooting, when their app fails to root your device.
To use their paid rooting solution, simply subscribe to their services by downloading the free rooting apk from https://3ptechi.es/2w9UQdU.
Continuation for List of Devices to Root with FramaRoot APK
List of exploit methods for device and processor types
Framaroot Compatibility for Qualcomm devices (Gandalf exploit only):
ASUS Memopad FHD 10 LTE
Asus Padfone 1/2
Asus Padfone A66
Asus Padfone Infinity
Asus Transformer Pad Infinity TF700KL
Archos 50 Platinum
BLU Studio 5.3 S
BW T18+ (Fortis Evo)
Cloudfone Thrill 430x
Disgo 8400g
DNS S4504/S4503/S4502
FAEA F1
Gigabyte GSmart G1315 Skate
Gigabyte GSmart Rio R1
Google Nexus 4
Highscreen Spark/OMEGA Q/Blast/Strike/Boost
Hisense AD683G
HTC One S
Huawei Ascend G330D U8825D
Huawei Ascend G526
Huawei Honor Pro (U8950-1)
Huawei Premia 4g
Huawei U8815/U8816 Ascend G300/G301
Huawei U8825D Ascend G330D
Huawei Vitria Y301-A2
Huawei Y215
K-TOUCH TITAN S100
Karbonn Titanium S5
Kyocera Hydro Edge
Kyocera Hydro Xtrm
Kyocera Torque
Lenovo A600e
Lenovo A706
Lenovo S870E
LF-LTE3 (F260S)
LG Nitro HD
LG L1 II
LG L7 II P700/P710/P714/P715/P870
LG Lucid 2 (VS870)
LG Optimus Dynamic 2
LG Optimus F5 (P875)
LG Optimus F7
LG Optimus G E970/E975
LG Optimus L3 II E425
LG Optimus L5 E610/612/615
LG Optimus L7 II P710/P713/ P714/P715
LG Optimus L7 P700/Р705
LG Optimus LTE 2
MEDION LIFE P4013
Micromax A111 Canvas Doodle
Motorola Defy Mini XT321
Oppo Find 5
Orange Nivo
Orange Yumo
Orange Zali
Pantech Discover
Pantech Flex
Pantech IM-A840S Vega S5
Pantech Sky S5 A840S
Pentagram Combo
Phicomm i370w / i600 / i800
Samsung Galaxy Core i8260
Samsung Galaxy Express GT-I8730
Samsung Galaxy Win I8552
Sharp Aquos Phone SH930W
Smartfren Andromax U
Smartfren Andromax i2
Sony Xperia E C1505/Dual C1605
Sony Xperia L C210X
teXet TM-3204R
teXet TM-4677
Xiaomi Mi-2S
Yarvik Ingenia Compact SMP35-200
ZTE T83 (Telstra Dave)
ZTE V880G/ZTE V955
ZTE V9815 Grand Memo N5
ZTE Warp Sequent
FramaRoot App Compatibility for MediaTek (MTK) devices (Boromir, Faramir and Barahir exploits only):
A8 Alps
Acer A1-810
Acer A1-811
Acer B1-711
Acer Iconia A3-A10
Acer Liquid E2
Acer Liquid Z3
Alcatel 975N (Vodafone Smart 3)
Alcatel OT 4030D S'POP
Alcatel OT 8008D Scribe HD
Alcatel OT 997D
Alcatel OT Fierce
Alcatel OT Idol 6012X / Le Mobile Sosh / Orange Hiro
Alcatel OT Idol 6030X/6030D/6030H
Alcatel OT Scribe Easy 8000a
Alcatel OT Star 6010X
Alcatel OT Pop C5
Alcatel OT Ultra 6033x
Alcatel OT X'Pop 5035D
Amoi N828
Archos 40 Titanium
Arc Mobile 350D
ASUS Memo Pad HD 7
atab4w
AVUS A24
BEDOVE X12
Blu Dash 5.0
Blu Life Play
BLU ONE X
BLU Studio 5.0 / 5.5 / 5.5S
BQ Aquaris 5 / 5.7
BQ Elcano
Brondi Glory 2
Cat B15
Changhong z9
Charmpin (UTime) G7
Cherry Mobile Amber
Cherry Mobile Burst 2
Cherry Mobile Cosmos S
Cherry Mobile Cosmos X
Cherry Mobile Omega XL
Cherry Mobile Thunder 2.0
Chinese Star S7589
Chuwi VX1
Coolbox Quore v57
Coolpad F1 (8297)
Cube U39GT 3G (CubeTalk 9)
Cube U51GT C4
Cube U55GT (CubeTalk 79)
Cubot A890
CUBOT GT90 / GT99
CUBOT ONE
CUBOT X6 / P6
DAXIAN XY100S
Doogee DG200 Hotwind
Doogee DG350
Evercoss A7S
Excelvan ET704
Explay HD Quad
Explay infinity II
Explay Polo
Explay Surfer 7.32 3G
Explay Surfer 8.31 3G
Explay X-Tremer
Feiteng H5W (GT9000W)
Fly IQ440 Energie
Fly IQ441 Radiance
Fly IQ442 Miracle
Fly IQ443 Trend
Fly IQ446 Magic
Fly IQ450 Quattro Horizon 2
Fly IQ451
Gionee 868H
Gionee E7 mini
Gionee Elife E3
Gionee GN 708
Gionee Pioneer P2
GoClever Fone 570Q
GoClever Quantum 4
GoClever Tab M713G
Goophone N3
GSmart Aku A1
GSmart Sierra S1
GuoPhone G9002
Haier W718
Haipai I9389
HDC I9500/N9006
Highscreen Alpha GTX
Hisense U970
HKC Q79 3G
Hosin v70
Huawei U8836D G500 Pro
Huawei G610-U00 / G610-U20
Huawei G700-U10 / G700-U20
Huawei Ascend G730
Huawei Y320
Huawei Y511
HTM A6
HTM M1/M3
HUMMER H1+
iBall Slide 3G Q1035
IconBIT NetTAB Space 3G Duo
IconBIT NetTAB Mercury Q7
I-mobile series I-style 7.2
Inco Colossus II
INEW I6000+
iNEW V3
Intex Aqua HD
iOcean X7
iWING WTD2
Jiake JK 11
Jiayu F1
Jiayu G2
Jiayu G3S
Jiayu G4
Just5 Spacer
Karbonn A1 / A30 / A9+
Karbonn Titanium S2
Kata i3
Kata Venus 3
KENEKSI Beta
KingTopKt07
Kvd N3+
LANIX ILIUM S600
Lava iris 405 / 503
Lenovo A3300
Lenovo B8000-H
Lenovo 10.1″ Tablet S6000
Lenovo IdeaPhone P700i
Lenovo IdeaPhone S720
Lenovo IdeaTab A3000-H
Lenovo IdeaTab S6000-H
Lenovo P770/P780
Lenovo S890, S720, S820, S920, A390, A850, A516, A656, A368i, A369i, A859
Lenovo S5000-H
Lenovo S6000-F
Lenovo Yoga 8 / 10
Le Pan TC802a
M-Pai 809T
M4tel SS1060
Mi354 "Spice Smart Flo Space"
Micromax A58
Micromax A89 Ninja
Micromax A90
Micromax A114 / A117
Micromax A115 Canvas 3D
Micromax Canvas 2 Colors A120
Micromax Canvas 2 Plus
Micromax Canvas 4 A210
Micromax Canvas EGO A113
Micromax Canvas HD
Mlais MX70
MoreFine S6 Pro
Motorola RAZR D1
Motorola RAZR D3
MSI primo 76
MyPhone Agua Iceberg
Mysaga C2
N800 Mini Note
Neken N6
NEO N003 Advance
Newman N1 / K18
Nexa Vega N4
NGM Forward Prime
NGM Forward Young
NGM Dynamic Racing GP
No.1 S7
Omate TrueSmart
Onda v819 3G tablet
OPPO Find Clover
Oppo find 5 mini
Oppo findway U7015
OUMEI X5
Overmax Vertis-01/01+
Overmax Vertis-02/02+
Pantech Vega LTE Ex (IM-820L)
Pearl Smartwatch AW-414
Philips W536
Philips W736
Phoenix Rockx1
PocketBook SURFpad 3
Prestigio Multipad 4 Quantum
Prestigio MultiPhone 4055
Prestigio MultiPhone PAP 3350/3400/4505/5044 DUO
Runbo x5 / x6
S09 W63 IP68
Sesonn N9200+
Sharp AQUOS SH837W
Shengda S4
Sky Vega A800S
Smartfren Andromax V
Star HD9000+
Star N8000
Star N9800
Star S5 Butterfly
Star S6
Star S9500
Starmobile Diamond V3
Starmobile Knight
Symphony Xplorer ZII
Tecno R7
TeXet NaviPad TM-7055HD
Texet TM-5277
THL T100S / T200
THL V12
THL W8 Beyond
THL W8S
THL W11
THL W100(S) (130711)
THL W200(S)
Tronsmart TS7
Ulefone u7
Utime U100S
Vonino Ego QS
Vonino Sirius QS
Xiaocai X9
Xiaomi Hongmi / Redmi
Xolo A600/Q700/Q800/Q3000
Zen Ultrafone 701HD
ZOPO 980/990
ZOPO C2 Platinum
ZOPO C3
ZOPO ZP910
ZOPO ZP300+ / ZP500+
ZOPO ZP900 Leader
ZOPO ZP950H
ZOPO ZP990+
ZOPO ZP998
ZTE BLADE G2 V880H
ZTE BLADE Q
ZTE BLADE Q MAXI / MINI
ZTE Kis
ZTE Leo S1
ZTE N986
ZTE Open
ZTE Roamer 2
ZTE V795
ZTE V880G/H
ZTE V967S
ZTE V987 Grand X Quad
Walpad
Walton Primo F3i / G1 / H2 / EF
Wiko Cink Peax 2
Wiko Darkfull
Wiko Darknight
Wiko Darkmoon
Wiko Iggy
Wiko Ozzy
Wiko Rainbow
Wiko Stairway
FramaRoot Compatibility for Huawei K3V2 devices (Pippin exploit only):
Huawei Ascend G615
Huawei Ascend Mate
Huawei Honor 2
Huawei MediaPad 10 Link
FramaRoot Compatibility for Samsung devices (Legolas and Aragorn exploits only):
Samsung Galaxy Core GT-I8262
Samsung Galaxy S Aviator
Samsung Galaxy Proclaim S720C
Samsung Galaxy Young GT-S6312/GT-S6310
Samsung Illusion SCH-I110
Samsung Lightray SCH-R940
FR Compatibility for Exynos devices (Sam, Frodo, Legolas and Aragorn exploits only):
AT&T Galaxy Note 2 SGH-I317
Highscreen Explosion
Hyundai T10
Hyundai T7s
Impression 9702 (Exynos 4412)
Lenovo K860/К860i
Newman N2
Meizu MX2
Samsung Galaxy Camera EK-GC100
Samsung Galaxy Note 10.1 GT-N8000, GT-N8010, GT-N8013, GT-N8020
Samsung Galaxy Note 2 GT-N7100
Samsung Galaxy Note 2 LTE GT-N7105
Samsung Galaxy Note 8.0
Samsung Galaxy Note GT-N7000
Samsung Galaxy S GT-i9000
Samsung Galaxy S2 AT&T SGH-I777
Samsung Galaxy S2 Epic 4G Touch – SPH-D710
Samsung Galaxy S2 GT-I9100
Samsung Galaxy S3 GT-I9300
Samsung Galaxy S3 LTE GT-I9305
Samsung Galaxy Tab Plus GT-P6200/GT-P6210
Samsung Galaxy Tab 7.7 GT-P6800/GT-P6810
Samsung SGH-i997 Infuse 4G
T-Mobile Galaxy Note 2 T-889
Verizon Galaxy Note 2 SCH-I605
iBerry Auxus CoreX2 3G and CoreX4 3G
FramaRoot Compatibility for Omap36XX devices (Gimli exploit only):
Archos Gen8
Cliq 2 MB611
Coolpad Quattro 4G
Droid 2 (a955)
Droid 2 Global (a956)
Droid X (MB810)
LG Marquee LS855
LG P970 Optimus Black
Motorola DEFY+ (MB525 / MB526)
Motorola Droid PRO
Motorola Droid X
Motorola Milestone 2
Motorola XPRT
Parrot ASTEROID Smart
R2D2 (a957)
Note: AMLogic devices would normally use the Gollum exploit only, and you can select a proper exploit method for your device (if not listed) by following the exploit pattern for your phone's processor type.
What More?
You have seen our list of best root without PC apk for rooting android phones and tablets. I'd like to remind you that you can look up Google by entering "root apk name + device model + download" in the search bar to download APK files right for rooting your device model.
This is where we'll stop for today, we'll keep updating this list as much better improved apps showcases. Kindly share tips, challenges and/or rooting experience below.
Do not forget to share this with your friends that needs tips on how to root their Android phone and/or devices without a computer.
Update on Best 10 Root W/O PC Apps.

This list was recently updated to include the KingRoot android rooting app, the latest in our list of useful root without PC Android applications.
,
Share with this Short-link: