We have discussed 9 free software apps to root android with/without PC in our previous article but thought it wise to present the best performing root APKs in their right category.
We started by listing the best 1-Click root android software and will continue today with the best root without PC android apps that are really flawless when it comes to rooting various brands of android smartphones and tablet devices.
If you don't know about rooting or need tips on how to root Android with these rooting apps, please do visit one of the links above or ask us questions about how to root android without pc using the comment box below.
Trust me, there isn't much technical know-how needed to use these root apps apk. It is as simple as using the "how to root without a computer" guide below.
How to Root Android Without a PC
To root Android phones without computers, you'd need to complete the few steps below. They're all you really need to be able to root any Android without a computer.
Enable unknown sources in your device by ==> Navigating to "Security settings" on newer devices or "Application settings" for older devices.
Download the Root APK from the root apps list below.
Install the root without PC app of your choice and launch it from your phone's home icon.
Select the appropriate options (Install SuperSU for Framaroot app) to completely root your device.
Install the root checker app to confirm your device is now completely rooted.
The 12 Rooting APK to Root Android Without a Computer

Here are the best root without PC apps (apk) for rooting all kinds of android phones, tablets, and PDA(s). They were listed in such a way that – it answers the question of best root android apk, root tablet apps, how to root android phone manually and/or how to root android 4.4.2, 6.0.1, etc. without a PC.
Remember to use the navigation buttons at the end of this post to get future updates on the best root apps, and other necessary tips on effective root apk files or best rooting methods.
1. vRoot APK [now iRoot APK]

iRoot apk (formerly vroot apk) is usually my first choice when it comes to rooting with or without a computer. I have had tremendous success with it on different brands of phones including Tecno, Samsung, Gionee, Itel, Infinix, Sony, Mercury, Xiaomi, and several others.
There aren't many options or configurations needed for this root app to work. It simply lets you root android without computer, and in just a few clicks. All you need do is:-
Get the latest version of it from here.
Send to your phone or mobile device (if downloaded with a PC).
Install the root apk (after enabling unknown sources for your device).
Launch the root app from the icon on your phone's home screen.
Hit the root button and watch the app perform its magic (Your device may restart at this step).
Launch the root checker app to confirm rooting as the final step.
2. Kingoapp APK

kingoapp works as flawlessly as the iRoot apk and is usually my second choice for rooting without the computer. It is popular and works well with many brands of Android phones and tablet devices.
One good thing about the Kingoapp is the highly improved exploits it uses to root even newer devices. Personally, I did root marshmallow android devices with it and It works best for devices with internet access.
To root any android without the PC using the Kingoapp method, you will need to run through the following steps:-
Download the latest version of Kingoapp from here or from the mirror website at http://kingoroot.org/kingo-root.
Ensure that your phone is connected to the internet.
Install the Kingoapp.
Launch from the home screen icon and click on root to get root access.
Use the root checker app (linked above) to confirm that your phone is now rooted.
3. Framaroot APK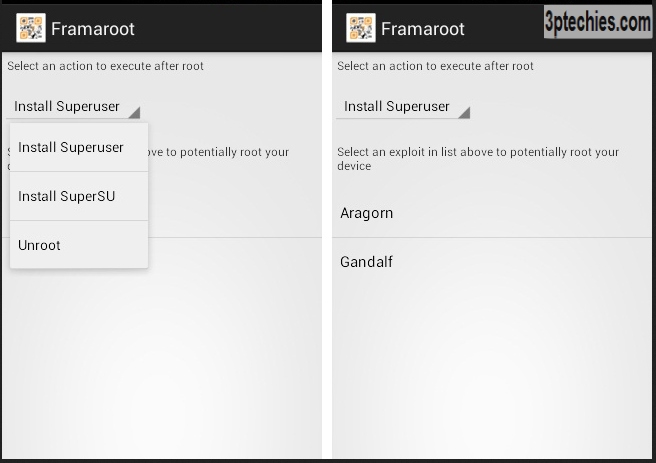 Framaroot is another useful app to root android phone and devices without a PC, it supports a wide range of devices and has proven to be able to root MTK devices.
Rooting with framaroot apk is a little bit more technical than the iRoot and kingoapp discussed above. But then, it very easy to use and gets updated more often than other competing root without PC applications.
Since the framaroot apk uses different exploits depending on the processor type, device type, and device technology, we are going to have a longer tutorial for it. To use the framaroot app to root any android phone or device directly without using a computer, you will need to complete the following steps carefully.
Download the latest version of framaroot apk from here.
Send it to your phone or device (if downloaded with a PC) and make sure that the apk is in your phone's memory.
Install the framaroot app (after enabling unknown sources for your device).
Launch the app from your home screen icon and select the install superuser option present on the app's screen.
Select an Exploit (List of exploit methods for device and processor types would be listed at the end of this guide to serve as a pointer in helping you select the best exploit for your phone) and complete the actions.
Wait for the Success, SU binary, and superuser installed message that confirms that your phone is now rooted.
Restart the device and launch the rooter checker to re-confirm your phone is rooted completely.
a Video Tutorial on How to Root Android Without a PC [Framaroot Method]
Since the topic of rooting could be new to many of our readers, I thought it to include a detailed video tutorial for such persons. Here's a decent guide on how to root Android without a PC as created by Rohan Mane.
This Android rooting video tutorial is created with Framaroot apk in mind but can be used for the other rooting methods discussed on this page. All you'd need to do is – study the steps used and apply the same for other rooting apps. Note that the root checker app discussed in this Video is the same as the one already linked above.
4. Universal Androot APK
Universal Androot is a versatile root without PC app that works for a wide range of android phones and devices. It is quite an option when it comes to rooting android phones and devices without a computer.
The list of android devices you can root with the universal androot apk is listed below for your perusal. Do note that more devices (other than the ones listed here) can be rooted with this awesome app.
| | | | |
| --- | --- | --- | --- |
| Google Nexus One (2.2) | Google G1 (1.6) | HTC Hero (2.1) | HTC Magic (1.5) (Select Do not install Superuser) |
| Motorola XT800 (2.1) | Sony Ericsson X10 (1.6) | Sony Ericsson X10 Mini (1.6) | Motorola Droid (2.01/2.1/2.2 with FRG01B) |
| Motorola ME511 | Sony Ericsson X10 Mini Pro (1.6) | Acer Liquid (2.1) | Acer beTouch E400 (2.1) |
| Samsung Galaxy Beam | Samsung galaxy 5 (gt-i5500) | Vibo A688 (1.6) | Lenovo Lephone (1.6) |
| LG GT540 (1.6) | Gigabyte GSmart G1305 | Xperia X10i | G1 1.6 Magic 32A (1.5) |
| Nexus One 2.2 | Milestone 2.1 | Hero (GSM/CDMA) | Xperia X10 mini |
| HTC Tattoo (1.6) | Dell Streak (2.1) | Motorola Milestone (2.1) | Motorola XT701 |
| Magic 32B (1.6) | Mytouch 3G (3.5mm) | LG Ally Droid X (2.1) | Flipout Kyocera ZIO |
To root with universal androot apk, you will need to download the latest version of the app from here, install it to your device, launch from the home icon, and root instantly.
5. Easy rooting toolkit (APK) or WeakSauce
While the easy rooting toolkit works on a wide range of devices, WeakSauce works only for HTC devices, and it's the best option for rooting HTC One M8 and similar HTC devices.
We have used both on many occasions and can authoritatively state that they are a useful root without pc app to try on android smart-phones. You can download the easy rooting toolkit from here and WeakSauce from here.
6. Towel root apk
Towel root apk is another unique root android without a PC app. With an app like towel root apk, you need not border asking – how to root android phone from phone as we have tested it with a few android phones and can recommend it as a good apk to root android devices without a computer.
To use the towel root apk, you will need complete the following steps:-
Download Towelroot apk from here or the mirror website at http://towelroot.org
Transfer the towelroot apk to your smartphone or device (if downloaded with a PC).
Install the towel root app by clicking on the apk file
complete the installation and launch the app from the home icon
Use the next button to complete the root process
7. Baidu Root Apk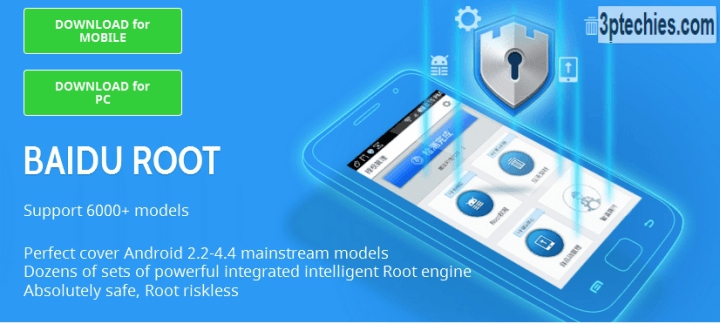 Baidu-Root apk is unique in that it can root a wide range of android smartphones including some of the latest ones running on Google android KitKat Operating System and above.
You can download BaiduRoot apk from http://baiduroot.net and follow the earlier tutorial to complete the rooting of your device with the Baidu root apk.
8. KingRoot APK
KingRoot is the latest on our list of the best rooting apk for android phones and devices. We have already tested this app and can assure you that it supports a wide range of Android phones and tablets.
It also works flawlessly on MTK powered devices. Devices such as Xiaomi, Lenovo, Infinix, Tecno, Gionee, Injoo, iTel, and a wide range of Samsung phones and devices can easily be rooted with KingRoot app.
It is free and can be downloaded from http://kingroot.net using your PC or phone's default web browser. Update!, the KingRoot APK version 4.8.0 supports the rooting of Android 5.1 Lollipop phones and tablets.
9. Ping pong root APK

We decided to include Ping pong root apk because of the many complaints from users of Samsung galaxy S6 and S6 Edge smartphones.
This rooting method is limited to users of Galaxy S6 devices. It is an Android rooting app created singularly for rooting Samsung galaxy s6 and/or s6 Edge devices respectively. Its creation, modification, and distribution are completely credited to the ever-working team at xda-developers Forums.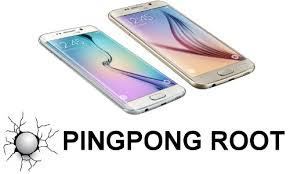 These are the steps to complete in order to root a Samsung galaxy S6 smart phone with Ping pong root app:-
Enable the side-loading of apps from unknown sources (as discussed above).
Download and install SuperSU app from PlayStore™ or from the raw apk file uploaded by 3ptechies here.
Download Ping pong root apk file from here and copy it to your smart phone's internal memory.
Install and run Ping pong root. Allow it to install the superSU/binaries.
Run superSU once to activate it, ignore the error message prompt (after app closure) and immediately return to Ping pong root app screen.
Launch it and click on download data (assuming that your phone is already connected to the internet).
Click on get root to complete the Ping pong app rooting method processes. Accept every permission message(s) prompt and reboot device once the operation is successfully completed.
10. CF-Auto-Root
CF-Auto-Root is another Samsung-centric rooting apk that lets you root Samsung devices with ease. But the better part of CF Auto root is that: it has support for HTC, Google Nexus, Sony, and most high-end Qualcomm (C.P.U) powered devices.
CF Auto root is developed, maintained and distributed by  Chainfire and can be used to root Android without a PC by following after these steps:-
Download CF Auto Root apk from chainfire and install same to the phone you'd like to root.
Take note of the new icon and use it to complete the next step below.
Launch the app and tap on root my phone button to complete the Android rooting process.
Wait for some minutes and restart your phone.
Confirm if SuperUser App is added to your phone. If positive, your phone is rooted correctly, else play with some other rooting methods in this list.
11/12: One Click Root and iskysoft Rooting tool
Even though they are good for rooting Android phones and devices, they are paid tools and doesn't come for free. The trial version of iskysoft rooting tool is too limited for any serious rooting exploit. The second rooting tool is explained in details below.
You can follow after the link to download and use the one-click rooting tool if the other top rooting methods listed above do not work for your android phone or device.
Needs a Root Without PC App that isn't Free?

Using paid apps for something as simple as rooting is something I'd hardly encourage. But then, there is the option for a premium app.
This would come in handy for DIY-phobic readers that prefer a paid option. One-click root apk lets one root Android phones and/or devices with ease.
The learning curves necessary for someone that's new to Android rooting can be bypassed with this service. They take you by the hand (VIP support) to fix challenges with rooting when their app fails to root your device.
To use their paid rooting solution, simply subscribe to their services by downloading the free rooting apk from https://bit.ly/2w9UQdU.
Are Rooting APKs Safe to Use in 2021?
Well, the answer to this question is simple; rooting APKs from a trusted source is safe while the ones from questionable sources are unsafe.
One good thing about Android is the active community of developers and private/independent contributors. Unsafe rooting APKs hardly outlive one month before they are discovered and shamed by the hard-working Android developers.
In the past, malicious rooting APKs that were used to distribute adware, virus, and malware were quickly discovered and publicized for user's safety.
There are lots of Android developers, independent app analyzers, and tech bloggers who are dedicated to discovering Android malware, vulnerability, and malicious apps. Their efforts so far have yielded the needed result.
All in all, it is advisable to use only Android rooting APKs from trusted sources. Read online reviews about new rooting APKs or opt for their PC software version to root your new phones or tablet devices.
What More?
You have seen our list of best root without PC apk for rooting android phones and tablets. I'd like to remind you that you can look up Google by entering "root apk name + device model + download" in the search bar to download APK files right for rooting your device model.
This is where we'll stop for today, we'll keep updating this list as much better improved apps showcases. Kindly share tips, challenges, and/or rooting experience below.
Do not forget to share this with your friends that need tips on how to root their Android phone and/or devices without a computer.
Update on Best 12 Root W/O PC Apps.

This list was updated now to include the KingRoot android rooting apk, the latest in our list of useful root without PC Android applications.
We also included some other rooting tools that help one get root access on Android phones without using a desktop. At the moment, we are testing iSkysoft Toolbox – Android Root function, and how well it works for rooting android 6.0.1, Android 7.0 Nougat, and other tougher Android phone models. Once we confirm it as a top rooting toolbox to get root access on Android without a computer, we'll create a detailed guide for it.