Recently, wireless earbuds are increasingly becoming popular: New ones are packed with good techs and seem "a worthy buy," while old ones are improving on their feature-offerings like never before. Active Noise Cancelation (ANC) is one of the sort-after features when buying new wireless earbuds. The COUMI ANC-860 Hybrid wireless headphone is a pair of active noise cancelation earbuds that are packed with modern features.
This pair of earbuds from COUMI is sturdy, sleek, and looks to be an ideal option for everyone. If you're a staunch music lover, the xFyro ARIA Bluetooth 5.0 Earbuds (reviewed previously) is a reliable alternative. However, here's my COUMI ANC-860 wireless earbuds review.
COUMI ANC-860 Wireless Earbuds Overview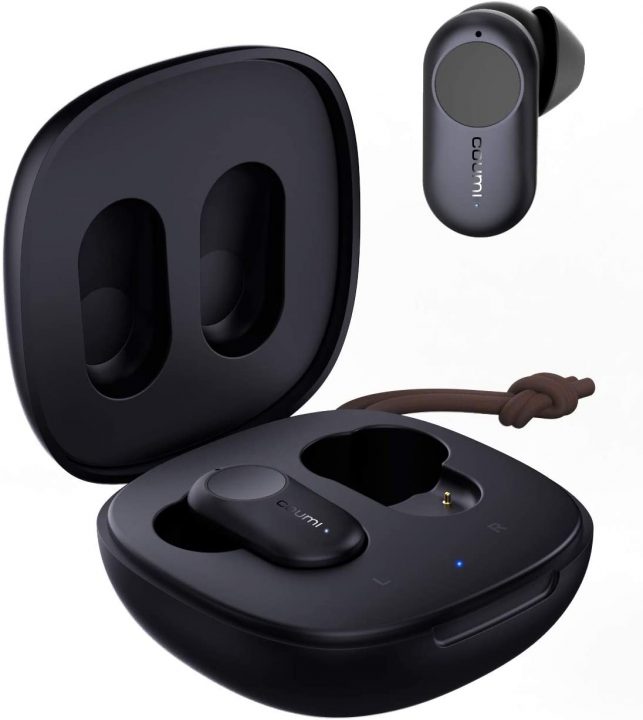 COUMI ANC-860 wireless earbuds is a hybrid active noise cancellation headphones that are packed with lots of modern features, specs, and great battery life. With advanced techs, Coumi ANC-860 earbuds easily connect with smartphones, PC, smart TVs, and other devices that are Bluetooth compatible. Hereunder are the full specifications and features of these premium earbuds from COUMI.
Specs of COUMI Hybrid ANC-860 Earbuds
| | |
| --- | --- |
| Type | In-ear headphones |
| Connection | Wireless (Bluetooth) |
| BT version | 5.0 |
| Weight: | 10-11g |
| Microphone | Yes (built-in) |
| Protection | IPX7 – water and sweat resistance |
| Battery life | Up to 8 hours (normal charging) or 32 hours (charging case) |
| Noise control | Active Noise Cancelation |
| Charging | Via USB-C |
| Dimensions | 1.18 x 0.97 x 0.79 inches |
Unboxing
Here's what you'd find in a brand new pack of COUMI hybrid active noise cancelation (ANC-860) wireless earbuds.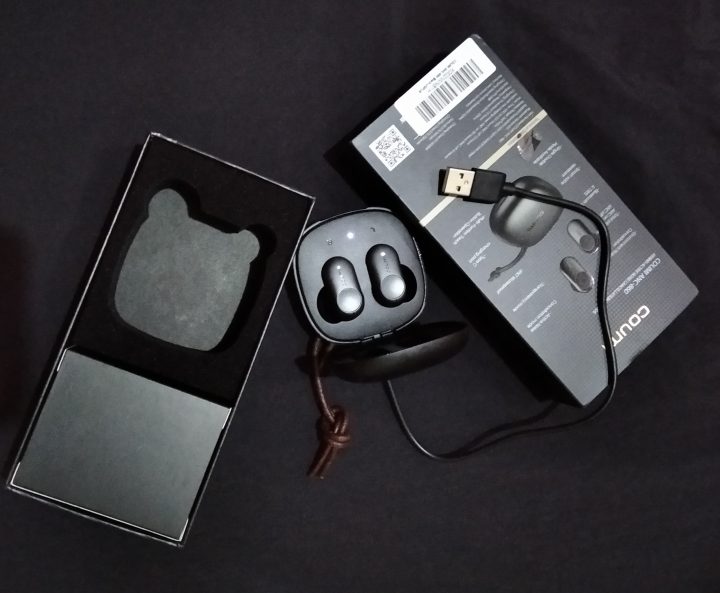 As seen in the photo above, there are the wireless earbuds, the charging case, the Type-C USD data cable, and the accessory box that houses 10 pieces of ear tips (of different sizes), a warranty card, a discount card, the quick user guide, and the main user guide.
COUMI ANC-860 Pricing and Where To Buy?
COUMI hybrid active noise cancellation (ANC-860) wireless headphone is sold for $59.99 on Amazon but readers of 3ptechies can get it for $35.99 if they buy it before 2020/10/31 23:59 PM. The code to use for this 40% OFF discount is 3Y4TK863.
Features of COUMI ANC-860 Wireless Earbuds
Here are some of the most prominent features of COUMI ANC-860 hybrid active noise cancellation wireless headphone: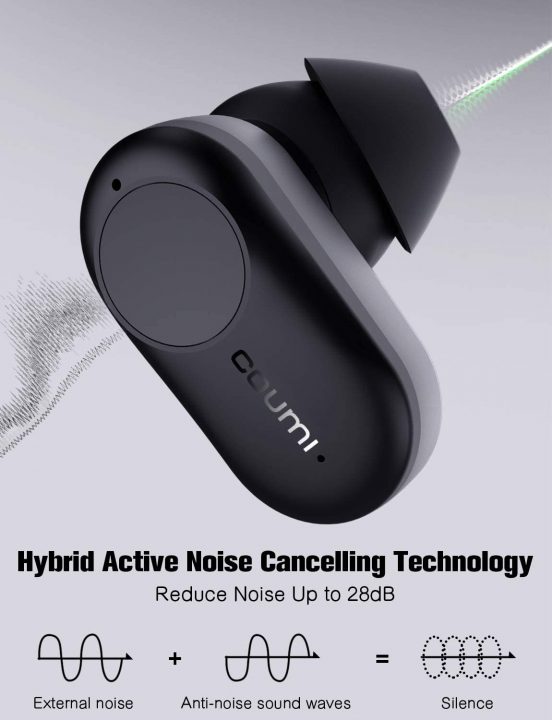 Advanced ANC and ENC
The Active Noise Cancellation and Environmental Noise Cancellation technologies used on these earbuds are highly efficient. ANC-860 assures that you listen to music/podcasts with almost zero noise disturbances.
This COUMI's earbuds feature an upgraded dual-core digital noise reduction chip and built-in hybrid active noise canceling Mics. Also, the ENC tech works with a set of built-in mics to recognize and eliminate outside noise; this helps while you answer calls with these earbuds.
Bluetooth 5.0 with Touch Sensor
With Bluetooth 5.0 support, the COUMI ANC-860 wireless earbuds seamlessly connect with/to all kinds of devices with Bluetooth support. The earbuds stay connected over 30ft (unobtrusive distance).
Also, this pair of COUMI earbuds offer great convenience with touch control. The touch sensor detects and activates ambient sound, play/pause music, Siri/Google voice assistant, receive/end calls, and adjust volume functions in one tap.
IPX7 Waterproof
COUMI has assured its potential customers that it used a nano-coating technology on a premium IPX7 material to design these earbuds. This helps to prevent sweat and water from damaging your earbuds.
In other words, it is safe to clean the earbuds with clean water after sweating from exercise, training, or work out. Also, with a certified IPX7 rating, you can wear these earbuds when you go on swimming-related exercises.
USB Type-C Charging Port
The compact case used to protect your ANC-860 earbuds is ultra-lightweight and supports a USB-C charge for convenience.
Single Ear Mode & TWS Mode
You can put on just one of these earbuds and still enjoy premium audio quality. The COUMI ANC-860 earbuds support separate L/R connectivity; thus, you can use both as a pair for stereo sound, or use either the right or left earpieces. This also means that you can share the earbuds with someone else.
Strong Battery
The COUMI ANC-860 wireless earbuds stay on for a very long time (up to 35 hours or more) after a full charge. However, the battery life/playtime depends on the usage, volume level, and whether you turned on the ANC feature or not.
Built-in Mics
COUMI ANC-860 wireless earbuds feature a set of built-in mics for seamless hands-free calls. There are up to six (6) built-in microphones on these earbuds with advanced CVC 8.0 noise cancellation technology. Hence, you will enjoy clear phone calls without noise interference.
Comfortable Design
Here's one of the best features of the COUMI ANC-860 wireless earbuds. The earbuds are comfortable to wear on, and the case is well-designed. It also comes in three (3) different flexible ear tips, so you have to choose the most convenient one for yourself.
Multiple Modes
This pair of earbuds supports up to three (3) different modes: normal mode, ANC mode, and transparency mode. To switch between modes, simply tap on the touch sensor.
My COUMI Hybrid ANC Wireless Earbuds Review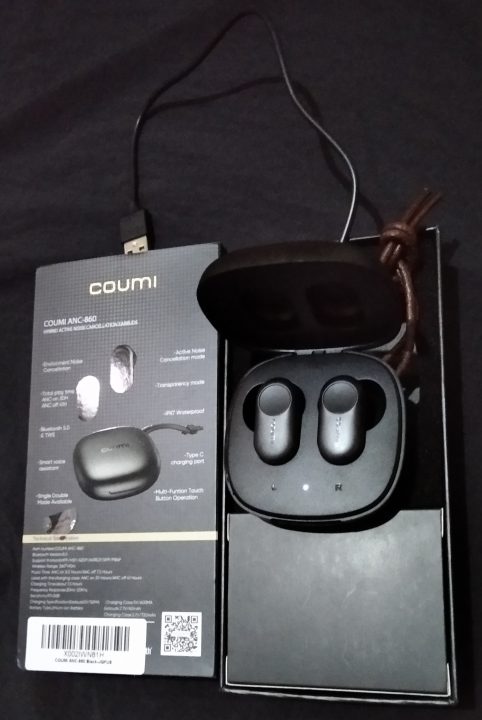 Coumi ANC-860 wireless earbud is cheap, safe, and convenient – and that's enough for me. It pairs seamlessly with all my devices and works as advertised on their sales page. So far, there are no solid complaints as the multi-sized ear tips have solved the problem of discomfort such as the earbuds falling off while running or lying down.
It's hands down a good buy for the discounted price and generally "value for the price it's sold". I can easily recommend it for sports and personal uses.