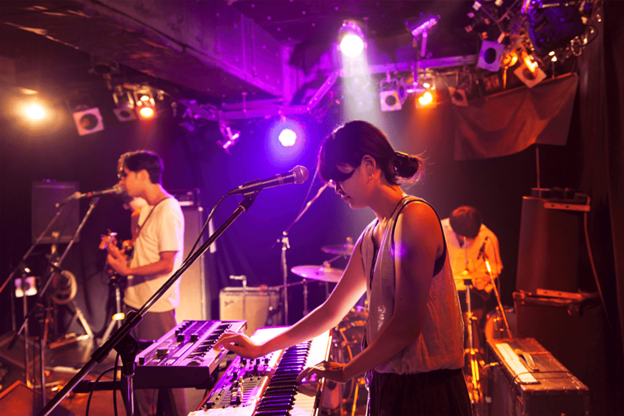 Here, you'll find out exactly how live concert lighting works and how lighting engineers put on incredible shows using their own expertise, some LED lights and a DMX controller.
Engineering a lighting package for a touring concert is no easy task. Many people who make their living as lighting engineers have picked up their skills from years on the road. That's why we're here to show you the basics of how live concert lighting works. While every concert tour and every venue has slightly different requirements, there are a few key pieces of equipment and principles you need to familiarize yourself with before you begin designing a lighting package for a touring act.
And, for those just curious to learn more about how live concert lighting works—you're in luck as well. We're going to be exploring how live concert lighting works and the different devices that make complex lighting landscapes possible while on the road. We're answering important questions like, "What is DMX lighting?" and "What kinds of lights are used for shows?" So, if you're interested in learning more about how lighting works for touring concerts, then keep reading! We're getting started by diving into the device that makes the whole production possible — a DMX controller.
What is a DMX Controller and How Does It Work?
The DMX controller is the brains behind the whole live concert lighting system. The word DMX stands for Digital Multiplex.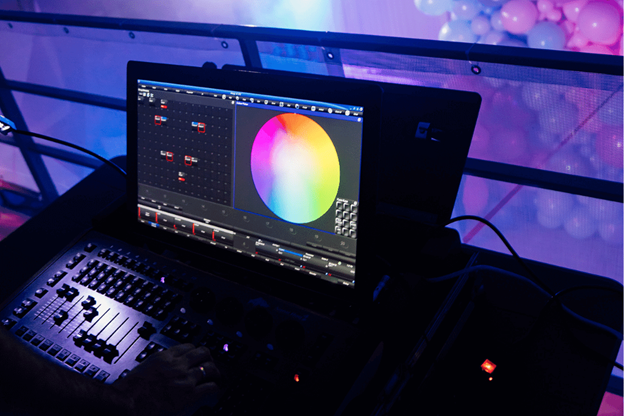 If you haven't previously researched how concert lighting works, then you probably haven't encountered the phrase DMX controller before. To put it simply, the DMX is the console that sends out lighting commands to the different lighting devices. DMX stands for Digital Multiplex, which refers to the multiplex of channels that can be run through a single console. You may see DMX systems referred to as DMX 512, the 512 referring to the number of different lighting channels that can be programmed using the console.
In practice, the DMX system can control every aspect of the stage lighting during a performance. That includes lighting colors, commands, direction, and even non-lighting commands like smoke machines. Before a performance, a lighting engineer will program "scenes" using the lighting control software. Then, during the performance, the software will instruct the DMX controller on how to control the lighting for each "scene" or section of the performance. Using the DMX during a performance, the options are nearly unlimited when it comes to lighting color, position, number of commands, lighting intensity, and other production aspects.
Now that we know how concert tour lighting is able to handle so many different commands all at once, let's take a look at stage coverage and why it is such an important lighting principle for shows.
What is Stage Coverage?
In order to put on the best possible show, lighting engineers need to make sure every part of the stage is visible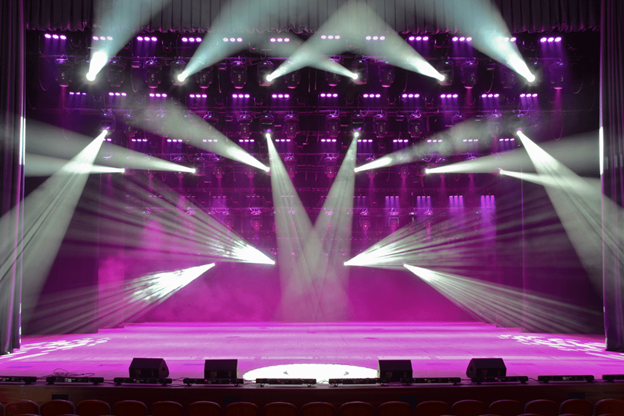 Good lighting design takes the whole stage into consideration.

One of the most important principles of stage lighting for concert tours is stage coverage. Stage coverage ensures that every part of the stage is visible to the audience at all times. In order to prepare for the show, a lighting engineer needs to position the lights in a way that provides sufficient lighting for each person who is on stage. For example, most lighting engineers need to take into account four main coverage areas. These coverage areas include downstage right, downstage center, downstage left, and upstage center.
This is a standard setup for a four-person band. There are several different types of lighting that can be used in each of these four areas including diffused lighting and spotlighting. These effects are achieved thanks to LED lights, which are the preferred lighting method for all touring shows. In the next section, we'll be detailing exactly why LEDs are essential for adaptable and impressive stage lighting.
Harnessing the Power of LED Lights
LED lights have the ability to produce a wide variety of colors, receive commands, and produce high quality stage lighting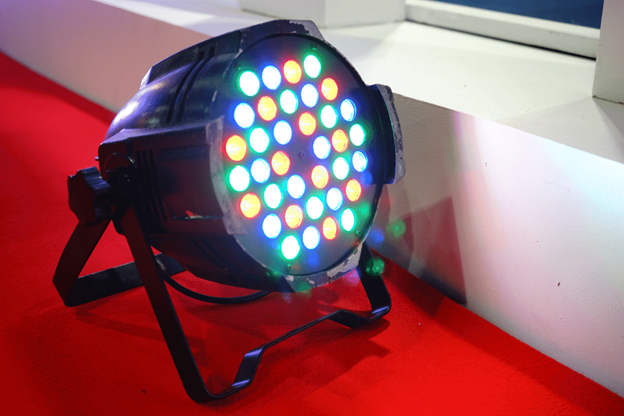 An example of an LED stage light.

If you have attended a concert recently, there is almost a 100% chance that the lighting was created using LED lights. LEDs are the preferred lighting method for concerts—and for a wide range of other industries—due to their advanced capabilities. One of these capabilities is the ability to produce a wide range of colors. Before LEDs, colored screens were placed over lights to change the color of incandescent bulbs. Nowadays, LEDs are able to create a series of colors including Red, Green, Blue, Cyan, Magenta, Yellow, and White without any manual intervention.
LEDs also require a minimal amount of energy to achieve complex lighting landscapes for tours. This not only makes them appealing for energy conservation purposes, but it also means that these lights produce less heat—making them safer for touring crews to set-up and break down.
In addition to these practical advantages, LEDs also provide superior lighting quality. For touring acts, it is impossible to provide the highest quality lighting packages without the use of LED lighting fixtures.
Defining Different Types of Lighting Fixtures
In order to properly set up a lighting package, engineers need to know the different types of fixtures they are using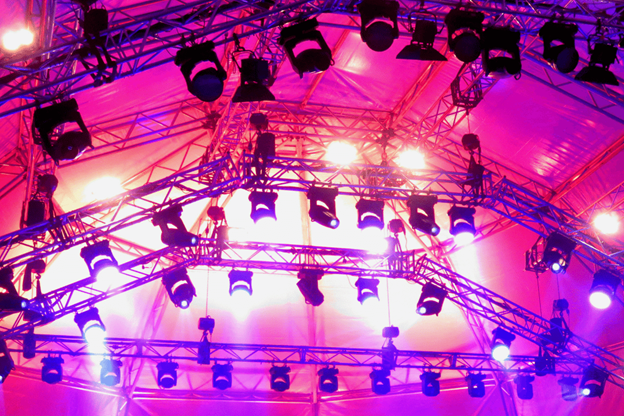 Moving lights help change the whole look and feel of a stage.

In this last section, we're taking a look at some of the most common types of lighting fixtures engineers deal with while they're on the road. By getting familiar with these fixtures, you can get a better understanding of how they work and the purpose they serve for enhancing the visual appeal of the show. Let's take a look:
Spotlight
This type of light is no mystery to the casual observer. A spotlight is located on the balcony of a venue and follows the entertainer around the stage to highlight their presence and keep them optimally lit at all times.
Par Cans
These are one of the most common types of lights. They are referred to as "cans" because they look like metal cans. These are suspended from the top of the stage setup and add dimension to the stage lighting profile.
Moving Lights
These types of lights can be located anywhere on the stage and rotate on their designated axis. Most moving lights are able to rotate 360 degrees around and 180 degrees vertically. These lights also offer motorized shutters and different focusing options.
Fresnels
These lights are fairly similar to can-type lights, but are specifically designed for unfocused wash lighting. When used by themselves, these lights wash the stage in an even amount of color without any visible light beams.
Hazers/Fog Machines
Though these aren't lights, they are devices that lighting engineers have to manage during a show. After all, without a bit of fog, it is more difficult to see the different lighting scenes.
Wrapping it Up:
Now that you know about the basic parts of lighting design, it's time to try your hand at creating a few different lighting scenes. Remember, the lighting is for the audience, so you need to anticipate the audience's reaction to different sections of the show. By predicting how the audience will respond to different songs, you can create suspense for the audience.
This suspense leads to an incredible payoff in the form of audience reaction. As long as you understand how lighting works, anticipate audience responses and keep your lighting appropriate for the music, you'll be set up to put on an incredible performance.