Slideshow presentations are more enticing than making picture collages. It is the best way to present a collection of photos or come up with a professional photo-video presentation for your business and products. In creating a professional slideshow, you'll be needing a creative slideshow software with lots of features to perfect your presentation. This is where the MovAvi Slideshow Maker comes into view.
Movavi slideshow maker is a professional slideshow software designed to be used by professionals and non-professional photo editors. It is a freemium Mac and Windows PC software with rich features to make your slideshow presentation look professional and unique.
Movavi Slideshow Maker Overview
This slideshow making software I am reviewing in this article is manufactured by Movavi, a US-based software company established in 2004. Some slideshow creating software I have used in the past does have a complex interface, not everyone can make use of them, but this one appears intuitive with a simple, user-friendly interface.
The features of the movavi slideshow maker are amazing: You can add transition effects in-between photos, add a background music, record an audio or video, and do lots of other interesting multimedia stuff with it.
Features of movavi slideshow maker
It has a simple and intuitive interface
Comes with a complete photo editing toolkit
Advanced slideshow enhancement features
Inbuilt media tools
Native recording function
Has a scalable video tuning function
System Requirements for movavi slideshow maker
Required OS: Windows XP, Vista, 7, 8, 8.1, 10
Processor (CPU): 1.5 GHz dual-core, Intel or AMD
GPU (graphics card): NVIDIA GeForce 8 series, Intel HD Graphics 2000, AMD RadeonR600 or higher
Memory required: 512MB RAM (Windows XP and Vista), 2GB RAM (Windows 7, 8, and 10)
HDD space: at least 250MB free space
Availability and pricing
The manufacturer of this software offers a 7-day free trial period for users who want to test the software before buying it. The prices for the full/pro versions of Movavi slideshow maker starts from $39.95 to $129.95 with a lifetime license.
How to Make a Professional Slideshows with Movavi Slideshow Maker
It is no big deal working with this software owing to the fact that it has an intuitive user interface. But first, you have to download the software from the company's website and run the .exe offline package to install it to your PC.
Movavi slideshow maker tutorial (how-to guide)
There are two modes for creating slideshows with this tool; Easy Mode (montage wizard) and Full-Featured mode. The easy mode is very easy as the name claims and creates simple slideshows in just a few minutes.
Easy Mode (Montage Wizard)
With the easy mode, you'll be able to create good-looking slideshows in just three steps.
Load the media files
Add background music if you wish
Select the most suitable transition effect
Preview and export your slideshow presentation
While this will work for creating basic or quick slideshows, it isn't recommended for professional slideshow presentations. Follow the guide below to create a professional slideshow for your brand, business or company with Movavi slideshow maker full-feature mode.
Full-Feature Mode
Here's the step-by-step guide for using the full-feature mode of Movavi slideshow maker software: –
Launch the software: Launch Movavi Slideshow Maker on your computer, select the full-feature mode, and load your media files. You can choose from the available media upload options or the one that suits your need.
Add the pictures, audios, and videos you'll be using for the slideshow presentation.
Customize your slideshow by adding effects: When you have loaded the required media file for the slideshow presentation, the next step is to customize it to look unique and professional. Right on the software window by the left pane, you'll see a lot of tabs arranged in rows format; each tab opens up its own set of tools.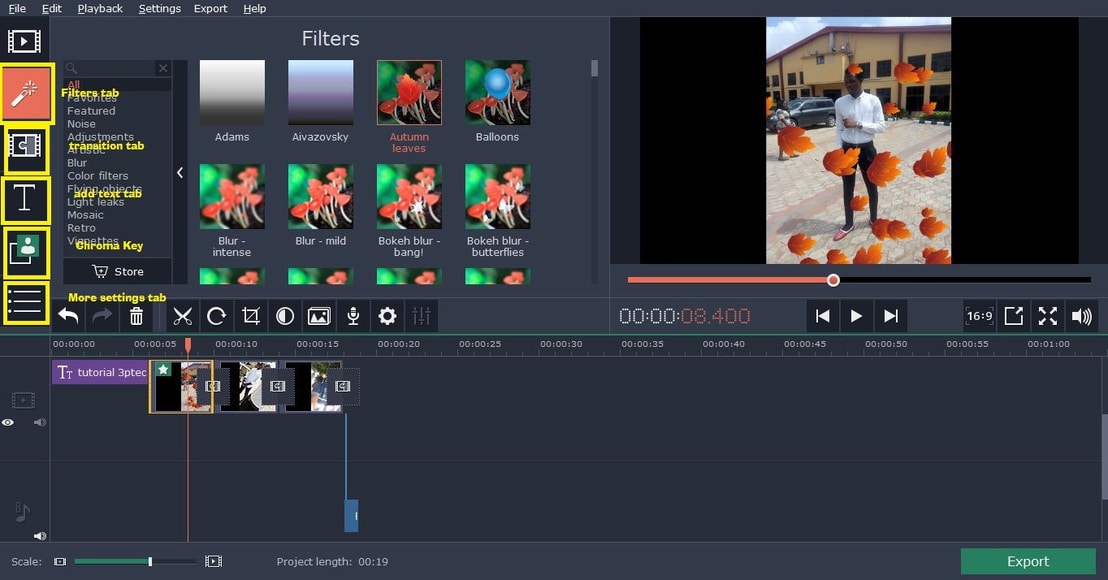 There is the Filters tab where you can get access to a lot of beautiful filters. Click on each filter to preview and see if it suits your need before adding it to your presentation. To add filters to your presentation, drag the chosen filter to the media file it should be applied on.
Another interesting feature of this software is that it allows you to add transition effects to the chosen media files. Transition effects come in between two media files: It beautifies how a currently playing file will fade out while the next one comes in. This software comes with good transition entries that will help to beautify your presentation. Simply drag the one of your choice to the middle of any two media files and click on the "Transition wizard" option to effect it on all clips.
In order to make your presentation clear to the audience, movavi slideshow maker comes with an option to add texts into your slideshow presentations. These texts can come in the beginning as intro texts, in-between any two clips, at the middle of the presentation or at the end. They are there to help explain your clips or presentation in-full.
Also, you can add voice audios if needed. This audio plays alongside the clips in your slideshow; i.e: it plays as your slideshow plays. This option is best used when you are creating a business slideshow about your brand products or advertisements.
Edit your clips individually: Movavi slideshow maker also provides its users with an option to edit their clips/media files individually. This refers to adjusting the color, saturation, brightness, minimizing void spaces, split, etc on the selected clip so as to get the main/exact area of concentration.

The image above shows the tools to use for doing the outlined individual media edit functions on Movavi slideshow maker software. To get access to the advanced settings, click on the settings gear icon.
MovAvi Slideshow Maker Review Summary
Movavi slideshow maker works perfectly for the function and can be used to create a well-detailed slideshow presentation. The features of the software are all available for use, unlike most software that is sold with unavailable functions. This slideshow creator can be easily used by anyone; both professionals and non-professionals alike. The Montage easy mode will be of great help to amateur editors.
I was able to create a stunning slideshow presentation with this tool and everyone around loved it. Movavi slideshow software with all its features and capabilities is one of the best you can get for creating great slideshows.
Final words and Verdict
For sure, I'd easily recommend this software to our readers and interested persons. Media lovers and social media addicts can take advantage of this software to create impressive slideshows that would earn lots of views and impressions.
Feel free to recommend other good slideshow creating software you've used in the past to us and other readers.