We don't usually publish reviews for Nigerian web hosting companies but this time around, DomainKing Nigeria (a well-known Nigeria domain & hosting provider) has done new improvements in their hosting that has made us accept publishing their review content here. I'm talking about DomainKing.NG: a local web hosting provider with tickets and live chat support system.
One of their users got in touch with us recently about publishing his reviews and personal experiences with DomainKing.NG hosting services. So this short review content is Harpreet's personal experiences with DomainKing Nigeria Hosting services.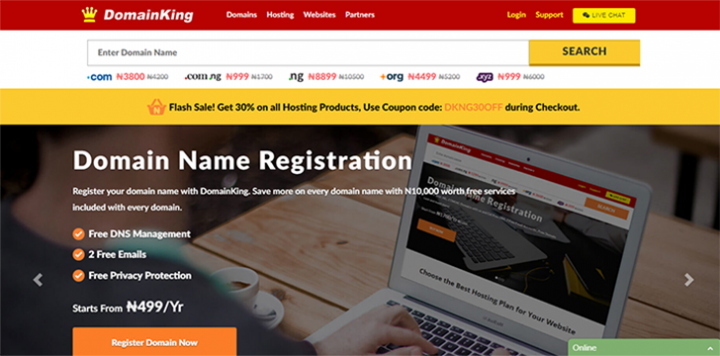 Who is DomainKing.NG?
DomainKing.NG is a leading domain & hosting provider in Nigeria with really affordable prices. With one of the best prices for online services and premium support, they have managed to be one of the top providers in Nigeria.
If you own a domain name then chances are you probably have already heard of them. But very few people know about the pros of hosting your website with them.
Why choose DomainKing.NG?
Being already armed with a 360 degree knowledge on the in/out of DomainKing,Ng domain/hosting services, I'll get right to the point with this one!
These are my top 9 reasons to host your website with DomainKing.NG, based on my knowledge and/or experiences.
Highly Affordable Hosting Plans in Nigeria with Free Domain:
Price of a service is the first thing that attracts anyone and DomainKing is able to keep this while offering the same and better services at less cost than most of the providers in Nigeria.
You can buy web hosting for just N300/month if you sign up for Soldier hosting plan. This will look a lot cheaper to you when you will see all their premium features that you will get for Free with their hosting.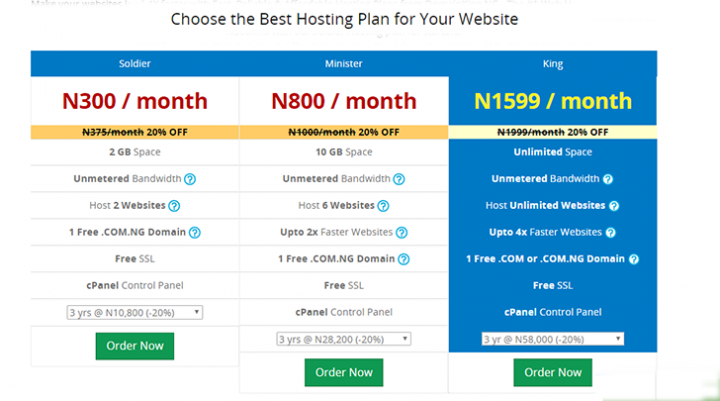 If you are looking to start your blog then you can go with Soldier Plan that comes with 2GB Disk space and Unmetered Bandwidth. It will be ideal for your blog if you are just staring your online journey.
DomainKing.NG even offers free domain with every hosting plan. You can get ".com.ng" domain for free with Soldier and Minister plan. While King hosting plan also allows you to get a Free ".com" or ".com.ng" domain name  for 1 year.
Faster Websites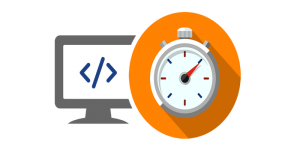 LiteSpeed: If you are already a frequent reader of our blog, then you'd know that we have always insisted on going with the providers that offers – LiteSpeed with their hosting. This is because LiteSpeed is much better than Apache when it comes to load balancing and traffic handling.
DomainKing.NG uses award-winning LiteSpeed web server and you can expect a 2X faster website on DomainKing hosting than normal apache servers used by most hosting providers.
SSD Accelerated Server: DomainKing has recently upgraded their hosting by adding Solid state drives (SSD) to their hosting. As you all know that SSD is always better than traditional HDD & your website will get a 100% increase in speed by switching to an SSD hosting..
Inbuilt Server caching for 2X Faster WordPress: With LiteSpeed web server you get LS Cache WordPress plugin that gives most optimum page caching in WordPress for best WordPress performance. LiteSpeed clearly outperforms any other caching plugin in the benchmark done by Litespeed Industries Inc.
So, DomainKing hosting makes WordPress really fast upto 5X. So, you can try DomainKing hosting services – if you are looking for cheap web hosting in Nigeria for good website performance.
Free Hosting migration to DomainKing Hosting.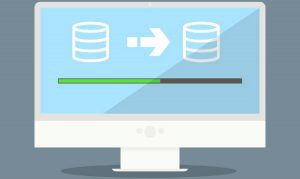 If you are using any other hosting company that is giving you some problem and you want to migrate to DomainKing hosting, then you have got a good option. DomainKing offers website migration Free of Cost!
You just need to contact support at anytime whether before placing the order or after getting your hosting. Whether you want to host a WordPress blog, forum or a static websites, their qualified migration specialist will migrate your website from existing provider to their servers.
No Traffic limits & Maximum Resources:
Unmetered Bandwidth is very rarely provided by any provider in Nigeria. But DomainKing offers unmetered Bandwidth on all of their hosting plans whether it is a started or premium plan. So, you are never going to see Bandwidth limit exceeded error with DomainKing hosting.
When it comes to server resources, DomainKing.NG allows 25 concurrent MySql connections with the King Plan and 20 on other plans that are more than enough for smooth functioning of a normal website.
Free SSL with all hosting plans:
Having a Secure Sockets Layer (SSL) for your website has become really important these days. The fact that major search engines considers it a ranking factor is a good reason to use SSL for all modern websites.
Another reason to consider  SSL for your important websites is the fact that most of the browsers throws warning messages if you access an http URL. You will get Free Auto SSL certificate powered by Commodo with every hosting plan on DomainKing.NG.
Free Daily Backups:
DomainKing provides you with free daily backup for your website hosted with them. So, if you accidentally delete your website or you lose your data due to any reason. You can always be sure that you will get your website back online asap with free backups in cPanel.
This is an important feature to look out for when seeking an honest DomainKing.NG review. It is a feature that gives them an advantage over most Nigerian hosts. Hardly does  a Nigerian hosting company offer a cheap hosting plan with daily backups as an option.
Affordable Domain name:

Normally the hosting providers that offers you a cheap web hosting usually charge you very high for domain names. But this is not the case with DomainKing.NG, you will get very cheap domain name  starting at just N499.
You can get .com for just N2699, .com.ng for N999 & .ng for N8899. With every domain name comes a complimentary Free Whois protection, and 2 free custom email accounts.
Around the clock Support:
DomainKing's support team is available 24*7 for helping you. You can reach them via various support channels. You can start a live chat for sales or support query. Yes, they do handle support queries on chat: even though it's a very rare feature with Nigerian hosting providers.
Support via Email & Ticket: Need help with your domain/hosting? Just raise a support ticket or send an email. You will get a reply in no time as the average response time is just 15 minutes (or thereabout) at DomainKing.NG.
Flexible Payment options:
DomainKing offers almost all the payment options that's used by Nigerian webmasters or starters looking for easy transition to online blog or business.
Payment via Card: You can make payments via your debit/credit for your order and it will be activated at the same time. DomainKing accepts both Visa cards, Mastercard & Verve cards.
Payment via Bank transfer/deposit: Students generally don't have a Bank account or debit card for making online payments. They can easily use the Bank deposit option for paying for domain name and/or hosting services. You just need to contact their support team with the payment slip and your order will be activated after tracking it.
Paypal: DomainKing also accepts paypal and if you are an international client looking for registering a .ng ccTLD domain name, then you can pay via your card or paypal balance.
Should you go for DomainKing.NG Hosting?
If you are just starting out and looking for a reliable, fast & affordable local hosting provider, DomainKing.NG will surely be a great choice for you.
Feel free to rate your DomainKing.NG hosting experiences using the widget above or share your own DomainKing.NG review by using the comments section below.
External Review Declaration: DomainKing.NG review, features and intro content was composed and submitted by Harpreet, who have used DomainKing services in the past, and thought it wise to share his personal experiences.