Many of us are willing to go to any extent to ensure that we improve our productivity – to get more things done. Inarguably, we wake up every day and outline the things we look to do throughout the day; however, we may not actually fulfill all those proposed tasks for one reason or another.
However, certain apps tend to help increase one's productivity. These apps are mostly available as "to-do apps." They allow you to itemize your tasks and also allows you to mark/tick each completed task. This way, you can easily tell how many tasks you have left and plan ahead on how to deal with them.
There are many to-do apps out there, and TickTick happens to be among the top options you should choose from. Here is a succinct review of TickTick and a brief guide on how you can use it to increase your productivity.
TickTick App Overview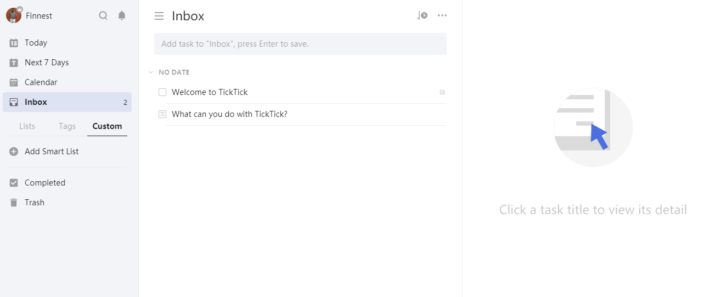 TickTick is more than just a typical to-do app; it includes collaboration features that let you connect with other people to get things done more faster. The app is available across platforms; Windows, macOS, iOS, and Android. It is a comprehensive application – more like a platform – that helps you arrange to-dos and have them synchronized across your devices.
Whether you're looking to create memos, schedule agendas, organize shopping lists, or collaborate with your colleagues, TickTick just seems to be an app that lets you achieve all – or any – of these. Simply put, TickTick is an app that you organize your life, and possibly develop new habits.
Availability and Pricing
TickTick is available across platforms and devices; the web version is accessible on MacBooks and Windows PCs, while there are mobile app versions for Android and iOS device users. The premium version of TickTick goes for $27.99 per year.
TickTick App's Features
One thing that makes an app better than another (that performs the same functions as it does) is the features. TickTick comes with a bunch of handy features you'd love to explore. However, it is important to say that most of these features are not available to you if you're using the free version.
1. Ease of Use
TickTick supports voice input; you could press and hold the "+" button to start speaking and release it when you're done. You can also turn your emails into tasks or use the voice command "add tasks via Siri," via Google Assistant or Siri.
2. Smart Reminders
This app lets you set up multiple reminders for a task. It also allows you to set up and receive alerts about particular places. Furthermore, TickTick helps with reoccurring tasks – so you can always meet up with all of them.
3. Arrange Tasks into Folders and Lists
With TickTick you can arrange tasks into folders, create tags, lists, and other forms of arrangement.
4. Pomo Timer
The Pomo Timer feature helps you to focus on a task for some time (about 20-25 minutes), and then you take a short break to continue again. This cycle continues until you're done with the task.
5. Collaboration
Interestingly, TickTick supports collaborative features so you can connect with other people – share tasks, assign tasks, view activities, and much more.
6. View your Statistics
Also, TickTick lets you view your achievements – what you've been able to complete within a set period of time. The statistics menu also provides clear statistics of your activities. Furthermore, there is an option to view a summary of all you've done so far.
My TickTick Review and Verdict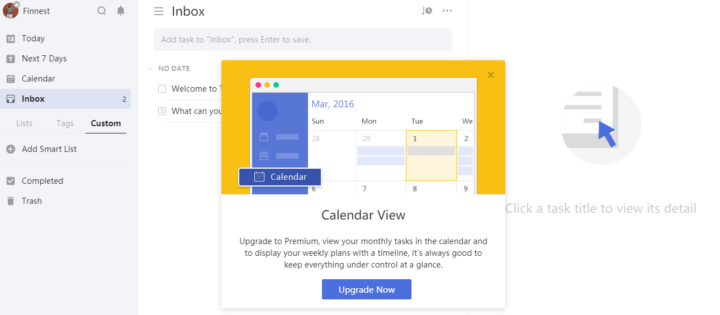 Generally, TickTick is a handy app that helps you arrange your activities to increase your productivity. Its features are superb and easy to use. With TickTick, you can assign a due date, priority rating, tags, and assignee to every task you wish to complete. One of the reasons to like TickTick is the simplified interface that virtually anyone can easily understand.
However, if you're using the free version, you'd be restricted to the basic features of the app. For example, free users can't access their statistics and other features that are locked in the "Summary" or "Completed" menu. On Windows, the menus are named "Summary," while the MacBook version of the TickTick app called the feature "Completed."
Well, it is important to say that the TickTick app does not offer exactly the same feature(s) across devices. For example, on the mobile app versions for iOS and Android, there's an option to add "Habits," but you won't find this option on the web app.
How To Increase Your Productivity With TickTick
Definitely, TickTick can help you achieve more, thanks to its powerful features. It supports about five (5) different calendars, which makes it easier to view your schedules more conveniently. Also, by setting up alerts and reminders, you'll always be in the loop – being constantly reminded that you have a task to accomplish.
Furthermore, with the "Pomo Timer," you can set intervals on how long you need to work and then get a break. This feature is quite important, so you don't break down from overworking yourself. The "Calendar View" option is more advanced than what you'll see on other to-do apps.
Literally, to improve productivity with TickTick, here are the things you'd need to know:
Sign up and verify your account
Create tasks and arrange them with tags
Create lists if you're following the Get Things Done (GTD) rules.
Set up alarms and use the "Pomo Timer" to time yourself
Upgrade your account and collaborate with other people
TickTick Review Summary
Conclusively, TickTick is good and can possibly help anyone to increase his/her productivity; however, the app is almost unusable if you're on the free version. To make TickTick worthwhile for you, then you need to upgrade your account to the premium plan. More so, the synchronization and collaborative features of the app make it an ideal, and preferable alternative to its closest rival, Todoist.
Apparently, there are other good alternative to-do apps out there – the likes of Asana and Todoist; even though these apps are costlier than TickTick, they also have unique features that make them stand out.