Let's say you forgot the password you used in locking your iPad, iPhone, or iPod's screen, and it seems there's no possible way to get into the device. Well, not to worry, there are software utilities that will help you to bypass screen lock on iDevices without entering the password. One of such valuable tools is the Joyoshare iPasscode Unlocker.
Interestingly, this utility app is available for both Mac OS X and Windows users alike. However, in this article, we are reviewing the Mac version of one of the best iDevice screen passcode unlockers — Joyoshare iPasscode Unlocker for Mac.
Joyoshare iPasscode Unlocker Overview
Joyoshare iPasscode Unlocker utility software is specially designed for iOS device users. Its sole purpose is to help iOS device users to bypass screen unlock without entering the passcode. The program works for iPhones, iPads, and iPods.
Joyoshare iPasscode Unlocker promises to be the ideal solution you'd ever need to gain back access to your iOS device even if the device screen is broken. Interestingly, it supports virtually all iDevices (except iWatch), as well as supports iOS 13.
Joyoshare iPasscode Unlocker Pricing and Availability
This software is available for both Windows and Mac OSX users, and it has a free trial version, as well as a pro version. As you would guess, the pro version is what grants you access to maximize everything that Joyoshare iPasscode Unlocker has to offer.
It retails at $39.95, $59.95, and $79.95 for the single-user license, family license, and multi-user license, respectively. All the pro packages come with lifetime support and updates.
Features of Joyoshare iPasscode Unlocker
Here are some of the most exciting features of Joyoshare iPasscode Unlocker software.
Works for a 4-digit pin, 6-digit pin, fingerprint, and face unlock
This utility program helps to bypass any form of protection restricting you from access your iOS device, whether it is the four-digit passcode, six-digit password, Touch ID, Face ID, and other types of protections.
Supports virtually all iOS versions and iDevices
This software supports Even the new iOS 13. It works for older iPhones running on outdated iOS versions. Thus, irrespective of your iPhone, iPad, or iPod model, this software promises to help you bypass any screen lock security.
Efficient in every situation
Irrespective of the situation that left you locked out from getting into your phone until you enter a security passcode, Joyoshare iPasscode Unlocker will help to get you through. This includes whether you forgot your passcode or your device has a broken screen making it difficult for you to type the passcode. Also, it could be that you bought a used iDevice, and it has a screen security passcode, or you've entered what you think is the passcode several times, and it's not working.
Easy to use interface
The interface of this software program is straightforward to use; in less than four steps, you're done with the whole process of unlocking your iDevice. You may not need a guide to use this software app as it completely intuitive.
Works with Basic System Requirement
Joyoshare iPasscode Unlocker works on PC and Mac devices alike. It needs only the basic system requirements to work, and as such, can work on virtually every Mac and Windows PCs that are still actively used in home, workspace, and offices. The officially listed system requirement for Joyoshare iPasscode Unlocker is as follows:
Supported OS: Windows 10/8.1/8/7/Vista/XP and Mac OS X 10.8, 10.9, 10.10, 10.11, 10.12, 10.13, 10.14
Processor: 1GHz Intel processor or above
Hard Disk Space: 1 GB or more (for Win) or 200MB or above (for Mac).
RAM: 256 MB or more (for Win) or At least 512M physical RAM (for Mac)
Devices: iPhone 11, X, 8, 7, SE, 6, 5, and 4 (all models), iPad (all models), iPod touch 6/5/4
iOS: iOS 13, 12, 11, 10, and former
Joyoshare iPasscode Unlocker for Mac Review
This is a near-perfect software for unlocking any iPhone, iPad, or iPod locked with any security. Yes, it is "Near-Perfect" because it wipes everything on your device during the process of unlocking the screen security. In other words, you're going to lose everything on your device when you use this software, and if you haven't backed up your stuff to iCloud, you may lose them forever. Nevertheless, you can try getting them back using a suitable iOS data recovery software.
While it does not support any other extensive feature, the app comes with all the tools you'd need to bypass passcodes, Touch ID, fingerprint, and face ID security on supported iDevices.
The Joyoshare iPasscode Unlocker for Mac unlocks iDevices in a couple of simple/quick steps. It does have a swift interface that anyone could easily understand and navigate. This is a powerful iDevice unlocker software that supports iOS 13, as well as older versions before iOS 10. In all, it is a great software program that works very well for its purpose, and it is easy to use.
How to use Joyoshare iPasscode Unlocker
Firstly, you'll have to download Joyoshare iPasscode Unlocker and install it on your PC or MacBook. Then, launch the software and follow the steps below.
First Step
After installing Joyoshare iPasscode Unlocker for Mac, launch the program and connect your iDevice using a good USB cable. Click on the blue "Start" button; the software will automatically detect your iPhone/iPad/iPod model.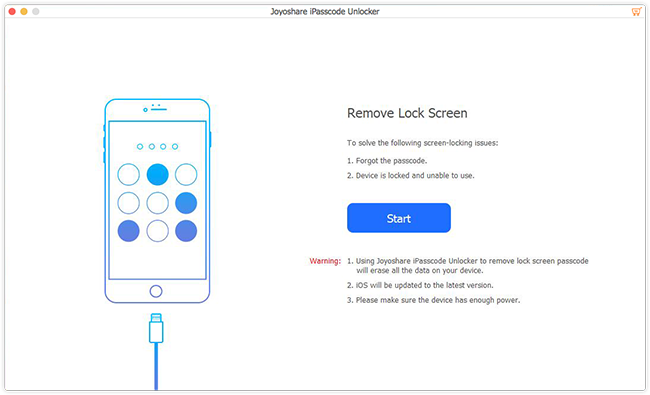 However, if your device is not detected, check the USB cable to see if it working or damaged. If the USB cable is working, then you have to boot your iDevice into DFU (Recovery) mode. To manually boot your device into Recovery Mode, follow the steps below;
Press and hold the Power button and Home button at the same time for 10 seconds.
Release the Power button while still pressing the Home button for another 5 seconds.
That's it, your iPhone/iPad will now boot into Recovery mode and would be detected by Joyoshare iPasscode Unlocker for Mac
Second Step
Now that your device is detected, you have to proceed and download a new firmware for your device. This new firmware will install on your device and overwrite the initial firmware, thereby wiping out all your data to turn your device into a new iPhone/iPad running on iOS 13. To download the new firmware, simply click on the "Download" option. However, alternatively, you can copy the firmware download link and paste it to your web browser if the automatic download isn't working.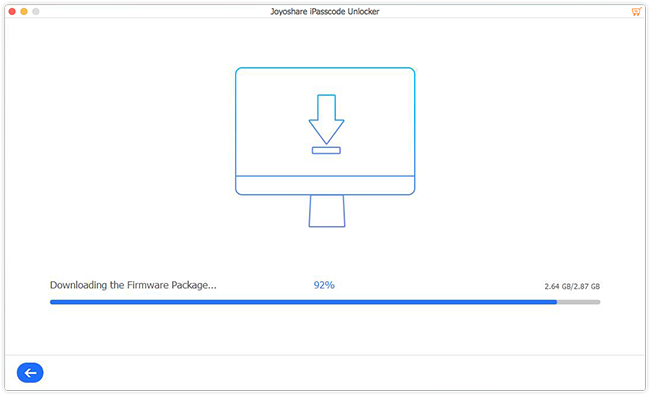 It is important to know that the new firmware to be downloaded can be up to 2GB in size or even more. Also, you need an active internet connection to download the new firmware for your device. However, there's nothing to worry about as the Joyoshare iPasscode Unlocker provides you with the right firmware for your device.
Third Step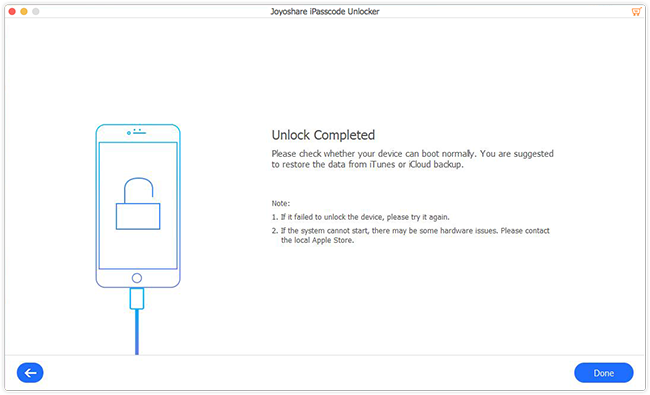 Once the firmware downloads completely, click on the "Unlock" button to flash the new firmware into your device and unlock it. Wait for your device to reboot normally. However, if this didn't happen automatically, you can manually boot the device.
What more?
As said earlier, all your data and files will be wiped. Nevertheless, you can grab them back from iCloud if they are backed up, or you can try this robust iOS data recovery software (for getting them back).
Final Verdict
Summarily, Joyoshare iPasscode Unlocker is an excellent utility program to Remove iPhone Passcode. It will come in handy for iOS devices owners who got stuck with any screen-lock security challenges.
It has a swift interface, and it's very intuitive. The Joyoshare iPasscode Unlocker doesn't have extensive capabilities; however, the developers are always in the trend for providing excellent solutions to almost every other iOS challenges.