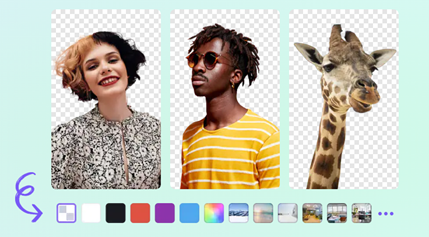 Part 1: Introduction Wondershare UniConverter
Whether you're a professional photographer, graphic designer, or just someone who loves taking and editing photos, Wondershare UniConverter is the ultimate toolkit for all your video-related needs.
This powerful software program makes it easy to convert videos from one format to another, compress large video files for optimal playback on smaller devices, download videos from the web, record screencasts and gameplays, edit videos with a wide range of tools and effects, and much more.
With UniConverter by your side, you can easily achieve stunning results with your images by bulk deleting backgrounds from logos, e-commerce products, portraits, cars, pets, graphics, and white backgrounds – all without compromising quality.

So, all in all, with this powerful software, you can easily convert and compress your videos to any file format, download content from the web, record screencasts, and webcam videos, edit your footage with a range of professional editing tools, and much more.
In addition, this handy software utility offers a wide range of advanced editing features, allowing you to easily burn your videos to disc or to share them directly on social media platforms. So if you're looking for a versatile and user-friendly video toolbox, look no further than Wondershare UniConverter!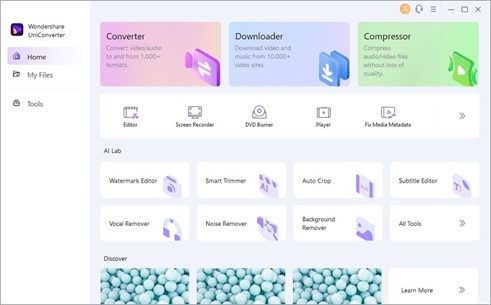 Part 2: How to Batch Remove Background from Photos with UniConverter
Step 1: Upload photos

Finding the Background Remover tool on the Uniconverter website is quick and easy. Simply go to the homepage and click on Tools. In the Tools Section, scroll down and look for "Background Remover" under "AI Lab." Now click on Add Files tab, which you'll see towards the center of your screen.
Next, upload your photo or photos onto the platform by clicking the Choose Files button. You can then select whichever photos you'd like to remove the background from, and they will be added to a queue that's located at the bottom of your screen.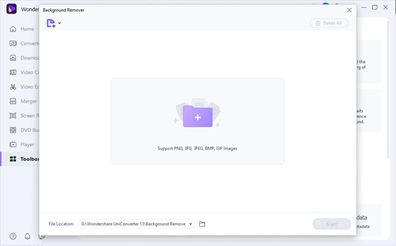 Note: Whether you are working with PNG, JPG, JPEG, BMP, or GIF images, UniConverter can automatically detect and outline the different sections of your photo, making it incredibly simple to select and remove the background.
And because this process is completely automatic, you don't have to worry about incorrectly selecting parts of your image or losing important details in the process.

Step 2: Select to batch remove BG from images

To remove the background from your images effectively, click Start to begin the background removal process. The software will automatically analyze each image and determine the best way to remove its background.
Best of all, it can handle even large batches of images quickly and efficiently, making it the ideal choice for anyone who needs to remove backgrounds on a regular basis.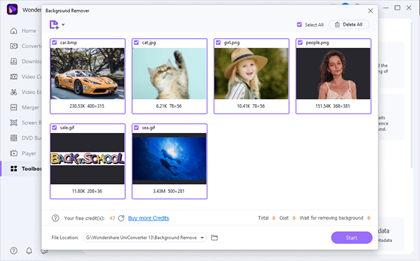 Step 3: Locate your background transparent images

After reviewing your edits, simply press save, and your images will be seamlessly cropped with perfectly transparent backgrounds that are ready for use in any project or platform.
UniConverter saves images to its default folder on your local disk, but you can alter the file destination by clicking the File Location tab.

Other Tool:

In addition to its powerful image background remover, UniConverter AI Lab offers a variety of other useful tools.

With the watermark editor, you can easily mark your images with customizable text or graphics.

The smart trimmer makes it easy to cut the excess edges or unwanted areas from your photos, while the auto-crop tool utilizes advanced algorithms to determine the ideal canvas size for your images automatically.

For additional editing options, you can also use the subtitle editor to add subtitles to your videos or the vocal remover tool to remove vocals from an audio track.

Whether you're looking for simple, quick fixes or more sophisticated editing options, UniConverter AI Lab has everything you need!

Part 3: Introducing Media.io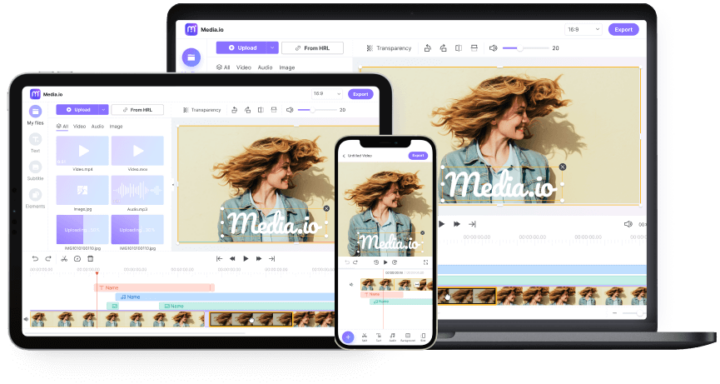 Whether you're a professional designer or an amateur hobbyist, Media.io is the perfect tool for quickly and easily transforming your images. With its intuitive online platform, you can instantly resize, crop, or transform your photos with a few simple clicks. It also offers powerful video and audio editing tools as well, allowing you to easily modify and customize your media files to suit your exact needs.

And if that wasn't enough, Media.io offers a host of other helpful features as well. You can use its built-in compression tools to reduce the size of your photos and videos without sacrificing quality or its collection of templates and filters to add unique style and flair to any project.
Plus, it's a free video converter with a background removal tool that makes it easy to seamlessly remove unnecessary elements from your photos in seconds flat. So why wait? Start using Media.io's powerful online tools to make managing your media files easier and also helps remove background online.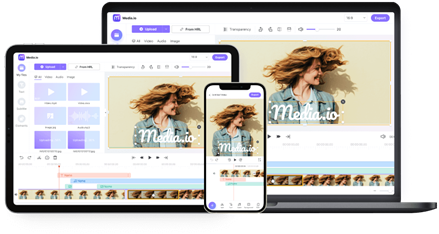 Part 4: How to remove the background from an image with media.io
Step 1: Upload the Image

To remove the background from an image using media.io, you will need to start by uploading your photo to the website. This can be done either by clicking the Upload Image button or by dragging and dropping your photo onto the site's homepage.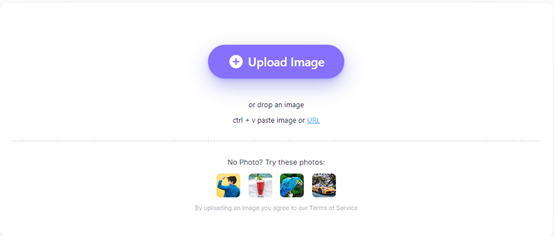 Step 2: Automatically Remove

Once your photo is uploaded, you will then be able to use AI-powered tools to quickly and easily remove the background from your image.

With just a few simple clicks, this powerful tool will automatically analyze and remove any distracting details in the background, leaving you with an image that looks great.

In fact, 100% of the work done on media.io is powered by artificial intelligence, ensuring accurate results every time.

Step 3: Download the Result Image

Click on the "Download Result Image" button, and your transparent background will be automatically generated in seconds. From there, you can choose to use your new background-free image however you like – adding text or graphics, customizing color schemes or fonts, or creating beautiful designs that make your images stand out from the crowd.

Whether you're a designer looking for new backgrounds for projects or a content creator in need of high-quality graphics for blogs or social media posts, removing the background from images with media.io is the perfect solution.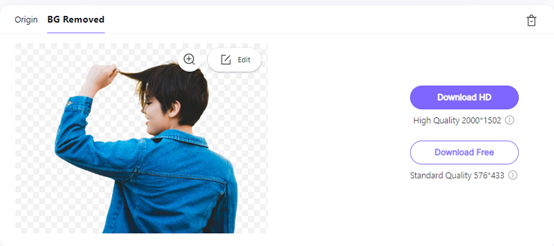 Part 5: The Final Verdict
Wondershare UniConverter is an all-in-one video editing app that makes it quick and easy to batch-remove backgrounds from images. With its simple user interface and powerful features, UniConverter makes it easy to crop unwanted portions of an image, convert your files to different formats, and even download and record online videos. So if you're looking for an all-in-one tool for enhancing your photos and videos, look no further than Wondershare UniConverter.

Alternatively, if you're looking for a simpler option for batch-removing backgrounds from images online, try Media.io. With its intuitive web-based interface and powerful background removal algorithms, Media.io makes it quick and easy to strip unwanted areas from your images without losing quality or affecting their clarity or color. So if you need to quickly cut out the backgrounds in a large batch of photos or graphics, try Media.io.

In short, both Wondershare UniConverter and Media.io can help you batch remove background from photos with one click. If you need more control over the process, go for Wondershare UniConverter; however, if you're looking for an online solution that's free and easy to use, then give Media.io a try.