These days, there are quite a lot of reasons to spy on people's privacy; either as part of an investigation into a crime or as part of parental control measures. Also, some employers go all the way to monitor their employees' activities, and some spouses do monitor their partner. However, irrespective of the reason why you'd want to spy on someone else; here's how to read other peoples' text messages without their knowledge.
Can you spy on people's text messages without holding their phones?
Basically, the answer to that question is NO. There is apparently no way you are going to see the text messages on someone else's phone without getting hold of their phone (at least once). Yea, I said "At least once" because, with the method discussed in this article, you only need to access the target user's device and install a spy app, then, subsequently, spy on the text messages sent to the device from a remote PC.
Thus, the only way to spy on someone else's text messages without their knowledge is by using a "Text Message Spy App."
What is a text message spy app?
A text message spy app is a mobile spy app that grants one access into someone else's phone to view their messages secretly. It works like a typical mobile app that allows someone to access or remotely view various information from a target device. Also, a text message spy will show you SMS threads from a monitored device in real-time.
Although many spy apps exist, only a handful of them works effectively well in spying the targeted user's phone and devices. Today's post is going to show you how to read someone else's text messages without their knowledge by using a popular spy app, while you'll go-ahead to experiment with other spy apps that works best for your mobile tracking needs.
How to read someone else's text messages without their knowledge
You'd need to get a text message spy app. Here, I will recommend using the NexSpy app; it is a multi-feature text message spy app with an easy-to-understand dashboard. From online reviews and the app's popularity, it is far better than Spyzie and similar spy apps that promise more but delivers next-to-nothing.
Using the NexSpy mobile app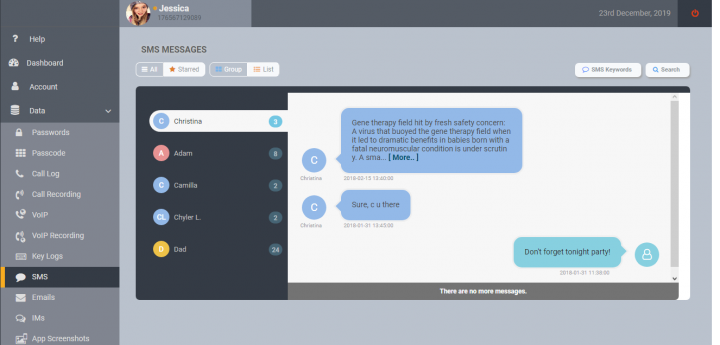 NexSpy is a mobile spy app with a feature that lets you monitor a target user's SMS messages. It is a paid app and it comes with a wealth of other handy features for spying on people's personal and social activities.
To monitor someone else's text messages using NexSpy, firstly, you need to register on their website here. Secondly, you need to hold the target user's device for some minutes. Once you're with the device, follow these steps quickly.
Go to the phone's device settings >>> security >>> unknown sources and toggle the settings to switch on. However, this method works on old Android mobile running version 5.0 or former versions. For Android devices running on newer versions of the OS, skip this step.
Go to https://nexspy.com, sign in to your account and download the mobile app
Click on downloaded .apk file and follow the prompts to install the NexSpy app on the target device.
After installation, activate the app by signing into your account and enter the license code you received via email when creating your NexSpy account
Finally, clear browser cache and history, as well as hide the app's icon fro app drawer
That's all, give the phone back to its owner
After following the steps above, you can now track all SMS messages that are sent to the monitored device from your NexSpy web-based control panel, which is accessible with computers.
Go to your NexSpy dashboard and activate SMS notifications in the 'Data' section. This will now allow you to

See all sent and received text messages on that monitored device

Check the sender's name and number.

View time and date stamps
What More?
Well, this is all that's needed to be able to read someone else's text messages without their knowledge and in real-time. Everyone can use this method for phone tracking, spouse monitoring, parental control, private investigation, and other cell phone tracking functions.