One of the best ways to poke-nose into other people's social or even personal life is by tracking their cell phone activities. How do you do this? You'd need a premium cell phone tracking app just like Spyzie.
Spyzie mobile tracking app is an app that allows you to monitor one or more iOS/Android device(s) without the consent of the targetted person. It could be your kids, your employees or any other person or for security reasons.
Today's post on Spyzie review is meant to show you what this cell phone app does, and to help you understand its mobile tracking functionalities.
Spyzie Mobile Tracking App Overview
If you've used spy apps before now, definitely, you should have heard of Spyzie. Well, it is a cell phone spy/tracking app with sleek, impressive features to suit everyone that is using it. The app is available for iOS and Android devices, plus, you would be able to spy on people's social media activities without them knowing; this includes viewing their daily "stories" secretly.
Spyzie phone monitoring app has an excellent, user-friendly, and highly intuitive dashboard which makes it easy to use. Interestingly, the Spyzie app does not require jailbreak (iOS) or rooting (Android) before it can work effectively. So, you're not tweaking any device to avoid breaking it and voiding its warranty.
Like I said earlier, there are lots of Spyzie app features that are worth looking to. Hence, I'll be explaining the features of Spyzie mobile tracking app below.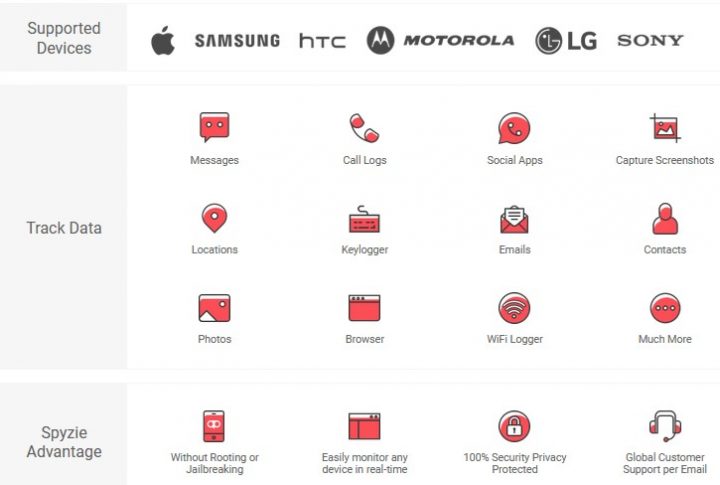 1. iOS and Android Compatibility
The Spyzie app is available for Android and iOS mobile devices; it supports nearly all the versions of these operating systems, including low-end devices.
However, almost every spy/tracking app out there supports these two most popular mobile operating systems; so, it's no surprise seeing that Spyzie supports them.
2. Social media tracking
Spyzie cell phone tracking app is one of the only spys that allows you to spy on other people's activity on all popular social media platforms. Spyzie supports Viber, WhatsApp, Messenger, Facebook, Snapchat, Instagram, Twitter, Kik, Tinder, Skype, Telegram, and lots more.
Other spying apps allow you to spy on social media apps but not all; usually, you are only allowed to spy on people's Snapchat, Whatsapp, Messenger, and Instagram activities. Spyzie shows you every message or media a targetted device shares on the supported social media platforms in real-time.
3. Geofences
Also, you'll get the geofence features on the Spyzie app; this means that you will get instant notifications when a monitored person exceeds or goes beyond "the virtual boundary" you have defined.
The Geofence feature is best for parents who are trying to regulate the activities of their kids. However, other people could use it for several reasons; it uses the device GPS, WiFi or even cellular data to monitor the targeted person's location.
4. Spy on people's calls and messages
Every calls or SMS messages that are sent through a monitored device will be shown on your Spyzie dashboard when you navigate to the "calls" or "messages" row.
Also, you will see the call duration(s), the exact time the calls were made, and the call type (incoming or outgoing).
5. Spy in media files
With Spyzie smartphone tracking app, you can even spy on a targeted device's media files using the multimedia tracking features. This includes the user photos, videos, and voice notes that are saved on "the target device."
6. keylogger and WiFi logging
Not all tracking apps support WiFi logging function, but the Spyzie cell phone tracker does. Well, WiFi logging, while an unconventional technology is beneficial.
In most appropriate situations, the WiFi logging technology will help you improve the wireless communication of this app by sending instant alarms/notification via WiFi whenever there's an event trigger.
On the other hand, the Keylogging feature is prevalent with most spy apps. It secretly records the keyboard strokes of a monitored device and provides them to you when needed.
7. Clue
Amongst all other features listed out here, this is one of the most exciting features of Spyzie phone tracker. When you navigate to the "clue" option, Spyzie shows you all the files, logs, or messages that are deleted on a target device.
Probably, the user deleted the message or call log because he/she doesn't want anyone to know about them. But, you'll still be able to lay your hands on these erased files even with the timestamps by using the Spyzie app's "Clue" feature.
8. Take screenshots
Apart from the "Clue" features, you can also take screenshots of the current screen/window of a monitored phone or device. This feature is equally not available on many other low-end spy or phone tracking apps.
9. View documents and applications
In addition to all other features, Spyzie smartphone tracker allows you to view the documents, archives, files, and applications that are saved on a target device, and equally shows the installed tools/apps.
How to Use Spyzie Phone Tracking App
Tracking phones and other internet-enabled mobile devices with Spyzie is easy. Just download the app from the official Spyzie website (spyzie.com) (as it's not available on app stores) and install it on the device you wish to track/monitor.
The step to track with Spyzie on Android and iPhone is very different. While for iPhone, you'd need to use the iCloud details of an iPhone user you wish to monitor his/her device, Android works with you installing the hidden app on a tracked device.
Hereunder are the steps to track a device with Spyzie on either Android or iOS devices.
How to Track Android Phones and Tablet Devices with Spyzie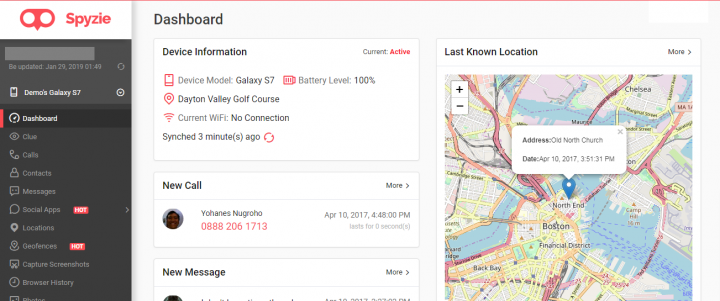 Sign up for a Spyzie account.
Install the Android application on the target Android smartphone or tablet device.
Log into your Spyzie control panel and view the monitored data.
That's all! Enjoy!
Installing the Spyzie Tracker App on Android devices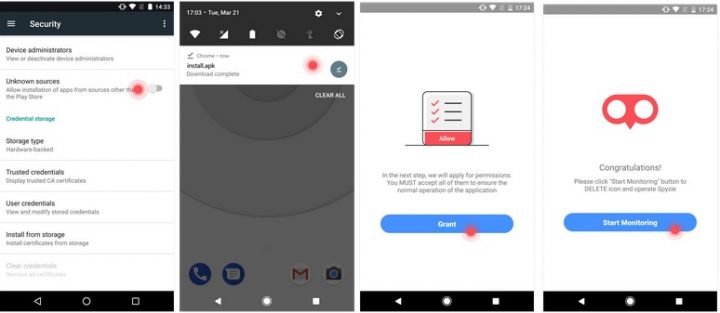 Allow installation from "unknown sources" on the Android device so as to be able to install apps outside the Google Play store. To do this, go to settings >>> security >>> unknown sources.
Download and install Spyzie.apk on the target device.
Log in to your Spyzie account on the target device.
Follow the on-screen prompts/instructions, and remember to grant the app (Spyzie) the required permissions.
You're done.
How to Track iPhone, iPod, and iPad with Spyzie
Tracking/monitoring iPhone and other iOS devices with Spyzie mobile tracker seams easier. This is because you wouldn't need to install the app directly to the tracked iOS device as you would do on Android. All you'd need is the iCloud details of the target device, and you're all set to start monitoring/tracking the device.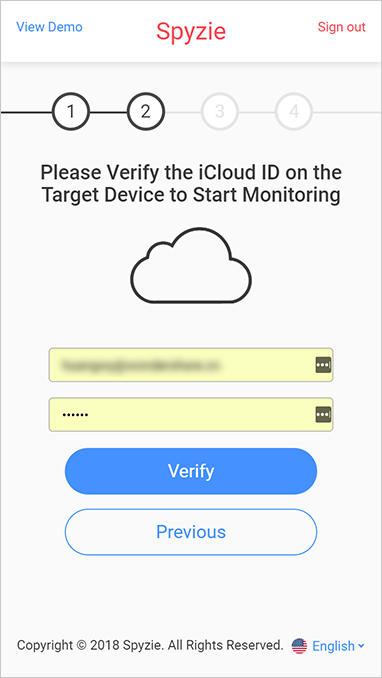 Sign up for a Spyzie account and select iOS monitoring.
Enter the target device iCLoud details.
Start monitoring from your Spyzie account's dashboard.
Spyzie Pricing and Payment Plans
Android: In terms of pricing, Spyzie is a cost-effective spy app. You won't need to spend so much to explore its features. For Android monitoring; the premium license retails at $29.99 (monthly) or $89.99 (yearly). However, this premium license is subject to certain restrictions; you won't be getting all the features with "just a premium license."
On the other hand, the unlimited license grants you "unmetered" access to use all the features of Spyzie monitoring tech and it goes for $39.99 (monthly subscription) or $99.99 (yearly subscription).
iOS: There's only one plan for iPhone and iOS devices monitoring. The subscription fee is $39.99 (monthly). Well, this is because the iOS version of Spyzie cell phone tracker is not as extensive/full-featured as that of Android.
My Spyzie Review and Recommendations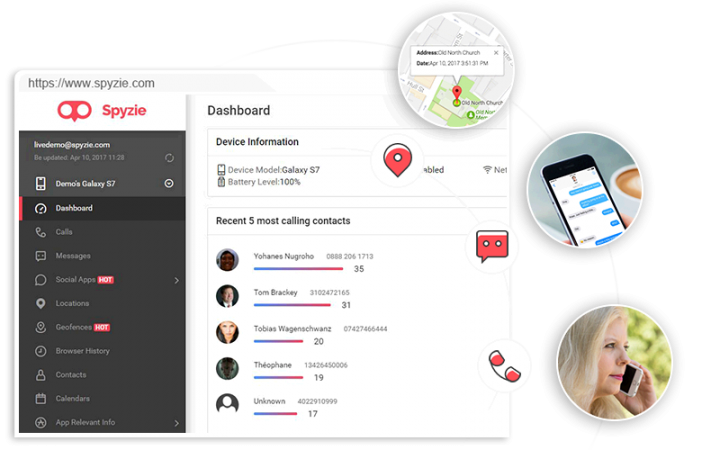 In my viewpoint, the Spyzie mobile phone tracker app is an interesting smartphone monitoring app for Android and iOS devices. Even though the Android version packs more features, I'll still recommend it for iOS devices.
My only downside with the app is that – you'd have to install it physically on the target device (Android). The iOS version is still good enough, and you can monitor a lot of activities remotely.
All in all, Spyzie is a decent mobile tracker for parents, employees, and security officers who wish to track/monitor the activities of their wards. Their seven days money back guarantee promise makes it super easy for anyone to try them out. Unsatisfied customers can opt out of the subscription and get instant refunds.
Note/Disclaimer: I didn't have a personal need for tracking anyone before trying Spyzie. I only tested them for review purposes and would rely on your ratings to make this review better. So far, the few features I tested worked as supposed and can be used for all your personal tracking needs.
Pro Tips: It's best to hide the app on the tracked phone or device to avoid accidental uninstallation by the user who might not know the use. Also, if you added the Spyzie tracker app to your phone before gifting them out, it's best to remove it or let the third-party know about them.
Now Your Turn
Have you used Spyzie tracker app in the past and would like to share your experiences? Or have used any other cell phone monitoring app and would like our readers to know about them?
Share your Spyzie review and mobile tracking app experiences below. Also, recall that Trustpilot and Sitejabber are some of the best places to get honest and independent reviews of apps and services before subscribing to them.