There are many things that contribute to making a website a great one. Previously, big websites were determined by their Alexa ranking, Google Page Ranking, Page Authority, and Domain Authority. However, this time around, clients and competitors now look out for the CF and TF of a website before deploying their campaigns to improve website ranking or before requesting for a paid collaboration.
Simply, CF and TF mean Citation Flow and Trust Flow, respectively. Trust Flow is distinguishable from Citation Flow; however, the two are being checked simultaneously with top online marketing tools. These two algorithms help marketers (especially link builders) to determine the quality of a website and how relevant the website is over the others.
What Citation Flow (CF) Means
It is called Majestic Citation Flow; this is used to calculate the influential power of a website you're about getting a link from. This metric calculates the number of backlinks to a particular page link and in turn, determines the quality of the link and how it will affect your link if you should get a backlink from the tested link.
In simple terms, it is used to ascertain the "link juice" a site has to pass onto another site as a backlink(s). CF doesn't focus on the number of links pointing to a website; instead, it focuses on the number of domains linking to a particular page link on a website. According to Majestic's CF metric, the more domains linking to a particular link on a website means more value for the link.
Citation Flow has become one of the factors used by Google to rank websites. Thus, it is vital that you know your website's CF and lookout for the best ways to grow it if it's too low.
What Trust Flow (TF) Means
As the name depicts, Trust Flow is a metric introduced by Majestic SEO to calculate the quality of links that are pointing to a particular page or link on a website. Trust flow does not focus on the number of domains pointing to a link; instead, it focuses on the quality of the links. That said, it means that TF ignores numbers and focuses on quality.
With the TF metric, one can easily detect a site with high-quality backlinks. Thus, if a website or link has a high TF rating, it implies that the website or link has backlinks from many top websites. Also, with the "Trust Flow" metric, you can detect the number of organic visits a website gets from search engines.
Surely, TF is one of Google's most important factors for ranking websites. Thus, you need to grow your website's TF. Usually, TF is less than CF; e.g., a website may have a CF rating of 5 and a TF rating of 2.
Citation Flow vs. Trust Flow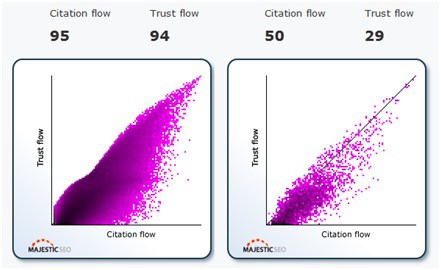 Here's the simple comparison, or rather the difference between these two SEO flow metrics. Citation Flow takes into consideration the number of backlinks to a link or website, while Trust Flow takes into consideration the quality of links pointing to a particular link or website.
However, both metrics have one thing in common, which is; they help marketers and bloggers to know the quality of the website they're about getting backlinks from.
The importance of CF and TF for bloggers and marketers
As a blogger or digital marketer; obviously you often build, buy, or exchange links to rank your campaigns, sponsored posts, and services. Using Alexa rank checker and SEO metrics does not provide you with every detail you need to confirm that a website is worth buying or getting backlinks from. You also need to use specific SEO tools to check out the Citation Flow and Trust Flow of any website you want to get backlinks.
Also, on the other hand, if you're trying to grow your website as a blogger to attract advertisers and companies, building up your TF and CF is really important, and you should give in to that.
There is arguably no other way to build up your TF and CF than utilizing TF and CF metrics.
Here's the explanation for that sentence. While trying to build your website's or link's TC and CF score, you need to also discover the CF and TF of the websites or links from where you'll be getting the backlinks. Thus, you're using CF and TF metrics to build up your website's quality score to attract potential advertisers and companies.
How to check a Website's CF and TF Score
There are many tools that help you check the Trust Flow and Citation Flow scores of any website you wish to get backlinks from. You can use the official majestic tool at majestic.com to check the CF and TF of a website.
All you'd need to do is to enter the URL(S) of the website(s) you want to check for their CF and TF scores in the search bar. You can also use the many other SEO tools that provide this metric for free to check the CF and TF of any website.