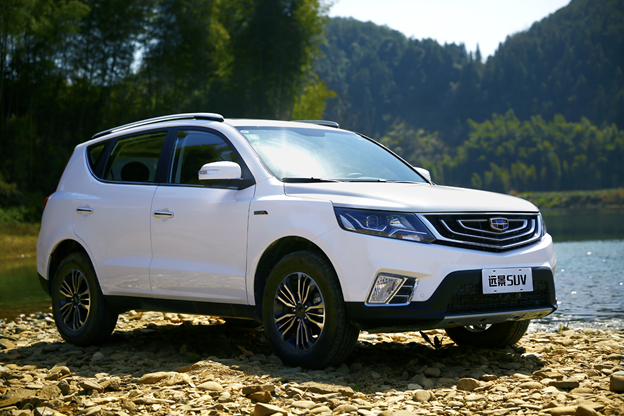 It may come as a surprise, but over 130 different types of SUVs are offered globally. It is a congested automotive sector, and it has dominated the industry for some years with no indications of slowing down. Just peek out the window and you'll notice that the vast majority of the vehicles on the road are SUVs.

However, because there are innumerable SUVs in all forms and sizes, we will explain the differences today. Let's draw a difference between what an SUV and Crossover are before we get started. Crossovers are considered to be on-road orientated versions with a sporty design and "wagon-like" attitude, although sharing the same concept as a sport utility vehicle.

SUVs, on the other hand, are larger and more comfortable, with a bulky design and available all-wheel-drive and off-road capability.

CROSSOVERS
Mini Models

These are the tiniest crossover available, with the majority of them based on entry-level budget automobiles like the Ford Fiesta or Toyota Yaris. They are fantastic commuting cars for business owners with high fuel efficiency, ample capacity for four persons, and a useful trunk, thanks to their small proportions, current equipment, and decent driving characteristics.

Hyundai Kona, Mazda CX30, Jeep Renegade, and Honda HR-V are some of the most well-known vehicles in this category. Front-wheel drive is standard on many of them, with AWD as a choice.

Small Models

Small crossovers, which are based on the conventional hatchback chassis, provide additional interior room and amenities while maintaining the same tiny proportions, usability, and affordability as mini versions. Small crossovers, on the other hand, are useful family cars and can be Overlanding automobiles if properly outfitted.

Kia Sportage, Ford Escape, Subaru Forester, and Toyota Rav4 are among the best-selling automobiles and capable everyday vehicles. Of course, you'll have to search elsewhere if you want to do genuine off-roading.

Middle-sized Models

Things start to become interesting in the mid-size crossover market. Those cars provide a lot of room, both for people and baggage, as well as good driving qualities and comfort.

If you choose performance variants, the mid-size crossovers may be configured as off-roaders or even race rods. This is why so many people want one. This class is dominated by Ford Edge, Kia Telluride, Kia Sorento, Honda Pilot, and Mazda CX9.

Full-sized Models

In the crossover market, full-size vehicles like the Volkswagen Atlas, Chevrolet Traverse, and Nissan Armada are known. They're all huge, roomy with third-row seats and plenty of space. These are ideal people-movers, allowing large families to travel in luxury and safety. People shopping for such vehicles are searching for a comfortable ride.

SUVs
Small Models

Small SUVs, which are designed to be a little tougher-looking and somewhat more competent than crossovers, are a highly popular segment of today's market. Compact SUVs may range from trustworthy family transportation like the Hyundai Tucson to adventure-prone Jeep Wranglers.

If you know about small SUVs and the benefits of acquiring them then you must know that they all come with enough interior space, modern technology, adequate engines, and a reasonable price. You may find simple, economy-spec cars along with offerings like the BMW X3 in this sector, on the basis of your choices and needs.

Middle-sized Models

The mid-size SUV is the ultimate class that completely encapsulates the entire SUV form. This class includes the most models, along with some renowned brands like the BMW X5, Jeep Grand Cherokee, and Chevrolet Blazer.

However, the models in this market vary significantly, and buyers have a broad range of technologies, styles, and features to choose from. for those who have a preference for style with comfort, models like Atlas Cross Sport from Volkswagen is a wise option, but if you want to participate in an off-road event, the Toyota 4 Runner with its strong mechanics and tires built for off-roading is the way to go.

Full-sized Models

Previously called luxury cars these have evolved into full-size SUVs. Full-size SUVs are the pinnacle of the sector, being large, spacious, comfortable, and equipped with the newest technology and creature comforts.

These are better for traveling the roads, despite the fact that practically all come with the all-wheel-drive systems. Lincoln Navigator, Chevrolet Suburban, BMW X7, Ford Expedition, and the future Jeep Grand Wagoneer flawlessly depict the grand and huge full-size SUVs' aesthetics and attitude.

When it comes to Performance?
Despite the fact that crossovers and SUVs evolved from off-road cars that never came with strong engines, car manufacturers gradually launched performance variants, which made sports car lovers apprehensive.

SUVs such as the Jeep Trackhawk, Porsche Cayenne Turbo S, BMW X5 M, and Mercedes GLC 63 AMG are powerful and incredibly speedy, with 0-60 mph speeds that rival or surpass those of well-known muscle and sports cars.

High-powered crossovers and SUVs are the best way to combine the comfort of a huge SUV with supremely fast performance, despite their less-than-optimal turning abilities due to their hefty curb weight and size.

Conclusion
The first automobiles to effectively combine the comfort of a big vehicle, the driving characteristics of a hatchback, the luxury of a premium car, and the off-road capabilities were the SUVs and Crossovers.

In that sense, the cars' unrivaled worldwide success should come as no surprise. sport utility vehicles and crossovers, regardless of class, price, or size, are extremely practical and functional cars that appeal to a wide spectrum of customers throughout the world.

When you have to determine which sort of car is best for you, it all comes down to your specific demands. The best approach is to assess one's position and choose the finest option based on the criteria. This requires you to do a little bit of research. You need to have a clear picture in your mind concerning your budget and then narrow down your options accordingly. Remember, if you have already decided on a vehicle, do not feel restricted to checking out other options from the same class. It goes without saying that the next thing to do is take a test drive because, in the end, it should feel right when you take control of the wheels. There are a plethora of options for you to choose from, so when the time comes it's a matter of your taste and preference.