Who needs remote access to other computers? Hackers do! Of course, these are not only hackers. Sometimes, people need remote access to computers to help each other solve problems.
Sure thing, it is easier to help a person configure PC or software it is easier if you can actually see what's happening on the other side. Remote access apps are incredibly popular among customer support engineers.
Users tend to ignore documentation and suggestions of support specialists. With a simple app, you can either view a remote screen or actually gain access to a remote PC.
In such a way, you may install some software, configure settings, show how to use particular tools and apps, etc. Such tools are usually easy to use, but they require a stable broadband connection.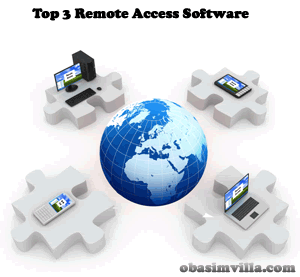 In this post, I will present an overview of the best remote access tools you can currently find in the market.
LogMeIn
If you need something really simple and effective, LogMeIn is something you should be looking for. This app is targeted at ordinary users, not admins or support specialists.
It gives an easy access to remote computers using any browser you want. In other words, you can access your home PC from the office and vice versa.
There are two versions of the app for users having various needs. If you are not an IT savvy person, a free version is totally OK. If you need some more features like file drag and drop or file sync, a pro version is exactly for you.
It is not cheap though, which means you should fork out $13 monthly, or $70 yearly. It should be mentioned that LogMeIn Free is more popular than its pro versions due to obvious reasons.
I can say that the software is really impressive and easy to use. Even if you do not have any experience in administering remote machines and networks, LogMeIn is your reliable helper.
TightVNC
What I love about TightVNC is that this is open-source software, which means that it is completely free. All you need to do is to set up a VNC server and connect to it remotely.
Once done, you can then access any remote PC provided that you have a valid VNC viewer. Setting up VNC is not too difficult. However, if you are a rookie, you will need some guidance.
The good news is that there's a detailed manual on how to do it. The tool is available as a desktop and a web application.
Remote Utilities
I am convinced that this is the number one application for remote access. Why? Well, there is a bunch of good reasons. First, this is an incredibly easy to use GUI.
You do not need any special knowledge to get this app up and running. Seriously! Just grab a fully functional 30-day trial and enjoy it. Secondly, this is the price and a flexible pricing model – per operator and per remote PC.
Choose the option that suits you well. Unlike many similar apps, you get full control over a remote PC, nut just a screen share. Even file transfer is possible.
Contributed by Aleksey of Remote Utilities.