Tracking is the process of identifying the location of a mobile phone or device, whether stationary or moving. You couldn't be more confident knowing where your targeted phone is located. Like we mentioned on our earlier tips on how to read your partner's messages without their knowledge, you can actually use tracking to monitor any smartphone in real-time.
Why would you start thinking of installing a secret phone tracker to track the location of another smartphone user? As a parent, there are a few things more terrifying than not knowing your child's phone location. Probably, you may want to catch a cheating spouse or know the kind of stuff your kid checks on the internet.
We get a lot of questions like, "How can I track my son's phone without him knowing?" Tracking someone's phone can be determined in several ways. However, not all of them will track without the target finding out.
So, here is one that will track without them knowing. It will quickly identify the location in less than five minutes. So, Can you track someone's phone without them knowing? Let's find out by checking out the simple guide below.
Tips to Use Spyic to Track Someone's Phone without Them knowing

Spyic is a professional monitoring solution that's specialized in tracking smartphone users. In over 190 countries across the world, millions of users have experienced it. This is an app that will follow up on the target's phone without alerting them.
It is easy to install and allows parents to monitor the GPS location. Furthermore, it can track text messages, calls, and social apps.
Spyic tracker has a unique ability to work in stealth mode. Therefore your target will not realize you are tracking their locations and gathering information about the places they visited.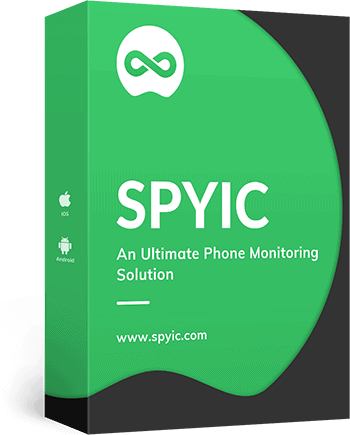 For Android users, Spyic works with Android 4.0 and above. The installation is fast, easy, and only takes about 2MB of memory space. Once you download the app and purchase the package that's most suitable to you. Wait for a few minutes to receive a download link in your registered email address.
After installing, Spyic is able to work silently in the background without the knowledge of whoever you are tracking.
For iOS, the app is compatible with version 7.0 or later. It does not need to download or install. All you require is the iCloud ID of the victim's phone. After registration and verification of the details, you are all set to start tracking the phone in your online account.
It does not need rooting or jailbreaking. This is due to its unique cutting edge technologies that do not need phone altering to track.
How Spyic Tracks Someone's Phone

Does the app sound awesome? Spyic can show you the real-time location of the target and the places previously visited via the location feature. The app tracks 24/7, giving you detailed reports on your online account.
If you want to restrict your target's movements, you can use the Geofencing specification. All you have to do is to specify the unwanted zones. The moment your culprit goes beyond the defined zones, you will receive an alert in your email.
The information you discover through Spyic is safe and secure. Nobody else can gain access to your tracking data except you. It does not store data. Instead, it only delivers the data to your web-based dashboard when you log in to your account.
The following are the steps you can implement for you to track someone's phone with Spyic.
Step 1: Sign up for an account on Spyic's website using your email address and a password. Next, select the targeted phone's OS and move on to purchase one of the subscription plans.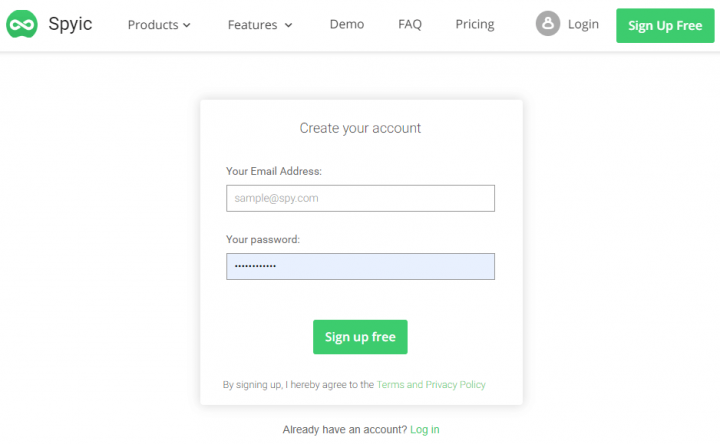 Step 2: Wait for a while until you receive an email that's confirming the reception of your payment. In Android, there will be a download link alongside the payment confirmation email. You can use the link that's sent to you to install Spyic on the targetted person's phone. Ensure that you activate the stealth mode. After that, complete the installation process and log in to your account via another device.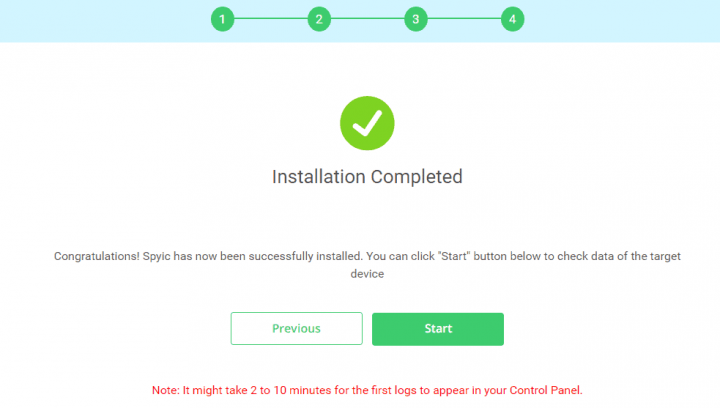 Step 3: For iOS devices, wait for the email and login to your Spyic account once you've received the email message. Verify the targetted person's iCloud credentials and move on to the next step, which is choosing the device you'd like to track and wait for the Spyic and iCloud synchronization.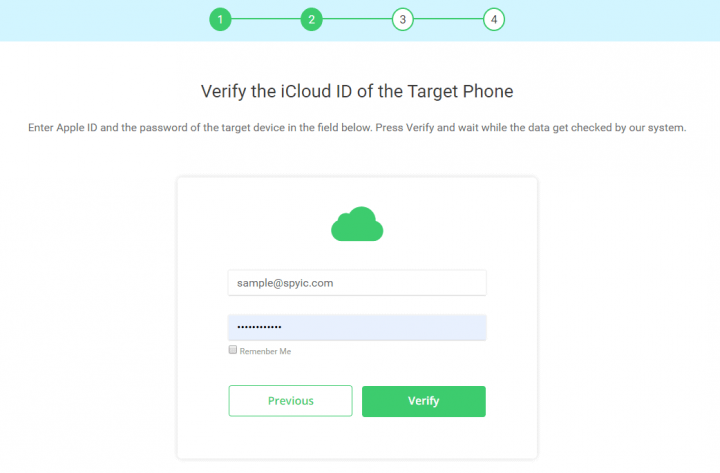 Step 4: Go back to your Spyic account dashboard and use the tools and features on the left to control the targetted person's info. The phone's summary will be on the major right.
To track the phone's location, click on the Location feature to see the full map.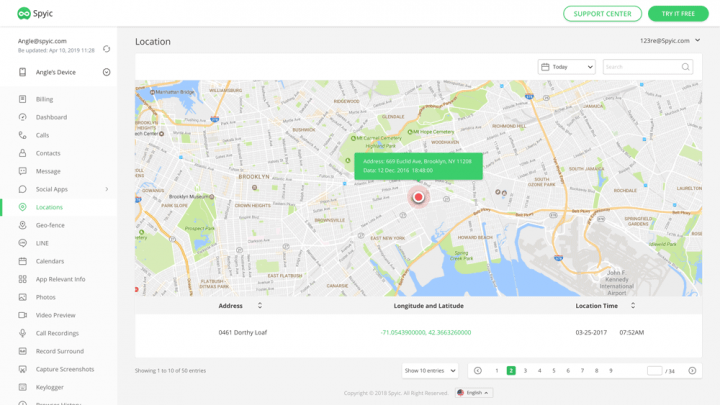 To restrict the targetted person's movements, make use of the Geofence option.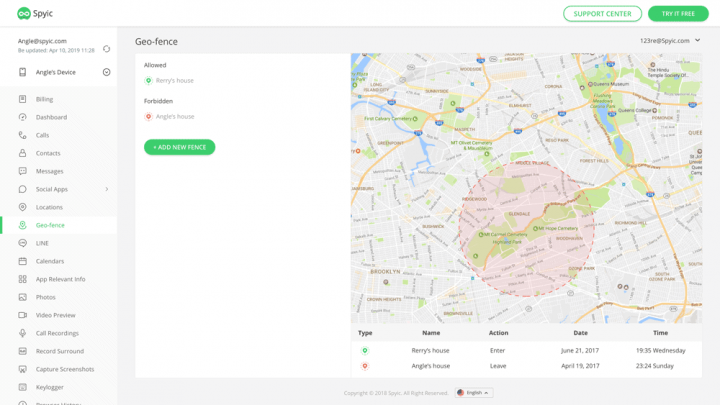 Note: For Android phones and devices, you'd only need to install the Spyic app one time on the targetted person's phone and then getting the results remotely.
Why Track with Spyic?

Hereunder are some of the most obvious advantages of using Spyic app over some of the other phone tracking methods:
No rooting or jailbreaking: Such practices involve risks that tamper with the phone's functionality. The good news, however, is that Spyic lets you use its amazing features without the need to perform the developer tricks.

Occupies little memory: Spyic takes only about 2MB of the phone's memory. This gives it an upper hand as it will use only an un-noticeable space on your phone. In iOS, it syncs with the iCloud, thereby occupying nothing on the targeted person's phone.

Quick setup process: You can start using Spyic in less than five minutes. It doesn't matter whether you are tracking an Android phone or iOS device.

No detection: It's not easily detectable by persons, apps, or antiviruses. This is because of its ability to work in stealth mode. The target will hardly know that you are tracking their phone.

No battery drain: Your spouse will not be wondering what is draining her/his battery quickly. Spyic barely consumes any power.

Safe and secure: This is the main motivation. Nobody wants to use an app that could be easily hacked by unwanted persons. All the information you get is safe, and only you can have access to it. The syncing protocol makes sure of that.
Conclusion

That is how to track someone's phone without them knowing by using the Spyic mobile tracking app. If you don't need to track anymore, the dashboard has a way to stop Spyic remotely without touching the phone. Therefore, you can track and quit without the user ever knowing about it. If that's what you need, the app's website is ready for a visit.