Basically, you cannot upload an audio file to Youtube or Facebook as the platform only supports uploads for video media formats. However, with the help of platforms like audioship.io, you can easily upload your audio contents as a video file to Youtube or Facebook by applying video effects and backgrounds to it. Nevertheless, there are some other MP3 to Youtube apps that let you turn your audio files into YouTube videos, but AudioShip is more flexible and handy to use.
What is Audioship.io?
Well, Audioship.io is a platform that helps internet users to convert their mp3 files to any compatible video format that's supported by YouTube and Facebook. It is a freemium platform, and it supports a variety of features to beautify your video.
Also, you can upload multiple audio files on audioship.io and edit them simultaneously. The platform lets you indicate the YouTube tags and privacy settings of your audio file.
If you're looking for a way to upload your mp3 to Youtube, Facebook, Twitter, and other platforms like them, try audioship.io for easy Mp3 to Youtube uploads. Hereunder is a concise how-to guide on how to upload Mp3 files to Facebook or Youtube on the go.
Audioship.io pricing
Audioship.io pricing is based on hours, you'd pay more to get more hours. When you sign up on auidioship.io, you'll get 1hour free, and when you exhaust the free 1 hour, you'll have to buy more hours.
3 hours upload time – $3.99 (at $1.33/hr)
10 hours upload time – $9.99 (at $1/hr)
40 hours upload time – $19.99 (at $0.50/hr)
100 hours upload time – $29.99 (at $0.30/hr)
400 hours upload time – $59.99 (at $0.15/hr)
You can also contact audioship.io if you want to place a custom offer.
How to Upload Mp3 to Youtube and Facebook with audioship.io
Come along with me as I show you these super easy steps for getting your Mp3 files to Youtube, Facebook, and similar video-sharing websites or platforms.
Step one: create your free account
Go to audioship.io and signup using your YouTube account. Allow all the required permissions and settings to complete your account sign-up.
Step two: upload your audio file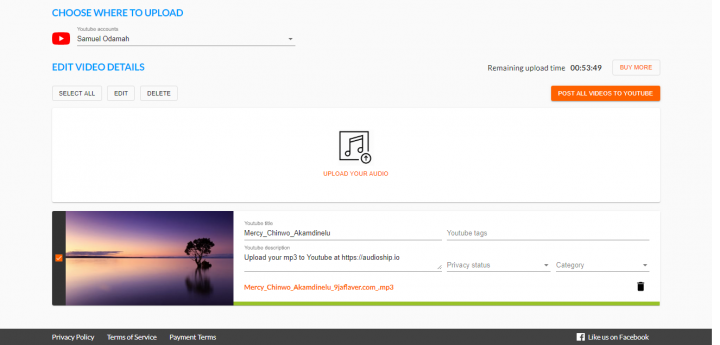 Once you're done registering your account, you can start uploading the audio files. However, you're limited to upload files with a total duration of 1 hour. This means that – if your audio files have 5 minutes duration each, you can upload up to 12 audio files (5 mins x 12 = 60mins).
In the same way, if your audio files have up to 10 minutes duration, you can upload 6 of such files.
Step three: Edit the video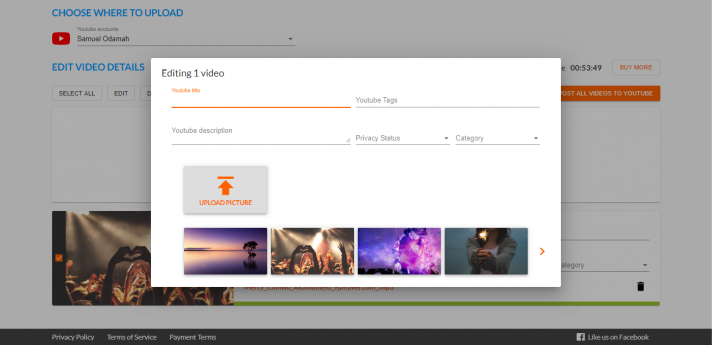 Upload all the audio files, select them and click on the "Edit" button as seen in the screenshot above. In the Edit pop-up window, you'll be able to add a custom background, set YouTube tags, enter the description of your files, as well as the video category and title.
Step four: post your audio files as videos

After editing the files and setting the necessary parameters, the next step is to publish the audio files (which are now video files) on your YouTube channel. Simply click on the "Post all videos to YouTube" button.
Interestingly, audioship.io supports batch processing, which means you can simultaneously upload up to 10 or more audio files to YouTube at a go. Also, audioship.io maintains the audio quality of your files. If your files are HD audio files, audioship.io will post them to YouTube losslessly.
What more?
Audioship.io is fast in processing your files. Plus, the interface is super-intuitive that anyone could easily understand.
Conclusion
Audioship.io is arguably the best Mp3 to Youtube uploader app you can use for all your Mp3 to Facebook or Mp3 to YouTube uploads. Its pricing is competitive, fair, and valuable when compared to other tools that have similar functionalities as Audioship.io.