Getting traffic to a website is the priority of every webmaster, blogger and/or internet marketer. This is because quality traffic is like the "grease that oils every online business".
One needs quality traffic to make sales, get clients, earn via ads publishing, affiliate marketing and other make money from home methods.
While search engine optimization (SEO), social media promotion, guest posting and blog commenting are the best methods for getting quality traffic for free, paid ads comes in handy for highly competitive products and niches.
In paid ads categories; Google adwords, Yahoo/Bing Media.net, Facebook and Linkedin are renowned for quality but are too pricey for most small businesses.
This had led to the proliferation of many kangaroo paid ads platform and services that promises too much, but delivers next-to-nothing. The top 5 worst among these paid ads platforms that benefits only the owners is what today's post is all about.
Top 5 Worst Places to Shop for Paid Traffic
Trying out new tools and services is one of the things we do over here at 3rd Planet Techies. This has led us to experimenting with plethora of marketing tools, hosting services and domain name registrars.
So, the top 5 worst places to shop for paid traffic list below is sourced from our personal experience with PPC networks, traffic gigs and popular paid advertising platforms.
AddMoreTraffic.com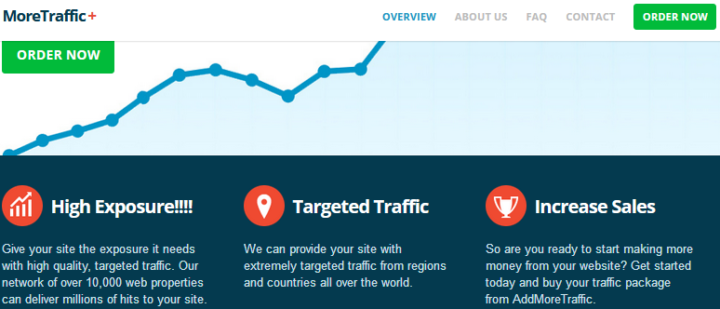 AddMoreTraffic.com, a business owned by "Entireweb Sweden AB" are really top-notched with their SEO game as they would normally show up a-top for searches related to; cheap USA traffic, cheap UK traffic  and other affordable traffic terms for tier one countries.
I can't really recall how I got to land on their website, but could recall they are the worst paid-ads platform I have ever visited.
Even though the traffic I bought from them was just for test/review purposes, I never got the needed insight as they turned out to be a scam company.
I shared a full story about their shady practices at tech diary.
LinkCollider, BlogClicker, Et Al
LinkCollider can come in handy for getting cheap social media mentions, free social signals and really cheap SM pages advertising, but never for traffic irrespective of the niches.
Traffic from LinkCollider does not only skyrocket your bounce rate, but also offers nothing close to quality and/or conversion.
The visitors are timed with JavaScript count-down timer that takes away the visitors focus from anything content other than reading/waiting for the remaining seconds on the timer.
The only useful thing for such traffic is beating down your alexa rank for websites that aren't registered with adsense yet. But then, what is the wisdom in deceiving yourself and potential advertisers alike?
Traffic is useless without conversions, engagements and pronounced visibility (impressions maybe) of some sort. The only reason I'm still active on LinkCollider is because of their awesome tools for social media promotions.
If like me, you are signed up to their services, I'll advice you uncheck the traffic option for very serious website you own as it isn't a good place to invest for quality traffic.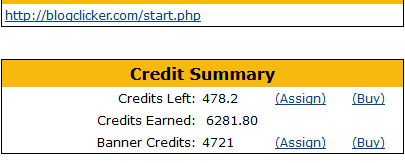 The case of blogclicker.com and other paid traffic exchange directories is worse as there are no reasonable tools to make up for the money you spend on it.
SEO Clerks
SEO Clerks is one of the top reputable freelancing websites with good number of daily users. In fact, I have bought good number of quality products and services from SEOClerks without getting scammed.
The few services I bought from their SEO and online advertising categories was so poor that I have to pay the sellers again to reverse what they did in one of our websites.
It is no sane place to shop for traffic at all. The traffic gigs offered by most of their freelancers is just visits from a sophisticated traffic bot. It is comfortably sitting at number three (3) spot on our list of worst 5 places to buy paid traffic.
The only kind of traffic I'll endorse from SEOClearks is the ones that offers an elongated placement of advertorial on their really  established websites.
This type comes at a higher cost, but does really work most of the time. I'll advice you go with the "nofollow option" for link placement traffic gigs.

In all, SEOClerks is not a good place to shop for traffic. Opt for other forms of promotion on their platform, instead of wasting your advertising budget for nought.
Fiverr
A lot has been written on Fiverr here at 3rd Planet Techies, but never a time has it been a negative remark, except for today.  This is because traffic gigs from Fiverr is no different from that of SEOClerks as they are all bots traffic offered in various forms.
Fiverr is great for buying unique logo designs, infographics, videos, contents and lots of services, but never a good place to shop for traffic.
The budget for traffic on Fiverr is better spent on premium contents that could drive targeted search engine traffic to your website and/or products.
Even though, most traffic from fiverr do show up on Google analytics, they hardly converts and comes up too fast for a natural traffic source.

Besides, no one has a sole control of search engine, how then could one send you 5,000 visits from search engines only? The gig's creators must have targeted newbies for such gigs, we fell for them in the past and wouldn't want you to do the same in 2017.
I am not just saying that Fiverr traffic is bad for your business, but that you should only stick to what works on fiverr and avoid their SEO and online traffic category as they hardly works and works only for short-time when they do.
Anoox
Anoox is one of the most pronounced link submission directory for new websites. Most automated link submission tools gives you the option of listing your website with Anoox.
That was exactly how I got to know about them and decided I was going to try out their paid option for test/review purposes.
My Anoox Advertising Review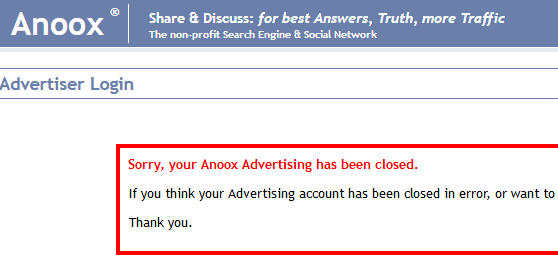 Anoox prides itself as a "not for profit" advertising platform that's more interested in promoting small businesses than they are with making profits.
In one of their texts, you'll see something like this;
Please keep in mind that by Advertising on Anoox network YOU will SAVE at least 50% on cost
of Pay-per-Click (PPC) Advertising compared to Big Wall Street run firms of Google™, Facebook™,
Twitter™, etc.  And we GUARANTEE this! A GUARANTEE we can give you because as a not-for-profit we put the interest of Small businesses on Main Street ahead of Profits & Share prices on Wall Street.
This declaration is flawed, judging from my little experience with Anoox ads network. Even though I do understand that someone else in another niche other than tech might find their services useful, it was completely a NO NO for me.
I practically had a less than 1% return on investment (ROI) for the campaign duration.  This might be attributed to the kind of service I was promoting, but then, I fared better promoting same product on other advertising platforms.
The traffic quality was too poor to convert for tech products/services, but might work for relationship hubs, intimacy gadgets and social interaction tools.
In all, Anoox paid ads (PPC) network doesn't just cut in as a reasonable place for one to spend his advertising budget on.
They let you run ads for as low as $1 per day, but the traffic quality and over-all return on investment (ROI) for tech and programming niche is a far cry from their much-advertised guaranty.
In Conclusion:
SEO, digital marketing and social media promotion for your business is a long-term plan that requires long-term strategies. I'd advice that you stick to only what works, even if it means saving up some more funds for it!
We'll improve on this list from time to time. Remember to share your own experiences with some of the worst places to buy website traffic in the comments section below.