Today, the world is shifting towards video streaming services from the traditional cable networks for entertainment purposes. In fact, video streaming services are the next big thing in the digital era.
The modern-day streaming services provides an end-to-end service, video on demand, and can be personalized according to the user's preferences.
That's why the big players like Amazon, Star, Home Box Office (HBO, Inc.) are investing in this technology and trying to compete with existing players like Netflix.
Before diving into the list proper, I'd like to share my opinion on the most popular free streaming Services.
  3 Free Streaming Services… And Why You Shouldn't Use Them
There's no doubt that Netflix, Hulu, and Amazon Prime have transformed television for ever. We no longer live in a world where you have to choose between what a limited number of channels are broadcasting now. Instead, you can watch what you want, when you want to.
Cable or satellite television (depending on where you live) is definitely more expensive, and is therefore an increasingly unattractive options for younger people looking to subscribe to a service for the first time.
So, more and more people are signing up to Netflix, et al, as a primary service. Which leads to a problem: not everything is available on streaming services.
If you want to watch Game Of Thrones, for example, you need either HBO, or HBO Now. And while the latter is more affordable, you're still paying $15 for a channel on which you want to watch one or two series.
The solution is obvious. Use a free streaming service or torrent. You can get pretty much everything on these services and, once you start, there's a chance you'll unsubscribe to all your paid streaming services.
Of course, these options come with their pitfalls, and many warn against using them.
That's not to say you should listen, but you should definitely take care. These are the top 3 streaming services available, and reasons to be wary of them.
Popcorn Time
Popcorn Time uses torrent clients to stream series and movies. It's got an attractive media player, and is something of a competitor to Netflix in terms of its usability. It's a great option for those who are not ready to pay exorbitant prices to watch their favorite TV shows.
The main question people ask, however, is: is Popcorn Time safe? The answer is, it can be. The major problem with Popcorn Time is that torrenting copyrighted shows is illegal.
And, since it forces you to allow other users to torrent from you, you're particularly vulnerable to law enforcement. However, as long as you use a VPN provider, you should be safe. Just be sure not to take any shortcuts.
Project Free TV
Project Free TV is essentially an aggregator. It does not host any series itself. Rather, it databases series with links to all the available free sources, which it embeds into its web page. These sources include thevideo.me, putlocker, vodlocker, and the like.
The biggest complaint people have about Project Free TV is that adverts can destroy the experience. Even with an adblocker, you'll inevitably click on 2 or 3 hidden adverts before being able to watch your show. It's hard not to fear malware infiltrating your computer at a rapid pace.
Also, many links are simply terrible quality, and if you're projecting it to your HD TV, you'll be frustrated to the point of no longer caring.
The Pirate Bay
Finally, the most consistently reliable way to watch free TV is to simply download torrents from The Pirate Bay. It's been taken down many times but always pops back up, with reliable links to torrent providers.
This way, you're most likely to find your favourite show in high-definition. The downsides are that you have to download big files while uploading to others, and the risk of legal problems.
The latter can be dealt with using a VPN, but there's something archaic about having to actually download a video.
The 10 Best Movie Streaming Services
Here's my list of the Best 10 Movie Streaming Services, starting with Netflix; the undisputed champion of this niche. Note: They are carefully selected to feature only what works for modern users. The full list goes thus:-
NetFlix
Amazon Prime
Hulu
YouTube TV
HBO NOW
Acorn TV
DirecTV
Showtime
PlayStation Vue
Sling TV
Netflix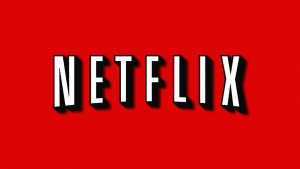 Netflix offers a 30 days free of cost subscription to everyone. There are three types of plans to choose from, with the fundamental difference of video quality (regular, HD, and Ultra HD) between them.
Netflix is known for its flexibility in their terms and conditions. You can upgrade, downgrade, or even cancel the subscription anytime you wish.
The basic subscription comes at a price of $7.99 a month. The basic plan is limited to a regular video quality and only one screen streaming at a time. Given that there is a one-month free subscription, Netflix is definitely worth a trial.
Official Website: https://www.netflix.com
Movie Streaming Plans: https://www.netflix.com/signup/planform
App: http://bit.ly/1ozdYSO
Amazon Prime


Just like Netflix, Amazon also offers a 30-day free subscription. It features a wide range of shows on its platform. Though the fee is $8.99 per month, there is no need to pay extra for streaming HD or ultra HD videos.
Amazon is also offering a 6 month trial under the banner 'Prime Student'. Prime Student is an exclusive plan for students and comes at just $5.49 per month after the 6 months of free service expires.
Amazon Prime: https://www.amazon.com/Amazon-Prime-One-Year-Membership/dp/B00DBYBNEE
Prime Student: http://amzn.to/2nEATUS
Hulu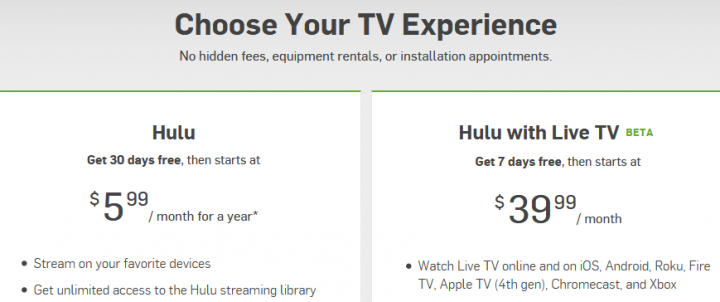 Hulu is a part of Hulu LLC, a joint venture of the four big players in the film industry — The Walt Disney Company, 21st Century Fox, Comcast, and Time Warner.
As of April 2017, the user base of Hulu has crossed 32 million. The best thing about it is that it keeps its streaming library and Live TV separate. You can choose any of the following two plans:
$5.99 a month (1 year plan) for Hulu video-on-demand streaming service that comes with a 30-day free trial or
$39.99 a month for Live TV (including Hulu video-on-demand streaming service) that comes with a 7-day free trial.
Their Official Website address is https://www.hulu.com.
YouTube TV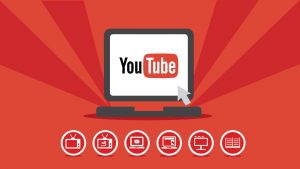 YouTube TV is a La Carte TV that has collaborated with the biggest TV networks like Disney, NBC, BBC, etc. However, It currently available only in selected US cities.
They offer you more than just video streaming. At a subscription cost of $35 a month, you get to watch live streaming from over 40 networks and you also get an unlimited cloud storage for DVR.
You can get access to YouTube TV from 6 different accounts (with different login ids). The link to join YouTube TV services is tv.youtube.com.
HBO NOW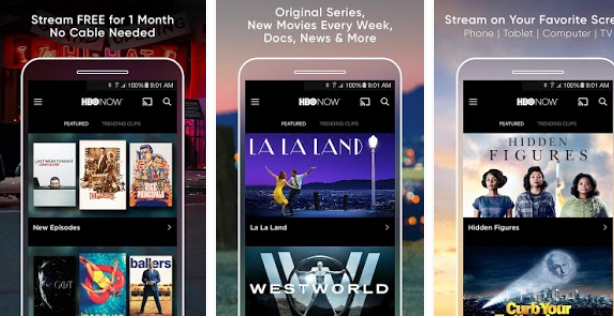 Home Box Office is known for featuring some of the most popular shows like Game of Thrones, Silicon Valley, Sex And The City, The Wire, etc.
Like other movie video streaming services, HBO also offers a 30 day free of cost trial to its new customers. Like YouTube TV, HBO NOW is also limited to some of the select areas at this point of time. HBO charges $14.99 a month for HBO NOW streaming services.
Google PlayStore™ Link: http://bit.ly/2ggmy1w
Homepage: order.hbonow.com
Acorn TV — RLJ Entertainment, Inc.

Acorn TV is one of the most affordable streaming services in the market. They feature a bunch of TV shows like Newton's Law, Parents, The Level, Brief Encounters, Winter, Suspects, She Wolves, Slap, Empire, etc., on their platform just at a cost of $4.99 a month.
However, their free trial is limited to only 7 days. You can subscribe to their services by paying a visit to their official website at https://www.acorn.tv.
DirecTV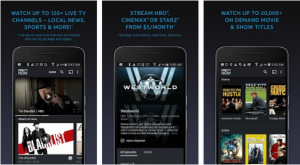 DirecTV is a subsidiary of AT&T. They offer six kinds of monthly packs ranging from $50 per month to $125 per month.
The basic pack called as 'Select' comprises of some 150 channels while the premier pack consists of 325+ channels. However, any of the plans offered by DirecTV requires a 2-year agreement. DirecTV also makes an HD DVR called Genie.
Details of the six packs offered by DirecTV is as follows:
Select — 150+ channels at $50 a month
Entertainment — 155+ channels at $55 a month
Choice — 185+ channels at $60 a month
Xtra — 230+ channels at $70 a month
Ultimate — 245+ channels at $75 a month
Premier — 325+ channels at $125 a month
Google PlayStore™ Link: https://play.google.com/store/apps/details?id=com.att.tv&hl=en
Official Website: https://www.directv.com
Showtime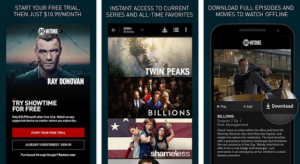 Showtime is a part of Showtime Digital, Inc., a company based out of NY City. You can get access to both instant live and on-demand services just at a fee of $10.99 a month.
This payment can be made via in-app purchases. The shows can also be downloaded directly to your Android device and could be watched offline.
Google PlayStore™ Download Link: http://bit.ly/2i9qCBi
Official Website: sho.com
PlayStation Vue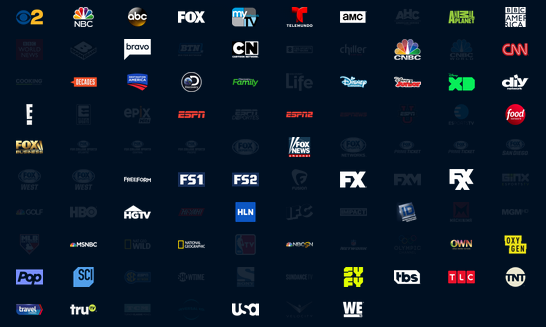 PlayStation is a yet another cable free streaming service launched by Sony Interactive Entertainment LLC. Sony gives a 5 day free trial to the new customers.
There are 4 monthly packs ranging from $39.99 to $74.99. Apart from instant Live TV streaming, they offer video on demand, cloud DVR, and can be streamed on 5 different screens at the same time.
Their subscription plans in-full can be seen at https://bit.ly/2g6UgTw, while their mobile phone app can be downloaded from this Google PlayStore™ Link.
Sling TV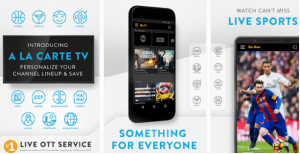 Another La Carte network. Just like YouTube TV, Sling TV is a very affordable video streaming service. Their basic pack comes at a fee of $5 a month. There are two mainstream packs, namely:
The Sling Orange Service: 30 Channels at $20 per month and
The Sling Blue Service: 40+ Channels at $25 per month.
SlingTV is available in 18 different languages. Their mobile app can be gotten from this Google PlayStore™ Link.
Your Thought on Movie Streaming Services?
We've listed the best 10 video TV streaming services, along with free options we really do not recommend. What's your thought on the free or paid options for online movie streaming?
Please do share them with us in the comments section below.