The hospitality business sector is lucrative and highly competitive. As a hotelier, you'd need to implement cutting-edge solutions to provide your guests with the best experiences ever. There are many guest management systems for hoteliers, but the Duve platform solutions tend to be one of the best.
Duve (formerly WishBox) is a platform that provides hoteliers with several innovative solutions to personalize their guests' experiences. This platform supports automation, along with many other innovative solutions for business owners in the hospitality sector. In this short WishBox review post, you're going to get a comprehensive review of the Duve platform, and how to use it to scale your hospitality business.
Duve Overview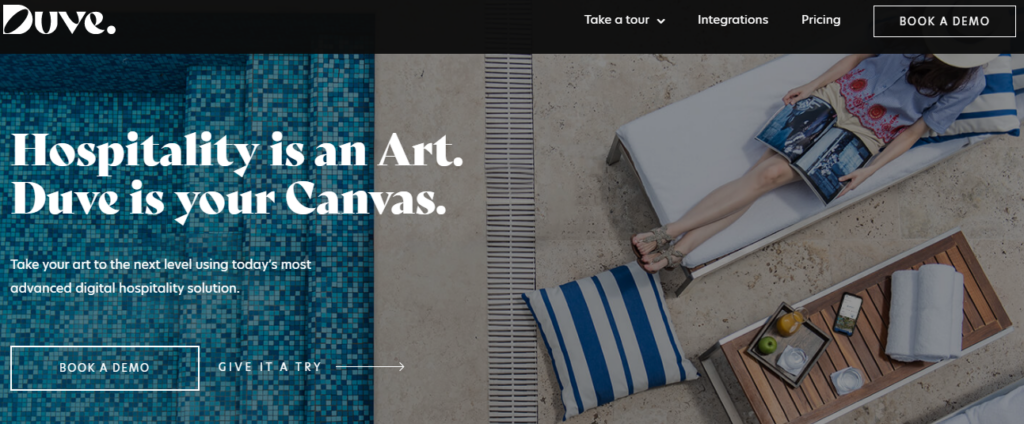 Duve is an end-to-end guest management solution for hoteliers and people who rent their space to commuters. It is founded by hospitality professionals to provide a suite of innovative solutions that helps to digitize hotels, hostels, or vacation rentals to increase profitability and improved guest experiences.
The Duve platform is highly customizable – can be integrated with various hospitality management systems, including Cloudbeds, Guesty, Hostify, and many others. Duve solutions are available for hotels, hostels, and vacation rentals at affordable prices. Interestingly, Duve solutions are easy to deploy and use.
Duve Pricing
The price you pay for using Duve depends on various factors, including the number of rooms in your hostel, hotel, or vacation rentals. For example, if you're offering up to 11 vacation rentals, you'd pay $6.25 per rental per month.
Features of Duve Guest Management Software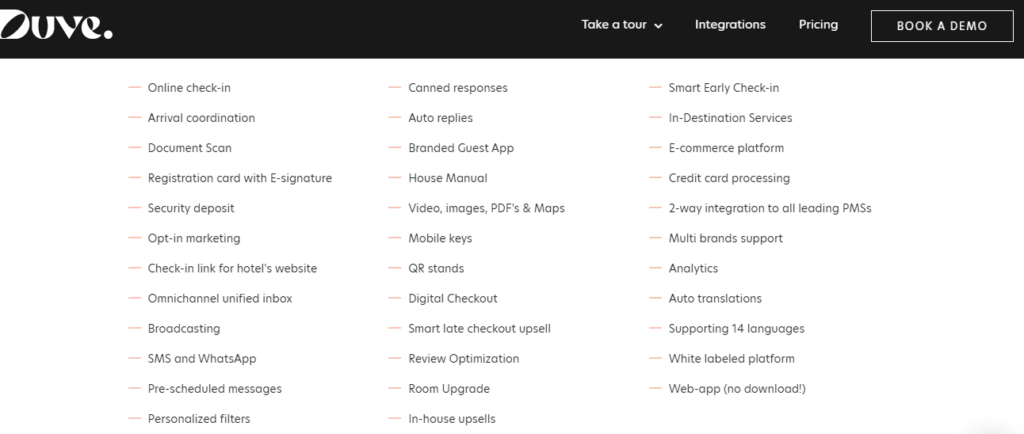 The features you'd get depends on the solution you're choosing. Apparently, the features on Duve for hotels differ from what you'd get with Duve for hostels; however, there are a few similarities.
Duve's solutions provide the following features:
Online check-in
Guest Apps
Upsells
Unified Inbox
Digital Spots
Mobile Keys
House Manuals
Marketplace
CMS (for Hotels and Hostels)
Digital Checkouts
1. Guest App
On the Guest App, your guests will access everything they need right on their device – all through their period of stay. Interestingly, the guests do not even need to download the app on their device because it runs as a web app. More so, there are many customizations you can do to personalize the Guest App.
2. Upsells
Duve lets you upsell your services using a suite of product upselling features. This includes upselling in-house supplies or 3rd-party supplies to your guests.
3. Digital Check-in and Check-outs
With Duve, your guests can complete the check-in processes from the comfort of their homes. This includes scanning the necessary documents, document filing, and payment. After the digital check-in is completed, the guest can arrive at your hotel/hostel/vacation rental, pick up a pre-signed registration card, and head to their booked space.
Similarly, Duve makes checking out easy and seamless for your guests (when they want to leave). You can also add quick surveys to get customer satisfaction reports from your guests.
4. Detailed Reporting and Analytics
Furthermore, Duve solutions allow you to measure different data such as guest engagement, sales, and revenue. You'd also have access to a review report to track customers' satisfaction at all times.
The dashboard is easy to understand, and you can track many activities in real-time. More so, you can add multiple users and assign different permissions levels and tags. It is a feature-rich platform for the hospitality sector.
How To Improve Guest Management With This Tool?
There are a lot of good features of the Duze app; these features, if optimized properly, can guarantee elevated customer satisfaction for your guests. Using Duze to improve guest management is all about optimizing the tools and features it has to offer. Now, how do you do that?
Step One:
Firstly, you need to sign up using the "Book a Demo" button or chose the "Register" option on the menu bar. During the sign-up process, you'd have to provide certain details about your hotel or hostel. After booking a demo with the team, your account will be activated, and you can use the tools available on the Duve app.
Step Two:
You will have to customize the Guest App using your brand's logo, name, and other things that indicate your business. The Duve app is easy to customize, and the dashboard is intuitive too.
Step Three:
Set up automation to allow your guest to perform a lot of tasks right from the Guest App. This will reduce workload for your staff and improve productivity.
My Duve Review and Verdict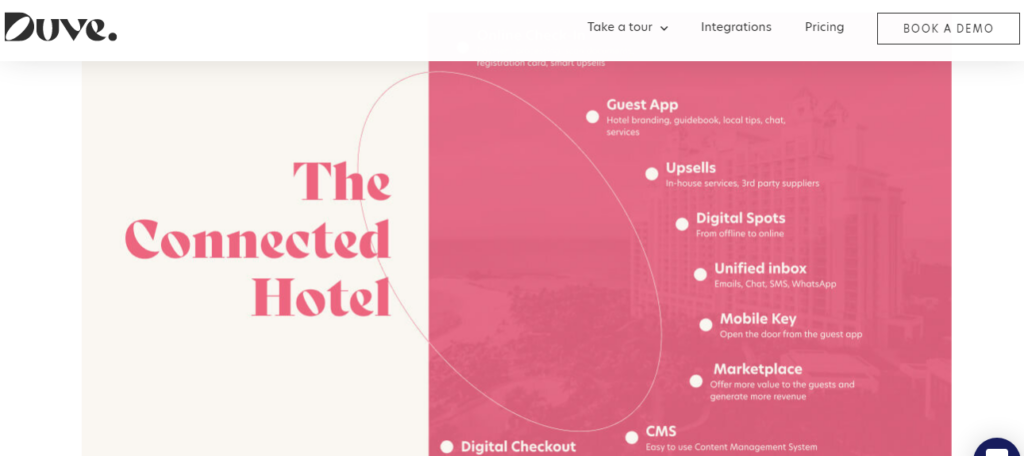 Apparently, Duve is a complete solution for hotel owners and other people that provide accommodation to travelers and guests. It features a clear-cut interface that anyone could easily understand and use. The setup process is straightforward and intuitive; furthermore, the app supports a high level of customization so you can personalize what you offer to your guests.
Thanks to the upselling feature on the Guest App, your business can generate more revenue by advertising other services you offer. Generally, the Duve app is an impressive suite for businesses in the hospitality industry.
What More?
Summarily, Duve is a perfect suite to improve guest management for hoteliers and other businesses in the hospitality sector. Its pricing is fair, and it has a lot of features to offer. Furthermore, the dashboard lets you track multiple activities at a go and in real-time.