As a PC user, when your Windows or Linux computer refuses to boot, you use bootable media (or Windows installation media) to boot the PC and troubleshoot it. But, when you're a network admin managing hundreds of computers, apparently, managing all of those computers manually can be a hectic task.
Thus, you need network tools that allow you to remote-boot a networked computer system that won't start. The Aomei PXE Boot software is a tool for network administrators and experienced PC users that help to create PXE servers and manage various computers on a network.
What is PXE Boot
PXE stands for Preboot Execution Environment. It is a server interface that allows a network admin to boot any computer on the environment from the "server" system. To efficiently manage PXE boot, Aomei has a dedicated software tool you can use – the Aomei PXE Boot.
Aomei PXE Boot Overview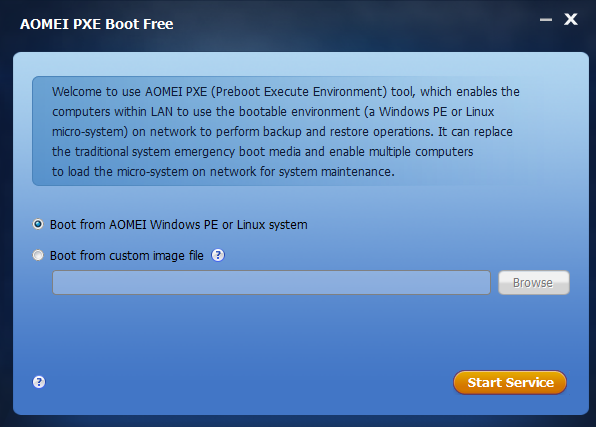 Simply put it this way, AOMEI PXE Boot is a software program that allows you to boot other computers on a LAN environment. The tool is pretty intuitive to use and it also works for creating a Windows PE boot image or Linux image.
Furthermore, after using the Aomei PXE to boot a PC, you can backup, restore, the PC remotely. This article covers an extensive guide on how you can use the Aomei PXE tool and where you can download it.
Pricing
This tool costs $99.00 per year. However, it has a free-trial version that lasts for just 30 days. To enjoy the full features and capabilities of this software, you need the premium version.
Where to Download Aomei PXE Boot
While you may find the tool on 3rd-party websites that allow you to download .exe files, it is advisable to get this tool from the official developer's website. After downloading the program, follow the guide below to install and run it effectively.
How To Use Aomei PXE Boot
You need to install this tool on the server PC (if you're working in a networked environment). Notwithstanding, you can install it on any working PC.
First Step:
At first, when you download and install the app (preferably, on the server PC), you'd be on the free version. This free version has its limitations, but it works for booting a troublesome PC within a LAN environment.
So, when you launch the app, select the most suitable way to boot the PC. There are two options available: Boot from AOMEI Windows PE or AOMEI Linux system and Boot from a custom image file.
Second Step:
If you choose the first option to boot from Aomei Windows PE or Linux system, you'd be able to create a Windows PE or Linux system image for network boot. In contrast, the second option lets you select an ISO file from your local disk. The second option is recommended if you're trying to install Windows on the remote PC.
Third Step:
After selecting an option, click on the "Start Service" button to trigger the scanning process. This process can be stopped if need be. Aomei PXE Boot would automatically configure the necessary data while waiting for the target computer(s) to respond. However, you may need to enable Network Boot on the computer.
What More?
Generally, this Aomei tool is superb and works perfectly for the need. The interface is pretty intuitive, so you don't have to worry so much about how to operate the app. It is an app for PXE-enabled computers within a LAN environment.