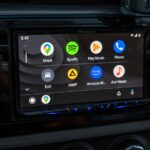 A
re you looking to
upgrade your car
with the latest technology? Android Auto is the perfect way to do just that. With its simple and intuitive interface, Android Auto can connect you to a wealth of apps designed to make driving easier and more enjoyable.In this blog post, we'll cover the 15 best Android Auto apps for your car in 2023, so you can get the most out of your vehicle.Whether you need help navigating, want to listen to your favorite music, or want to stay up to date on the latest news, these apps have got you covered.
Google Maps is the most popular navigation app for Android Auto, providing turn-by-turn directions and live traffic updates.It's easy to use, with clear voice instructions and a clean interface. With Google Maps, you can find your destination quickly and easily, or explore new areas with its expansive coverage.You can also get real-time traffic updates, lane guidance, incident alerts, and more. Google Maps also lets you plan a route and view a map of your current location.Plus, you can save favorites for future use. All in all, Google Maps is one of the best Android Auto apps for navigation.
Waze is an incredibly popular
GPS navigation
app that is used by millions of people around the world. It provides real-time navigation, traffic updates, and user-generated alerts to help users get to their destination quickly and safely.With Android Auto, you can access Waze on your car's dashboard and take advantage of its features without taking your eyes off the road.It can be used to get directions to your destination, find nearby gas stations, avoid road hazards, report traffic jams, and more.Additionally, Waze has a points system that rewards drivers with points when they use the app regularly. The app also offers fun badges that drivers can earn for completing challenges.Waze is free to download and use, and it works with both Android Auto and Apple CarPlay.
Spotify is one of the most popular streaming music services and is a must-have for any music lover. With the Android Auto app, you can access all of your favorite songs and playlists right from the comfort of your car.It also allows you to browse new releases and curated playlists. Additionally, you can create and save your playlists for easy access when you're on the go.For an even more personalized experience, you can also use Spotify Connect to control your music from any device. With Spotify, you can enjoy an endless supply of music no matter where you are.
Pandora is one of the most popular music streaming services, and it's available on Android Auto. With this app, you can easily search for your favorite artists, albums, and songs, as well as create custom radio stations to fit your mood.You can even access personalized recommendations based on your listening habits. To get started with Pandora on Android Auto, simply download the app from the Google Play Store and link your account to the car's audio system.Once connected, you'll be able to control music playback via voice commands and the car's audio controls. With Pandora's extensive library of music, you'll always have something to listen to during your next road trip.
Audible is an excellent app for those who are looking to add audiobooks to their car's entertainment system.With the help of this Android Auto app, you can access over 200,000 titles from the world's largest library of audiobooks and podcasts.Not only that, but you can also listen to your favorite authors, narrators, and celebrities in high-quality audio.With a single subscription, you can also download unlimited audiobooks for offline listening on your Android device.With Audible, you get access to exclusive titles as well as bestsellers from major publishing houses.Plus, you can create custom playlists of your favorite books so you never miss out on your favorites. With the help of this app, you can enjoy audiobooks while driving, making it an ideal companion for long trips.
iHeartRadio is an internet radio and music streaming service that offers a variety of options for music, podcasts, and radio stations.It's available to use on Android Auto and allows you to access over 1,500 live radio stations across the U.S. You can also create custom stations based on your favorite artists, songs, and genres.iHeartRadio also offers a wide variety of podcasts, including sports, news, entertainment, lifestyle, and more.Plus, you can even listen to exclusive iHeartRadio original shows. With iHeartRadio, you'll have access to all the music you need while driving with Android Auto.
Telegram is a messaging app that is quickly becoming one of the most popular Android Auto apps for your car in 2023. It offers end-to-end encryption, which means that your messages are secure and private.It also has a wide range of features, such as group chats, voice calls, file sharing, photo and video sharing, and more.The app also has stickers, GIFs, and bots to make conversations more fun. You can easily use Telegram with Android Auto to keep in touch with family, friends, and colleagues while on the road.
WhatsApp is a popular messaging app that allows users to send and receive messages, photos, and videos.With Android Auto, you can now use WhatsApp to stay connected to your friends and family while you're on the road.You'll be able to read and respond to messages without ever having to take your eyes off the road.You can also share photos and videos in real time. WhatsApp's intuitive user interface makes it easy to stay connected on the go.It's a great way to stay connected with loved ones when you're away from home.
Tidal is a subscription-based music streaming service that offers lossless audio quality and access to millions of tracks.With Tidal, you can create playlists, explore curated content, and listen to your favorite artists on your Android Auto device.This app is great for those who want to listen to their favorite music in the highest audio quality possible.You can stream over 60 million songs, albums, and playlists, as well as thousands of videos, podcasts, and articles.Tidal also offers exclusive content from some of the biggest names in the music industry, like Beyoncé and Jay-Z.With its easy-to-use interface and high-quality audio streaming, Tidal is an excellent choice for Android Auto users who are looking for an immersive music experience.
Google Assistant is a powerful voice-activated virtual assistant built into the Android Auto platform.With Google Assistant, you can make hands-free calls, get directions, play music, find local businesses, and much more.You can also control your car's climate and settings with voice commands. To access Google Assistant, just say "OK Google" or press and hold the voice button on your steering wheel.You can also access Google Assistant from your car's touchscreen or by using your car's built-in microphone.Once you are connected to Google Assistant, you can ask questions, find information, and control functions like navigation and climate control.
CNN is an excellent news app to have while driving in your car. With its comprehensive news coverage, you can stay up-to-date on current events no matter where you are.With its live streaming videos, in-depth articles, and interactive features, CNN provides a great way to stay informed without having to take your eyes off the road.You can listen to top stories and follow news topics that interest you. And if you're looking for more news sources, CNN also offers podcasts from leading international broadcasters such as the BBC and Sky News.
For sports fans, ESPN is one of the most essential Android Auto apps. It allows you to keep up to date with all the latest scores, news, and stats.You can also access podcasts and other exclusive content while in the car. With ESPN, you can stay informed about all the major sports teams and leagues without taking your eyes off the road.It's easy to control with voice commands, so you don't have to worry about touching your phone while driving.There are even specialized game casts that allow you to listen to live radio broadcasts of your favorite teams. With ESPN, you can easily stay up to date with all your favorite sports while staying safe on the roads.
Audible has been the premier audiobook service for years, and now it's available on Android Auto.Audible allows you to stream or download over 400,000 audiobooks, radio shows, and original audio content from your phone or car.The app gives you access to the largest selection of books and magazines, including bestsellers, new releases, and classics.You can easily search for any title by keyword, browse by genre, or look through collections curated by experts.With Audible, you can also customize your listening experience with adjustable speed playback and narration style settings.Plus, when you subscribe to Audible you get access to exclusive discounts and content only available on the app.And with Android Auto integration, you can listen to your favorite audiobooks while driving safely and conveniently.
Amazon Music is one of the most popular streaming music services on the market. With Amazon Music, you can stream millions of songs and listen to personalized radio stations.You can also download songs and albums for offline listening. Amazon Music makes it easy to access all of your music from anywhere with its Android Auto app.With the app, you can easily access your music library, browse new releases, explore personalized recommendations, and more.You can also control the playback of your music via voice commands or through your car's touchscreen.You can even connect your Amazon Music account to your car's stereo system for high-quality sound.If you're an Amazon Prime subscriber, you get access to Prime Music with two million songs, thousands of playlists, and personalized stations.Plus, you can access ad-free radio stations from Amazon Music Unlimited with over 50 million songs. With Amazon Music, you can create the perfect soundtrack for your drive.
TuneIn is a great Android Auto app for listening to streaming audio from around the world.It offers over 120,000 live radio stations and more than five million podcasts and audiobooks, as well as music from different genres.With TuneIn, you can listen to music from around the world and access your favorite radio stations in one place. You can also create custom playlists, get personalized recommendations, and browse through featured content.Plus, TuneIn's voice search feature makes it easy to find what you're looking for. Whether you're looking for news, sports, or music, TuneIn has it all.
Conclusion
Android Auto apps are a great way to stay connected with your car in 2023 and beyond. With these 15 Android Auto apps, you can enjoy navigation assistance, stream music, stay up to date with the news, and more while driving.Whether you are looking for a way to make your drive easier and safer or to just add some extra entertainment options
to your car
, Android Auto has something for you.Keep an eye out for the latest updates on Android Auto as it continues to expand its app library and options.