Summary
FotoJet Designer is a highly templatized, cheap, and simple-to-use graphic design tool from PearlMountain Limited.
If designing stunning graphics such as: Facebook cover page photos, Twitter promo graphic, social media profile pictures, company promo newsletter photos and similar graphics with a simple template is of interest to you, then FotoJect designer is a good tool to go with.
Graphics design and photo editing is something we do often and on. There are tons of mobile Apps which can aid us with these tasks but one cannot undermine the difference a PC software makes when it is used in place of smartphone apps.
FotoJet Designer is a software app which can be adapted to perform tasks like: graphic designs, image/photo editing, and social media cover images. It is fast, powerful and easy to use.
With the FotoJet Designer software, even a non-professional graphics designer can create stunning designs with the help of over 800 pre-installed templates.
You can create various cards for different purposes, posters, banners, invitation cards, flyers, and perfect cover images for your social media pages. In this short review, I'll introduce the FotoJet designer PC software as well as share few tips on how to use it.
What is FotoJet Designer?
FotoJet is developed, owned and distributed by PearlMountain Limited, a dedicated graphics software developer. It is a free online tool for graphic designs, photo collage making, and for comprehensive photo editing.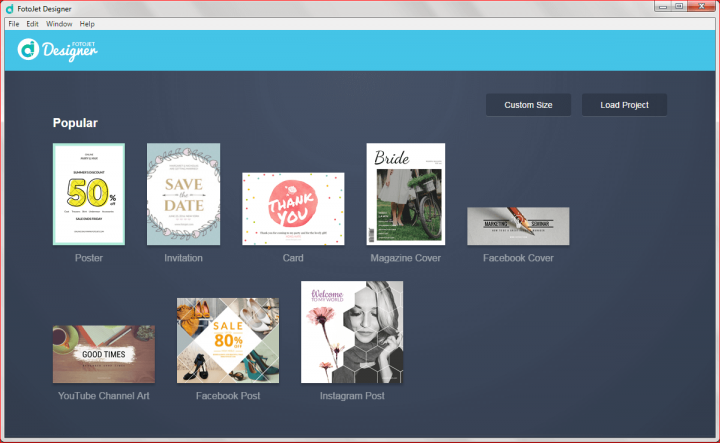 While the online version is 100% free, the offline desktop app is paid for and comes with a few more interesting features. Today's content is about the offline app that can be installed on a Windows and/or MAC OS X machines.
Availability and Pricing
FotoJet Designer (for Windows and/or Mac OS machines) can be downloaded from their official download page linked below.
A single-user license for their Pro version is sold for $39.99, while a multi-user license (5 users max.) is sold for $59.99. There's a lifetime upgrade support and a 30 days money-back guarantee for unsatisfied customers.
How To Use FotoJet Designer Software
FotoJet Designer is not one of those complicated software that needs lengthy coaching before first use. It is easy and simple to use, even for first-time PC users.
All you need do is this:-
Citing an example for first-time users:-
Open the Fotojet designer software from your desktop icons and look through the displayed templates, depending on what you'd like to design.
Edit the pre-installed template to match your design preferences.
Choose a custom size and dimension from the option located at the top-right corner of the screen and
Save the result to a PC location of your choice.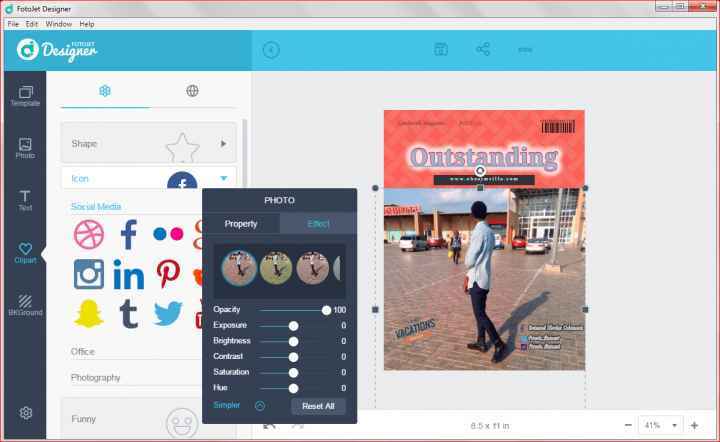 Fotojet designer software is distributed with over 900 professionally designed templates packed in categories for various design purposes.
Some of the popular design categories is as follows:- YouTube Channel Art images, Banners, Posters, Greeting Cards, Invitations, Flyers, Brand and company logo.
To start creating a design: Click on a group, select your preferred template, and then start editing to match your taste.
You can add images to a design from your PC or upload it from an online source (social media). There are some cool photo effects available in this software to beautify the image(s) in your design.
Other editing spices packed into this app includes clip art images, text fonts, preset text styles, background patterns, lines, shapes, and social media icons.
In addition to the tools mentioned above, there is the option to crop, resize, move, rotate, flip and carry out some other simple graphic design functions that are regular with top graphic design tools.
Personally, I was satisfied with the various custom font styles, size, color, and effects that can be used to beautify simple designs.
When you're done with a design, you can choose between saving the design as a PNG or JPG image. You can also choose to share your designs online via social media and/or other platforms.
If you feel exhausted while still on a project, click on the dotted dash (as shown in the image below) and then click on Save Project and take your break. Whenever you feel like picking up the project again; Re-Launch the software and click on "Load Project" to continue with it.

My FotoJet Designer Software Review and Experiences
I was able to do some simple designs with FotoJet Designer Software a few minutes from installation. It is fast and easy to use. It took me less than 2 minutes to create some simple graphic designs with the aid of the default templates distributed with it.
Coming from someone that has used a simple photo design tool like photoshine, I was somewhat impressed with the location of the design toolbar. With this toolbar, one can easily undo, redo, zoom, and perform simple quick tasks. The size and dimensions of my design were shown on this bar for easy editing.
I tried creating a more premium design with this app but found out that FotoJet Designer doesn't come with full photo editing options and as such will need one to use one of its online tools from time to time.
One of such tools is the FotoJet Collage Maker and the photo editor function. I'd have preferred a complete offline tool without the need of going online to make photo collages.
To me, it would have been a monster app, if the three functions (FotoJet Designer, FotoJet Photo Editor, and FotoJet Collage Maker) were merged into one.
Finally, FotoJet Designer makes graphic design seems simple, easy, and effortless. Even an average person with little or no knowledge of graphic design can create unique designs (to an extent) with this software.
Your Turn
Having shared my view on FotoJet designer software, I'd like to know what you think about this app and/or similar photo design software.
Rate your FotoJet designer software experiences with the rating tool above and share your graphic design apps experiences in the comments section below.