Kangput (KPT-968G) DVB-S2 HD Satellite Finder is an MPEG 2 signal monitoring gadget with TFT LED screen and support for working with CCTV camera systems. It is the 4th digital satellite signal finding device I am using till date, and hands down the best among the rest.
In this short review, I am going to introduce Kangput KPT-968G DVB-S2 HD satellite signal monitor along with its features, specifications, and price.
KPT-968G HD Satellite Finder Overview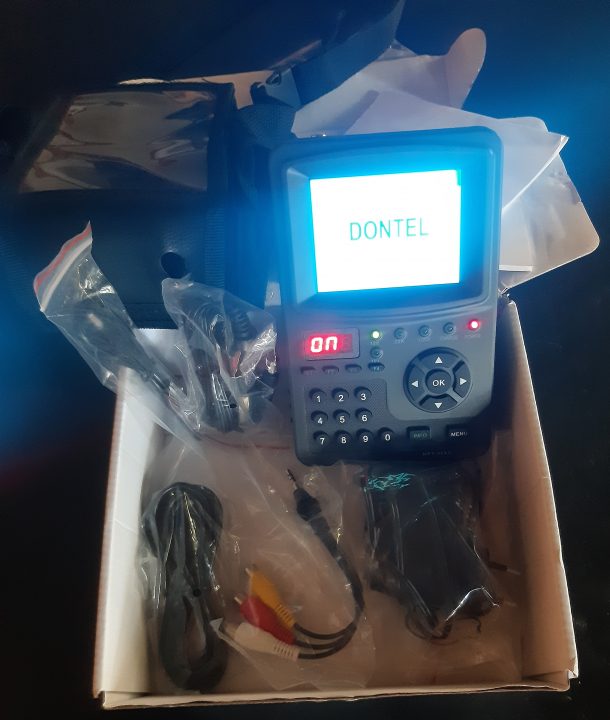 KPT-968G MPEG 2, DVBS/DVB-S2, HD satellite signal finder is a digital satellite signal tracking gadget from Kangput Electronics Technology Co., Limited, a Chinese company that researches and develop satellite signal finder meter independently.
They are based in Lantian Industrial Zone, Zhangzhou City, Fujian Province, China, and undertakes the manufacturing of handy gadgets for the installation of digital satellite TV receiver and modern monitoring system with special equipment for easy installation.
Their products include DVB-S2+DVB-T2 satellite finders, DVB-S2+DMB-T satellite finders, DVB-S/S2+CCTV (AHD) satellite finders, and DVB-S2 satellite finders such as the KPT-968G model that we are reviewing today.
Kangput KPT-968G DVB-S2 Satellite Finder Unboxing and Feature
Without taking any more time, I'll take you straight to the unboxing part of KPT-968G HD Satellite Finder to let you get a clearer view of what to expect with a brand new purchase.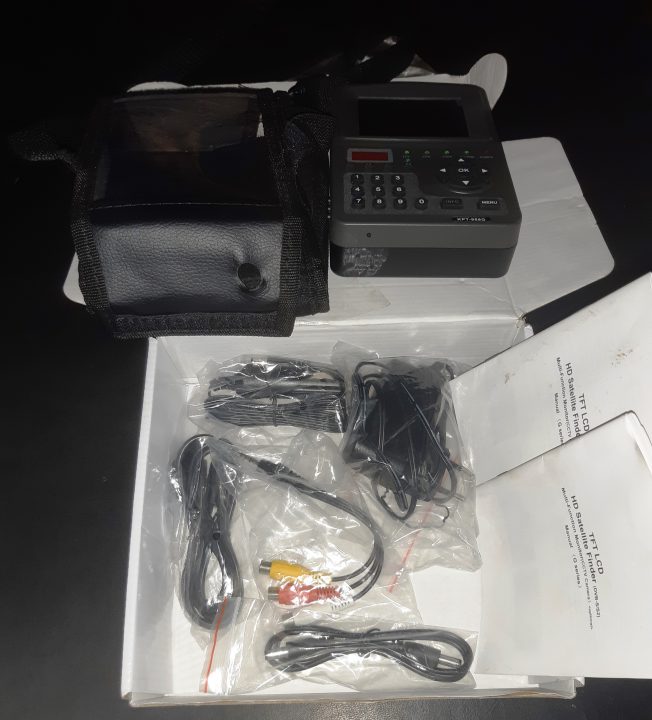 As seen in the image above, you'll be getting the following items in the box:
KPT-968G satellite finder (1 Piece)
English user manual (2 pieces)
Travel bag (1 Piece)
DC 13.5V 1A power adapter (1 Piece)
12V Car Power adapter (1 Piece)
AV line (3.5☼) (1 Piece)
LNB fast connection line (1 Piece)
1 Piece of DC to DC line (for connecting to solar power sources).
The KPT-968G MPEG 2 Digital Satellite Finder and multi-functional signal monitor features a 3.5″ HD LCD display (with a led backlight) for monitoring satellite signals, a 2200mAh built-in lithium battery (with over 3 hours run time) for using the unit without external power connection, a built-in speaker for audio/video playback, and a handy travel bag that lets you work with little to no distraction.
It is a super handy gadget for communication engineers, expert installers, and every other person that's interested in the installation of satellite dishes, CCTV cameras, and similar tracking systems.
Kangput KPT-968G DVB-S2, MPEG 2, HD Satellite Finder can decode DVB-S, DVB-S2, MPEG-2, and MPEG-4 videos as well as let you track signals on these models. You can also do signal tests and get solid feedback through the super audible signal alarm that's built into this unit.
KPT-968G MPEG-2 HD Satellite Finder Specifications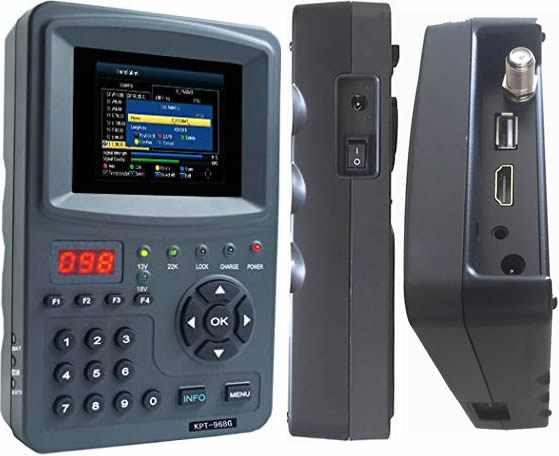 Listed below is the full specification of Kangput KPT-968G DVB-S2 digital satellite signal monitor.
Screen: TFT LED 3.5″ (89mm) display with 73*51mm size and 320*240 (230400 Pixes) dots pixels.
Supported languages: English, Chinese, French, Arabic, Turkey, and Russian languages.
LNB input: F type male head with 75 Ω (F) input impedance and LNB short-circuit protection.
Satellite signal video decoding: DVB-S/S2.
Satellite signal display test: CBS-2, ABS-S, DVB-S2 signal alarm, and signal display.
Frequency range: 950MHz to 2150MHz
Signal level: -65dBm~-25dBm.
LNB Switch & Power supply: 22KHz, 13V, and 18V (max. 400mA) with signal lock indicator.
DiSEqC: 1.0 and 1.1/2 edition with a built-in signal locked alarm.
Threshold: 4.1dB.
HDMI output support: 576i, 576p, 720p, 1080i, and 1080p video resolution.
Demodulation chip: QPSK (SCPC and MCPC compatible).
Symbol rate: 2Mbps~45Mbps.
System: 32-bit processor with a 200MHz clock speed, 16MB SDRAM, and 4MB FLASH memory.
Video: MPEG-2 Main  Level.
Rate: up to 15M bits/s.
Image analysis: 720*576, 720*480.
Voice patterns: single sound channel.
Sampling rate: 32,44.1 and 48KHz.
Color System: PAL\NTSC
Weight:440g (including the battery pack).
Battery: DC 11.1V 2200mAh (built-in) Lithium battery.
Input/Output voltage: DC13.5V  1.5A, DC12V.
Dimensions: 110*170*41mm
KPT-968G HD Satellite Finder Price and Where to Buy

The KPT-968G MPEG-2, DVB-S2, HD Satellite Finder is sold in many top online and offline stores in megacities. The price range is $79 to $85 (about NGN28,000 to NGN32,000), depending on the seller.
The safest option is to buy from a trusted dealer either online or offline. For example, you can get this model from Aliexpress for $79 or from Jumia for NGN37,000 and have it shipped to your location within a week or three.
My Kangput KPT-968G HD Satellite Finder Review and Verdict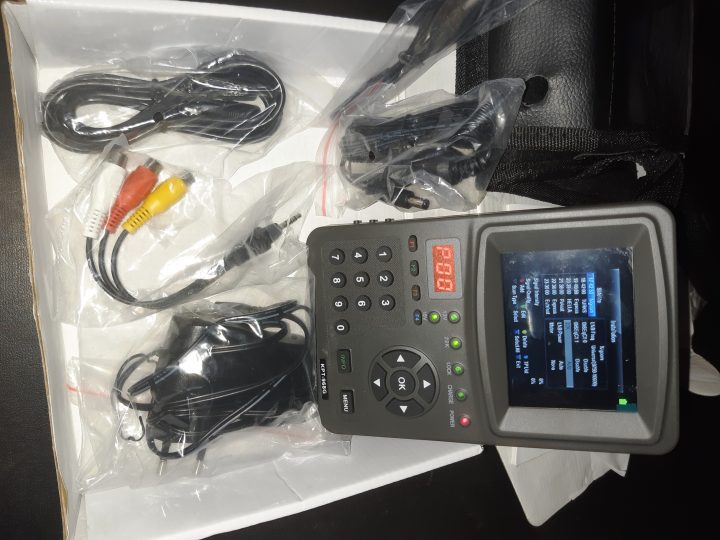 Well, this is hands down the best satellite signal monitor I've bought. It's the Cristiano Ronaldo of satellite signal trackers and worths every penny that's spent on it. Kangput KPT-968G HD Satellite Finder makes satellite signal tracking seamless, faster, and with fewer hassles.
With it, you can track, view, play, and properly configure your satellite parameters without fear. My experience with this unit is far better than that of OXA GSF-9507, even though it's twice costlier.
I rate KPT-968G HD Satellite Finder 5/5 and would easily recommend it to anyone that wishes to up their game and track satellite signals like a pro. What's your experience with KPT-968G HD Satellite signal monitor? Share them with us in the comments section below.