If there has ever been a case where you have to do advanced tweaks on your iOS device to achieve an important aim, that's when you'll know how challenging such times could be. Maybe you mistakenly deleted some important documents, contacts, or media files on your iOS device, and you wish to have them back because they're vital to you.
Practically, smartphones aren't PCs; thus, their "Recycle Bin" (trash can) isn't as advanced as that of the PC. Instead, you'd need the right software program that allows you to do data recovery on your device to get back those deleted documents, files, messages, and notes. That said, you need the PhoneRescue data recovery software to do data recovery on iOS devices like a pro.
iMobie PhoneRescue Data Recovery App Overview
iMobie PhoneRescue Data Recovery App is a modern iPhone/iPad data recovery software that uses intelligent scanning metrics to get back lost files on iOS devices. The latest version of this data recovery software promises to be the ultimate solution to getting back your lost/deleted files on iOS and Android devices.
It comes with a simplified interface and stocked with quite a variety of handy features. PhoneRescue will definitely run on most computer systems running on Windows OS or Mac OS; all thanks to its flexible, minimum system requirements.
Its technical specifications and system requirements are listed below for your learning: –
Operating System: Windows OS (32 & 64 bits) 10, 8, 7, Vista, XP
RAM: at least 1GB
Free HDD Space (ROM): at least 500MB free space
Screen Resolution: Monitors with 1024 × 768 display or above
CPU: Pentium IV 2.4 GHz or above
The Supported iOS devices
iPhones: (iPhone 3G, 3GS, iPhone 4, 4s, iPhone 5, 5s, 5c, iPhone 6 (Plus), 6s (Plus), iPhone SE, iPhone 7 (Plus), iPhone 8 (Plus), iPhone X, Xs (Max), XR, iPhone 11, 11 Pro (Max).
iPads: iPad, iPad 2/3/4/5/6, iPad mini, iPad mini 2/3/4, iPad Air, iPad Air 2, iPad Pro, iPad Pro (2nd Gen. & 3rd Gen.).
iPods: iPod touch 1/2/3/4/5/6/7.
From the tech specs above, you can guess that this is a comprehensive software for iOS data recovery. Well, you've got to test their trial version to see how well the product works for you.
iMobie Phone Rescue Pricing
iMobie PhoneRescue data recovery software is available as a free and paid app. While you can recover a few files with the free version; there are lots of limitations it comes with. On the other side, the paid version allows you to explore everything this app has to offer, and it goes for $49.99 (for one user license) and $69.99 (for five users license).
Features of iMobie PhoneRescue
Here are some of the most prominent features of iMobie PhoneRescue Data Recovery App for iPhone and iPad/iPod devices.
Undelete files on iOS devices
The developer of this software boasts of integrating a NO-DATA-LOSS algorithm that ensures you get back all your deleted files even without running a prior backup. PhoneRescue can undelete quickly messages, photos, contacts, app data, iBooks, or any other lost data you want to get back on your iPhone or iPad device.
Restore files from iTunes
If you have lost some files saved on your iTunes backup, PhoneRescue promises to get back those files 100%. It boasts of integrating an advanced ForceRestore technology, that helps you grab your media files, app files, etc. from any iTunes backup, irrespective of whether it is damaged or encrypted.
Restore lost data from iCloud
Similarly, as you'd get back your files from any iTunes backup, you can also grab your files from iCloud easily. While iCloud doesn't allow you to select what you want to restore, instead, it restores everything that's saved on the cloud and rewrites your existing data.
With iMobie PhoneRescue Data Recovery App, however, you can select the particular files you wish to get back; offering more options, freedom, and flexibility. The developer of this software claims that the app is designed with a robust 256-bit SSL encryption to offer maximal protection for your personal data; plus, the app does not store your Apple's ID.
iOS repair
This happens to be one of my most-loved features of this software program – PhoneRescue. Thanks to this feature, you can resurrect any dead or frozen iPhone/iPad device.
PhoneRescue comes in handy when your iOS device suffers from iOS crash, stuck on white Apple logo, continuous reboot loop, or black screen. Unlike "Factory Reset" or "Hard Reset" that deletes many things from your device, this app promises to jack back your iOS device to life without removing a byte.
App data recovery
Interestingly, this iOS data recovery software solution also helps to recover your app data. However, at the moment, this feature only works for a few apps: to wit, WhatsApp, LINE, and Kik. You will be able to get back missing chats and other important app data.
PhoneRescue Review: a perfect iOS tools box?
The PhoneRescue data recovery software is simply one of a kind. It supports up to seven major languages and comes with a super-intuitive interface anyone could understand. However, asides the intuitiveness and ease of use, the software is actually efficient for all it claimed to offer. You can revive a crashed iOS device using this app, as well as ease up a frozen device.
Also, this is arguably the first iOS solution program for Windows to support the cutting-edge iOS 13. PhoneRescue requires minimal system specs, and it does not consume many resources; thus, your PC won't slow down while the program is running a task. Below is how to use the iMobie PhoneRescue Data Recovery App for various tasks.
How to use PhoneRescue for iOS Data Recovery

Firstly, this program works with iTunes; thus, you need to install iTunes on your computer before running the program. However, if you've got iTunes on your computer, proceed to Download and install PhoneRescure for Windows program. After installation, follow the steps below to recover your lost data.
First Step: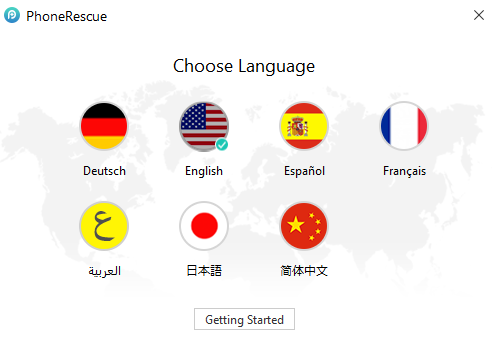 Launch the program on your computer, choose to run iOS data recovery, and select your preferred language. PhoneRescue supports up to seven different languages; you can pick anyone you prefer.
Second Step: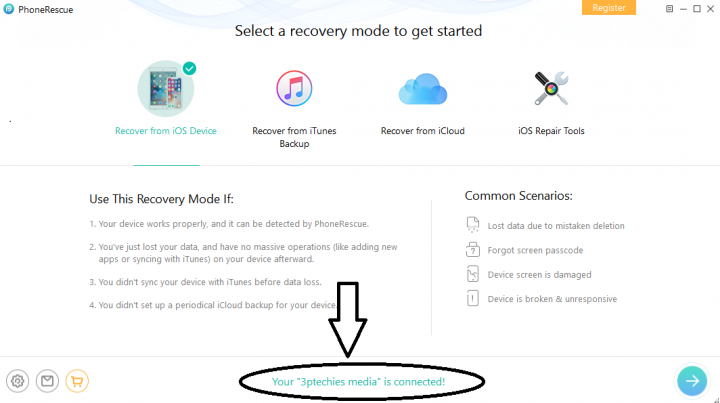 Connect your iOS device via a USB cable; iPhone or iPad or iPod, and skip through the introduction (Quick tips) windows. Choose a data recovery mode. For this tutorial, I used the iOS data recovery mode. You'll see a notification that confirms if your iOS device is detected by PhoneRescue or not.
Third Step: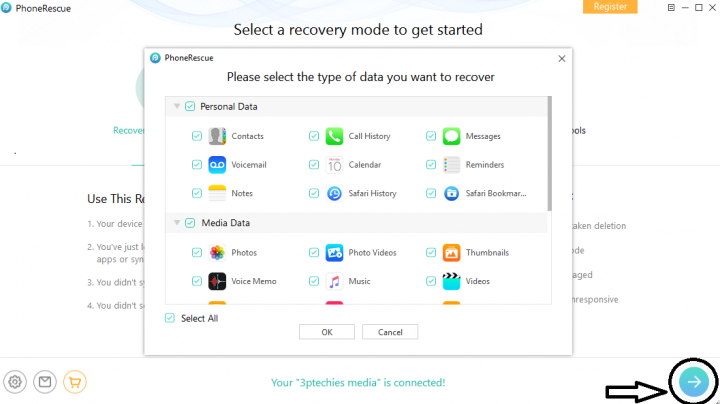 Click on the arrow button,

which is seen at the bottom right corner to launch an interface where you'll have to select the file type(s) you want to scan for lost files and recover. The scanning process runs fast; however, depending on the amount of stuff you have on your device, the process may take a longer time to complete. Well, you can end the scanning if you wish.
Fourth Step: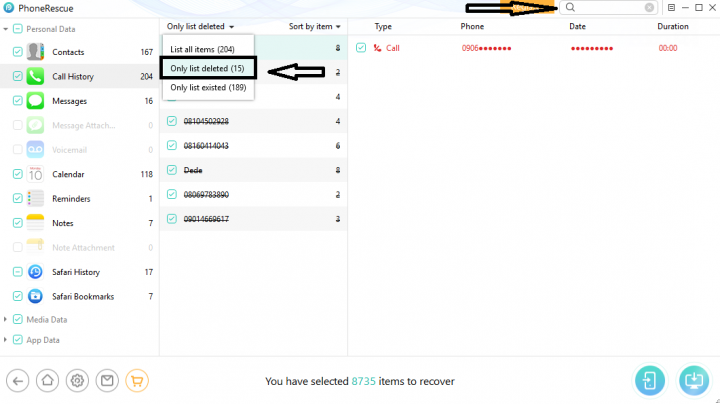 Look out for your deleted files from the scan result. Interestingly, you can filter the results and view only deleted files, so that you can easily find your document. However, there's a search bar for looking up the file if you could remember the exact name.
Last Step: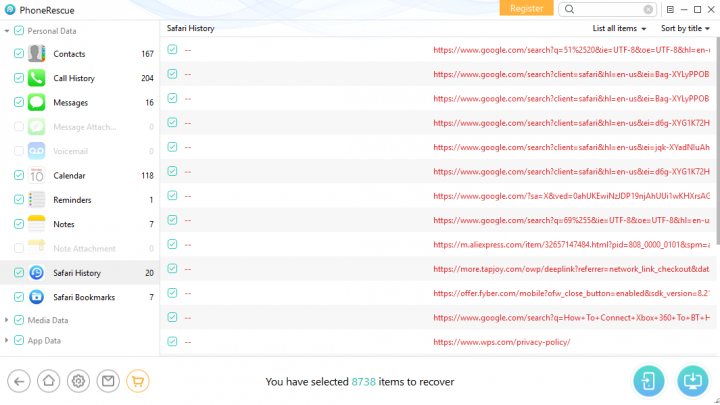 Select the file(s) you wish to recover, or you can select all, then, click on any of the two buttons available at the right edge, bottom corner of the window to either export the recovered file(s) back to your iOS device or to save them to your PC local storage.
What more?
That's all. If you follow the steps above, you will recover all your lost files. Interestingly, this software is super-intuitive; you'll find tips on what to do on each window that opens up. PhoneRescue is really handy; however, you may need the Pro Version to explore all its features.