Artificial intelligence (AI) has been gaining pace quickly over the last few years. The abundance of AI text-to-art generators that have appeared online is a significant new addition to the AI bandwagon. Perhaps a picture speaks a thousand words. But an image can be made without a thousand words. You currently only need a few. The AI art generator PicSo has arrived and is operating. It now has close to a million members.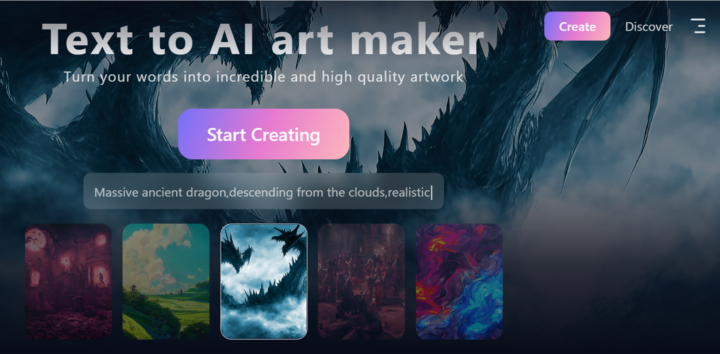 We selected "PicSo" as the finest text-to-image converter. As a result, if you're a reader interested in AI art, look over the information for the top generator below and try it.
What is PicSo? (PicSo Overview)
PicSo is a newly released AI product that investigates new forms of expression. Their objective is to increase the human species' capacity for imagination.
PicSo is the topic under discussion. To generate images from text, it uses machine learning. It is an autonomous tool that operates on the internet or another network and engages with people or other systems. The tool takes ideas and transforms them into reality. And the best thing is PicSo has the #1 rank on product hunt with 1057 upvotes have a look at the picture.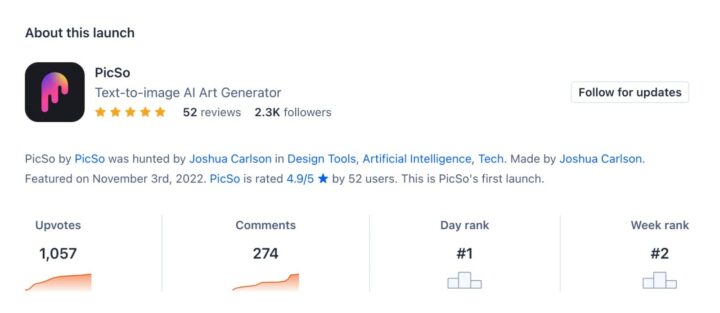 What would you like to see? PicSo searches for images that resemble what you've specified and creatively and uniquely blends them. More than simply a simple composite is obtained. PicSo is an AI that makes images. You'll always get a unique masterpiece with this amazing AI SaaS!
How to Use PicSo AI Art Generator SaaS? (Step-by-step guide)
With this handy AI text-to-image converter SaaS, great work can be created in a few simple steps or stages. You may easily use it by following these simple steps: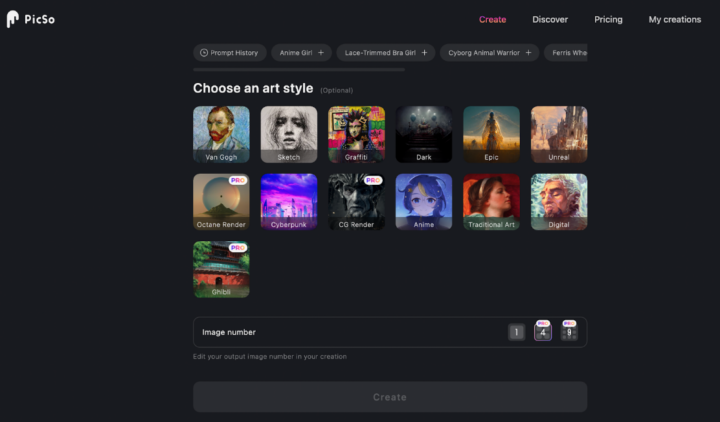 Step 1: click on the Create button.
To start your artwork, you must go to the tool and click on the create button in this step.
Step 2: Prompt text
In the second step, you would have to enter a prompt text to generate your desired art, and you can select an art style and then click on the create button shown in the picture.
Step 3: Save/Publish
In this step, you can save your artwork on your device and can publish that artwork too.
PicSo Online AI Image Generator Review – A rapid summary
Tool name: PicSo

Subscription Price per month: $9.99

Product category: Online tool and application

Free credits: unlimited

Official website:

https://picso.ai/.app

Recommended or not: Recommended

The credit per month: 100

Trademark: No watermark
PicSo Pricing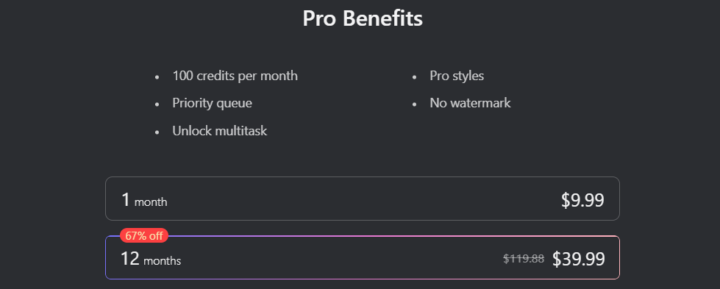 It is a premium tool. When selecting a plan, you will have two alternatives: one is a yearly option that saves you a lot of money, and the other is a monthly one.
The monthly package, initially priced at $19.99 but now only $9.99, comes with a 50% savings. You have 1 credit for 1 image to carry out as many chores as you choose, and you receive 100 credits each month.
The first-year plan may be purchased for 67% less with an annual subscription, going from $199.88 to $39.99.
All premium features, such as pro styles and multiple tasks, are accessible only to those who have premium subscriptions.
You'd need to select a plan for subscriptions. PayPal or a debit or credit card are the two straightforward ways to pay the costs. 
Features of PicSo AI Text to Image Maker
While this may not be your first-ever AI-capable SaaS tool, it actually introduced some unique features to the "ever-growing" AI SaaS niche. Hereunder are some of the most prominent features of PicSo AI text to art app:
Multiple styles: Van Gogh, Sketch, Epic, Octane Rander, Cyberpunk, CG Rander, Anime, Traditional Art, Digital, Ghibli, and more.

Very affordable compared to competing tools

Since it is accessible within specific parameters, there is no need first to subscribe.

Transform any text into the artwork you wish.

The database now contains hundreds of images from which you can make art using only your own words.

Since it doesn't require any storage access, there are no storage issues.

There are two ways for users to access this tool: directly from a browser or an app.
PicSo is a tool that carries on the tradition of fast sketching.
The architect "teases out ways of making earthen buildings with the tool," according to his work, which has been an intriguing insight into border wall research, earthen architecture, and additive manufacturing.
PicSo is a useful tool for improving the creation of artificial intelligence architecture's unrealistic sarcasm. PicSo depicts AI as a bright youngster with inquisitive thoughts who is amusing and helpful but still in its early stages. In this context, AI is positioned as a tool for creators rather than as a creator in and of itself.
Pros and Cons
Pros:
Versatile due to the wide range of text commands

Prices are affordable.

Personal and public exhibition spaces

high-quality pictures

more user-friendly than open-source models

beautiful and precise results

comprehend challenging prompts

alternatives for output and upscaling
Cons:
The free image limit quickly expires.
How to Get PicSo image credits for free
All of the art you create is inherently "quick" or "instantaneous." On the app, you can get 3 free creations per day and 2 more if you view the advertisements. That is a total of 5 free credits daily. They are available for free with a limited number of credits. You will also receive 3 free daily creations from the web tool.
In all, a user that uses both the web and the app versions of this SaaS would get up to eight usable free credits daily.
Conclusion
I hope you're now familiar with PicSo and what it can do for you. PicSo was described as a generative art AI model in this post. I went over the pros and cons and then demonstrated how to use the app. Now that you know more about PicSo, sign up for a free account to give it a shot.
Frequently Asked Questions
Can we use PicSo for free?
Yes, you can use it free for some limited credits, as you will get 3 free creations per day on the application with 2 more if you will watch the ads. Also, you will get 3 free creations per day on the web tool.
Are mobile devices compatible with PicSo?
Yes, any device with an internet connection can access it. Additionally, unlike PicSo, downloading or installing any other software is unnecessary. Open the PicSo app and log in with your PicSo credentials. After that, you won't have any problems using it.