Your boyfriend may be cheating on you. However, you may find it difficult to confront him without proof. When you have evidence, you can call him out and there is no way he would deny the allegation. So, how do you get the proof you need to confirm if your boyfriend is cheating or not?
If your boyfriend is cheating, he's likely sending messages to his partner. This means if you can have access to his phone and check his messages, you'll find the proof. We know your next questions. How can I read my boyfriend's text messages without touching his phone?
Introducing Spyier – The Perfect Cell Phone Monitoring App

Do you think your boyfriend is cheating on you? Then, it's time to get proof and confront him. Spyier is the perfect secret agent you need to do the job. The app is the fastest and most seamless way to access your boyfriend's text messages remotely.
Whether your boyfriend is using an iPhone or an Android device, Spyier is compatible with both. The app enables you to view all he does on his phone. The best part is that you won't have to touch the device. Read on to learn more about how you can read your boyfriend's text messages remotely.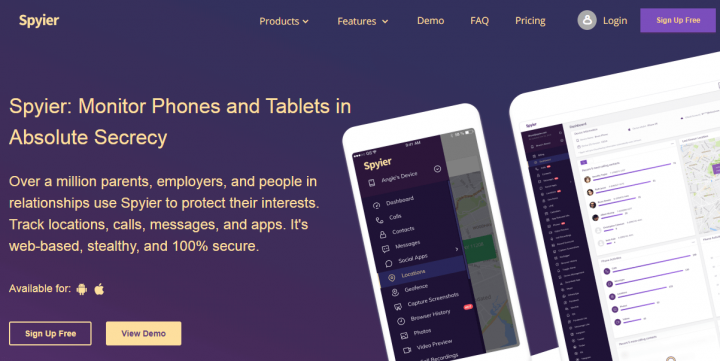 How to Unveil Your Boyfriend's Cheating Escapades with the Spyier App

When you notice that your boyfriend's behavior has changed, it's time to be on the lookout. If he's not as romantic as he used to be or he doesn't pick your calls again, he might be cheating. However, it's difficult to act based on assumptions. This is where Spyier comes in.
Spyier is the most advanced cell phone monitoring solution in the market today. The app gives you full access to all data on your boyfriend's phone. This means you can read all his text messages, view his call logs, and check his social media posts.
It takes a few minutes to set up the app and as soon as it's activated, you can begin to monitor his text messages. If he tries to play smart and delete some implicating messages, Spyier is smarter. The app retrieves the deleted messages and stores them for your viewing.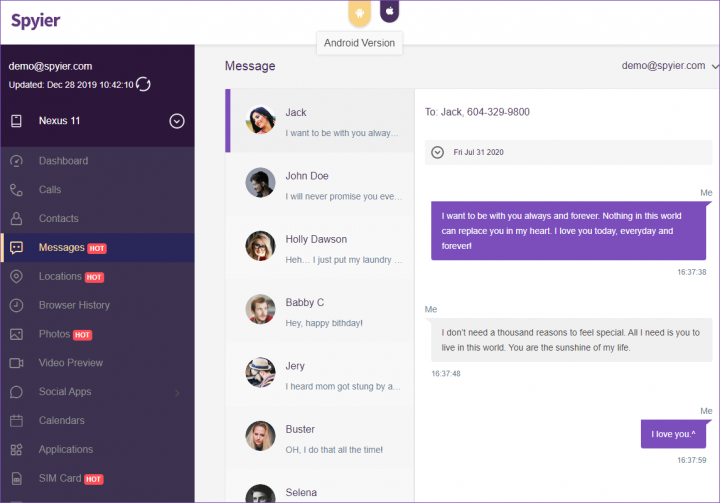 If you're looking for a professional secret agent to monitor the activities of your boyfriend, the Spyier app is the perfect tool you need. Below are some of the top reasons to use the tool.
100% Remote Monitoring

When you activate Spyier on your boyfriend's device, you don't have to touch his phone to view his messages. All you have to do is log in to your Spyier dashboard from any web browser on your device. From there, you can see everything your boyfriend does on his phone.
Seamless Installation Process

The iOS version of Spyier doesn't need any installation. You also don't need to jailbreak the device. All you need is the iCloud credentials of his device. With the details, your Spyier account will be linked with his iCloud account. You don't have to worry about the security of data. Spyier is 100% safe and secure.
100% Reliable

Spyier is a reputable app and it's 100% reliable. It has millions of users in more than 190 countries. Its users include parents, cybersecurity experts, employers, and spouses. The has also been featured in several media outlets, including Forbes, PCMag, CNET, Android Authority, Life Wire and iGeekBlog.
Step-by-step Guide to using Spyier to Read your Boyfriend's Text Messages Remotely

To start using Spyier to read your boyfriend's text messages, you first need to activate the app. The process for activating Spyier for an Android device is different from iOS. For Android, you need to install an app. Note that no monitoring app can be used on an Android device without installing an app.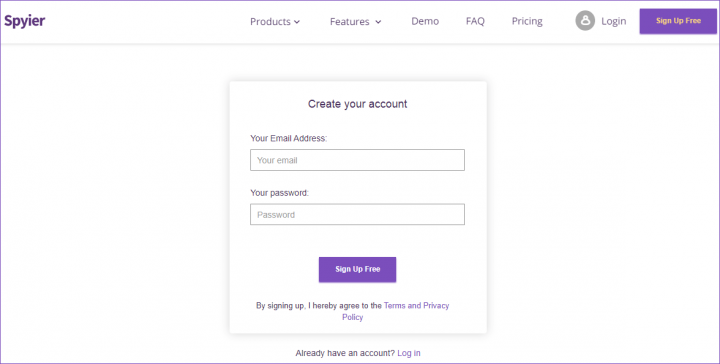 Here are the simple steps to set up Spyier for an Android Device

Visit the Spyier website to create a free account
Select the type of device you want to monitor – Android or iOS
Choose a subscription plan based on the number of devices you want to monitor. If it's a single device, the premium package is recommended. For multiple devices, choose the Family bundle.
You will receive the set-up wizard in the email you used for creating your Spyier account. Check the email for the setup instruction
Now, you need to have your boyfriend's Android device with you. Download and install the 2MB Spyier app on the device. It takes a few minutes to install.
Hide the app to make it disappear from the app list.
Log in to your Spyier dashboard to start reading your boyfriend's text messages.
You can see that the process is very simple and straightforward. You don't need to root the device and neither do you need any technical knowledge.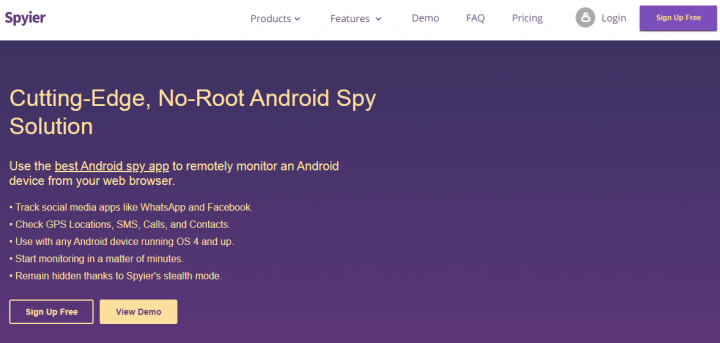 How to Setup Spyier App for iOS Devices

The process for the iOS version is a bit different from the Android version. You still need to complete steps one to three above to get started. However, instead of installing an app, you need to have the iCloud details of your boyfriend's phone.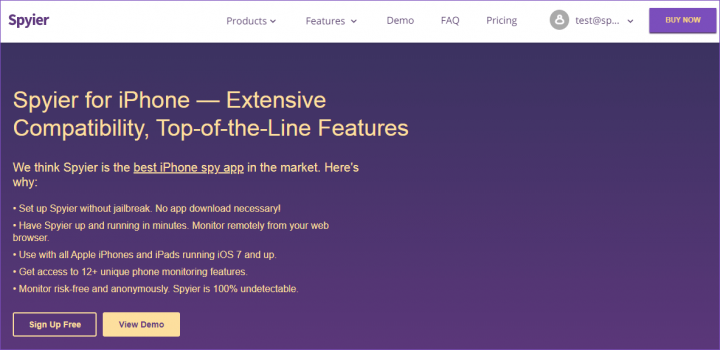 When you select iOS and choose a subscription plan, you will be redirected to another webpage where you need to provide the iCloud details of the target device. Fill out the details in the available space and verify the account. Wait for a few minutes for the iCloud account to sync with your Spyier dashboard.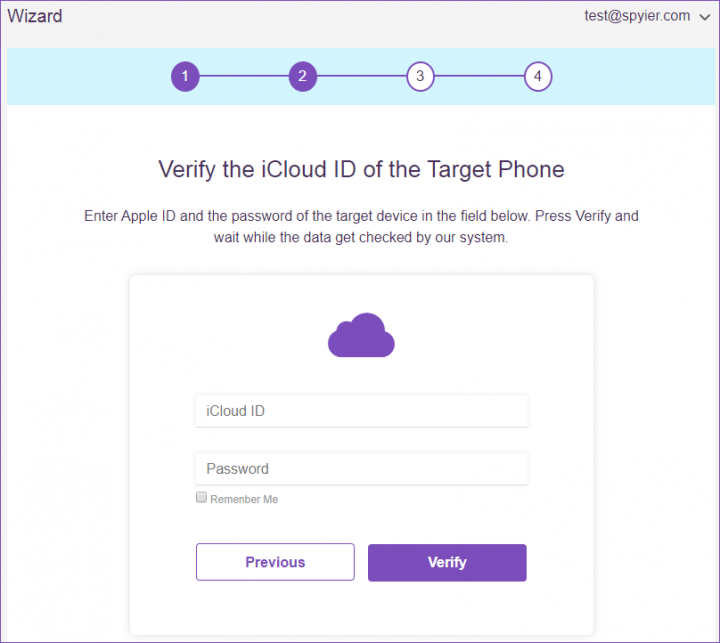 When you've completed the activation process, log in to your Spyier dashboard. Locate the 'Text Message' menu in the selection panel and click on it. From here, you'll be able to read your boyfriend's texts and iMessages.
You'll find all deleted texts and iMessages. You'll also view the messages timestamps and check all exchanged media files. Spyier also gives you access to more than the text messages sent and received by your boyfriends.
What More Can You Do With the Spyier App?

Beyond reading text messages, you can view much more on your boyfriend's device. You can explore more than 35 features on the Spyier app. For example, you'll have access to his social media accounts. You will be able to see his private chats and shared media.
Whatever social media accounts signed into by your boyfriend on his device, you'll have access to them. These include WhatsApp, Instagram, Facebook, Snapchat, Telegram, Skype, and so on. You'll also have access to his call logs. Data such as caller ID, timestamp, and duration of the call will be visible to you.
You can also view his GPS location from your dashboard. If your boyfriend frequents a location, you can investigate his activities at such a location. Spyier gives you access to his web browser history. This means you can check all the sites he's been visiting. There's more you can get with the Spyier app.
Conclusion

The Spyier app is a reliable tool to catch a cheating boyfriend. You never have to worry about getting caught. This is because the app works in stealth mode and doesn't affect the functionality of the target device. Your boyfriend won't even know that such an app is running in the background of his phone.