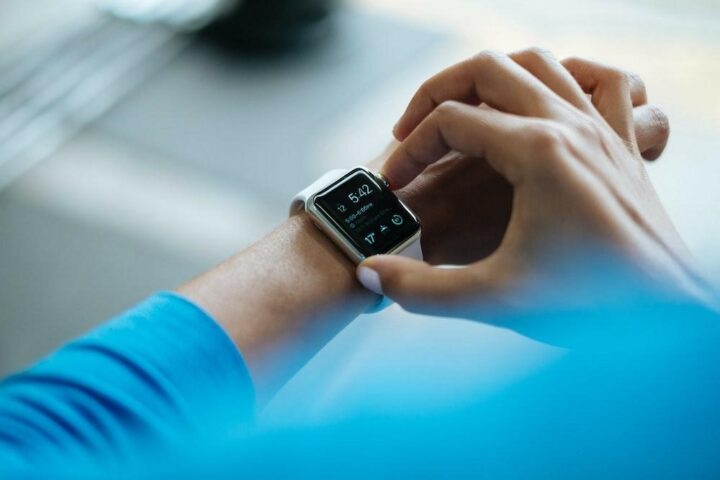 The future is now. According to recent Business Wire Research, the global market for connected wearable devices in fitness, wellness, and healthcare is predicted to reach $10.5 billion by 2028.
Wearable 'smart' gadgets, so beloved of SF, have finally appeared to help us develop healthier habits and improve our lives. Wearable technology has grown in popularity recently, from fitness bands like Jawbone to smartwatches like the Apple Watch, to an ever-growing array of gadgets of all shapes and sizes. While the search for new uses for wearables is still ongoing, wellness and health have emerged as the early leaders.
With that in mind, keep reading to discover how you can take advantage of ever-evolving tech advances to monitor your sleep, health, and nicotine cravings and make a fundamental change in your life that you'll thank yourself for later.
Preventative care and sleep monitoring
For sleep monitoring, smartwatches have been the standard. Fitbit has become synonymous with health monitoring watches, with products from Samsung, Google, and Apple providing amazing, readily available alternatives. However, an issue with the wrist as a biomedical monitoring point is the signal strength's relative weakness.
The signals in your finger are ten times stronger compared to the wrist. In an effort to better detect and monitor your vital health metrics, designers created wearable smart rings that make a biomedical monitoring point out of your finger. The ring includes:
Gyroscopes that offer measurement accuracy at the professional medical equipment level
Highly-sensitive temperature sensors
Infrared LEDs
Rings are more comfortable to wear during sleep and provide real-time heart rate and rhythm measurements, as well as measurements for your respiration, physical activity levels, and body temperature. The precision of the electrical components is crucial, providing more accurate data with low computational effort thanks to precise local measurements.
Health monitoring
Health monitoring often relies on biological, physical, and chemical information transmitted through the skin. Wearable sensors assess the abnormal conditions of your body's chemical or physical components in real time, revealing your body's status, thanks to non-invasive sampling and high accuracy. Various wearable sensors have gained much interest as people use them to monitor their sleep, respiration rate, pulse rate, body temperature, blood pressure, and glucose level. All these mixed lead to a lower or higher quality of your sleep.
Besides, environmental conditions, including the concentration of air pollutants, ultraviolet and other radiation, as well as allergen particles in the air, can also be acquired. Monitoring these indicators can benefit diagnosis significantly, as well as adjuvant treatment of chronic disease patients and postoperative rehabilitation.
Mental health monitoring
Your body and mind are deeply connected. Your wearables can tell you not just about your physical habits but about your mental state, too. Most wearables can analyze your sleep patterns to determine whether you're getting enough sleep, which is essential since you live in this fast-paced world where tasks summarize the day. Some can even monitor your "skin conductance" or the state of your sweat glands, which is a potent stress indicator. Wearables can tell when you're exercising, but most importantly, when you're at the end of your rope.
There are several options for what to do with this information. An app may include questionnaires to help contextualize this stress data (from your body's perspective, enthusiasm is almost equivalent to anxiety). They may, in turn, offer mindfulness suggestions based on these cues, like deep breathing exercises and meditation. If you listen to your app, you'll see improvements pretty soon.
Since common conditions like anxiety and depression are powerful predictors of premature death and specialists can't always be present, mental health monitoring apps can assist patients who need constant help and support.
Medication administration
Did you know that there are transdermal patches that administer medicine through the skin? They contain a specific drug dosage that is delivered to the bloodstream through your skin. While the concept is straightforward, transdermal patches have both active and passive administration mechanisms and rely only on natural diffusion through the skin. Consequently, the administration rate varies according to the patient's skin condition and the unique patch designs.
In contrast, active dosage in the body is more complicated, employing chemical enhancers, microneedles, or a mild electrical current to force the medicine into the skin through iontophoresis at a predetermined period. These features allow for more patient treatment personalization. Because individuals have different needs for the amount of medication they get, this method benefits ADHD and anti-inflammatory therapies.
Help to quit smoking
There has been quite a craze around the apps that help smokers quit, and thankfully, the individuals with a strong will to get rid of this habit have eventually succeeded. It's incredible what technology can do when accompanied by human determination. Some are stats-heavy, motivating smokers by calculating how much tar is no longer inhaled or how much money is saved. Others are game-inspired, with points and awards for reaching milestones, which is a good idea if you take a second to realize that both video games and cigs can activate similar dopamine responses in the brain.
While traditional phone applications can only give after-the-fact praise, the most widely-used wearables today can do something completely new: foresee and prevent relapses. How?
Specific biologic markers, like sweating, breathing patterns, and heart rate, can indicate when your physiological craving for nicotine begins. When combined with smoker-related statistical data (for instance, that most cravings happen after meals or in the morning and evening), this smart technology can detect when you're most likely to cave and offer phone calls from a sponsor or coach, supportive texts, and similar just-in-time interventions.
Final words
These are just the tip of the iceberg. Calories tracking, lower healthcare costs, fitness measurement – there are just too many improvements worth noting, but you likely already know and have considered ways to include them in your lifestyle.
However, wearable gadgets' actual wellness and health potential are yet to be fully discovered. The horizons opened up by wearable technology are launching a new gold rush where the reward is improving your quality of life.