Unlike most basic video conversion software, WonderFox DVD Ripper Pro lets you convert large videos from one format to another in less than 5 minutes with the quality untouched.
It allows video uploads from different sources; you can upload videos from your PC's Disc drive or from a folder on your computer.
WonderFox DVD Ripper supports profuse media formats and with this software, one can create videos for specific phones, tablets and various mobile devices.
Tech Specs and Features of WonderFox DVD Ripper Pro
System Requirements
Operating System: MicrosoftTM Windows 10(®), Windows 8.1, Windows 8, Windows 7, Windows Vista, Windows XP or Earlier.
CPU Power: 1GHz Intel or AMD CPU
Free Hard Disk Space Required: 50MB or more
RAM: 512 MB and above
Supported Media Formats and Devices
Input Formats
DVD
All DVD formats
Output Formats
Video (Mobile/PC/ Tablets/MAC)
HD AVI, HD MP4, HD MPG, HD WMV, HD MKV, HD MOV, HD TS, AVI, MPG, MP4, FLV, SWF, WMV, MKV, MOV, M4V, ASF, DV, 3GP, 3GP2
Video (Web/VCD/DVD)
DVD-PAL, DVD-NTSC, VCD-PAL, VCD-NTSC, SWF, FLV, Facebook, YouTube, Yahoo, MySpace.
Audio
AC3, MP3, AAC, WAV, WMA, MKA, OGG, AU, AIFF, FLAC, M4A
Supported Devices
Apple, Samsung, HTC, Blackberry, Nokia, Sony, Microsoft smartphones, Google Pixels
Features
When you launch the WonderFox DVD Ripper Pro, it has a simple/light interactive interface. Select your video source from the three options (DVD Disc/ISO Image/ DVD Folder).
This software app interface lets you edit the selected video(s) and also add subtitle to them. It has support for many video formats as listed in the specification section above.
You can even make videos which would play on defunct Nokia S40 Java phones or even the already outdated Symbian OS powered devices, without stressing it.
Pricing and availability
WonderFox DVD Ripper Pro goes for $39.35 and its available for purchase on the company's official Sales Page.
Even though I'd have somehow recommended the free version to a set of users, I'll like to state that it comes with several limitations that would make one opt for the paid version instead.
The free version only converts 15 minutes video of any video you upload and it has many other feature-limitation. It only works when you are converting a video less than 15 minutes and/or you want to edit a few minutes clip.
How to use WonderFox DVD Ripper Pro

Converting videos using WonderFox DVD Ripper Pro is so easy and fast. You can achieve that in just 4 clicks as shown in the image above.
First – you'd have to select the source of the video file you'd like to rip (depending on where it's located). You can choose to insert a DVD disc into your compact disk drive or select one from a folder on your PC.
Secondly – when WonderFox is done extracting the video from the source, move down to the bottom (on the part labeled "2") and select the location in which the converted video would be saved.
Thirdly – Choose your preferred output format by clicking on "output profile" button. A tray will slide out displaying all media formats available in this tool, select your desired format. Some of the media formats available in this tool includes: HD AVI, HD MP4, HD MPG, HD WMV, HD MKV, HD MOV, HD TS, AVI, MPG, and etc.
Lastly – when you have completed the three steps above, then go ahead to the last step by clicking on the Run button. Clicking on the run button will begin the conversion process and prompt you as soon as completed.
How to edit videos using WonderFox DVD Ripper Pro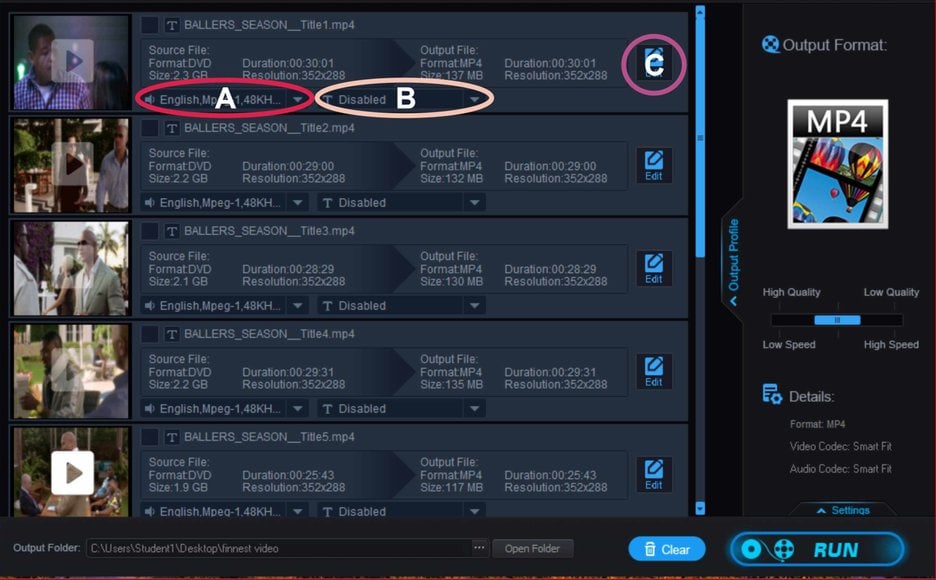 Editing and playing around PC videos is one thing that interests me a lot. Even my tiniest of smartphones have video editing apps installed on them.
WonderFox DVD Ripper Professional makes video editing smooth and almost effortless. The part circled A is the language(s) option; it lets you select your preferred language (for movies with the multi-language option only).
Part B is the subtitle button; it can be used to upload a movie's subtitle before the main edit. Part C leads you to the full editing arena.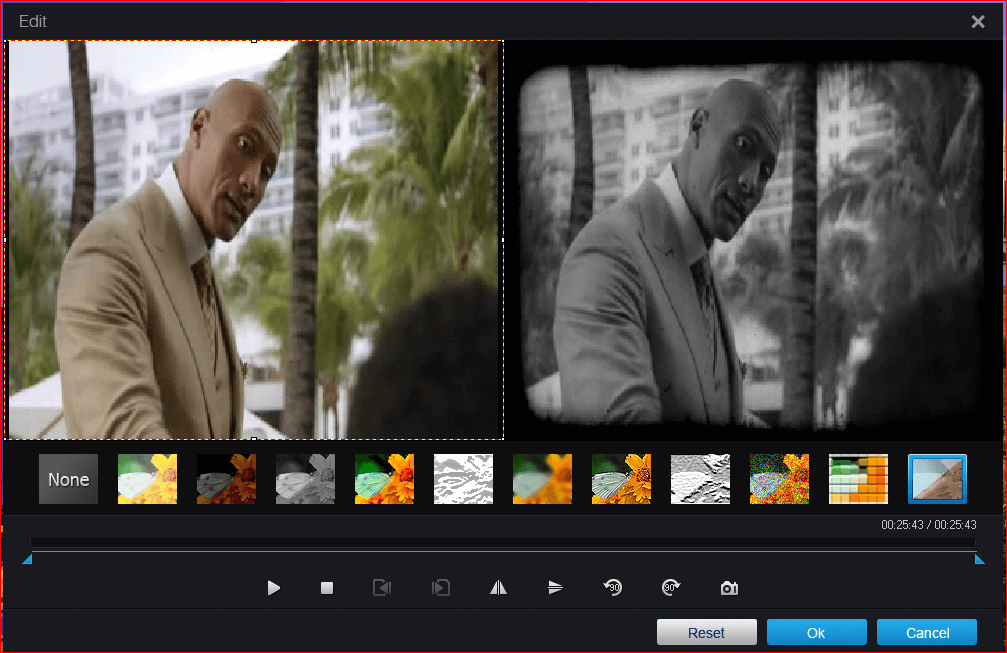 The image above shows how your screen appears when you click on the edit button. As seen in the image, there are many edit options packaged into this app.
During the edit process, you can save images of important parts by clicking the camera icon; it immediately captures the current screen view, there are also many background options to choose from.
My Review and Verdict
WonderFox DVD Ripper Pro worked very good as a video conversion tool, and it wasn't stressful; it only took me few steps, and the conversion speed was quite normal. It created videos that could play on outdated Nokia S40 devices and I was really impressed by this.
Editing a video with this tool was cool, the intuitive user-friendly interface is applauding. I was okay with the edit features though there was no option for "slow motion" which I wanted to include in a particular scene while editing Dwayne Johnson's movie – Ballers.
This software will work for any video conversion/editing project and can be used by anybody, even persons with little to no technical-know-how on handling computer software.
Now Your Turn
I have taken my time to share my personal review and experiences with WonderFox DVD Ripper Pro software and would love to read yours.
Have you used this app in the past or would like to guide us on a better alternative? Please do share your views by using the comment box below.
Remember to rate your WonderFox DVD Ripper Pro experiences by using the tool atop the review widget.