Mac data recovery app from Wondershare Inc. is effective for getting back lost or deleted files, photos, music, videos and documents from PC and storage devices.
With MAC OS X popularity in the United States; many organizations are switching to it as their primary machines, thereby making utility tools such as data recovery app a must-have for the Operating System (OS).
'Get back data' solutions for MAC OS X isn't such a new technology but there are not so many of it that guarantees what they advertise on their various websites.
The data recovery software from Wondershare Inc. is one of the file recovery apps that really works, hence our creating this post to enlighten you on best data recovery options for Mac machines.
Introducing Wondershare Data Recovery for Mac
Wondershare is no mean name in the tech-space as they have developed some award-winning software, ranging from; PDF editors, data recovery tools, phone management apps and other utility programs.
Our focus today is on their Mac data recovery app which was used as a guide on our earlier post on deleted files recovery tutorial.
Wondershare data recovery for Mac lets you get back deleted files from; memory cards, USB sticks, hard disk drives (HDD), digital cameras and personal digital assistance (PDA).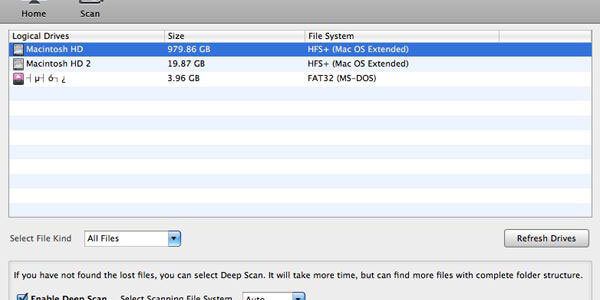 It has support for all popular media, archive, email, documents and image formats. Can recover data from formatted drives and raw drive partitions.
The Features
Wondershare data recovery software for Mac; like other data recovery apps, lets you recover deleted files, lost data and formatted hard disk drives.
You can recover lost data(s) directly from Mac machines, digital cameras and other storage media without the need to visit a data recovery tech.
The app's interface is user-friendly and non-intrusive. Even a newbie can play around with the tool by just following after the guide here or the one at their official web page.
We have this app installed over a time and would like to highlight some of its important features.
Compatibility and Ease of Use
While testing this app for the first time, we used the 'wizard mode' that lets you recover lost files by clicking yes to on-screen options.
We also attempted the advanced mode, and would comfortably say that both options are easy to understand by an average user of Mac OS X.
Wondershare data recovery for Mac app is compatible with all Mac OS versions and works with basic system configuration. We also noticed that the app is light and comes with a  great response time.
Multiple Data Recovery Modules
The developers of the app did their due diligence by taking into account; all different data loss situation and providing the module to recover lost files irrespective of how it got deleted.
There is the lost file recovery module for recovering lost data from formatted drives and known hard disk drive locations, the partition recovery module for getting back lost files from damaged/deleted drive partitions, the raw recovery module for recovering data from logical drives and the resume recovery module that lets you complete previous scan/data-recovery sections.
Each of the data recovery module is optimized to efficiently deliver on all data loss situations.
Support for Multiple File Formats
Wondershare Mac data recovery software does not only recover lost data(s) from PC, digital cameras and external storage media but does offer complete support for all popular file system types and file formats.
There is the support for:
NTFS file systems.
Fat 16/32 File System.
exFAT file system.
.zip file format and other archive types.
.DOCX file format and other documents type.
.JPG file format and other image types.
.MP4 file format and other media types.
This makes the app a complete data recovery suite for an every-day Mac Os user. We tested our copy on some storage devices and didn't experience file damages as seen in most data recovery apps.
How To Use
Wondershare Mac data recovery software comes with a user-friendly interface and fully integrated with a GUI wizard that guides you with any recovery method of choice.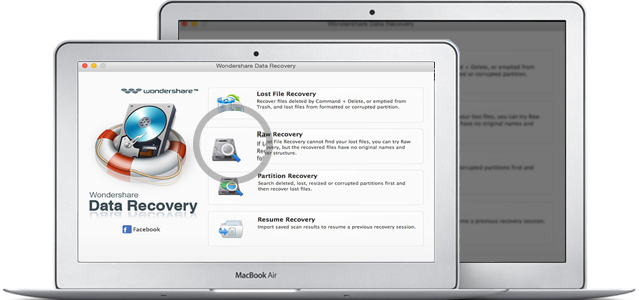 Once the app has been installed and activated, every other thing about it becomes effortless as it is built with the every-day PC users in mind.
The few steps to complete when attempting to recover a lost file with Mac data recovery app from Wondershare Inc. is as follows;-
Launch Wondershare Mac data recovery software by locating the app's icon from the active desktop.
Select lost files recovery from the list of options that pop-out in the next screen.
Choose the place the lost files were before they went missing (assuming you already knew the drive they were stored in previously).
Review the discovered files and pick the ones you want recovered.
Tap on the "Recover button" to get your deleted files back and in a good state.
That is all it takes to get lost files back with this piece of software. Other recovery modules can be explored using the template above.
You can get access to a detailed documentation by hitting the help button from the app's window (assuming that the guide here isn't enough for the task you want to handle).
In Conclusion:
Mac data recovery suit from Wondershare is effective for getting back lost files and documents from PC and storage devices.
It comes with useful functions that makes it a decent data recovery app for Mac users. It is light-weighted and works with basic PC resources.