Last time on valuable apk download, we shared the link(s) to download latest flash share app, but would be sharing that of Lucky Patcher and KingRoot today. With this, you'll be able to download the latest functional copy of lucky patcher apk and Kingroot App.
Before diving into the content proper, I'll like to explain these two apps for those that might be hearing of them for the first time. As you already know, KingRoot made our list of best rooting software as well as that of root without pc apps.
But Lucky patcher is a completely new one to 3petchies readers. The only time we talked about it was when we listed the best root apps for rooted Android devices.
In all, these apps are useful to most Android users. Most especially, those that loves tweaking their device, either for fun or for increasing productivity.
Link To Download Latest Lucky Patcher APK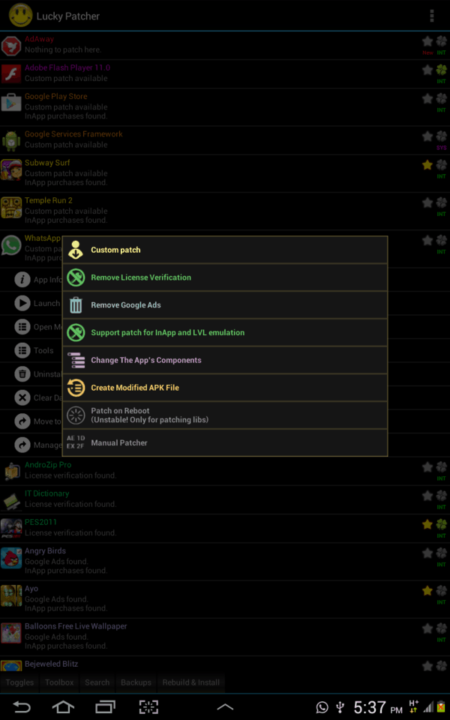 We are among the first persons to write about lucky patcher apk as seen at https://wp.me/p3eWMZ-gUn. We decided to write about it again because our readers asked for it.
Lucky patcher apk lets you tweak Android apps and games in many ways. With Lucky patcher apk, you can:-
Completely remove InApp purchases & gain full access to games/apps. (Note: In app purchase verification or license verification can be easily blocked or removed completely with lucky patcher APK. Root access isn't required for this features, hence the use of Lucky Patcher No root Apk).
Easily apply Custom Patch to apps (where and when available)
Remove License Verification from apps/games completely.
Use all game pro-features without making extra payment (Game cheats unlimited).
Make online games and/or apps a full offline version.
Remove Google inApp ads, Amazon ads and/or other forms of annoying advertisement.
Add Support Patch for InApp and LVL emulation
Change App's Component & hidden functions.
Easily create a modified APK file for games and apps
Completely remove unwanted app permissions. (No root access is needed for this function as well).
ODEX apps and games.
Disable bloatware and highly intrusive system apps
Convert apps to system apps (to avoid accidental deletion).
Convert system apps to user app (to allow deletion by any user).
Back Up raw APK file for games and apps as well as do other app's tweaks easily.
Lucky Patcher Installation Guide
This is how to download and install lucky patcher APK on new devices.
Enable unknown sources on your Android device by going to "Security settings" on newer devices or "Application settings" on older devices.
Download latest lucky patcher APK from the download link provided below.
Click on the apk file (from your downloads folder) to install.
Lunch lucky patcher apk once the installation is completed.
Click on any game or app to tweak to your taste.
Lucky Patcher Download Links
Download from mediafire via: https://bit.ly/2CqnWnZ
or Download from Appbox via: https://bit.ly/2yKvJuw
Note: These are the latest No root version of lucky patcher APK. But full features are unlocked only on rooted Android devices.
Link To Download Latest KingRoot APK
For those that needs more than the basic features of Lucky Patcher Apk (No root version), this section would come in handy. It is a guide to download the English version of KingRoot APK.
KingRoot lets you root Android devices with ease. It is one of the top rooting tools that allows anyone to root plethora of smartphones and tablet devices.
KingRoot Features and Installation Guide
Allows one click root for android phones, phablets and tablet devices.
Works on older models and newer brands as well.
Is straightforward and easy to use.
Automates the rooting process with little or no manual input from the end user.
To root with KingRoot apk, simply download the raw apk file from https://bit.ly/2zhUv8G or https://bit.ly/2ByjRkx. Install same and click on the icon to launch the app.
Finally, click on root and then download & Install the root checker app from Google playstore to confirm that your phone is completely rooted.
Disclaimer: This is simply an Android tweak tutorial and guide. It's never an encouragement for illegal duplication, license manipulation and/or distribution of copyrighted contents in anyway. 3rd Planet Techies respects intellectual properties of businesses and at such do not encourage her readers to infringe on them.