LinkCollider Review
Summary
LinkCollider is a website that lets you get traffic and social media engagements for free. It comes with several Small SEO tools that let you succeed as a digital marketer, SEO and/or social media influencer.
This short LinkCollider review content is more about modern SEO strategies than just the LinkCollider SEO tool alone. SEO strategies that worked in 2014 are 100% different from what works for 2019. Back then keywords with low/medium competition can easily rank on Google's first page with comment links, profile links, and a few posts in a related forum. But this is not the case with modern SEO as sophisticated metrics such as Search intent, mobile usability, dwell time and CTR is given a preference in SERP.
Back in the days, LinkCollider was one of my favorite tools for making social signals that work. I boosted a lot of new pages and got improved ranking with their social boosting tools, but that isn't the case nowadays. A lot more needs to be done and their backlink building tool is super spammed and not good enough for long-term websites.
While this review is aimed at introducing LinkCollider along with its features; I'll show you how best to use this tool in skyrocketing your freelancing success.
LinkCollider Overview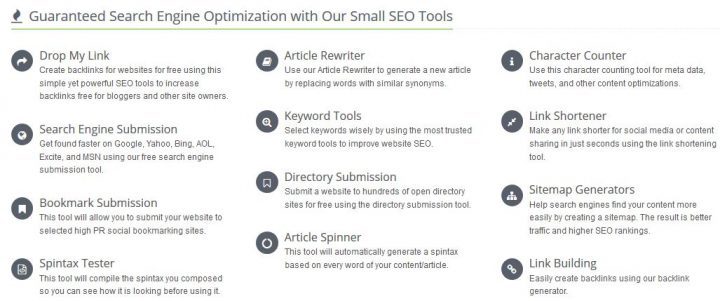 LinkCollider is a website that lets you get traffic and social media engagements for free. It comes with several Small SEO tools that let you succeed as a digital marketer, SEO and/or social media influencer. It is a one-stop directory for useful search engine optimization (SEO) tools.
LinkCollider is one of the only SEO website/apps that allows you to use more than 80% of its SEO tools for free. Tools such as search engine submission, article rewriter, directory submission, and Bookmark Submission are given without any sort of limitations.
It is an SEO tool that lets you do more for less. Apart from their traffic, link building, and the social signal tool that's a far cry from what it used to be, everything else works as supposed.
IMHO, LinkCollider is a great SEO tool for anyone that's looking for an effective but free SEO tool to use in boosting a new blog/website in search engines. Considering that a good number of reliable, effective, and highly recommended SEO tools are very expensive than a newbie/beginner can afford: Linkcollider comes as a great alternative for startups.
It is a cheap SEO tool for generating leads, making social signals, creating backlinks, sending traffic to website/blog, and doing lots of other useful search optimization functionalities.
How Linkcollider works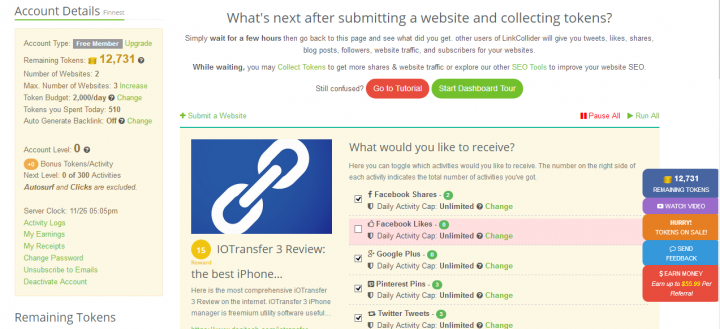 This is very simple, you just add your link (website or page link) and select the social signals you which to get. It offers free services in exchange for tokens: As far as Linkcollider is concerned, your token serves as your money. These tokens can be gotten free of charge by doing certain activities on the platform. However, you can choose to buy these tokens instead.
Primarily, Linkcollider is a platform to get free website visits, do social bookmarks, build backlinks, get social media signals, and do other stuff that increases your website's position on SERP.
Before you can use any of the free SEO tools/services provided by this platform, you'd have to signup with your email address and other basic personal data. When you have successfully signed up, you become eligible to access the several built-in SEO tools from Linkcollider.
Tips for Adding a website link or page to Linkcollider
Right on the homepage after registration, you'll spot a big button asking you to "Submit A Website". Simply click on this button and add the targetted URL. It could be your website homepage link, social media page link, link to an article, or any other link apart from Adult and/or sexually explicit website links.
Once you have pasted the link into the provided space (bar), the system (Linkcollider) will automatically detect the meta title and meta description of the link. Thereafter, you'd have to set the number of tokens that should be gifted to anyone that clicks or share your link.
Gaining/buying of tokens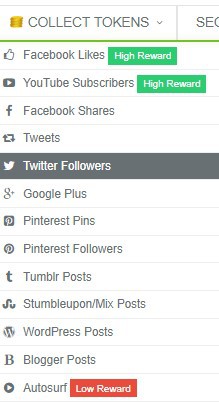 You'll never receive any signal to your link if you do not have any token left on your account. As said earlier, your token is your money on Linkcollider. Therefore, you must ensure you have some amount of tokens left on your account before trying to use Linkcollider SEO services. This is because other Linkcollider users are gifted a fixed amount of token anytime they click, like, or share your link.
On the other hand, it means that you can get free tokens by visiting, sharing, and promoting other user's content. Alternatively, you can choose to buy these token with real money; they are available as packages for extra bucks.
Doing the following activities will gain you free tokens on Linkcollider.com
Sharing linkcollider's users content on social media (eg; FB likes & shares, Twitter tweets, Pinterest Pins, Mix posts, and etc)
Blogging linkcollider's users content on your personal blog (eg; Tumblr, Blogger, WordPress)
Autosurfing/Visiting linkcollider's users websites and/or business pages
Subscribing to linkcollider's users YouTube channels
Clicking on other Linkcollider's user's links
Linkcollider features
Apart from the social signal and website traffic options, there are more than 12 free SEO tools available on Linkcollider. Though some of these tools are not hosted on its platform (they redirect you to the host website/platform), at least it grants access to them easily.
Some of these Linkcollider's Small SEO tools are: –
| | | |
| --- | --- | --- |
| Tool | Provider (Host Platform) | Price |
| Article rewriter | Linkcollider | Free |
| Search engine submission | EntireWeb solution | Free |
| Keyword tool | Google & Wordstream | Free |
| SEO bookmarking tool | Many providers available | Free |
| Rank checker | Alexa, PRcheck, CheckPageRank | Free |
| Plagiarism Checker | Copyscape & SmallSEOTools | Free |
| Sitemap generator | XML sitemaps | Free |
| Link shortener | Linkcollider | Free |
| Article Spinner | Linkcollider | Free |
| Spintax Tester | Linkcollider | Free |
| Backlinks generator | Linkcollider | Free |
| Drop My Link | Linkcollider | Free |
More about Linkcollider
Linkcollider also provides affiliate services for its users. This means that Linkcollider users can earn some amount of money by referring more users to the platform. All earnings are validated and sent to the user's PayPal account after 60 days.
Although Lincollider is free, it has a premium membership program. With LinkCollider's premium membership, the many limitations that come with their free program are removed.
For instance, free members are limited to only a maximum of three websites/links. This means that you cannot submit more than three links on Linkcollider as a free member. But as a premium member, these limitations aren't there.
Currently, the system boasts of over 400k active users. So, your link is exposed to hundreds of thousands of real human users across several countries of the world.
Is Linkcollider safe?
Well, it is safe as the traffic/signals you get comes from other users of the platform (real humans) and not bots. However, it is not the best web traffic source for your website or blog. The bounce rate is super high and a lot of users are only visiting for the tokens and not to see your products and/or services.
Apart from the super high bounce rate of LinkCollider traffic, most users do submit infected websites to the platform, making the auto surf option an unsafe one for computers that aren't secured with a reliable internet security program.
Apart from reducing Alexa rank, inflating Google analytics stats, and faking engagement on your freelancing websites gigs, I don't see any other need for getting traffic from LinkCollider.
Linkcollider Pricing

Linkcollider has premium membership subscription plans. These plans allow you to use the platform unlimitedly while gaining access to set up certain automated actions. The pricing starts from $19.99/39.99 (monthly) to $139.99/$279.99 (annually).
After upgrading your membership, you become eligible to gain some bonuses on any further activities you do on the platform. You'll also get some bonuses on tokens.
My LinkCollider Review and Verdict

If this LinkCollider review post was written in 2014, I'll say it's a wonderful SEO tool to increase website traffic, but in 2019 and beyond, it's just another useful tool to boost a website's stats. While you can get some traffic and social engagement with LinkCollider, it isn't one of the best sources for quality traffic and/or social media engagement.
The quality of the YouTube subscribers and Twitter followers isn't top-notched as most channels do notice subscriber's drop from time to time.
Their Small SEO tool is the area I'll give 100% kudos to LinkCollider. My favorite is their article re-writer as it lets me do Quora and forum posts without hassles. Their link shortener and Bookmark Submission tool is another one that goes very well for me.
Apart from their backlink generator that's heavily spammed of recent, the other tools in the "SEO Tools" category work as should and help greatly in digital marketing and search engine optimization.
My biggest secret in LinkCollider's success is using Autosurf (with little to no focus) to generate tokens and their traffic, social signal, and backlink generation tool to promote my freelancing jobs. While my customers are never on LinkCollider, the views help in inflating engagement for my freelancing gig, thereby getting it a better position on the listing pages.
All in all, you would enjoy all the features of Linkcollider even as a free member. The major benefits/advantages of upgrading your free account are to get more tokens and add more websites. Asides from these, other features are the same even after the account upgrade. The platform will help you build effective social signals and get free website clicks for short-term projects.
Do you have a thing or two to add to this LinkCollider Review publication? Tell us about it below. We are opened to questions and will clear any doubt you might have about LinkCollider and/or other SEO tools. You can check out their homepage for their features in-full.