Should I use SEnuke TNG software for SEO and digital marketing? Well, over the years, the game of SEO has evolved completely. While some believe that SEO is completely dead, others assume that unique content(s) is the king, the queen or even the kingdom in its entirety. No matter the beliefs you hold dear to, this SEnuke TNG Review post will help you sharpen your SEO game for more possibilities.
Sharing the latest SEO tactics, best marketing strategies, and my little experience with SEnuke TNG (on a small product website which I manage) is the aim of this post.
What is SEnuke TNG?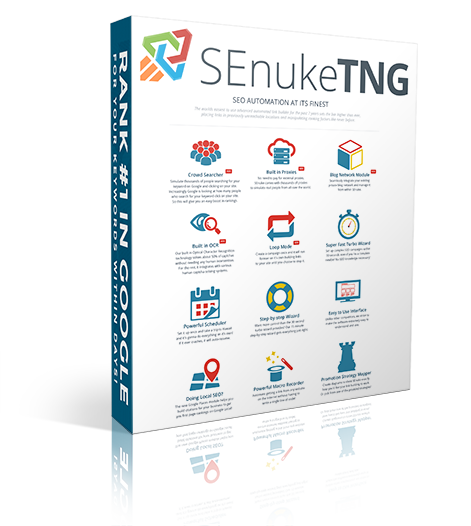 Getting into the top spot on SERPs for a targeted keyword is something every marketer or blog owner is thirsty for. However, it is not as easy as you may think; dealing with SEO on your own may not be so efficient enough to get you to the top spot. Hence, you need to use a proven SEO tool to achieve your keyword(s) ranking goals.
SEnuke TNG is an excellent SEO toolkit with lots of modern marketing features to help you skyrocket your links to the first page of Google and/or other search engines. The app does all the processes involved automatically; thus, your manual effort/input is not always needed.
It is a pro SEO software toolkit that's used by a lot of SEO professionals to get "First Page" rankings through the building of useful backlinks, fake CTR simulation, and other modern SEO strategies.
Senuke TNG is one of the first web-based SEO tools that utilizes crowd-sourcing for high search engine ranking. While some may consider this a Blackhat or Grayhat; a lot of persons are using it positively to improve their website ranking.
Features of SEnuke TNG Software
SEnuke TNG tool comes with a lot of latest SEO/digital marketing features, some of which I am going to introduce in this section.
1. Crowd Searcher
While not trying to make your site violate Google's search and clicks algorithms, this tool simulates thousands of internet users who are searching for the keyword you wish to rank for to click your link(s). It does this to make search engines (especially Google) see that people prefer your content(s) to the other ones and as such your link should be the top choice. It won't be long, and your link will be at the number one spot for your keyword(s) as a result of the constant visits/click from real human internet users.
Also, this CrowdSearcher feature works on autopilot to improve your websites search CTR while reducing the bounce rate to the best, possible minimal rate.
2. Built-In OCR
When you use Senuke TNG, captcha security won't be an issue. The app includes a reliable optical character recognition feature that is capable of solving over 50% of captchas expressly. Well, there are some captchas it won't be able to bypass.
3. State-of-art interface
Previously, some people have complained that Senuke TNG has a poor interface. But, the app has been redesigned to feature the best interface you could expect of an SEO app. Now, the interface you'll find on this app is intuitive and very easy to navigate.
4. Powerful Macro Recorder
Senuke TNG utilizes this inbuilt feature called Macro Reader to generate backlinks for your site/link from your desired websites without you doing anything. Remember I mention that this app works automatically without needing any help from you (the benefactor).
5. Loop Mode
This is another cool feature of this app; this feature powers your campaign to run continuously until the day you decide to stop it. Thus, your first campaign with this app may run forever if you do not stop it, generating more and more useful links to your site. However, if you didn't purchase the lifetime package of Senuke TNG, the campaign will stop once your subscription expires.
6. Advanced Spinning Tool
With the built-in spinning tool, this SEO app can rewrite contents gathered from various sources and make them appear unique and SEO friendly.
7. Indexing and Spider Tool
If search engines do not index the links you create, they become waste. This is because there is nothing to gain from an un-indexed link. But, with Senuke TNG, link indexing works seamlessly, more comfortable, and much better. The free pinger tool that's available on this app ensures that all your pages/links are fully indexed in search engines.
The backlink indexing, instant URL pinging, and all other features add up to ensure that you get the best SEO optimization you need to rank on popular search engines.
SEnuke TNG Pricing
First, you can choose to leverage on the 7-days trial period to make sure it's a useful SEO tool or the one you need to grow your business, product or website traffic. After the trial period ends and you are well convinced about the tool, you can then opt-in to buy a pro or enterprise plan.
SEnuke TNG latest pricing is as follows: –
$97.00 monthly subscription for a single license.
$777.00 yearly subscription for a single license.
$1, 377.00 one-off payment (lifetime access for a single license).
Also, you can buy three licenses at once to get a considerable discount from them. The discounted prices for purchasing three licenses at once are:
$147.00 monthly subscription for three licenses
$1, 477.00 annual subscriptions for three licenses
$1, 997.00 one-off payment for three licenses (lifetime access)
Now, you can choose a convenient package that fits into your marketing budget.
My SEnuke TNG Review and Verdict
Before saying anything about SEnuke TNG tool, I must admit that it's a bit pricey at $97 per month. Paying $97 every month to use the app could be on the high side for most small business owners. While the functionalities are excellent and easily worth more than $97 for most businesses, the pricing can be structured to cater for businesses of all sizes.
Well, asides the high price, SEnuke TNG is an advanced SEO toolkit that's stocked with lots of useful features and guarantees high ranking on SERP. While the older version of the software did get a handful of negative reviews in the past, the newer version came with a lot of improvement, bug fixes, etc.
One thing I love about the SEnuke TNG tool is that – it does not require any specialized knowledge before anyone can make use of it. If you wouldn't mind spending on tools to improve your website SEO and search engine traffic, then, this is an ideal solution for you. You can take advantage of their seven days trial plan of $1 to explore the tool and/or improve your website ranking.
All in all, SEnuke TNG is an excellent SEO tool for event blogs and short term projects. There's hardly a reason not to have SEnuke in your list of marketing tools for event blogging and ranking of short term projects.