Theonespy is one of the best mobile phone spy apps out there. It is available across all platforms and comes with a lot of phone spying features, as well as parental control features. This is an app that's specially designed for parents and detectives. There are a lot of things you can track on a targetted device using Theonespy app. Furthermore, this app doubles as an employee monitoring app, and it can be used for anything that has to do with cell phone tracking.
My Theonespy review is going to be extensive and cover all the features of the app, as well as how you can use the app effectively for tracking smartphones and devices in this era.
Theonespy Overview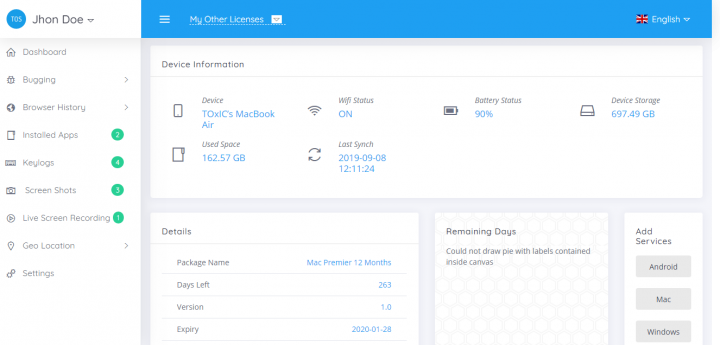 There are lots of mobile spy apps available today; however, Theonespy app promises to be one of the best. The app is stocked with tons of features for monitoring other people's social media activities, logs, and other personal info. It has a universal dashboard where you'll see all the tracked info in real-time.
More interestingly, Theonespy app is available for Android, Mac, and Windows OSes. It is really a great mobile spy app, thanks to its features. Unfortunately, this app is not available for iOS users. Thus, you can't really monitor iPhone user's activities.
The dashboard, or rather, the control panel that's offered by this app is very intuitive, easy to navigate, and you can access a lot of information from here. Practically, all monitoring and bugging features of TheOneSpy are triggered from the web dashboard. Also, the control panel supports up to 10 different languages including Spanish, French, Dutch, Portuguese, Italian, Chinese, English, and more.
Furthermore, you will know the battery level of the targetted device, network status (wifi or cellular), device storage space, and other important info. TheOneSpy spy app is quite comprehensive and offers a lot of features. It is one of the best of its kind. However, a close alternative to this app is the Spyzie app.
Theonespy Pricing and Availablity
TheOneSpy has different pricing plans for different platforms; Android plans are different from Windows plans, as well as the macOS plans.
For Android: You can choose to buy a monthly plan, quarterly plan, or an annual plan. Monthly plans are $20/month and $35/month for the TOS XLite Edition and TOS Premium Edition, respectively.
The quarterly plans are $45/quater and $55/quater for the TOS XLite Edition and TOS Premium Edition. While the annual plans are $65 and $95 for the TOS XLite Edition and TOS Premium Edition.
For Windows and macOS: The Windows and macOS plans are as follows: $40/month, $60 per 3 months, $80 per 6 months, and $110 for the annual subscription.
Features of Theonespy App
Hereunder are some of the most interesting or highly-pronounced features of the Theonespy cell phone tracking app.
Social Media Monitoring
TheOneSpy allows you to spy on targetted users' social media activities. The app supports a variety of social media platforms, which include Snapchat, WhatsApp, Viber, Line, Instagram, Tinder, Hike, IMO, and Tumblr.
With TheOneSpy, you can monitor a lot of activities on the support social media platforms; things you can track include messages screenshots, live record messages screen, track messages logs, Spy on Snapchat chat conversations, shared media, and more.
Capture screenshots from the target device
With this software, you can capture screenshots from the targetted device at any time. Thus, you can capture image logs, call logs, and more.
Keylogger
Interestingly, this spy app supports keylogging and allows you to record WhatsApp keystroke, Messaging keystroke, and Password keystroke.
This keylogger feature works very well and it doesn't require root access on the targetted device. More so, it works for emails, SMS, and IMs on the targetted device.
Monitor multiple devices
Depending on your subscription, you can monitor more than one device at a time using the TheOneSpy app. This makes the TheOneSpy an ideal parental control app for parents with trying to monitor their kids. Also, this feature comes in handy for employee monitoring purposes.
360 live streaming
Once TheOneSpy is activated on a target device, you can see everything happening around the user in clear visuals via the web dashboard of this app. TheOneSpy takes control of the target device's rear and front cameras to deliver real-time visual monitoring with audio.
In the same way, this app also features a 360 Live Surround Listening support that remotely controls the phone MIC of the targetted Android device. The app activates the mic of the target device and lets you listen to live phone surrounds in real-time.
Logging
TheOneSpy gives you access to VoIP call logs history, as well as allow you to record all calls sent or received on the target device. It is possible to spy on WhatsApp VoIP calls, Viber VoIP call, and Track Line VoIP call logs.
Also, TheOneSpy allows you to monitor cell phone call history tracker and provides you with the full history of calls sent/received on the target Andriod device. More interestingly, this app displays the call logs with time stamps.
Video record and bugging
Furthermore, TheOneSpy app comes with a bugging feature that lets you turn on the rear or front camera on a target device to record short videos of the user's environment at a particular time. The video duration should be around 15 – 60 seconds. Also, the app supports a Mic bugging feature, as well as Snap bugging.
How to use TheOneSpy app
You can only use TheOneSpy to track Android device users; if you need a mobile spy for iPhone, maybe you should consider Spyzie. The dashboard/control panel is only accessible from a Windows PC or MacBook. Also, some features are limited to different platforms.
How to Use TheOneSpy App on Android Devices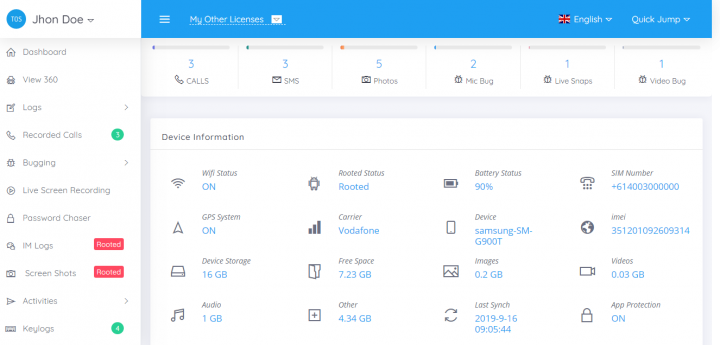 TheOneSpy Android Spy App lets you track Android devices remotely and secretly. To get started, you need to create an account on their official website and fill in the necessary details.
TheOneSpy Android app works for both smartphones and tablet devices. However, before you can download the TheOneSpy Android app, you must first register and purchase a plan/package. Interestingly, TheOneSpy is compatible with Android 10, and newer Android OS.
Installing TheOneSpy on Android Smartphones and Tablets
You'd need to gain access to the target user's device for some minutes
Activate "Installing from unknown sources." This option is typically available in phone settings >>> security >>> unknown sources. Activating the "Unknown Sources" will allow you to install apps that are downloaded outside Google Playstore.
Visit the download section of theonespy.com, download the .apk file, install it on the target device, and activate the app.
That's all, you can now drop the target device; this app does not display an app icon on the app drawer; so the monitored user won't know you installed a new app.
How to Use TheOneSpy App on Windows and macOS Machines
Similar to how the Android version works, TheOneSpy Windows and macOS Apps let you track every activity a targetted user does on his/her Windows desktop or laptop. This Windows version is perfect for employee monitoring, and also for parental control.
Using TheOneSpy PC Spy App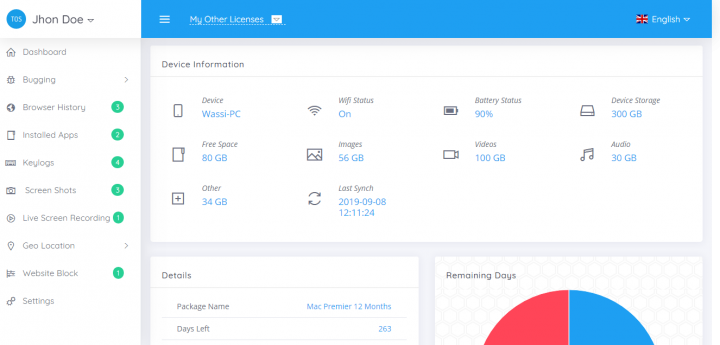 Register on theonespy.com
Buy a Windows Package or Mac Plan
Access the Windows/MacBook, visit TheOneSpy official website and follow the instructions to monitor the targetted computer.
My TheoneSpy Review and Verdict
Although there are so many features you'll get from TheOneSpy but it doesn't have support for iPhone, iPad, and other iOS devices. With this, I can say that it's impossible to monitor iPhones and other iOS devices with the Theonespy app.
Apart from its inability to track or monitor iOS devices, it has proven to be a good option for tracking Android devices. All in all, it is a good-to-go spy app for parents, employees, and detectives. It works well for the advertised features and should be able to serve for all your Android/PC tracking or monitoring needs.