Having unique and highly engaging content on your blog is great, but it's not "always enough." You need these contents to rank on search engines in order to get quality organic visitors to your website, which can, in turn, generate good revenue or drive sales via affiliates.
Now, getting those organic visitors can be a big deal, as there are obviously many competing websites or companies ranking for your keyword(s). How do you outrank them and get a share of the tons of people searching for your product or keyword? That's where SERP Empire comes in place to help. It manipulates your CTR (which is one of the top SERP ranking metrics in 2020) to gain an advantage in SERP listing.
SERP Empire Overview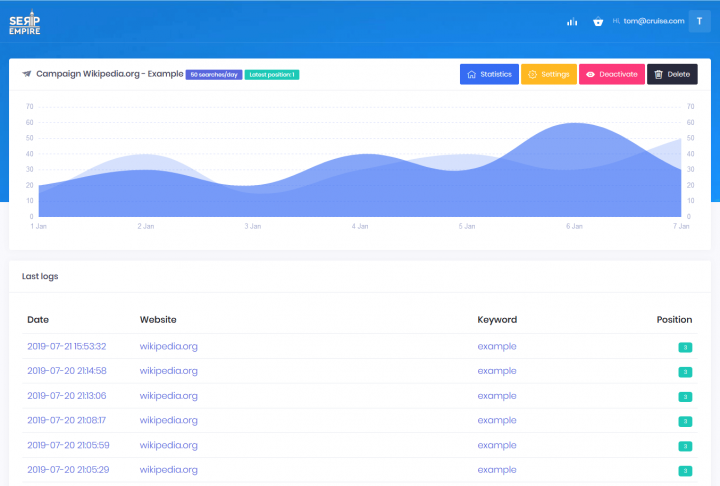 SERP Empire is a web software app that helps bloggers and marketers to track the positions of their various keywords on Google Search Engine Result Pages. The term SERP stands for Search Engine Result Page.
Also, SERP Empire provides automated organic traffic to help boost your keywords' rankings on various search engines, including Bing, Baidu, Yahoo, Google, and Yandex. The app works in a handy way to manipulate your keywords' CTR (Click Through Rate) so that you can rank above your competitors on SERPs.
Most specially designed for website owners and digital markets, SERP Empire is really a handy tool to boost organic traffic and push your website to the number 1 position on Google and other popular search engines.
The tool is flexible, straightforward, and easy to use. It has a free version that lets you add one keyword, amongst other limitations. But, the paid versions are very much considerable and fairly priced. Frankly, SERP Empire is a useful SEO cloud app for digital marketers, bloggers, and even eCommerce websites.
One significant feature of this app is its ability to fish out your website from any page on search engine result pages. That is to say; the app can visit your site even when it's on Google's search 3rd or 4th page.
Features of SERP Empire
SERP Empire features an intuitive and easy to navigate interface, with all of its supported tools arranged adequately for quick access.
You can create a new campaign, as well as stop a campaign at any time you wish.
Easy to understand dashboard.
Quick links to other useful SEO tools
The app supports geotagging to allow users to choose specific countries where they want their keyword(s) to rank. This also helps to get more targeted traffic to your website.
SERP Empire Pricing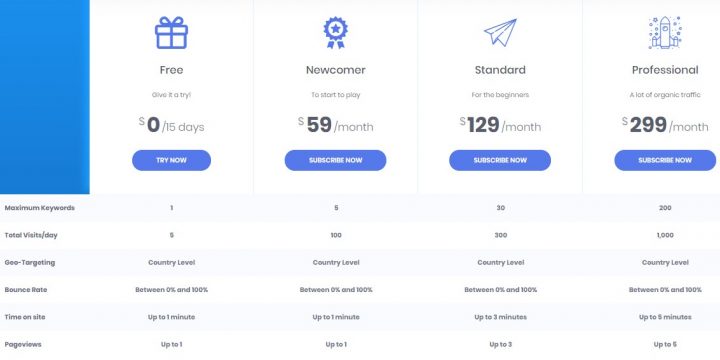 SERP Empire has a completely free, but limited (trial) plan that lets you use the tool for 15 days without paying. You'll have to get a paid plan after using the free plan for up to 15 days.
The basic paid plan starts from $59/month (as seen in the pricing image above) for up to 100 search engine visits daily. There are also the standard, professional, and agency plans that goes for $129, $299, and $499 respectively.
How to use SERP Empire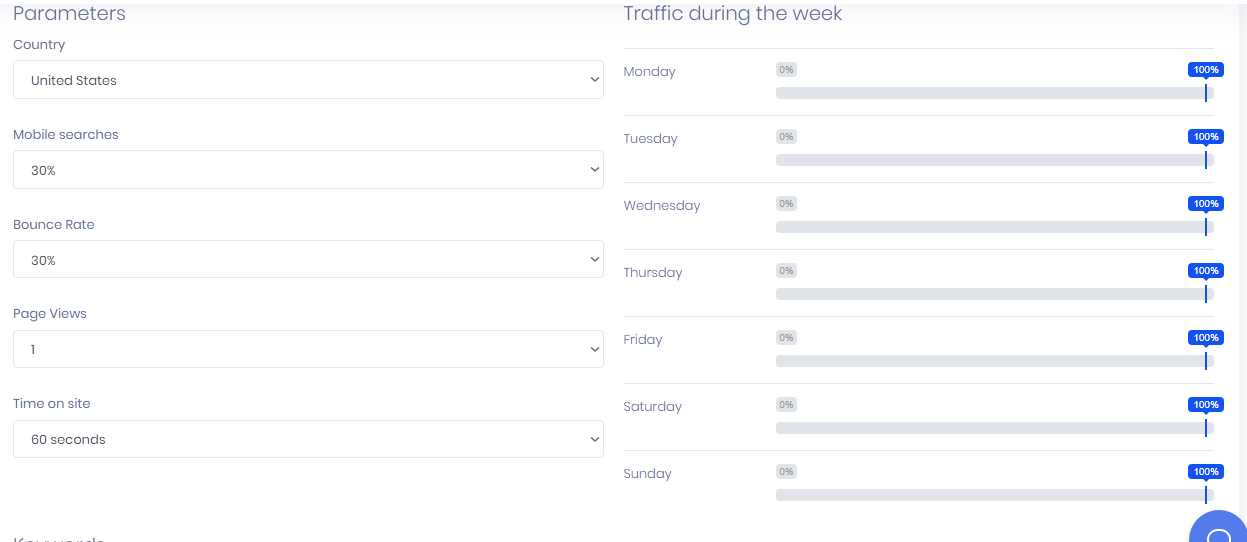 To use SERP Empire, you'll need to click on the "Join Now" button on their official website here, and then key-in the necessary information requested. Use an active email address when signing up as you'd receive a link on the email to confirm your registration. However, the registration process is swift and straightforward.
Also, during the registration, you'd be asked to enter a keyword you wish to rank for. Once you're done verifying your registration, you're directed to the SERP Empire dashboard, where you'll start using and exploring the software.
Step One: Create a Campaign
You've automatically created your first campaign during sign up and because you're locked to the free plan; thus, you cannot have more than one keyword running on your account. So, the first thing to do is to upgrade your account or delete the already running campaign to create a new one or to add more campaigns.
Step Two: Set up your Campaign
You can set geotagging, mobile search and desktop search percentages, bounce rate, and quite other parameters. Utilize the configurable parameter to get targetted traffic for your needs. Depending on your plan, there's a limit to the number of keywords you can add to your profile.
Step Three: Publish your Campaign
After configuring the required parameters, you can hit the "save" button and publish your campaign to get the bot to click on your website when it searches for your keywords. You can easily delete a campaign or modify it at any time.
What More?

SERP Empire is simply – an intuitive and easy to use web app. All you need to do is to get a suitable plan, create campaigns, and enter your keywords. After creating a campaign, the bot will start simulating organic traffic to your link or website(s).
All in all, SERP Empire is an excellent SERP manipulation tool for all business types. As a handy, SEO tool, the SERP empire web app can be used for event blogs, PBNs, money sites, and eCommerce platforms. The best of it all is that – it doesn't load Google Adsense ads, hence poses no risk to sites with Google ads on them.