Portable speakers are increasingly becoming important as their functions have increased over time, thanks to technology evolutions. Gone are the days when portable speakers were just for connecting and playing of media files. Now, speakers come with more smart functions and are sturdily built to survive any weather, environment, and rough usage. The Xfyro ORION wireless speaker is a smart portable speaker you can trust. It comes with a couple of enticing features and retails at a considerable price.
Also, this wireless speaker boasts of delivering rich sound on any volume level. Well, it is an advanced wireless speaker with good audio engineering.
Xfyro ORION Overview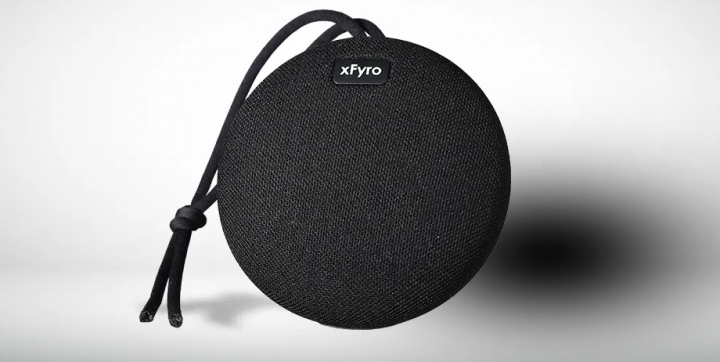 This speaker flaunts a similar design to Google Home Mini; the rounded top and a solid base. However, unlike Google Home Mini, the Xfyro ORION does not support any virtual assistant or A.I technology. Nevertheless, the Xfyro ORION speaker comes with Bluetooth 5.0 technology, which makes it connect to devices from far range. Also, the design looks sturdy; the speaker is quite appealing when you look at it.
The portability of this speaker makes a perfect choice for a wireless speaker you can easily take on the go. Furthermore, it comes with a "2-microphone call technology" for making calls with the speaker.
One of the important things a portable or wireless speaker must have is a strong battery. In the case of Xfyro ORION, it does come with what you can call a strong battery; this is because the speaker can play for up to 8 hours or more. While there are other wireless speakers that promise longer battery life, the 8 or more hours of lay offered by Xfyro ORION wireless speaker is still considerable.
Features of Xfyro ORION wireless speaker
There are a couple of distinctive/laudable features of this portable speaker; it is fully waterproofed; designed with a special fabric that floats in water. Plus, its basic components are designed with bleeding-edge technologies, and you can actually wash this portable speaker. Below are the features of Xfyro ORION wireless speaker includes;
Advanced Bluetooth technology; connects up to 10 meters away from the device
Long-lasting battery; stays up to 8 hours on a single (full) charge
Produces superior HD sound immersive highs and deep, rich lows thanks to the best-in-audio engineering.
Sturdy and attractive design; built to last long
The waterproof body: with IP67 rating – this speaker can be used at beaches, in the shower, or anywhere
Floating technology; this speaker floats on top when dropped inside a water body
The Tech specs
Material: Plastic and metal
Dimensions: 6.5 x 4.3 x 1.7 inches (H x W x L)
Weight: 0.05lb
Protection: IP67 waterproof rating
Bluetooth: latest version
Bluetooth range: up to 10 meters away (no obstruction)
Warranty: manufacturer's 1-year warranty
My Review of Xfyro ORION Wireless Speaker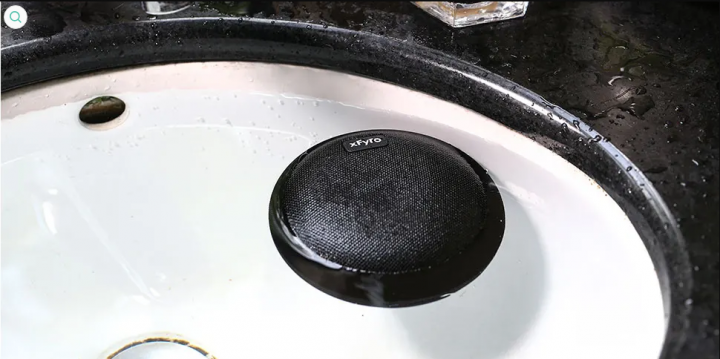 This portable speaker is recommendable. It is a sturdy, stylish-looking speaker that's very compatible and you can take it anywhere you go. Interestingly, its ability to float on water and being that it is designed with an IP67 rated material makes the Xfyro ORION a better choice compared to its alternatives.
Coming to the sound aspect, this speaker delivers good sound with sufficient bass. Making calls with this speaker works perfectly, thanks to the patented 2-mic feature. Furthermore, the speaker is such you can use at home, at the beach, or at a mini party. It doesn't have a mobile app and does not support wifi. However, its Bluetooth support works seamlessly, and you can connect any device with Bluetooth support to play music.
For many people, the waterproof feature of this speaker is its best feature. But for me, I think the sleek design and audio quality are the main things. You'll definitely enjoy high-quality audio using the Xfyro ORION wireless speaker. Also, you can connect your PC, mobile device, or any other media player that supports Bluetooth connectivity.
The IP67 rating means that this speaker can stay long inside the water and it is dust-resistant. Thus, the Xfyro ORION portable speaker is fit for everyone and practically suitable for all purposes a wireless speaker will be needed to fulfill.
Final thoughts
Xfyro ORION speaker lacks in some important aspects such as, not having a mobile app and the short battery life. Eight hours isn't that long, and when the speaker is playing at its highest volume, the battery doesn't last up to 8 hours. However, the high-quality sound, waterproofing, floating technology are commendable, as well as the beautiful, compact design. In all, the Xfyro ORION wireless speaker is a great portable speaker for every day uses.