In this iMobie Anytrans Review, we are going to look at how this handy iOS manager competes with similar apps in the market, and what features make it a perfect iTunes alternative for the aged and non-tech-savvy PC Users.
From a new user perspective, managing, synchronizing, or getting access to your files from the PC or mobile can be stressful if you don't use modern phone management software such as MobileGo, IOTransfer 3, Anytrans, etc. Apps like them are created to make it easy to manage iOS devices seamlessly.
AnyTrans Software Overview
iMobie Anytrans software is a versatile PC management suite for iOS devices such as iPhone, iPad, iPod, and iWatch. It is a handy option for those who are looking out for an application with broad support for iOS device management. It comes with a whole lot of built-in tools that are helpful for various needs.
The software is a comprehensive toolkit that's dedicated to helping you manage your iOS devices (iPhone, iPad, or iPod) efficiently. The app is stocked with a lot of handy tools for this purpose. Plus, it promises to be a perfect media downloader tool that allows you to grab videos from YouTube, Vimeo, CBS, and many other video-hosting platforms. Plus, it comes with a screen mirroring feature that lets you mirror your iOS device screen on your PC.
This program supports many other features; it boasts of a lot of phone management functions, which is what this Anytrans Review post is going to analyze in detail.
Before going into the Anytrans Review proper, I'll like to list its technical specifications and system requirements for your learning.
Operating System: Windows OS (32 & 64 bits) 10, 8, 7, Vista, XP
RAM: at least 1GB
Free HDD Space (ROM): at least 500MB free space
Screen Resolution: Monitors with 1024 × 768 display or above
CPU: Pentium IV 2.4 GHz or above
Supported iOS devices
iPhones:  (iPhone 3G, 3GS, iPhone 4, 4s, iPhone 5, 5s, 5c, iPhone 6 (Plus), 6s (Plus), iPhone SE, iPhone 7 (Plus), iPhone 8 (Plus), iPhone X, Xs (Max), XR, iPhone 11, 11 Pro (Max).
iPads: iPad, iPad 2/3/4/5/6, iPad mini, iPad mini 2/3/4, iPad Air, iPad Air 2, iPad Pro, iPad Pro (2nd Gen. & 3rd Gen.).
iPods: iPod shuffle series, iPod nano series, iPod classic series, and iPod touch series
From the tech specs above, you can see what is takes to use the iMobie Anytrans iOS management app.
Anytrans Pricing
AnyTrans software is available for both Windows and Mac OS devices. The free trial version allows you to access all of its features and tools; however, there are essential restrictions you won't like. Thus, you may decide to opt-in for the pro version, which goes for $39.99, $49.99, and $69.99 for a single user license (1 yr.), single-user license (lifetime), and family license (5 PCs).
Features of AnyTrans Software
Here are some of the most notable features of iMobie Anytrans iOS management App for iPhone, iPad, and iPod devices.
iOS data/file manager
AnyTrans acts comprehensive PC suite for iOS devices. It allows you to move or copy all the files, documents, photos, music, videos, etc. to your computer. Also, you can quickly transfer files from your PC to your iOS device. Plus, you can backup your device files/data using this feature on AnyTrans software.
Seamless device migrator
You can clone your iOS device using this software program. The "Phone Switcher" feature allows you to move all the stuff on a particular iOS device to another. It also works for transferring files from Android to iOS or Verse Versa.
Flexible backups
Interestingly, this app allows you to backup some specific mobile app's data and save them anywhere you like. Also, you can make full backups with this software and restore them at any time you want.
iTunes and iCloud manager
More so, the AnyTrans software allows you access and manage the stuff saved on your iTunes or iCloud account. You can actually preview and extract any data saved on your iCloud to your PC. Plus, you can delete any outdated files.
Additional utilities
There are a couple of other utilities included in this software. Asides it file/data management functions, the AnyTrans software helps for downloading videos from streaming platforms. Also, it supports a Ringtone Maker that lets you customize your favorite music to serve as your ringing tone. Furthermore, the program supports Screen Mirroring, App Downloader, etc.
How to Use AnyTrans iOS Manager on iPhone and iPad Devices
Everything starts with you downloading the software [link] and installing it on your computer. After installing the software to your PC, below is how to use AnyTrans for iOS management and every other function it features.
Connect your iPhone/iPad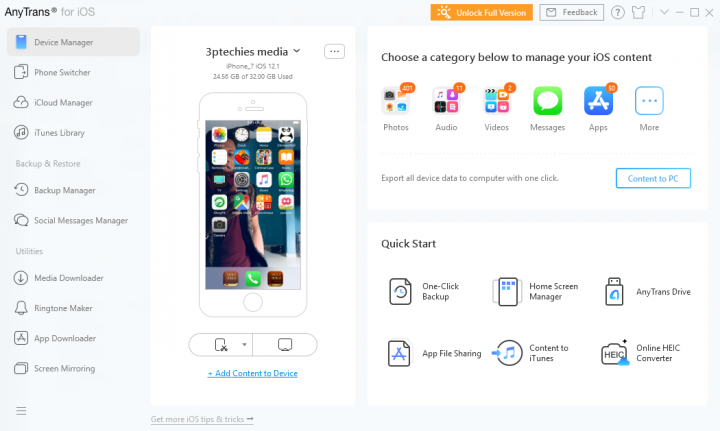 Firstly, you need to connect your iOS device using a rightful USB cable. Allow the required permissions (add as Trust device). Then, wait for AnyTrans to detect and load your device contents.
Manage your device contents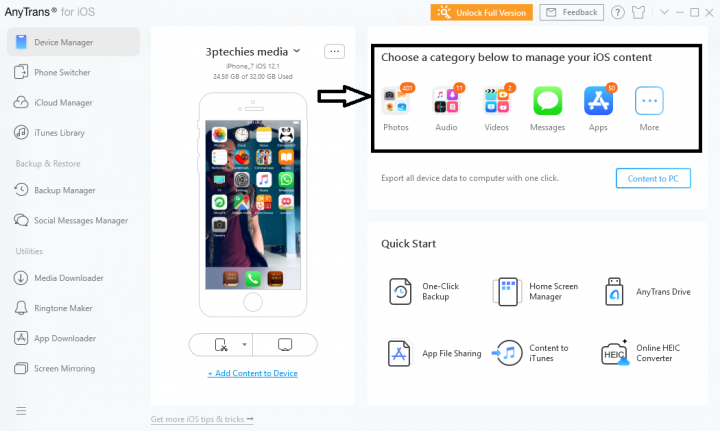 Once your device has been detected, you can go ahead to access all the files saved on it by simply clicking on any category (shown in the screenshot).
You can virtually access all the media files, documents, notes, and even logs on your device from your PC. With AnyTrans, you can export the files saved on your iOS device to your PC quickly.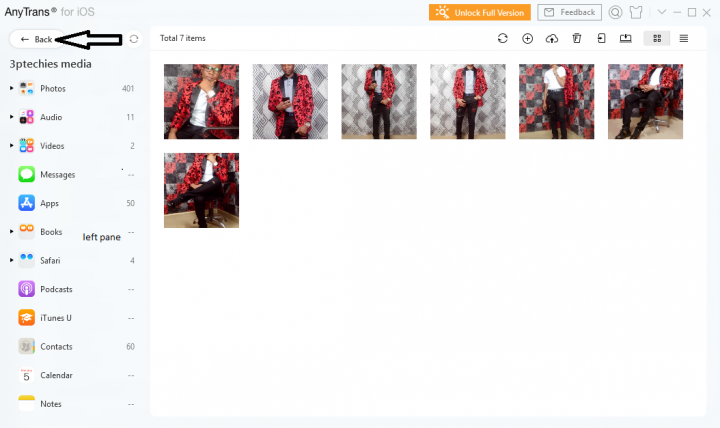 To access a file, simply click on a category at the left pane of the software window. It is possible to select multiple files at once using your mouse (click on a space, drag your mouse to select multiple files).
To access another feature of this software app or access any of its built-in tools, click on the back arrow (located at the top-left).
Managing your iOS device home screen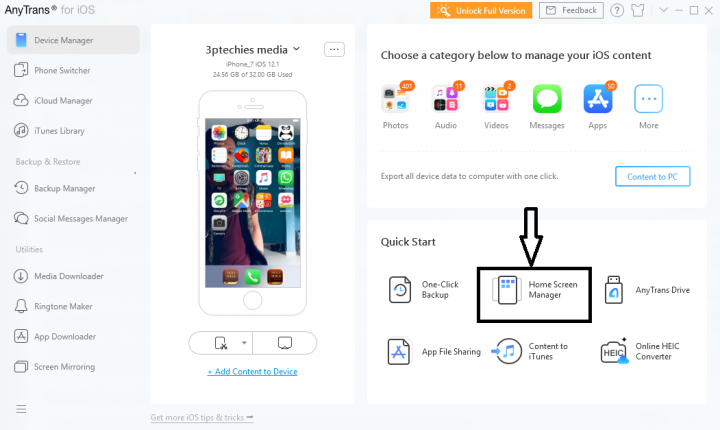 You can actually customize your iOS device's home screen using this software. On the Device Manager window, click on "Home Screen Manager." You'll be taken to a new window where you will access a couple of tools for customizing the look of your iPhone or iPad home screen.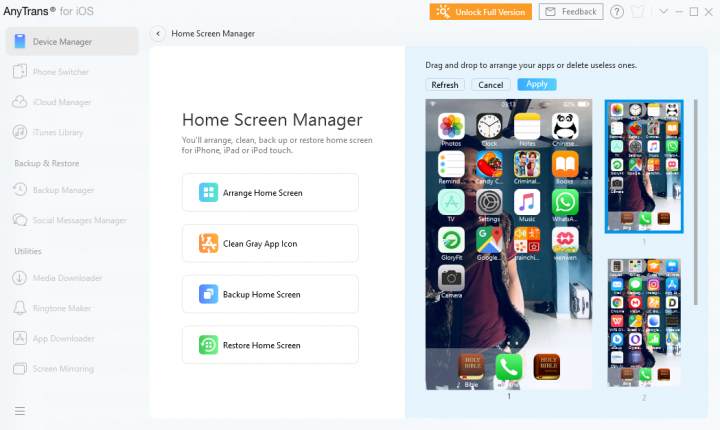 Interestingly, after customizing your device's home screen, you can click on the "Backup" button to save the settings. Even if you get a new device or did a reset on your device, you can easily restore the home screen to your personalized style.
Move files from one iOS device to another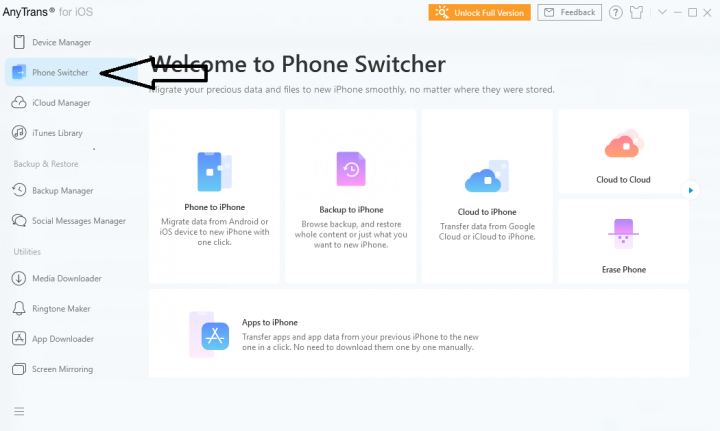 It is quite easy to move your files from one iOS device to another using AnyTrans software. Simply connect the two iOS devices and click on the "Phone Switcher" option. Here you have to select a specific action you wish to perform.
Other functions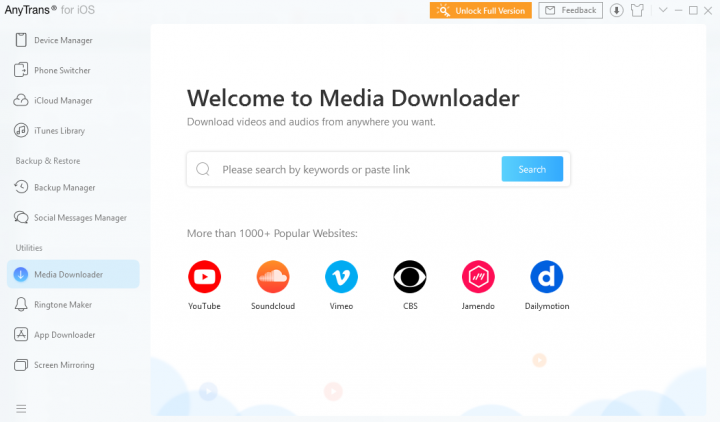 As discussed in the feature (above), this software works for a variety of other purposes. You can easily backup your device and restore the backup at any time. Also, the media and app downloading functions work perfectly. However, the screen mirroring function works (only) when the connected iPhone is iPhone X or any other later model.
My AnyTrans Review and Verdict
The AnyTrans software worked very well for all the purposes it was meant to serve. Also, the intuitive interface makes everything easier; navigating the tools, accessing the features, and moving/copying files to/from your devices. It is an excellent iOS management software, as well as works perfectly well for downloading online videos.
Interestingly, all the features of Anytrans software are accessible even in the free (trial) version; however, with limitations. You can connect two iOS devices at the same time and manage their content seamlessly. Everything about the software worked pretty well and impressively.
All in all, the AnyTrans software is actually a handy suite for managing your iOS devices. It supports a wide variety of iPhone/iPad and iPod models. Plus, it's interface is very easy to read, understand, and navigate. It is simply a perfect and more useful alternative to IOTransfer 3 software.