It's one thing to have a blog or a website, and it's another thing to know how to find the right keywords to write for. However, there are a bunch of keyword research tools out there, both free and paid options. Generally, these keyword research tools help you to discover keyword trends, gaps, and relevance to your site. Some of these tools also offer advanced features that come in handy for SEO purposes.
While Google has a keyword research tool – Keyword Planner – the tool is not very much effective when you're talking about an SEO campaign. This is where Word Tracker comes in. Word Tracker is a comprehensive SEO tool for marketers, website owners, and business clients.
Word Tracker Overview

Put simply, Word Tracker is a comprehensive keyword research tool for marketers, bloggers, and advertisers. It is an ideal alternative to Google's Keyword Planner tool – with much more features to offer. Wordtracker lets you find the right target keywords for your business.
Apparently, it cannot be overemphasized that Search Engine Optimization (SEO) starts with finding the right keyword(s) to target, and Word Tracker is just one of those tools that would give you reliable results.
Word Tracker has a free version, and if you want to enjoy its features, you'll need to upgrade your account.
Features Of Wordtracker
Here are some impressive features of Wordtracker that make it a good, considerable tool to be added to your SEO toolkit.
1. Niche Explorer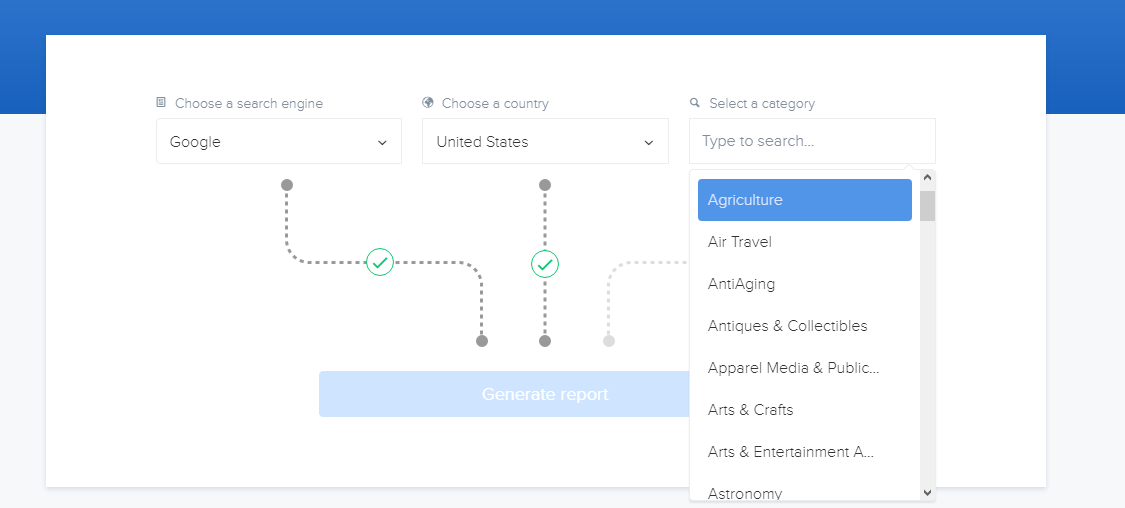 The Niche Explorer feature offered by Wordtracker lets you discover the top 100 trending keywords in your market (Niche). It lets you choose an engine (Amazon, Google, eBay, or YouTube), your country, and then your niche/market/industry, to find out the top trending keywords.
2. Site Inspection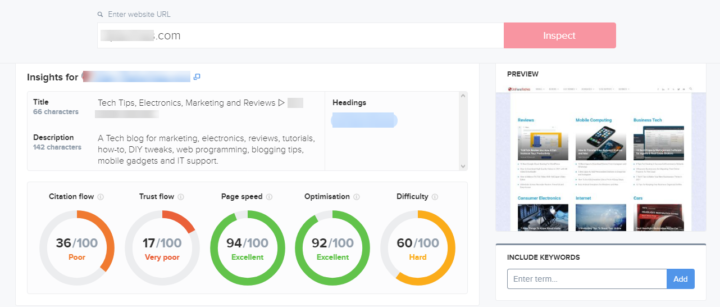 This feature lets you inspect your website and that of your competitors to discover new keyword opportunities and tips on how to improve your website performance. The "Inspect" feature by Wordtracker provides handy information for website optimization.
3. Keyword Searcher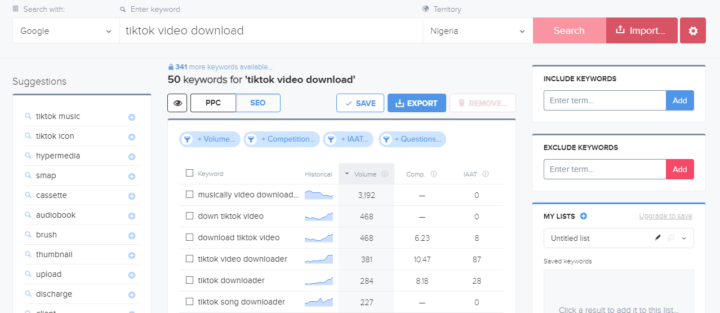 Apparently, this is the main feature of this tool. This feature allows you to search for keywords and get deep insights. It allows you to choose between Amazon, Google, eBay, and YouTube to find the right keywords for your niche.
4. Report Generator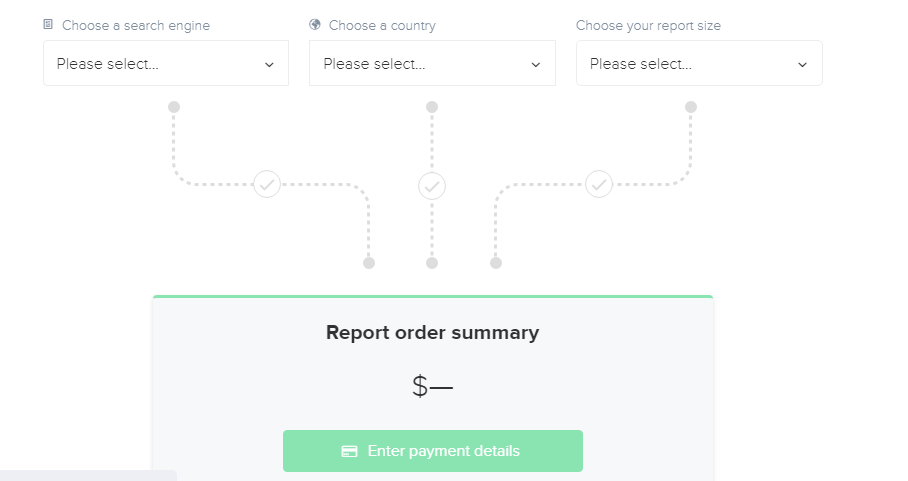 The "Report Generator" feature lets you send a request to the Word Tracker team requesting to get bespoke keyword reports about a particular "Keyword." You will be charged for this premium service and the reports would be sent to your registered email.
What other things can you get from Wordtracker? The tool provides you with related keywords that rank better and shows you search results insights and the difficulty of the competition. It also lets you discover results from multiple sources (Wordtracker, Google, Youtube, and Amazon).
How To Deploy Wordtracker in Your SEO Campaigns
When running SEO campaigns, first things first, you need to know the keywords to target; that's where Wordtracker comes in. With the Wordtracker set of tools, you can discover keywords with higher search volume, check the difficulty of joining the competition, and then make your decisions.
With the deep insights provided by Wordtracker, an SEO expert can find reliable, handy information to run high-conversion campaigns that can guarantee high ROI. Furthermore, the ability to choose between Amazon, YouTube, eBay, and Google makes it easier for the SEO person to access more targeted results for campaigns.
Wordtracker can be of great help to anyone running SEO campaigns. It provides the most relevant information needed for a successful SEO campaign, which is, detailed keyword info.
To get started, you need to signup for an account, and take advantage of the free trial version to kick off your next campaign. The free/free-trial version lets you generate up to 12 free reports and also lets you view up to 1000 keyword results.
Word Tracker Pricing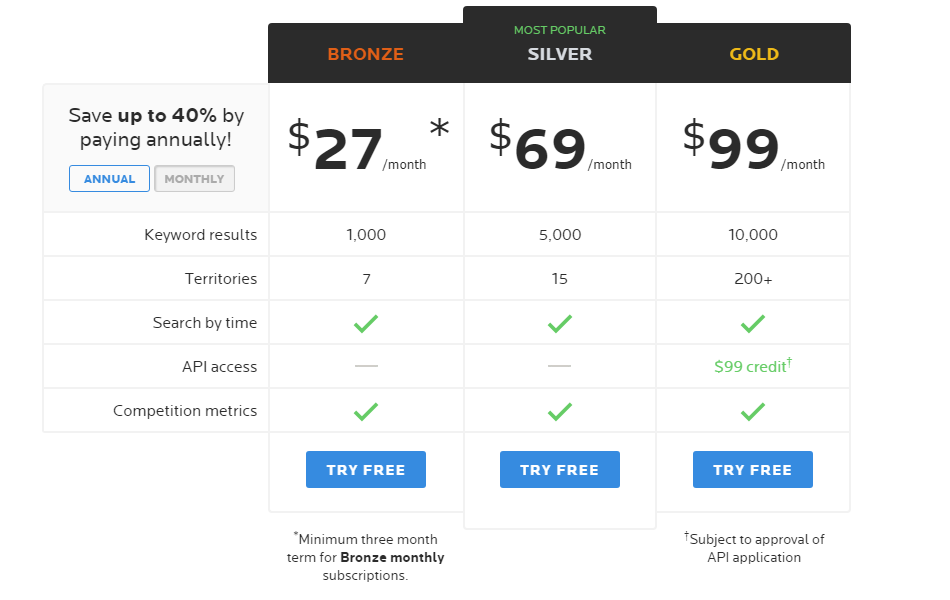 Word Tracker offers three packages; Bronze, Silver, and Gold. The Bronze plan goes for $27/mo (monthly payment) or $17/mo (billed annually). Wordtracker Silver plan goes for $69/mo or $38/mo (annual payment), while the Gold plan goes for $99/mo or $54/mo (annually).
Word Tracker Review and Verdict
Word Tracker is an ideal tool for bloggers, advertisers, marketers, and everyone else that needs to run keyword research for one purpose or another. The tool lets you access quite quality information with the free version. It is easy to understand and use, and the insights are well-detailed.
Apparently, Wordtracker is an ideal alternative to many other keyword tools out there, including the Google Keyword Planner tool. It offers a set of other useful features that can generally contribute to running a high-conversion SEO campaign.
Summary
The bedrock for a successful SEO campaign is having a clear understanding of your competitors, audience, and keywords to target. Wordtracker solves the keyword(s) aspects and also gives you hints about your competitors. It is generally a handy tool for everyone that uses the internet – with decent tools to offer.