Well, many situations can lead to data loss, and this action can be very frustrating because you may lose your most important files. However, there is a way to get back your lost data irrespective of how it was lost/deleted.
This is easily achievable with data recovery solutions such as EaseUS Data Recovery Wizard. EaseUS is one of the best data recovery solutions for PC users. Irrespective of your system's OS, EaseUS is a cross-platform solution to get back all your lost files.
With this data recovery software app, you can recover files/data deleted from virtually any storage drive, including pen drives, SD cards, hard drives, and others.
As at the time of writing this review, the latest version of EaseUS Data Recovery Wizard is 12.9; hence, we'll focus more on the newest features of EaseUS Data Recovery Wizard 12.9, and how the software has improved from the previous versions.
the Latest Features of EaseUS Data Recovery Wizard 12.9
There are several improvements to this latest version of EaseUS data recovery app. It now comes with a friendlier interface plus other amplified features that make the whole process of recovering your lost data more comfortable, intuitive, and super fast.
Friendlier user interface
Among the key improvements to this attested data recovery app is its new easy-to-use, wizard-based interface. With this new interface featured in EaseUS Data Recovery Wizard 12.9, all PC users (novice and experienced) can easily access all the tools that are available on the app to recover lost files.
This new interface is very light, well-detailed, easy-to-navigate, and quite distinctive from what we've seen on the older versions of the app.
Faster data recovery processes
You can now retrieve all your lost files in just two clicks after launching the EaseUS Data Recovery Wizard 12.9.
Right on the main window after launching this app; you're presented with a grid view of all the storage drives/devices attached to your computer, as well as quick shortcuts to recover files deleted from your desktop, recycle bin, or any specific folder on your PC.
This makes it much easier to recover your lost files without navigating through many options.
Preview files less than 100MB
All files recovered by this app, which are less than 100MB in size can be previewed before you click to recover them.
To load the preview of a file, select the file and double-click on it. This preview support applies to various file formats including non-media files.
Easy to navigate with breadcrumbs, file tree, and menus
You can easily browse and get back to the previous (parent) folders using the breadcrumbs that are available on EaseUS Data Recovery Wizard 12.9.
However, there is a file tree at the left pane which also grants you quick access to any file directory. Also, there are navigatable menus available at the top bar.
Supports over 100 file formats
Using this version of EaseUS data recovery app, virtually, you will recover all your lost or deleted files irrespective of their stored formats.
This app supports all popular media formats, including audio, video, and images. Also, it supports all document file formats, as well as archives.
Comprehensive/flexible filter
With the filter tool, you can narrow down the scanned result to a specific file format you're trying to recover your lost data.
The filtration is efficient and handy. With this filter tool, you can simplify all file recovery processes to just about two or three steps/click.
Export and Import scan results
After running a complete scan to discover all files that have been deleted or lost from your PC hard drive or any other storage drive, this app allows you to save the scan result to reload it any time again you wish to recover some other files.
This is handy when you're in haste or just want to recover a few critical/urgent files, and then continue with the other ones at a later time.
Technical Specifications of EaseUS Data Recovery Wizard 12.9
The technical specifications of EaseUS Data Recovery Wizard 12.9 are the same as the older versions: there are no changes on the supported OS, resource size, and overall system configuration. Below are the technical specs of EaseUS Data Recovery Wizard 12.9.
| | |
| --- | --- |
| Supported devices | PC, laptop, Hard Drives, External Disk, SSD, USB Drives, Micro Card, Camcorder, Digital Camera, Music Player, Video Player, RAIDCF/SD Card, Zip Drive, Pen Drive, and others |
| OS | Windows 10, 8.1, 8, 7, Vista, XP, server 2019/2016/2012/2008/2003 |
| RAM | 1GB |
| Required storage space | 100MB |
| File systems | FAT (12, 16, 32), exFAT, NTFS, NTFS5, ext2/ext3, HFS+, ReFS |
How to recover lost files with EaseUS Data Recovery Wizard 12.9
Although the process is an easy one, I still thought it wise to state it here for those who aren't familiar with the app's features yet. This guide shows you the steps to recover your lost or deleted files with EaseUS Data Recovery Wizard 12.9.
At first, you'd need to download or update EaseUS Data Recovery Wizard to this latest version (v12.9); launch the software after installation, and continue with the steps below.
Select a directory or scan a hard drive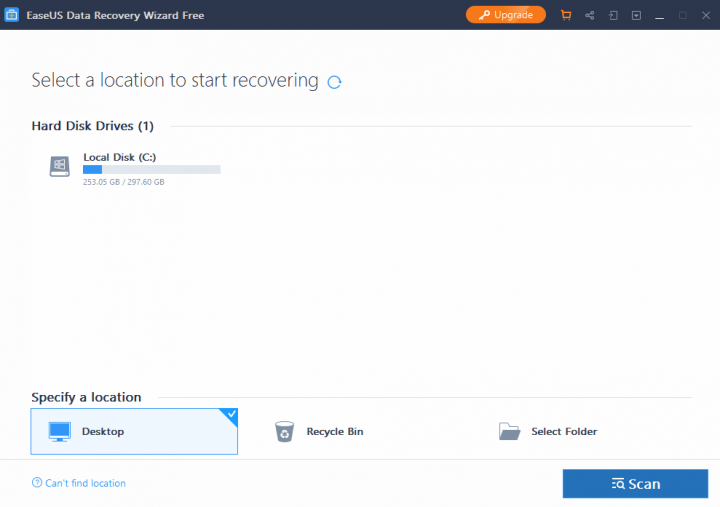 Launch EaseUS Data Recovery and choose a specific location where your lost files were previously saved.
Nevertheless, you can choose a hard drive or any other storage drive attached to your computer and launch a scanning process to discover the files.
In case you don't find a specific drive you have connected to your PC, click on the refresh icon to reload the interface.
After you have chosen a directory or drive, click on the big/bold scan button to start the recovering process immediately.
Wait for the scanning to complete and you will be presented with all the files which are deleted or lost from the specified folder/location/directory or storage drive.
Navigate, filter and preview discovered files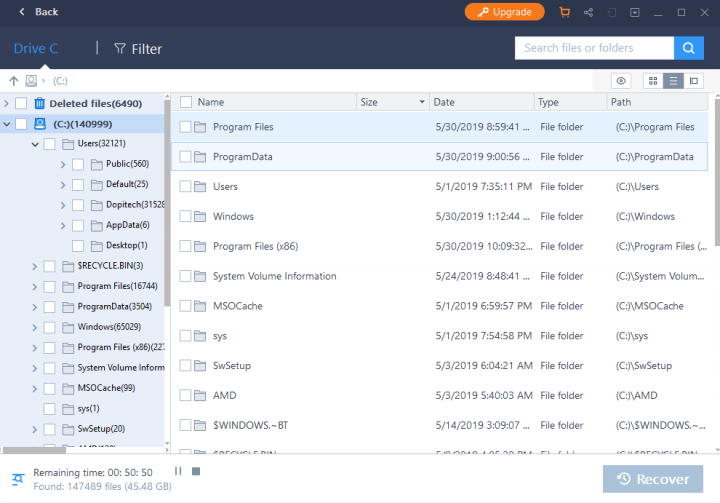 After the scanning is complete, you can filter the results to narrow down the results or use the navigation options (breadcrumbs, file tree, and menus) to locate your essential files.
When you see the files you need, double-click on them to preview them. Previewing the file(s) will enable you to ascertain which file(s) you are about to recover.
Recover your important files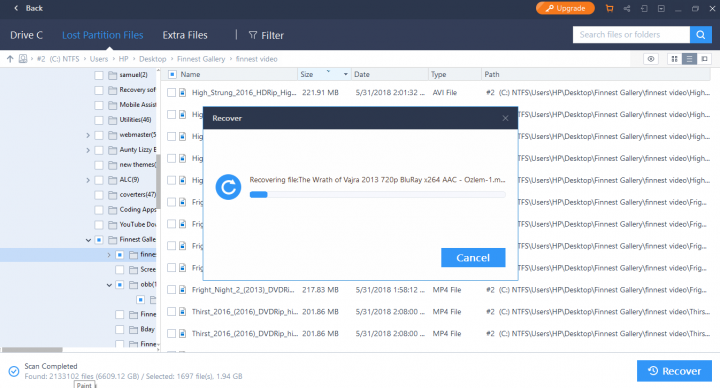 Go on to select the files you wish to recover by ticking the checkboxes beside the filenames. Select as many files as possible or rather select a whole folder, then click on the "Recover" button to save the data to any custom location of your choice.
My EaseUS Data Recovery Wizard 12.9 Review and Verdict
The EaseUS Data Recovery Wizard 12.9 is the latest version of this attested HDD recovery software solution which is available across various platforms.
It is easy to use, thanks to the lightweight and highly simplified user-interface. The process for recovering files with this app changed in this new version.
Now, you don't have to choose between a quick scan or deep scan; once you click on the scan button, EaseUS Data Recovery app will launch a complete scan which may last for a long time depending on the volume of files it has to recover.
Interestingly, you'll get to preview the files before recovering them. EaseUS Data Recovery Wizard 12.9 makes everything more comfortable and super fast.
With the free version, you're limited to recover only 500MB of data. However, you'll get an additional 1.5GB allowance if you share the app. But, if you upgrade to any of the premium plans, then, you will bypass these limits.
I can easily recommend it for all your data recovery needs.