It doesn't matter if the files stored on your USB pen drive, hard disk drive, phone storage or Micro SD card is deleted, compromised or mistakenly formatted: EaseUS Free Data Recovery Wizard lets you get back such files irrespective of the data lost situation.
It comes in handy for many people who do not intentionally back up their computer files, cameras, and USB flash drives, hence leading to them experiencing computer poisoning, HDD data loss, USB data being deleted, and etc.
In today's tuts, we are going to introduce the features of EaseUS Data Recovery Wizard as well as guide you on how to use their free data recovery app on PCs.
Top 10 Features of EaseUS Data Recovery Wizard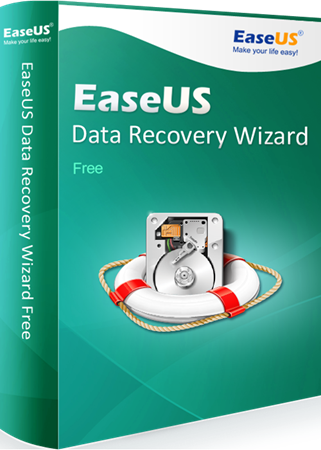 Recovers lost data from various platforms 
EaseUS Data Recovery software lets you get back your lost files from different platforms such as Laptop, PC, and External/removable storage devices in a very simple and easy way.
Fast, quick and easy data recovery process.
This freemium software restores your lost data quickly and in an easy way: Launch the software – select the lost data drive and – click on the scan button – your files are recovered.
Supports a variety of storage drives
EaseUS Data Recovery Wizard can recover lost files from SSD drives, Memory/SD cards, USB drives, digital cameras, Zip drive, floppy disk and many other storage drives.
It features a flexible data recovery process
This software features a flexible data recovery process. Such that – you can pause the data recovery process and resume it again at a later time and it continues from where it stopped.
Efficient Data Recovery
EaseUS Data Recovery Wizard ensures you get back all your lost data from the selected platform or drive. It first launches a quick scan and then a Deep scan which searches your computer thoroughly to get back all your lost files/data.
Recovers almost all file types
Another interesting feature of this software is the ability to recover almost all file types which includes: All media file formats, all document file types (ie; .txt, .doc, .docs, .xlsx, .xltm and etc), archive files, email documents, and etc.
Ability to recover data from different data loss scenarios
EaseUS data recovery wizard gets back all your data/files lost due to accidental deletion, disk formatting, Disk files corruption and/or virus attacks, system OS crash, Raw Partition deletion, and etc.
Allows import and export of scan results
EaseUS Free Data Recovery software lets you import or export previous scan results when you want.
If you wish to only retrieve your most important documents and continue with others at a later time: just export the scan result to a folder on your PC and continue with the remaining files whenever you want to. You can import the saved scan result and continue without rescanning any of the connected drives.
Supports all Windows OS versions
A good thing here is that EaseUS Free Data Recovery software supports all Microsoft™ Windows operating system (OS) versions. To wit; Windows XP, Vista, 7, 8, 8.1 and 10~.
A cool and friendly user interface
In the bottom of our list is the user-friendly interface it comes with. It is another good feature of EaseUS Free Data Recovery software that's worth talking about. The Wizard has a calm and friendly interface that lets everyone use it without any lengthy learning curve.
How to Use EaseUS Free Data Recovery Wizard on PCs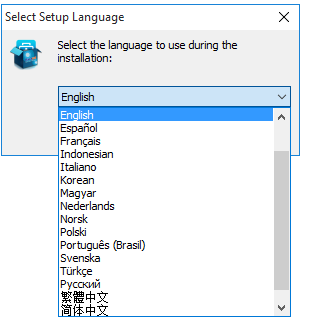 There's a handful of software that lets one recover lost files, but EaseUS free data recovery wizard works perfectly well for both Mac OS X and PC users. In this case , the EaseUS data recovery software, in addition to supporting WIN/MAC dual systems, also supports multilingual languages.
It is very easy to use and can be used for various data recovery processes. The software has support for personal computers, laptops, external hard drives, USB flash drives, SD memory cards, SSDs, and etc. Of course, the most important thing is to restore a lot of file formats, in addition to the basic Office WORD, EXCEL, picture files, audio files, sound files, mail Outlook, Outlook Express and so on.

Using the Data Recovery Wizard

To use this procedure is simply a three steps thing: Open the Data Recovery Wizard software > Select the device to scan > View data and restore all important files.


In addition, it is suggested that users do not install the software on the hard disk drive's magnetic area of the lost data in order to avoid the risk of information being over-written.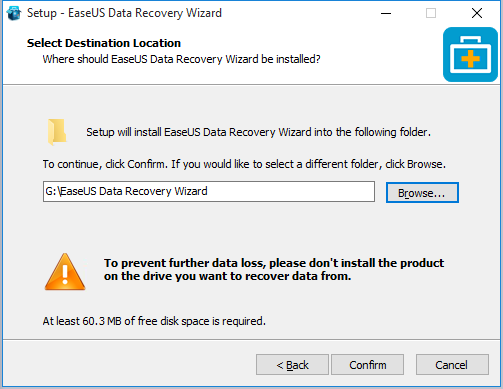 After installing the software, you will immediately see the currently available disk partitions. Users only need to select the disk to be scanned and press the "Scan" button.

When the free data recovery software is scanning, you can see the status of the current scan progress. The depth scan can retrieve the past lost files, and the size of the scanned file capacity will also affect the time required for the scan to complete.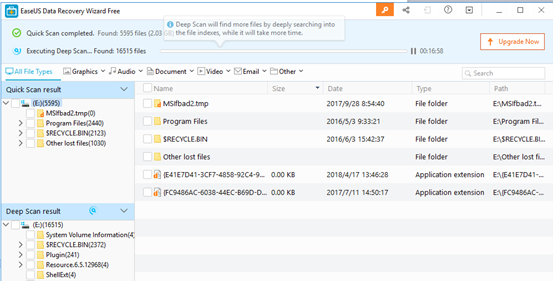 All scan files can be identified by the type.
If the user wants to quickly find the relevant type of file, all he'd need do is – immediately switch to view the missing files from the toggle buttons.

There are more convenient advanced search features. The user can also filter more information in the category options you want to view. For example, if you want to view all the JPG files, just check ".jpg" directly.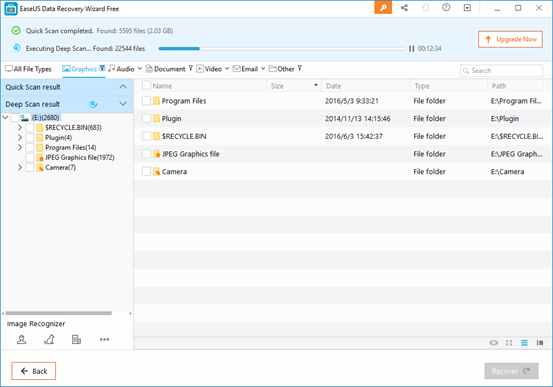 After the scan is complete, you can directly check the data to be restored and click the "Recover" button .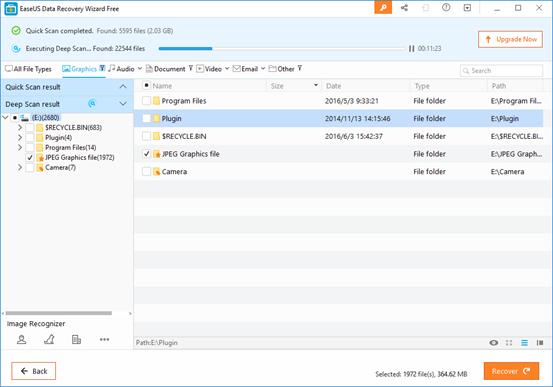 To select which folder to restore, select it and click OK. A small window will be displayed after the restoration is completed to tell the user where the file is saved.


In the result of the deep scan, there are already sorted folders also. Users can directly view the related types of files for their convenience.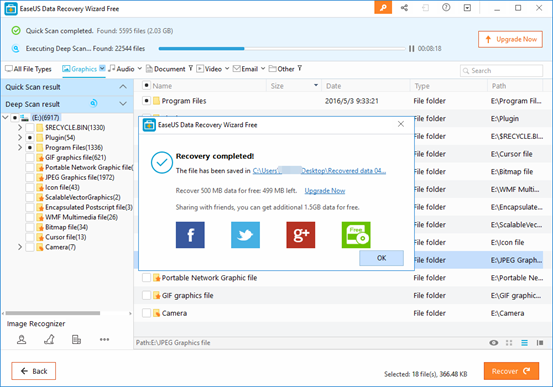 Reasons to Use EaseUS Free Data Recovery software

The free version lets you recover 500MB of data, plus 1.5GB of data after SNS share.
It is an easy to use software with only three-step operation. Launch software => Select the device to scan => View lost files and restore in a just a few minutes.
You can help friends recover their lost files without spending a dime.
Have you used EaseUS free data recovery wizard in the past or have a thing or two to say about data recovery software? Please do share your experiences with us in the comments section below.