This post on Jihosoft iPhone Data Recovery Software Review is meant to introduce this data recovery software, show you the features in-full, and how to do data recovery with it in all data loss scenarios. As we all know, Data recovery software apps are becoming more relevant as the day goes by. This is because we face a lot of issues with our devices that can amount to data loss.
Most likely, it is possible to delete important files from your phone accidentally, or someone else can gain access to your device and mishandle your important files. Nevertheless, whatever the case may be, a data recovery app helps you to get back any document or file that was deleted from a particular device. Today, we are reviewing a handy data recovery software for iPhone/iPad users; it is the Jihosoft iPhone Data Recovery Software.
Jihosoft iPhone Data Recovery Software Overview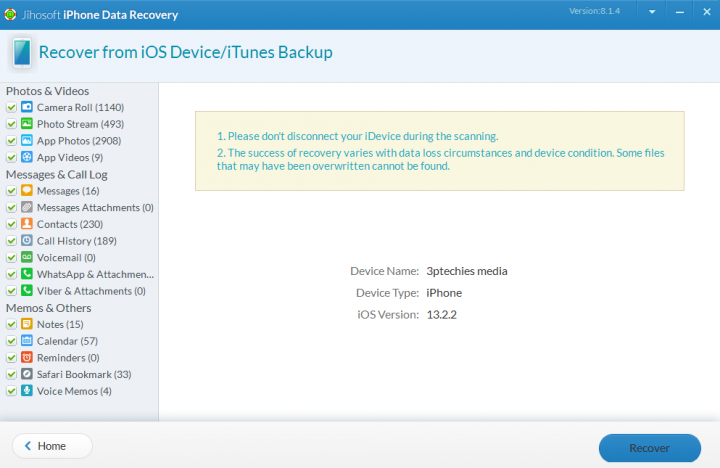 The Jihosoft iPhone Data Recovery Software is a file recovery app that is capable of getting back all your lost files from an iPhone or iPad device. It comes with a couple of features that contribute to its effectiveness and efficiency.
Plus, the interface is quite intuitive, insomuch that anyone can easily navigate through. This software promises to recover virtually all files that have been deleted from your iOS device (iPhone, iPad, and iPod Touch).
Its Pricing and Availability
Jihosoft iPhone Data Recovery Software is available for Macintosh and Windows PC users. It has a free trial version; however, you cannot recover any file with this trial version.
The paid versions go for $59 and $99 for the Single user license and Family edition, respectively. Both plans come with lifetime support and upgrade.
Features of Jihosoft iPhone Data Recovery Software
Here are some of the most striking features of Jihosoft iPhone Data Recovery Software and how they apply to your daily data recovery needs.
Multilingual support:
You can easily switch from the default "English" language to any other supported language right from the main window. Supported languages are English, French, Espanol, Dutch, and Chinese.
It Works for all PCs and iOS devices
This software can be used to recover lost or deleted files from iPhone, iPad, or iPod Touch. It also works on virtually every active PCs as it doesn't consume many system resources. All that's required for the software to work effectively are:
RAM: at least 1GB RAM
HDD space: requires up to 250MB free HDD space
OS: Microsoft Windows 10, 8, 7, XP, Vista, or 2000
Monitor: supports all monitor types
It Has Support for Several File Types
The Jihosoft iPhone Data Recovery Software supports all photo and video file formats, messages, contacts, logs, notes, WhatsApp, Viber, and other app data types.
It's compatible with iOS 13 devices
Interestingly, this software supports all Apple iOS devices and all the iOS versions, including iOS 13/iPadOS and iPhone 11/11Pro.
How to use Jihosoft iPhone Data Recovery Software
While this software is simply intuitive and easy to use, below is my detailed user guide that would show the steps to use Jihosoft iOS data recovery software effectively.
First things first, you'd have to download Jihosoft iPhone/iPad Data Recovery Software from the company's official website here.
Launch the software on your computer or mac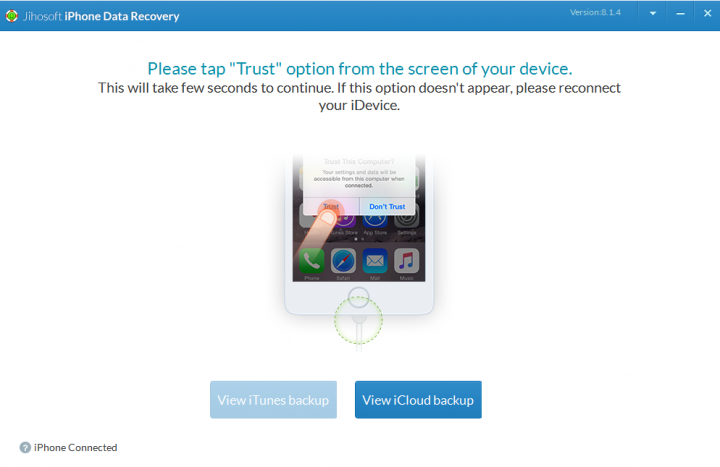 After installation, launch the software on your PC or Mac and connect your iPhone/iPad with a good iOS USB lightning cable. If you're connecting the iPhone or iPad for the first time, you'll receive a pop-up on your device to add your computer as a "Trusted Device." Click on "Trust," then enter your device "Passcode" to continue.
Unless you complete the steps discussed above, this software will not be able to read your iOS device. Also, if you connect your iPhone and the software was unable to detect it, you should try again with another USB lightning cable.
Start scanning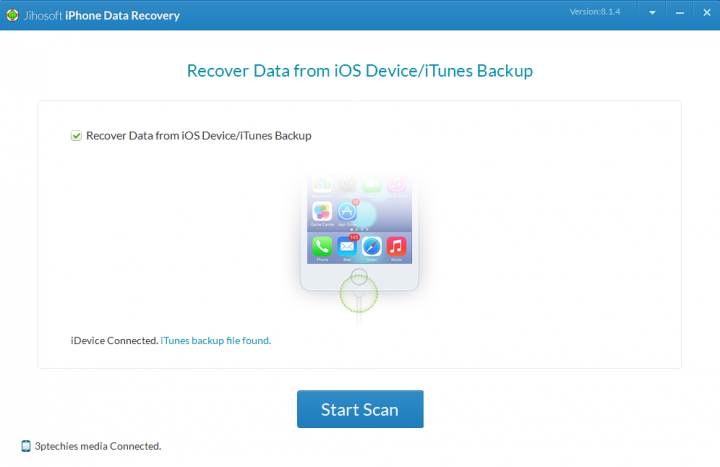 Once this software has read your device, you'll see a big "Start Scan" button; click on this button to trigger the scanning process, which may run for a long time depending on the number of files saved and deleted from your iDevice.
Also, if you had previously made an iTunes or iCloud backup, this software would let you recover the backup.
Recover your files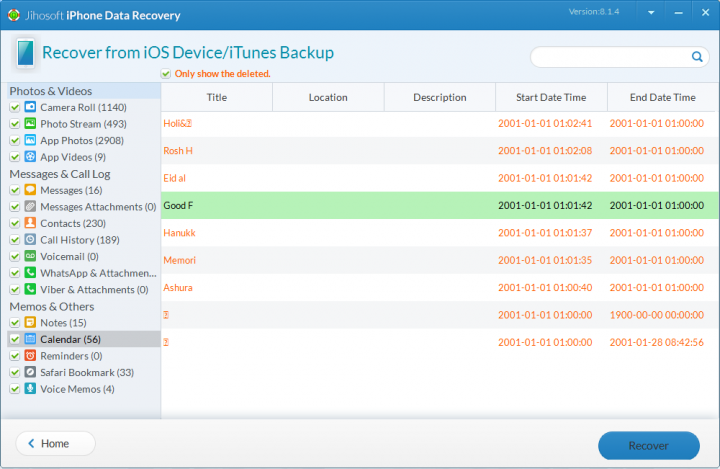 After the scan has completed, you'll see all your files (both the deleted ones and the ones that are still saved/available on the iDevice) in one place. To make it easier for you to recover the deleted files, simply tick the "Only show the deleted" option, which is at the top menu.
Quite unfortunately, you cannot preview image files, which are recovered by this software; however, it does show the image thumbnails. Also, you can easily navigate from the left pane to locate the exact file(s) you wish to recover. Once you're done selecting the files you want to recover, hit the "Recover" button to begin the data recovery process.
What more?
That's it, following the steps above, Jihosoft Data Recovery Software will help you to get back your deleted files from any iOS device.
Jihosoft iPhone Data Recovery Software Review and Verdict
The Jihosoft iOS Data Recovery Software promises to be a useful app for getting back lost files on iPhone and iPad devices. During my test, the app was able to dig out old files that have been long deleted from the connected iPhone 7 device.
Also, it was able to discover various file types/formats, such as photos, videos, memos, etc. More so, the app's interface is very easy to read and understand, and it doesn't take more than three clicks to get back your lost files.
Jihosoft iPhone Data Recovery Software is pretty much intuitive; that's one of its features I love. Also, after the scanning, you can filter the results to display only "deleted files." This will filter out the files that are saved on your device, and you'll be left with only the files that have been deleted from your iPhone/iPad.
Furthermore, the scanning process did take a couple of minutes (about 2 minutes). Probably because it had to discover a ton of files. Generally, the software works perfectly well for its needs. However, you cannot recover a file unless you purchase the pro version, which goes for $59.
All in all, Jihosoft Data Recovery Software is a handy piece of utility tool for getting back lost files and data on iOS devices. The pricing is competitive, plus, the simplicity of the software makes it a better option when compared with its alternatives.
Note: I downloaded the (Windows) trial version of this software from their official website, but couldn't install it on my Windows PC because the file was corrupted. However,  I resorted to downloading the software from an unofficial website, that's how I landed to FileHorse where I downloaded the executable file that worked for the Jihosoft iPhone Data Recovery app.
So, if you download the file from their official website and get an error response while trying to install the software, simply head over to FileHorse and download it from there.